Coachella 2022: Weekend 2 kicks off with eclectic lineup, relaxed performances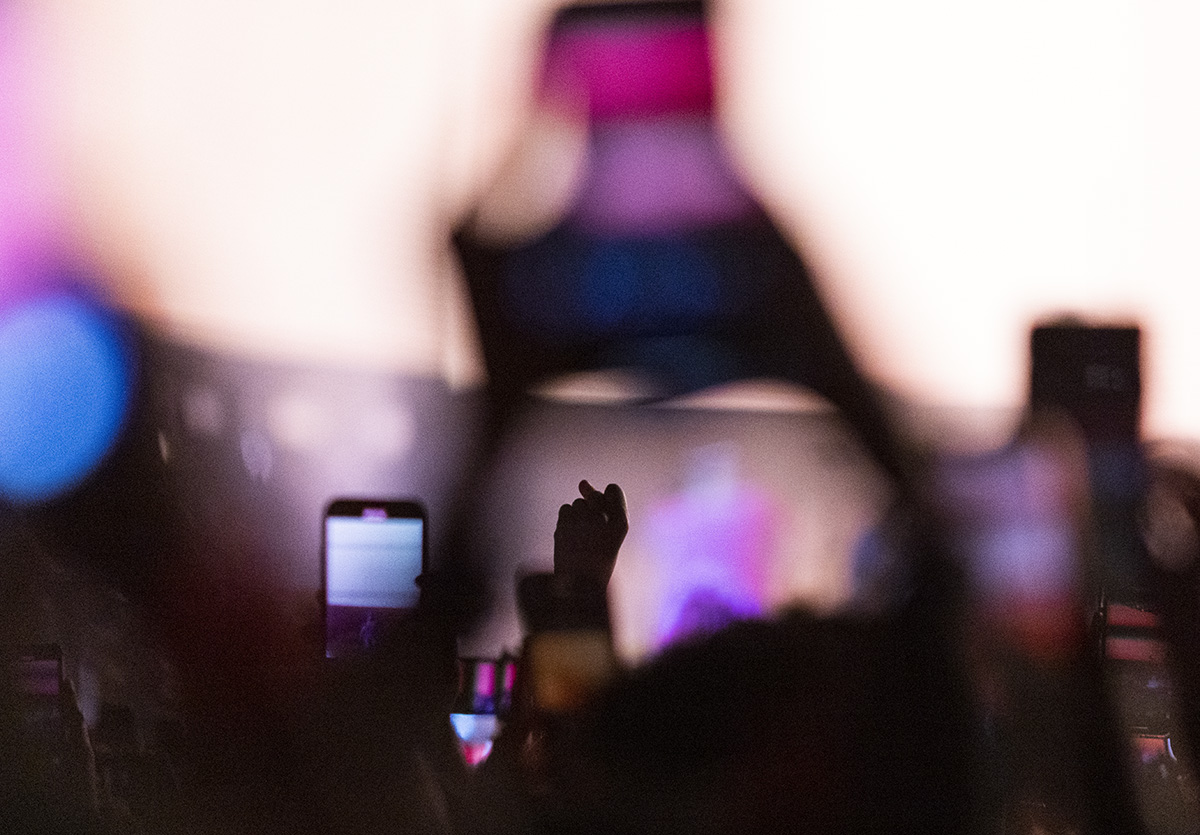 Festivalgoers for Friday of Coachella Weekend Two hold up their phones and clap their hands to Harry Styles' headlining performance. In addition to music, the festival featured art installations and a variety of food options. (Ashley Kenney/Photo editor)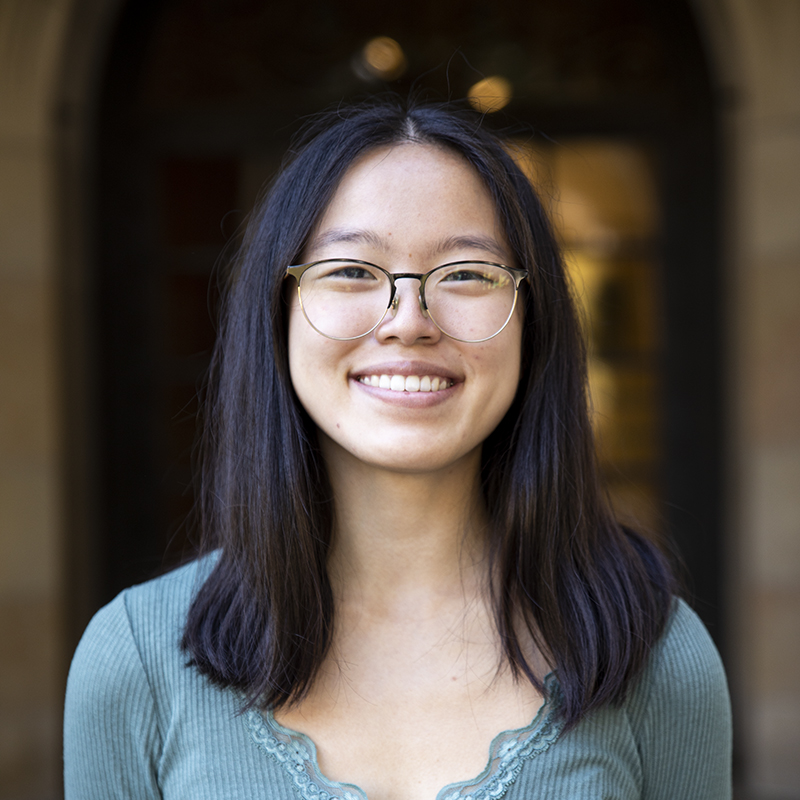 This post was updated April 25 at 12:44 a.m.
Coachella has made its comeback.
The annual Coachella Valley Music and Arts Festival has returned for 2022 after a two-year hiatus caused by the COVID-19 pandemic. Held at the Empire Polo Club on April 15-17 and Friday to Sunday, it welcomed back festival attendees with a variety of musicians, lining up performances concurrently across seven stages for 12 hours.
Read on for the Daily Bruin's coverage of the first day of Coachella Weekend 2.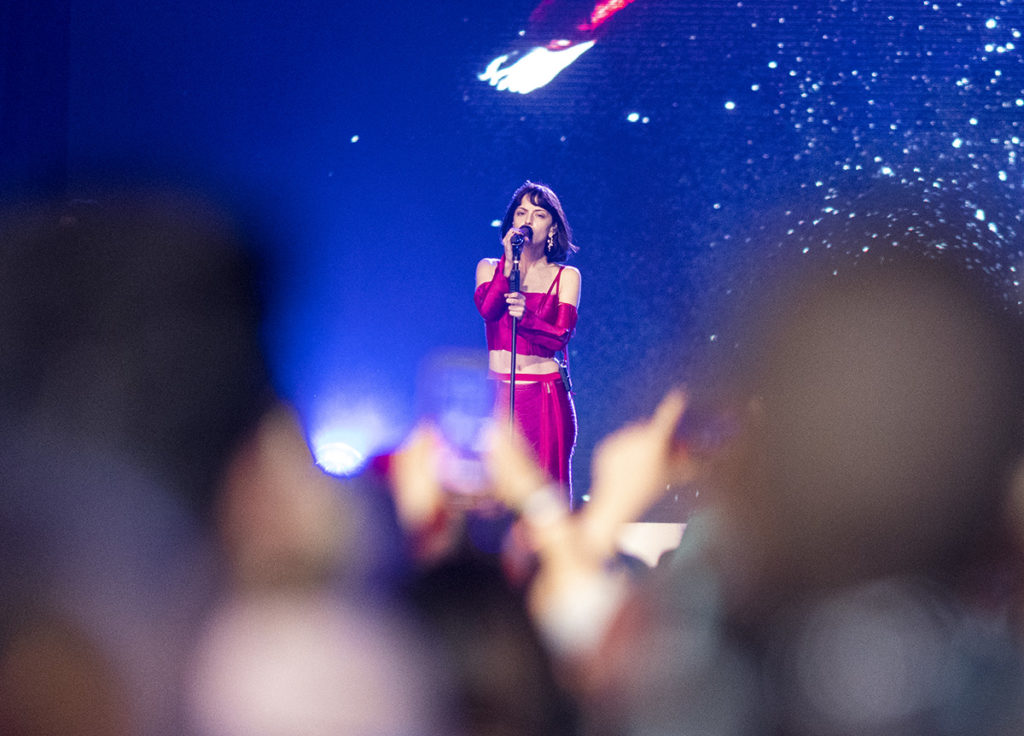 The Marías
Languid and limber, María Zardoya brought calm to the chaos of Coachella.
Appearing on the Gobi Stage at 7 p.m., the Puerto Rican singer and her band took advantage of the ambiance provided by the hazy dusk to serenade festival attendees with their soothing, synth-heavy discography. The frontwoman followed the precedent of the rich red color scheme featured on the band's album covers, donning a satin two-piece red tank top and maxi skirt, which she paired with arm warmers of the same shade.
This deeply saturated shade of red was also present on the stage's screen. Though it was not a permanent fixture, brief clips of Zardoya floating underwater in a translucent white dress or abstract grayscale ink blots accompanied her relaxed stage presence. Boasting a set list of popular hits, such as "Only in My Dreams" and "Clueless," the psychedelic soul band elicited cheers as Zardoya sauntered horizontally across the stage and leisurely swayed her hips to the pulsating beat.
The band broke up its set with a cover of Britney Spears' "Oops!… I Did It Again," prefaced by a request from Zardoya for fans to belt the song loud enough for the rest of the six other stages to hear. Gratitude for the festival and its fans were not forgotten either, as Zardoya took a pause between songs to thank attendees for choosing to watch the performance, given the other activities present at the festival.
And sheltered by the elements, the crowd basked in the tranquil ambiance in response.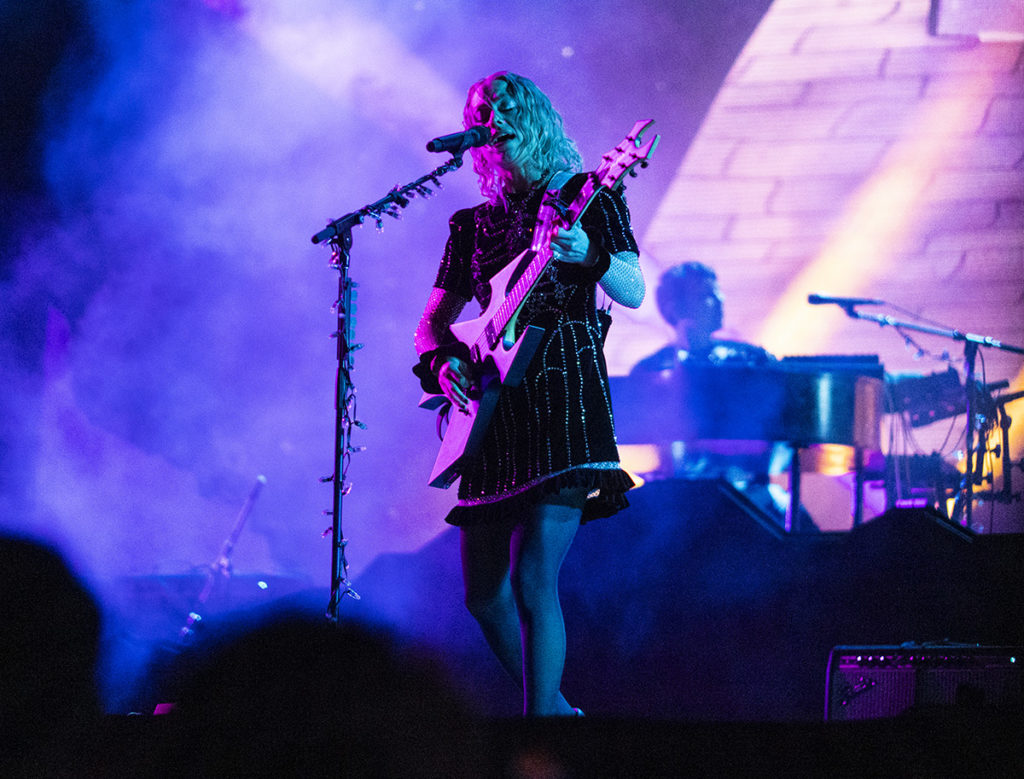 Phoebe Bridgers
If there's one thing Phoebe Bridgers can't live without, it's a skeleton motif.
The indie-rock artist made her appearance on the Outdoor Theatre at 9:10 p.m., wearing a black dress bedazzled with a skeleton. Her band members were dressed similarly with glow-in-the-dark skeleton onesies, appearing after a raucous cacophony of guttural noises that introduced Bridgers. The Los Angeles native used the desert wind to her advantage, posing in a dramatically backlit fashion as gusts of purple mist shrouded her.
Bridgers opened with her biggest hit, "Motion Sickness," not directly addressing the crowd until two songs later with a blunt, "What's up." Her deadpan wit remained consistent throughout the set as she denounced the existence of a higher being and confessed that her fear of death is omnipresent in her life, both brief interjections before launching immediately into song.
Contrasting Bridgers' frankness were both her tender crooning and her whimsically designed set. The screen behind her displayed a drawn pop-up storybook that turned pages before each new song and featured the key elements of the track, such as the Japanese cherry blossoms of "Kyoto" and the Griffith Observatory in "Moon Song."
And in her fans' eyes, Bridgers hung the moon with her performance.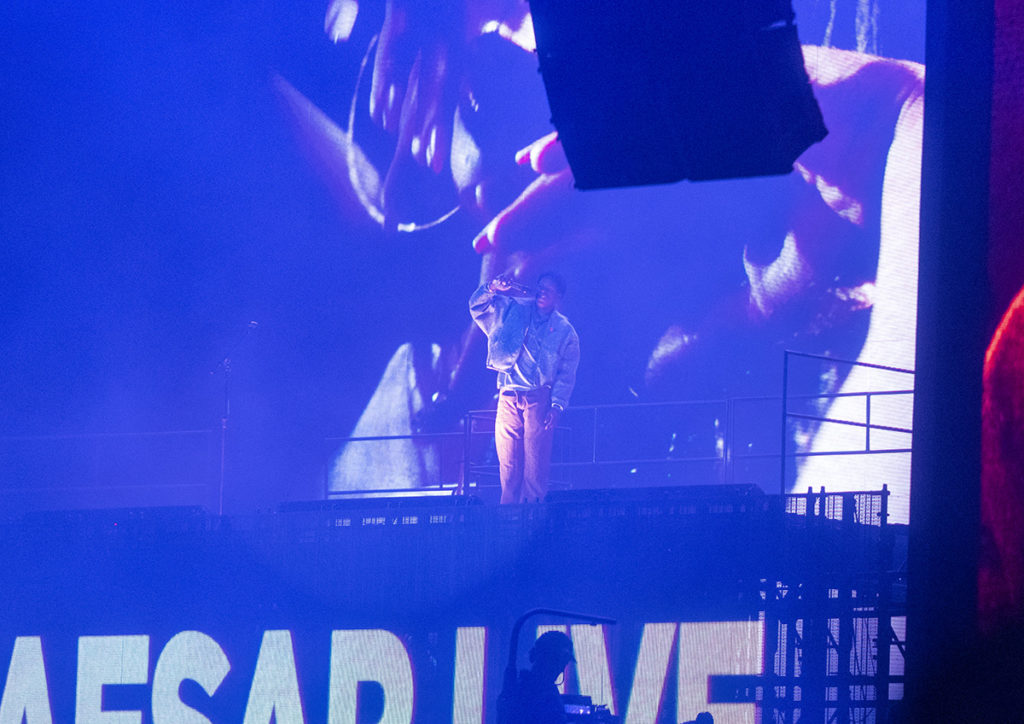 Daniel Caesar
There are only three certainties in life: death, taxes and the mellowness of Daniel Caesar.
He arrived several minutes prior to his set's start time at 10:10 p.m. on the Coachella Stage, casually strolling onto the festival's biggest stage in a grey sweatshirt and beige pants. However, this was not before several minutes of teasing his appearance on the screens, which displayed a compilation of Caesar's home videos.
The R&B artist enthusiastically engaged in call and response throughout his performance, frequently asking the audience to fill in the blanks with his lyrics. Festival attendees did not leave him out to dry and consequently chanted back the choruses to "Japanese Denim" and "Best Part." Accompanying his laidback singing were various video clips, including one of Caesar singing on the beach and another of a stripper sliding down a pole.
Beaming blue stage lights kept tempo with his songs as Caesar ascended a platform, before walking back down to invite Omar Apollo onto the stage for a feature. Prior to his final song, Caesar thanked the crowd as his chosen family and closed out the performance with a croon.
And just like one would to a Caesar salad, he tossed his performance into the night.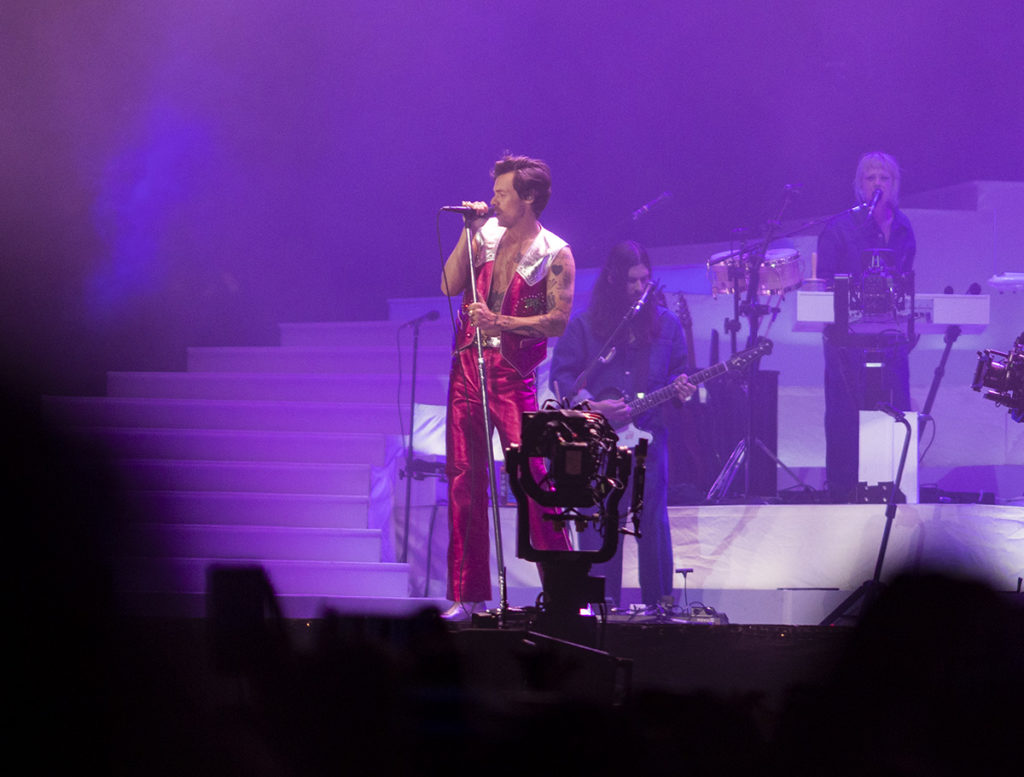 Harry Styles
Harry Styles is going out with a bang.
In a headlining show complete with fireworks, a small brass band and a feature from Lizzo, Styles concluded the first night of Weekend 2 with a 70-minute set. Appearing on the Coachella Stage at 11:35 p.m., the artist wore a sparkly cowboy-esque, pink-and-silver ensemble, with the top featuring embroidered strawberries and cherries and the bottoms emblazoned with his initials.
Styles' set list dabbled in a variety of his musical eras, including a rendition of "What Makes You Beautiful" with Lizzo and performances of his currently unreleased songs, "Boyfriends" and "Late Night Talking" that he debuted during his Coachella performance last week. Between songs, Styles made an effort to check in on the crowd and encouraged festival attendees to feel free to be whoever they wanted to be.
The catwalk on the stage also came in handy as Styles pranced down the platform, shimmying with Lizzo to a cover of "I Will Survive" and catching trinkets thrown at him by fans, such as a pair of red sunglasses that he later put on. Ending the night was "Sign of the Times," which was accompanied by fireworks launched from the top of the stage in tempo with the beat.
Before he left, Styles took bows, blew kisses and left attendees waiting for tomorrow.
Xu is a senior staff writer for Arts & Entertainment. She previously served as the Arts editor from 2021-2022, the Music | Fine Arts editor from 2020-2021 and an Arts reporter from 2019-2020. She is a fourth-year neuroscience and anthropology student from Philadelphia, Pennsylvania.
Xu is a senior staff writer for Arts & Entertainment. She previously served as the Arts editor from 2021-2022, the Music | Fine Arts editor from 2020-2021 and an Arts reporter from 2019-2020. She is a fourth-year neuroscience and anthropology student from Philadelphia, Pennsylvania.