UCLA softball prepares for weekend series against pitching rival Oregon State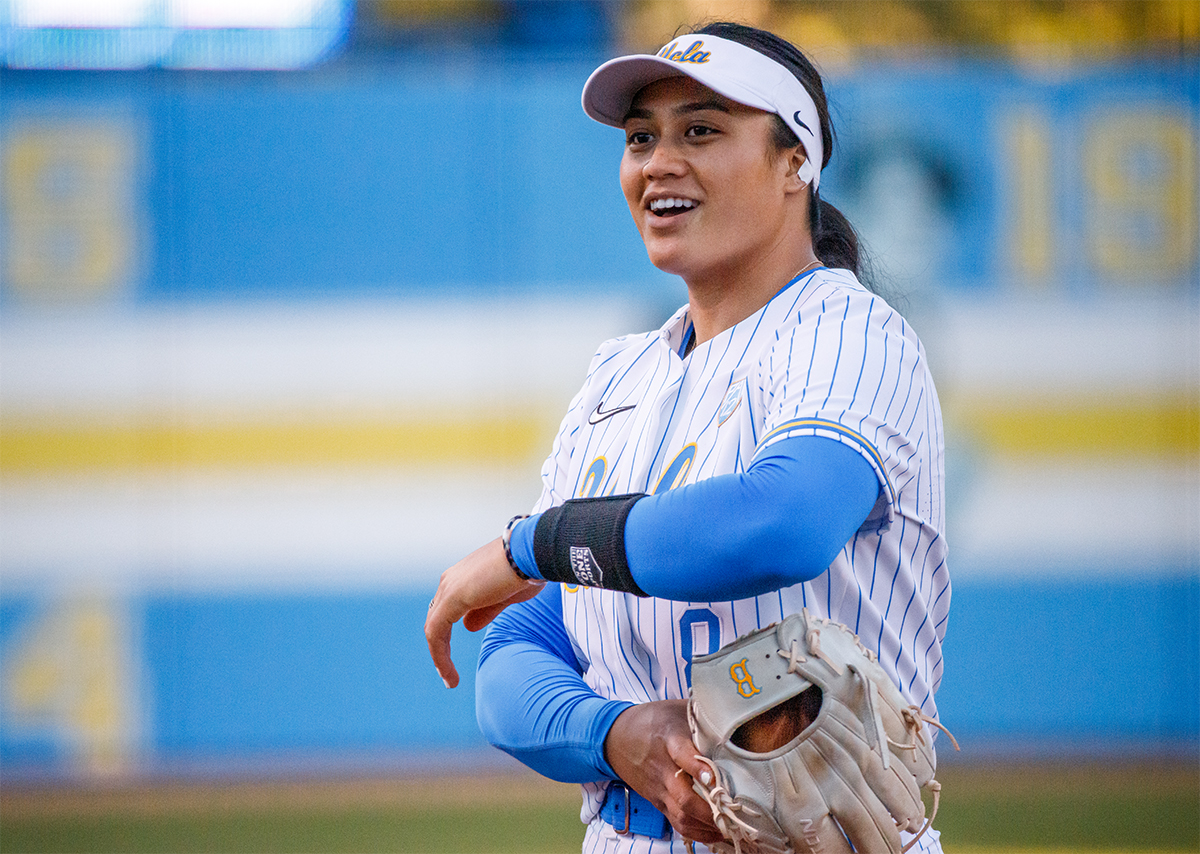 Redshirt junior pitcher/first baseman Megan Faraimo stands in the pitching circle during a game. Faraimo and No. 4 UCLA softball will take on the Pac-12's second-best pitching staff in Oregon State in terms of earned run average for a three-game series from Friday to Sunday. (Kaiya Pomeroy-Tso/Daily Bruin senior staff)
softball
---
Oregon State
Friday, 7 p.m.
Kelly Field
Pac-12 Networks
---
Oregon State
Saturday, 3 p.m.
Kelly Field
Pac-12 Networks
---
Oregon State
Sunday, noon
Kelly Field
Pac-12 Networks
The top two Pac-12 pitching staffs will take turns in the circle this weekend.
No. 4 UCLA softball (33-5, 10-2 Pac-12) will face off against Oregon State (31-12, 7-8) for a three-game series in Corvallis starting Friday. Over halfway through the conference slate, the Bruins and Beavers rank No. 1 and No. 2 in most official Pac-12 pitching statistics.
Oregon State ranks second behind UCLA in earned run average, opposing batting average and wins, while leading the Pac-12 in total innings pitched and strikeouts. Atop a bevy of individual pitching leaderboards, Beaver pitcher Mariah Mazon sits alongside three Bruins in graduate student Lauren Shaw, redshirt senior Holly Azevedo and redshirt junior Megan Faraimo.
"The game comes down to pitching and defense," said coach Kelly Inouye-Perez. "We know Mazon is their ace. She's been a strong presence for Oregon State since freshman year. She's in her fifth year and we know she competes. She's tough. So we're going to do everything we can to prepare for her."
Mazon trails only Faraimo in strikeouts and only Shaw in ERA within the conference, and she ranks fourth – behind the three Bruins – in opposing batting average.
The Oregon State senior recorded wins in 12 out of her 13 last appearances before losing consecutive games to Washington in her last two outings.
Last year, UCLA swept Oregon State, dealing Mazon two losses while shutting out its opponent over all three games.
Regardless of who takes the mound for the Beavers, Inouye-Perez said the Bruins will be successful if they can play their own game.
"When we do play our game, we have a lot more successful outcomes this season," Inouye-Perez said. "And then when we don't, we were able to learn some lessons. So that's what the season is for. I told the girls we have four weeks to really hone in and commit to playing your best ball."
Following an eight-day break, UCLA returned to action Tuesday to defeat San Diego in a midweek contest, snapping a two-game losing streak before continuing conference play.
In their last Pac-12 series, the blue and gold put together an eighth-inning rally to defeat Stanford in the opener before being shut out in two straight contests for the first time since 2013.
"The bye came at a great time for us," Inouye-Perez said. "This is the part of the season where it's challenging mentally, physically, academically."
Redshirt sophomore pitcher/utility Lexi Sosa said that for the Bruins' penultimate road trip of the regular season, the team is trying to keep itself centered.
"We just take it one game at a time and go from there," Sosa said. "We have a saying, 'one time zone' and that's where we are – just take it one game at a time."
With UCLA trailing first-place Arizona State in the conference by two games, redshirt sophomore catcher/first baseman Alyssa Garcia voiced a similar sentiment as her teammate Sosa and said the team is approaching things one day at a time.
First pitch on Friday is scheduled for 7 p.m.
Farinha is currently a Sports staffer on the softball beat. He was previously a reporter on the women's soccer beat.
Farinha is currently a Sports staffer on the softball beat. He was previously a reporter on the women's soccer beat.