ScatterTones hopes to strike chord with judges in collegiate championship final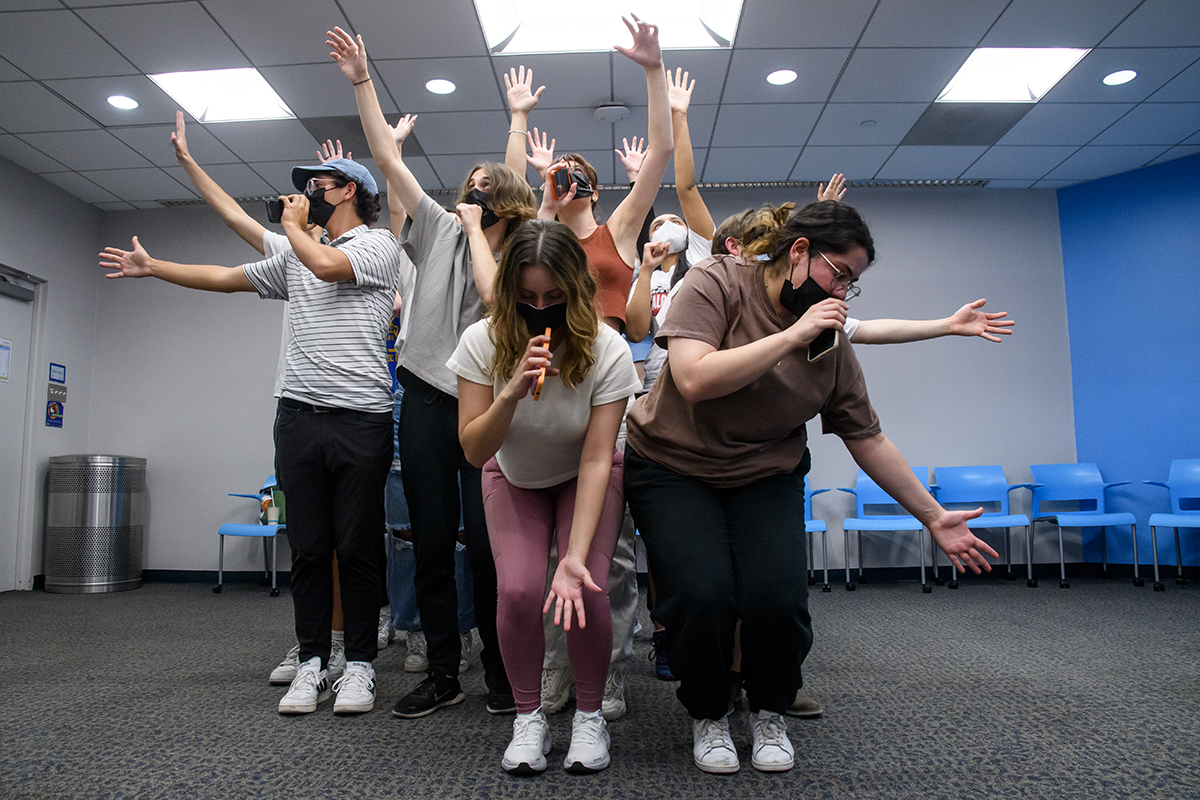 Members of student a cappella group ScatterTones rehearse for their Saturday performance at the final round of The Varsity Vocals International Championship of Collegiate A Cappella. (Kyle Kotanchek/Daily Bruin)
ScatterTones are joining voices to tune up and compete.
UCLA a cappella group ScatterTones is progressing to the final round of The Varsity Vocals International Championship of Collegiate A Cappella, where students will travel to New York City and perform their set for judges on Saturday. ICCA hosts the competition every year, and ten finalists compete for the first-place trophy. ScatterTones president and fourth-year computer engineering student Justin Aoki said the a cappella group last competed at the 2019 finals and received third place, so this year, the group is excited to be back with a fresh set of voices.
"(I) feel really proud about our comeback from COVID – to have formed this group that is completely new and different from the group we were in as freshman … and still feel so proud of the work that we were doing," Aoki said.
[Related: UCLA student translates college experience, theater education to music career]
During the competition, fourth-year musical theater student and brand manager Anna Salvini said there is an array of areas that the group is judged on including tone quality and intonation – the ability to stay in tune while singing – but her main focus as brand manager is on performance presentation. The group's signature colors are black and hot pink, but for ICCA nationals, ScatterTones will opt for a pastel pink color to make the group look more professional, she said.
"My freshman year, the alumni were like, 'It has to be hot pink and black,' and I said no," Salvini said. "I thought it would be awesome (to) do pastels and different shades of pink. So, for ICCA, we have the fancier pink appearance."
For ScatterTones co-music director and fourth-year musical theater student Kay Sibal, the success of the a cappella group comes from its relationships with each other. Sometimes musicians have a tendency to over-rehearse before a competition, Sibal said, but as one of the music directors, she tries to instill a sense of confidence within the group to avoid overworking and straining their voices. She said this approach leaves group members more rested and helps them maintain a consistent tone when performing.
Outside of competition, many ScatterTones members enjoy singing in the group because of the unconventional music arrangements, third-year psychobiology student Marcos Ayon said. The group's set for nationals highlights ScatterTones' versatility, he said, as it ranges from brighter to edgier tones, and the three songs they have prepared all showcase different skills. Many of the arrangements the group performs are put together by current members or ScatterTones alumni, he said, and having a person so close to the group arranging songs for them adds a personal touch.
"We all have such different voices, and we don't want to all sound the same all the time," Ayon said. "With having all these different voices, we utilize them when needed, and we also blend when we want to take them away. Having that flexibility is really cool, and it makes our group stand out."
[Related: Chromatic Brass Collective shines as beacon of inclusivity within classical music]
Choosing which group member's tone to spotlight depends on the nature of the song, he said. For one of the songs in its set – a rendition of the angsty "Boomerang" by Yebba – Ayon said the group tries to emulate the anger present in the song by highlighting members who sing with a raspier tone. As for the choreography, Ayon said it consists of movements that are low and close to the ground to look like hunting to further emphasize the uneasy emotions in the rendition.
In the week leading up to the competition, Aoki said the group's main focus is on fine-tuning any final hiccups in the set. Working with judges' feedback from past rounds is essential, he said, and the group is trying to incorporate feedback from weaker areas into its rehearsals without damaging morale. Because the group prides itself on its close-knit friendship, Aoki said the final days leading up to the competition are more focused on maintaining the set and building connections to show on stage.
"We expect a lot out of everyone, and it's in that that we are able to put our heads and voices together, and understand there's a purpose behind what we're doing, and there's a drive there," Aoki said. "That helps us push through and really milk the most of our ICCA experience but also our experience year to year in any performance we get."