Op-ed: Discussions of Boycott, Divestment, Sanctions movement need balanced perspectives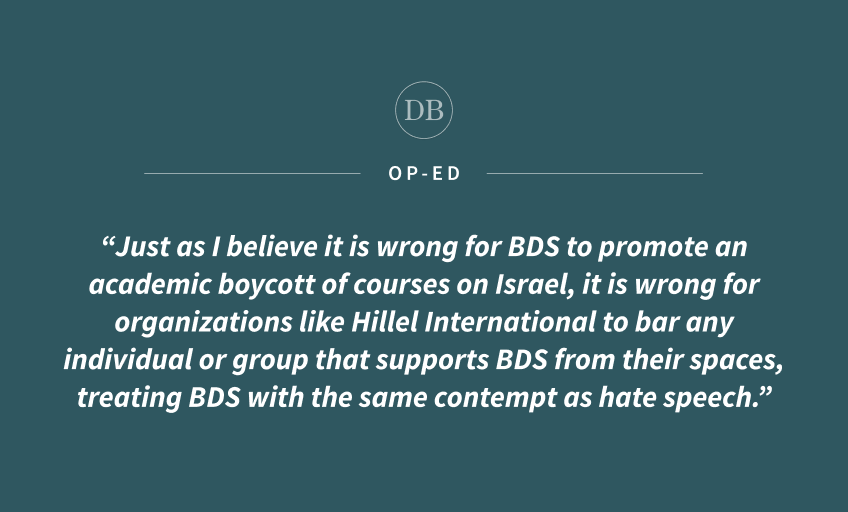 April 17, 2022 11:57 p.m.
Editor's note: The author of this op-ed used the term "land of Israel/Palestine" to reflect her personal views.
It has been almost eight years since the Undergraduate Students Association Council passed a resolution echoing the language and calls of the Boycott, Divestment, Sanctions movement toward Israel. This was a move that sparked backlash that persists to this day. College campuses across the country are passing BDS resolutions and engaging in dialogue about the land of Israel/Palestine. Recently, Students for Justice in Palestine at Tufts University promoted a BDS pledge that encouraged divestment from organizations affiliated with Israel, no matter how progressive their politics.
It is no surprise that Israel hardliners such as StandWithUs have spoken out against BDS. More significantly, though, progressive and apolitical groups that seek to protect Jews, such as the Anti-Defamation League, Jewish on Campus and Hillel International, all have, to a certain degree, espoused the notion that BDS is inherently antisemitic. Hillel International has gone so far as to implement the Standards of Partnership, which said that it bars partnerships with individuals or organizations that support the "boycott of, divestment from, or sanctions against the State of Israel."
I would not personally consider myself a supporter of the BDS movement. I believe economic boycotts are an effective method of nonviolent protest for individuals to partake in. Sanctions allow foreign governments to take accountability for violations of international law while promoting domestic interests of democracy and human rights. However, I am strongly against academic boycotts, which I find to be unproductive and anti-intellectual. In my eyes, the BDS movement is not targeted enough toward Israeli occupation of the West Bank and Gaza. Rather, it encourages a more universal boycott of all things Israel. I am firmly against anti-BDS legislation, though, both in governments and in universities, as I think that such policies are a threat to free speech and the right to dissent.
I am aware that other Jews feel much more strongly opposed to BDS than I do – only one in 10 actively support the movement, while around four in 10 oppose it, according to a survey conducted by the Pew Research Center. That being said, a plurality of Jews disagreeing with a movement does not inherently make it antisemitic. About one in 20 women consider themselves avid fans of basketball compared to nearly one in five men, but obviously, this does not make basketball sexist. Some have made the argument that BDS is antisemitic because it singles out Israel. While Israel is far from the only country in the Middle East, let alone the world, with a compromised human rights record, BDS is a Palestinian-led movement seeking Palestinian liberation, which of course, concerns an end to Israeli military occupation.
Nevertheless, BDS does not call for "the end of Israel"' as some may claim. The specific calls of BDS ask for an end to the occupation in the West Bank and Gaza, equality for Palestinians, and the right of return for Palestinian refugees expelled between 1947 and 1949. It is not asking for the expulsion of Jews from Israel, nor does it deny historical Jewish connection to the land, which would be flagrantly antisemitic. Anyone who uses BDS or pro-Palestinian activism to promote antisemitic rhetoric clearly should be denounced. The BDS movement is simply asking for an end to the status quo in Israel, condemned by both international and Israeli human rights organizations for committing the crime of apartheid.
This is not to say organizations that support BDS have never entered into chauvinistic or prejudiced territory. The most recent BDS ask from Tufts' Students for Justice in Palestine referred to Israel with a lowercase "i," used with the intent of diminishing the existence of Israeli identity. The University of Chicago's SJP chapter encouraged its members not to take any courses taught by Israeli fellows. These courses of action do nothing to actually promote Palestinian liberation and, instead, disrespect Israeli existence. However, this move does not constitute antisemitism but rather xenophobia. Tufts' SJP is not only erasing the identities of Israeli Jews but the one in five Israelis who are not Jewish, be they Arab Muslims, Christians, Druze or another religious minority. Calling this move antisemitic is a misnomer – and it is incredibly important that when it comes to addressing bigotry, we do so with precision and accuracy.
What is the harm in calling BDS antisemitic or blacklisting those who support it? For one, it waters down the real threat of antisemitism, which has been steadily on the rise in recent years. On the Instagram page of Jewish on Campus, there are posts of horrific antisemitism. Most recently, one details notes containing slurs and threats sent into a Jewish student's dorm room. Another includes a report of a swastika on campus. Previously, Jewish on Campus posted about a BDS resolution being passed at the University of Toronto and labeled a Princeton referendum promoting BDS-backed divestment from Caterpillar, a construction and mining equipment manufacturer that supplies machinery to the Israeli army, as a threat to Jewish students. To say these events have anything resembling an equal moral standing is a slap in the face to the many victims of antisemitic attacks, from the past to the present.
Just as I believe it is wrong for BDS to promote an academic boycott of courses on Israel, it is wrong for organizations like Hillel International to bar any individual or group that supports BDS from their spaces, treating BDS with the same contempt as hate speech. Existing in an echo chamber of only your opinion is certainly more comfortable, but it won't create the change you wish to see in the world. Intellectual growth and stimulation cannot occur without challenging your ideas. It's past time for all of us to get uncomfortable.
Burnett is a second-year psychology student.