The Quad: UCLA community members reflect on being sustainable during the pandemic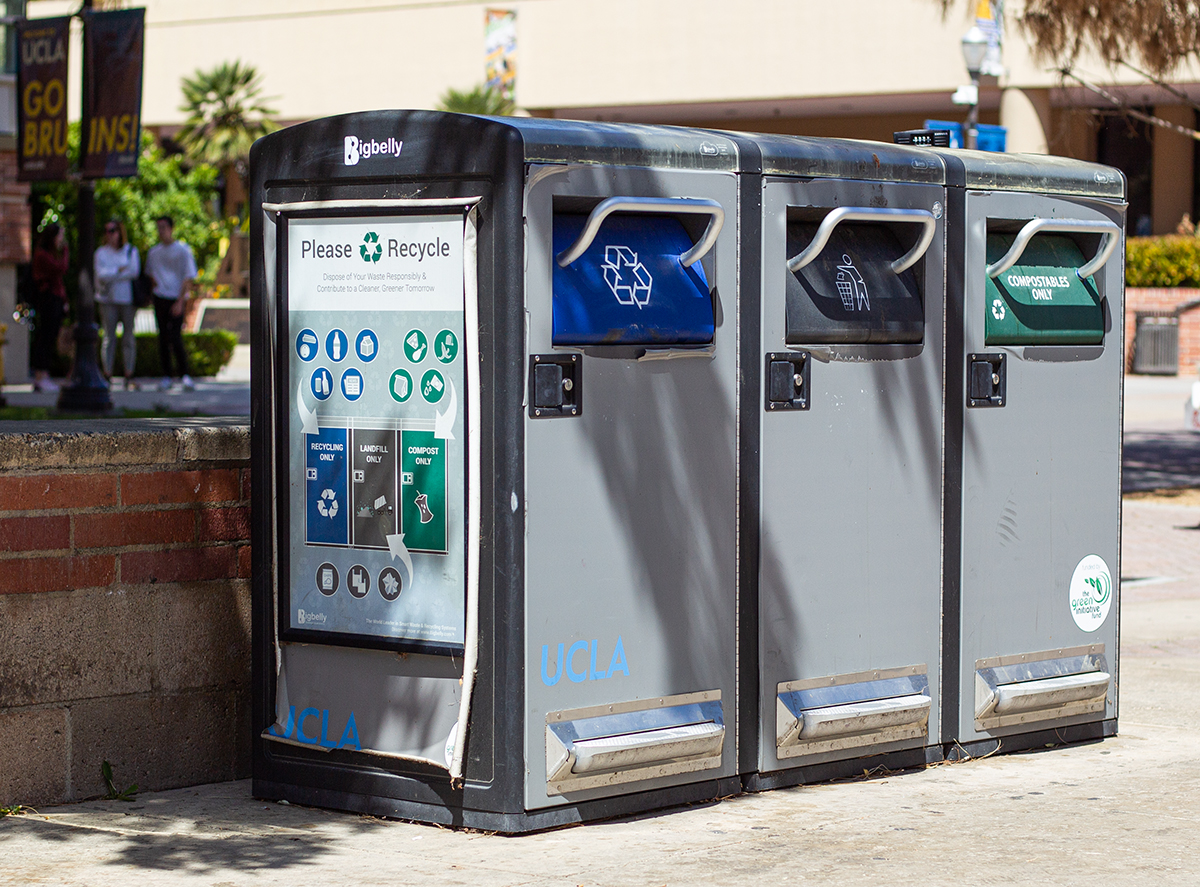 The COVID-19 pandemic has affected many things, sustainability practices included. Multibin trash cans are part of UCLA's Zero Waste plan aimed at improving sustainability on campus. (Joseph Jimenez/Daily Bruin)
This post was updated April 18 at 12:12 a.m.
An influx of single-use materials was discarded over the course of the COVID-19 pandemic. Sustainability, as a result, has been harder to preserve under pandemic regulations, leaving students unsure of how to be environmentally friendly and COVID-19 conscious.
According to the National Library of Medicine, personal protective equipment such as masks and gloves, which have been widely used during the pandemic, negatively impact the environment. Further, a significant environmental outcome of the pandemic is a decline in recycling and a consequential increase in pollution.
UCLA's plethora of categorized trash cans with options for landfill, recycling and compost have pushed Bruins to be more environmentally friendly.
Fourth-year psychobiology student Eliza Astudillo said she finds the categorized trash bins on campus helpful and easy to use.
"There's photos of what kind of trash go into each category," Astudillo said. "I think that's really important and special that UCLA has (that) because I know that when I went to Disneyland or just going to other places, even my own hometown, they don't do that."
Astudillo added that it is important to educate people on how recycling functions, as allowing students to categorize their personal trash helps them learn firsthand how their small actions make a large impact.
The multibin trash cans are part of UCLA's Zero Waste plan that started in 2016 and aims to limit landfill by 90% by the year 2025.

However, Mikaella Butalid, a third-year English student and writer for fashion sustainability organization Refine LA, said that at times, not all three options are presented to students, which can lead to students discarding their trash in the most recognizable option: landfill.
"The only problem about (the trash cans) is that sometimes you don't have all three categories. Like along Bruin Walk, I think sometimes the compost isn't included," Butalid said. "So it runs the risk of just choosing whichever one is the closest, just using landfill."
Daniel Coffee, a public policy and environmental science professional, said that though the multibin system makes it easier for students to recycle, positive efforts get overshadowed by the continued use of plastic.
"Recycling degrades plastic material each time it goes through the process. And because there are process losses, and because, of course, in many cases, plastic atoms aren't even properly recycled," Coffee said. "They get littered. They escape the trucks. They go into this street. They make their way into the oceans of the environment. That means that any increase in overall usage will increase those sets of impacts."
Coffee added that a lot of single-use medical waste is typically not recycled but rather incinerated, causing an increase in greenhouse gases. The rise in single-use plastic during the pandemic can also be attributed to businesses adding extra packaging to their products to reduce contamination.
Butalid said she finds it harder to be sustainable during the pandemic as people are less inclined to worry about the long-term effects of their waste since they are more focused on preventing the spread of COVID-19.
"Especially since we are in a pandemic, I find that it's harder to be sustainable because the masks we wear, they're disposable. So I think one of the unintended consequences of the pandemic is that it kind of encourages more waste," Butalid said. "We sort of view things as things we can throw away and not really thinking about the long-term effects of that."
Similarly, Astudillo said that though she recycles often, she is searching for more ways to practice sustainability.
"I tried to be as environmentally conscious as much as I can, especially when it comes to food. Being able to incorporate small little things into your day-to-day routine is very helpful," Astudillo said. "Like recycling or trying not to consume as much meat or just finding little ways like that."
Coffee said that another problem that comes along with single-use plastic is microplastic, which can be introduced into the environment in various ways, such as by washing synthetic clothing in laundry machines.
"It was confirmed that they found little bits of microplastic in the lowest reaches of living human lungs," Coffee said. "And not long before that, they confirmed that pieces of microplastic were found in the human bloodstream. And there is not much known yet as to what the potential long-term health ramifications of this are. But the fact is that literally every biome on the planet now is contaminated with microplastics."
Coffee said that small actions such as using reusable bottles and utensils do help the environment, but one of the most effective ways to be environmentally friendly is to vote.
"The most important thing that individuals can do when it comes to addressing these systemic problems is being a part of systemic solutions," Coffee said. "And the best way to do that is by activism and by voting in a way that puts people in positions of power who are passionate enough and knowledgeable enough to actually make something happen."