Editorial Board discusses campus safety, basic needs at meeting with Chancellor Block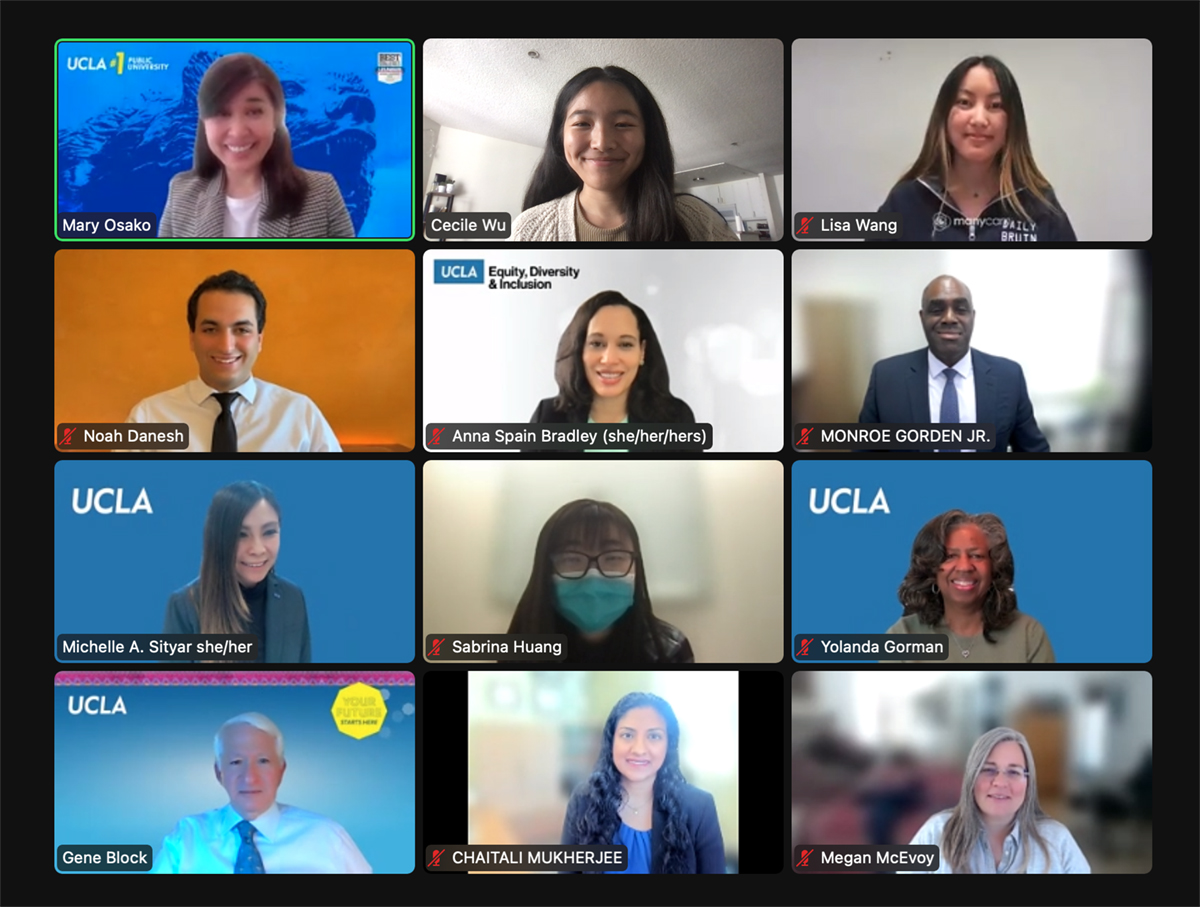 The Daily Bruin Editorial Board met with campus leadership over Zoom in March. (Screen capture by Cecile Wu/Daily Bruin senior staff)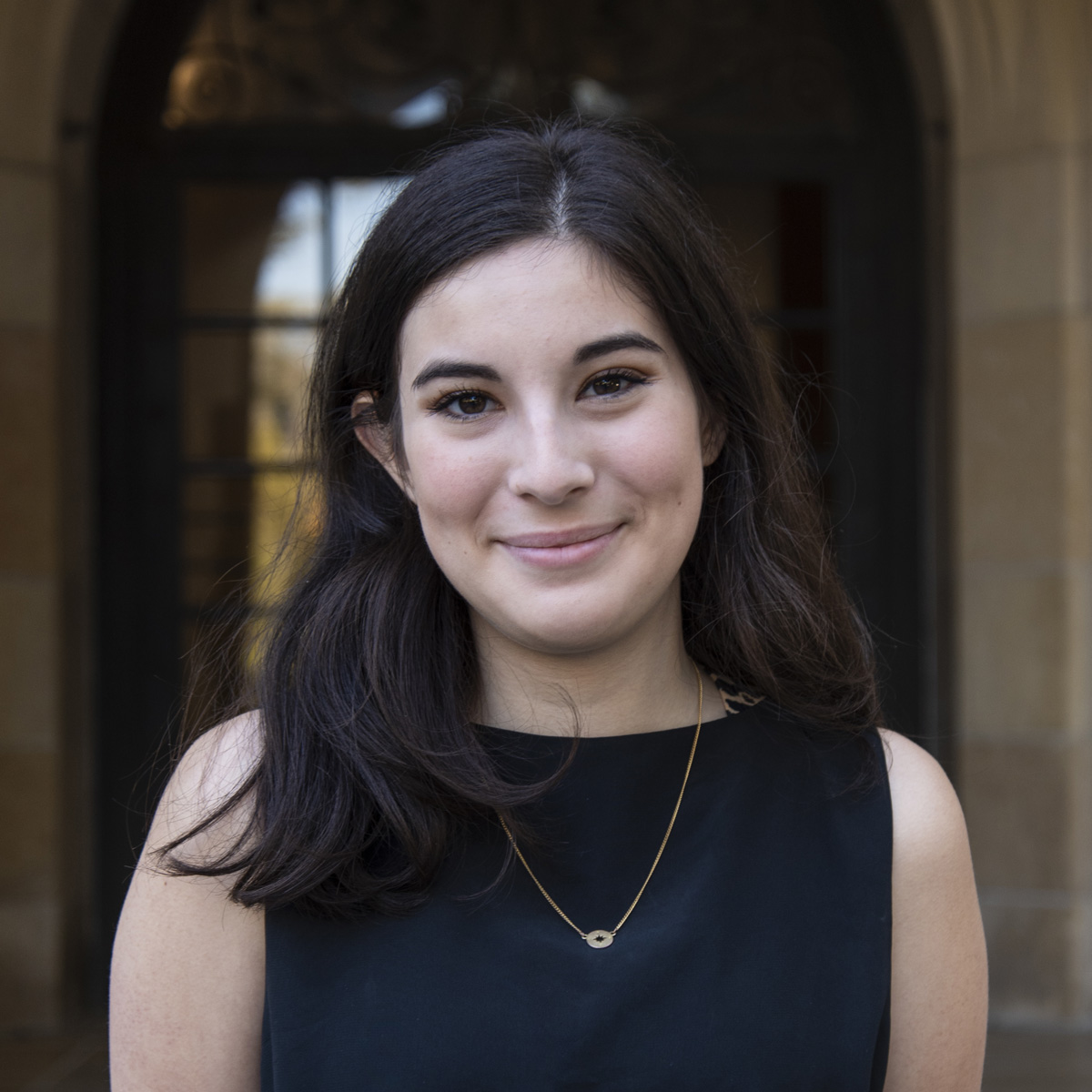 Correction: The original version of this article incorrectly stated that the task force that was recently established is distinct from the Public Safety Task Force established after the Getty Fire in 2019. In fact, recently appointed public safety co-chairs are distinct from the Public Safety Advisory Council established after the Getty Fire.
This post was updated April 19 at 1:54 p.m.
The Daily Bruin Editorial Board meets with Chancellor Gene Block quarterly to ask questions and discuss topics and administrative policies affecting campus and students. At the March 29 meeting, Block discussed issues of campus safety, accessibility, future online learning and COVID-19, basic needs and equity and racial justice.
Campus safety
UCLA faced multiple safety threats during winter quarter and communication from the administration regarding these threats was often delayed. In response, the UCLA administration established a new threat response task force to review communication during similar situations that could happen in the future.
Chancellor Gene Block said that communication regarding the mass shooting threat by a former lecturer in the philosophy department could have been more prompt and clear. He added that an independent committee supported by the university is being created to form a proposal for a better method of communicating with the UCLA community in similar situations.
Block also said that the administration must evaluate the credibility of threats they receive and then make decisions about if and when the community should be made aware of these threats. In the case of the white supremacist rally that was threatened on campus in February of winter quarter, the administration made the decision that it was not a credible threat, which was why the threat was not communicated immediately. Chief of Staff to the Administrative Vice Chancellor Michelle Sityar added that it is important to balance the amount of information that is released because too much information risks being confusing and damaging, especially if released too early.
Advisor to the Chancellor and Chief of Staff Yolanda Gorman said that the recently appointed public safety co-chairs are distinct from the Public Safety Advisory Council established after the Getty Fire in 2019. The co-chairs are expected to publish a report with recommendations on how to improve campus safety, which is considered separate from outside threats like those faced during winter quarter. The committee also includes input from students, faculty and staff. Gorman added that the report is expected within the next few weeks, but there is not a specific date that it will be released because it is partly dependent on the recent availability of the findings of an investigation into Jackie Robinson Stadium's improper use as a field jail for protestors in 2020.
Vice Chancellor for Student Affairs Monroe Gorden Jr. said that the university is in the process of developing a mental health response unit. The program would enable mental health professionals instead of the UCPD to respond to students in crisis in some situations. Gorden added that there is not an official start date for the program.
Accessibility, future online learning and COVID-19
As COVID-19 cases continue to decrease both on campus and in Los Angeles County, COVID-19 protocols are being lifted. Some protocols established on campus, such as online and hybrid learning, are now being considered as ways to increase the number of students that UCLA is able to enroll and educate. With the return to in-person learning, students are also currently voicing physical accessibility concerns on campus.
Block said that the reduction in federal COVID-19 funding will not impact the protocols that UCLA administration chooses to keep in place regarding COVID-19.
Block said that UCLA is obligated to enroll an additional 3,000 students over the next few years due to a request from University of California President Drake. One idea for how to do so is to utilize online or hybrid learning, even after it is no longer necessary due to COVID-19. The university is also looking into having full enrollment during the summer quarter so as not to increase enrollment during other quarters. Block added that it is possible to pursue establishing a satellite campus associated with UCLA.
Sityar discussed the 311 app, which allows students to report accessibility issues on campus such as broken elevators. The app was established in 2021.
Gorden added that infrastructure upgrades are needed across campus. He emphasized the importance of student input in bringing these issues to the attention of administrators.
Vice Chancellor for Equity, Diversity and Inclusion Anna Spain Bradley said that UCLA recently completed the UCLA MetaMap project. The map highlights areas where increases in accessibility are needed on campus.
Basic needs
Students' basic needs are changing as campus adapts to in-person learning once again. Some already-established services, including those aimed at helping with housing and mental health, are in the process of being expanded.
Block said that the UCLA BruinHub will soon double in size to 10 units.
Gorden added that it is necessary to increase the support services that UCLA provides in addition to the physical space of the BruinHub.
Block also said that the university is in the process of opening more housing options for undergraduate and graduate students.
Sityar added that Olympic and Centennial Halls are already open, and Gayley Heights and Southwest Campus apartments will open next year. These options will provide housing for thousands more undergraduate and graduate students. Sityar also said that UCLA was recently recommended by the California Department of Finance to receive a Higher Education Student Housing Grant from the governor. If approved by the governor, the grant would enable the university to provide more housing at below-market rates.
Gorden added that graduate students, in addition to undergraduate students, have access to Economic Crisis Response Funding if needed.
Gorden said that the Counseling and Psychological Services center has added clinicians and implemented new programs, including telehealth options. He added that they have also implemented resiliency programs for situations in which a clinician is not necessary.
Mukherjee said that the Star Wellness Check, a short five-minute mental wellness check for students, was launched in winter quarter and will be expanded.
Equity and racial justice
UCLA has recently faced concerns of equity, diversity and inclusion, including in athletics and resources on campus. Administrators said they are committed to ensuring EDI on campus and are in the process of working with students to implement and change policies.
Block said he believed discussions with student groups about increasing resources for the Black Bruin Resource Center were productive and largely satisfactory for both sides. He added that he thought it was important for these students to have a voice as they are part of groups that often go unheard.
Bradley said the administration is committed to supporting student athletes. She added that it is important for all staff that work with student athletes to share the university's commitment to equity, diversity and inclusion.
Block said he is optimistic that the university will accomplish its goal of becoming a Hispanic-Serving Institution by 2025. He added that the university's goal goes beyond just receiving the designation. Block also said that UCLA will work to increase faculty and staff representation and programs for Hispanic students.
Gorman added that a report concerning UCLA's efforts to become a Hispanic-Serving Institution will be released soon. She also said that the university is in the process of hiring a director for this goal.
Gorden said that the university is in the process of changing its free speech protocols regarding hurtful speech on campus. He said these changes will likely be announced over the summer.