The Quad: UCLA community members discuss effects of daylight saving time bill on health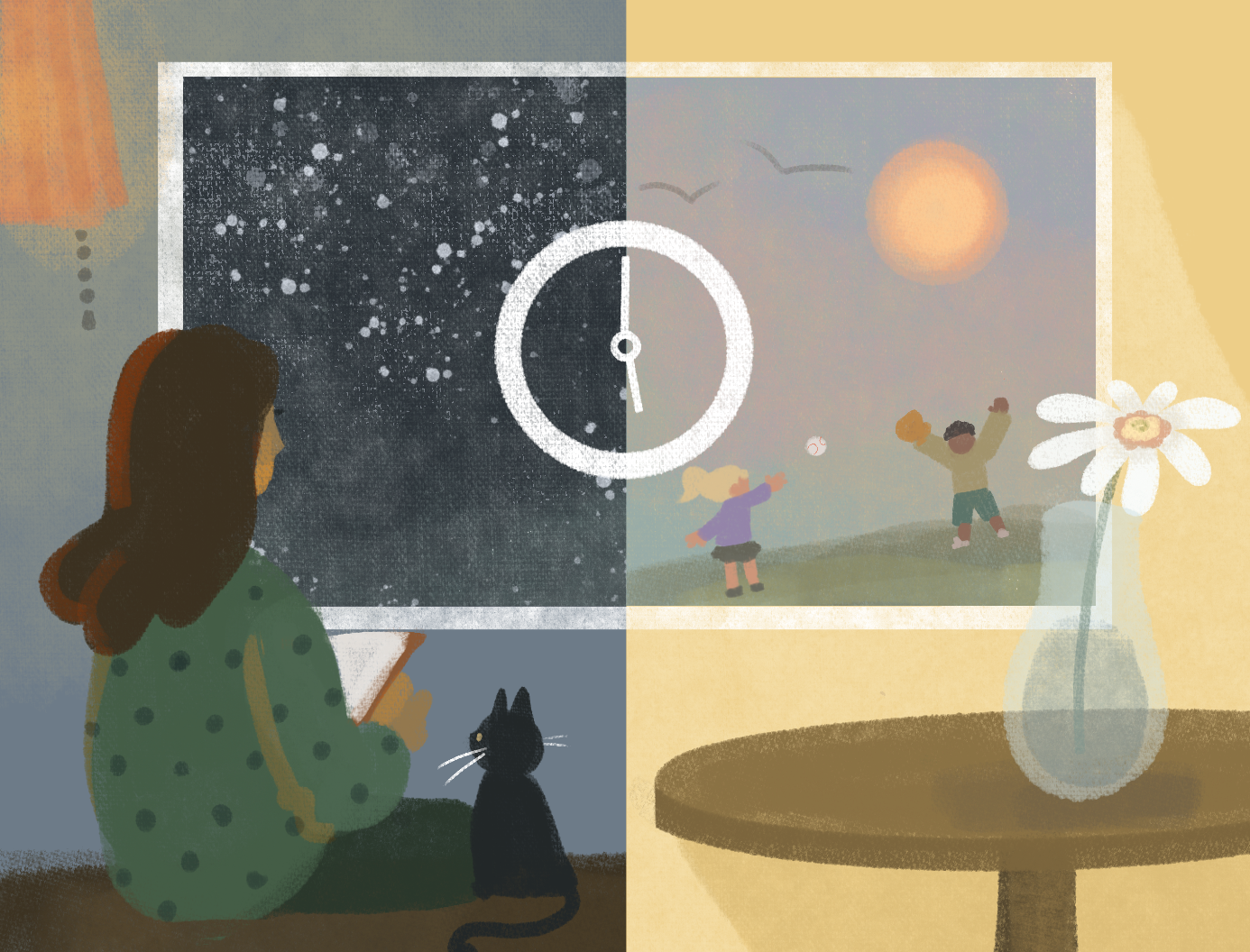 (Katelyn Dang/Illustrations director)
Correction: The original version of this article incorrectly titled Marco Rubio as Florida State Senator. In fact, Rubio is the U.S. Senator for Florida.
This post was updated April 24 at 10:59 a.m.
The biannual ritual of "fall back, spring forward" — better known as the notorious practice of daylight saving time — has long been the source of heated debate. For students, the process of advancing their clocks every second Sunday of March and turning them back every first Sunday of November can be an irritating and inconvenient task.
Daylight saving time has a long and complex history, which is part of the reason for its controversy.
While a popular myth attributes farmers to the initial creation of daylight saving time, its most concrete beginnings can be seen during the First World War.
During World War I, the United States and several other nations instituted daylight saving time to conserve fuel. During World War II, President Franklin Delano Roosevelt executed a year-round daylight saving time for similar reasons.
After undergoing several technical changes, daylight saving time was finalized in 2007 to the pattern we follow today, from the second Sunday of March at 2 a.m. to the first Sunday of November at 2 a.m., when standard time begins once more.
However, there's no guarantee daylight saving time will be here to stay.
Last year, U.S. Senator Marco Rubio proposed the Sunshine Protection Act of 2021, which would end the biannual changing of clocks and enforce daylight saving time permanently as the new standard time. If put into effect, the bill would lead to later sunrises and sunsets during what the U.S. currently recognizes as standard time.
On March 15, the bill passed with unanimous consent in the Senate, now awaiting its fate in the House of Representatives. If passed and then signed by President Joe Biden, the bill would be implemented in November 2023, according to a New York Times article.
Katya Leal, a third-year political science student, said she is mostly supportive of the Sunshine Protection Act because it would help prevent abrupt time changes.
"I think that changing the time is just really jarring," Leal said. "It's just like having jet lag without even traveling."
Although Leal's main concern is about the time change twice a year, she said she would prefer daylight saving time over standard time overall.
"I generally think daylight saving is a little bit better because people tend to be happier when there's more sunlight," Leal said.
Ahmed Shurbaji, a third-year psychobiology student, said he believes the time change impairs a student's ability to function well.
"From what I understand, switching between times causes a lot of biological distress," Shurbaji said. "Every year when daylight saving happens and I get less sleep that one day, I just don't function well, and I think it goes without saying that nobody functions as they normally would. … Being consistent is most effective."
However, although Shurbaji said he advocates for a uniform time throughout the year, he added that he prefers standard time to daylight saving time.
"(Implementing) standard time would be beneficial to having a more universal way of approaching time zones," Shurbaji said. "When you have some countries doing standard time and some opting out, then there's a lot of discrepancies, so forcing everybody else to opt in is not optimal."
While Senate members were optimistic about the Sunshine Protection Act, neurology professor Alon Avidan said he is not as enthusiastic about what the bill would accomplish.
Avidan said that good alignment occurs when our body clock and environmental clock are well-aligned, which leads to optimal health. On the other hand, misalignment can happen during the springtime, or daylight saving time, causing detrimental effects such as heart attacks, stroke, traffic accidents and overall poor quality of life.
"The loss of one hour of sleep is, from a health perspective, poor. It is more likely to be associated with chronic sleep deprivation," Avidan said.
In addition, Avidan said that if the U.S. decides to permanently switch to daylight saving time, it is possible some individuals will never really align to the transition, causing enduring misalignment.
"I'm very much against a bill that makes this daylight saving time a permanent function," Avidan said. "It works in opposition to our own circadian physiology."
Avidan added that he believes the Sunshine Protection Act was passed too hastily to be given enough thought.
"It's known that when this Sunshine Protection Act was made … the ruling was made quite quickly, and it was made without really being attentive to all the health and sleep-related consequences that may come with a permanent daylight saving time," Avidan said.
Some Bruins also suggest other important methods of consideration, noting that the Sunshine Protection Act is not the only solution to this nuanced issue.
"An interesting thing would be … changing the time that you're supposed to come into school or work," Leal said. "That could be kind of a compromise, like instead of actually changing the time, you just come an hour later. … That might be better than changing the overall time."