Q&A: Cast, crew of 'Metal Lords' discuss adolescent representation in film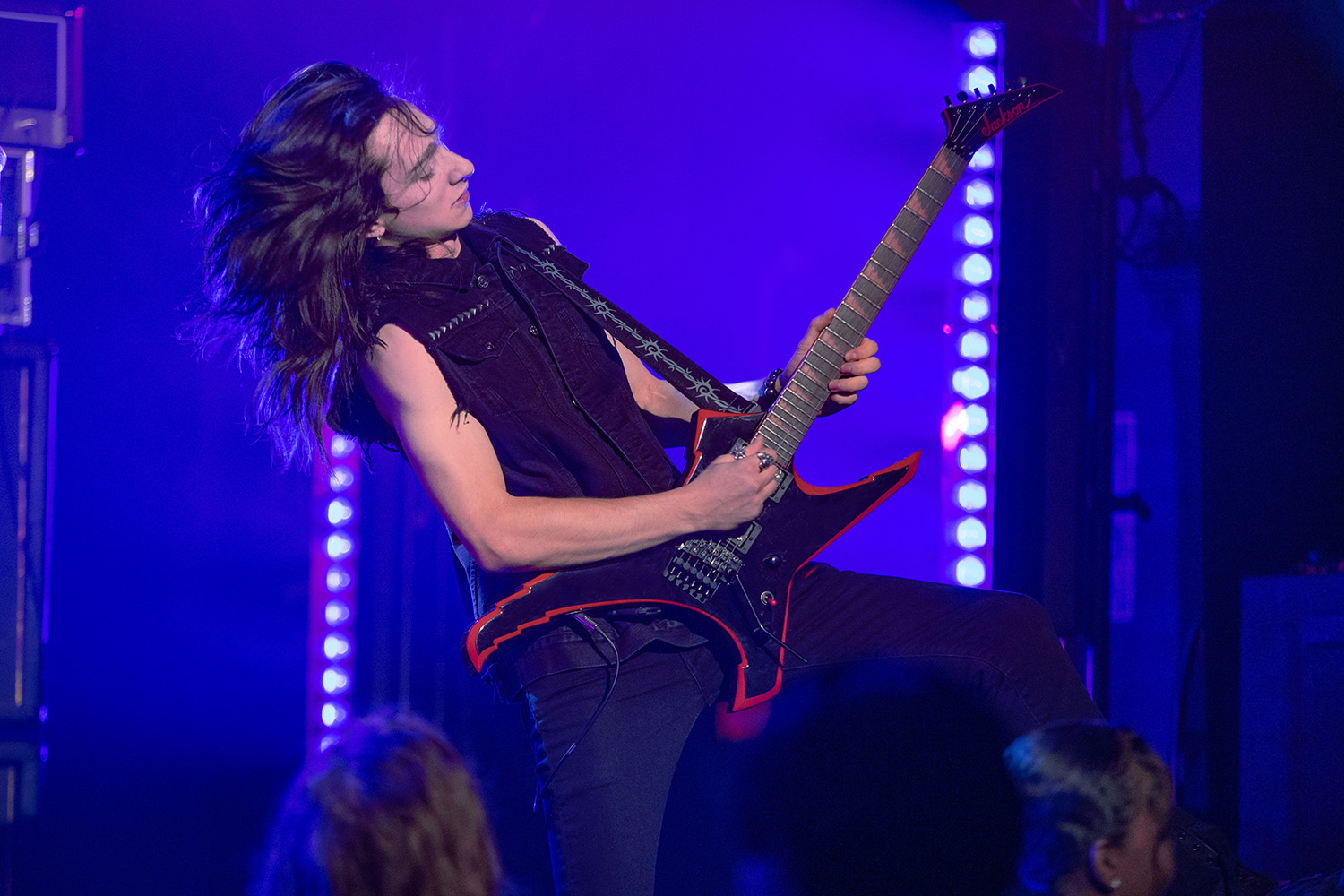 Adrian Greensmith plays Hunter in Netflix's "Metal Lords." (Courtesy of Scott Patrick Green/Netflix)
This post was updated April 10 at 9:19 p.m.
How do people cope with the obstacles of high school? Sometimes, they start a heavy metal band.
Comedy-drama "Metal Lords" releases Friday on Netflix and is unleashing the spirit of metal music. The coming-of-age film follows best friends Kevin (Jaeden Martell) and Hunter (Adrian Greensmith), as well as cellist Emily (Isis Hainsworth), who are bonded by their mutual labels as social outcasts. Together, they form a metal band to compete at the Battle of the Bands in the face of teenage angst, first love and bullies.
Martell, Hainsworth, screenwriter D.B. Weiss and executive music producer Tom Morello spoke with the Daily Bruin's Talia Sajor and other college journalists at a virtual roundtable hosted by Netflix about conveying the growing pains of adolescence onscreen.
[Related: Q&A: Cast, director discuss narrative importance of perspective in 'The Batman']
This interview has been edited for length and clarity.
Daily Bruin: During the writing process, did you draw on any of your own experiences in high school when creating the script and characters?
D.B. Weiss: I did draw, indirectly, on experiences I had in high school. Playing music, trying to play music, failing to play music very well, that was a part of it. The social situations that (I) ended up being put in, a lot of those did feed into the story. Over time, (my experiences) got transformed and changed beyond our recognition, but the seeds of it did come from those situations.
DB: Were there any specific bands you drew inspiration from to create the music?
Tom Morello: The kids in this movie have the entire history of rock and roll to draw from. My metal loves were the bands that put out records when I was first listening to heavy metal. Now, with streaming services, the heroes of this movie can cherry-pick from different genres.
(Weiss) called me up and said, 'I need you to write a song. It's called "Machinery of Torment,"' and I said, 'All the roads of my life have been leading toward the moment where I wrote a song called "Machinery of Torment,"' so I was very excited about it. For me, it was those bands when I first picked up a guitar, (and) was looking at the posters on my wall, that excited me about rock and roll. … Judas Priest, Iron Maiden, then later Metallica, bands like that – to make a song that had only one genre in mind: not metal and rap, not metal and alternative, not metal and EDM, but metal and more metal.
[Related: Q&A: Cast, director share details about Netflix's 'Texas Chainsaw Massacre' sequel]
DB: In the beginning of the movie, both Kevin and Hunter want to start a band to gain social status. When they're finally at the Battle of the Bands, do you feel like they still perform with that same hope and desire in mind?
Jaeden Martell: Toward the end, it's more about putting (in) their all. Honestly, they don't care about anybody else. They just want to have a good time and perform to the best of their abilities. Even in the beginning, I think Kevin, for him, it's about appeasing his friend, and then (he) eventually finds a love for metal. That's a special transformation for both of them. It becomes more about themselves and the artistry of metal music rather than becoming famous.
DB: Emily's an interesting character because she's very naive when she's with Kevin, and she has these comedic aspects of herself, but she also has a mental illness. How were you able to balance those two sides of Emily?
Isis Hainsworth: From the very start, we were very conscious to not give her a diagnosis. … She's just a young person living in the world that we live in today, and she's angry about some stuff, and that's still okay because look at the world. But she's also not just her anger. She's also this lovely, loyal and kind human being. It was really interesting to play someone who's very up and down and has very opposing sides to her.