Study finds health trackers have no clear effect on students' physical activity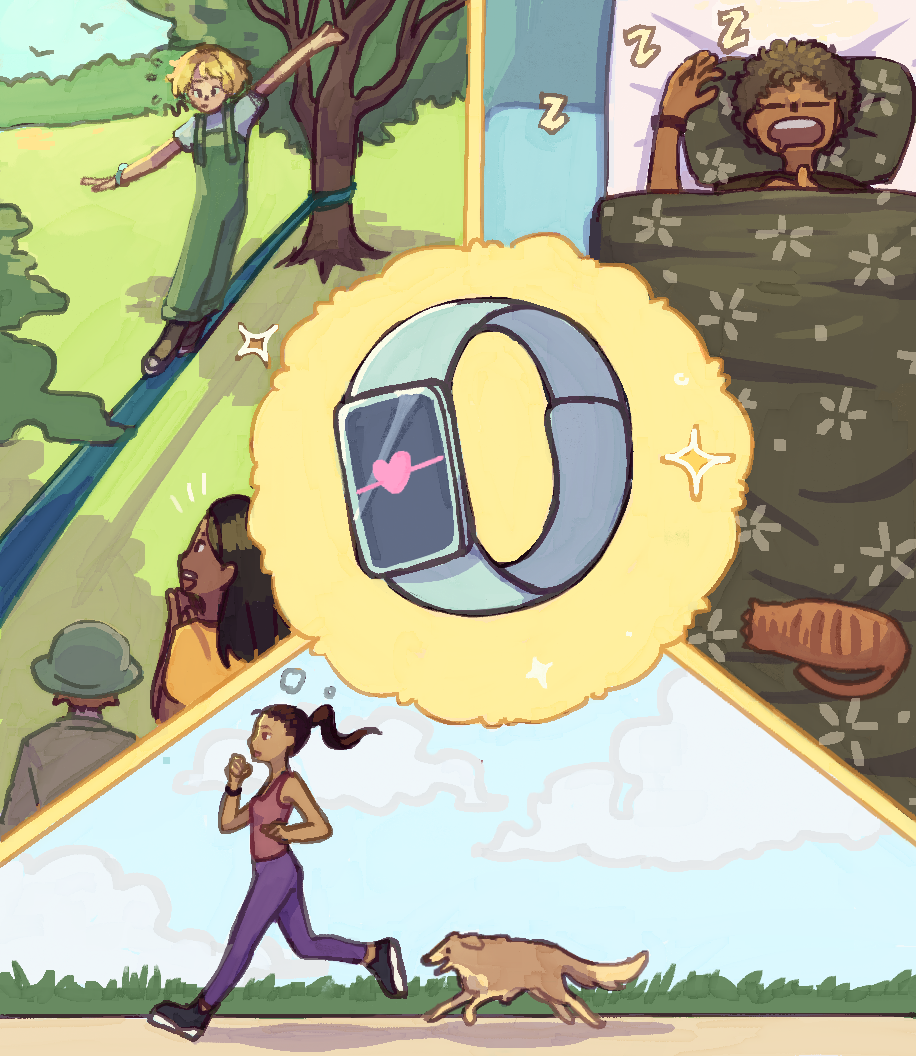 (Anna Richardson/Daily Bruin)
Correction: The original version of this article incorrectly stated that researchers found that users who expressed higher levels of traits such as agreeableness and distinction were the most likely to adjust their activity over time. In fact, the traits include agreeableness and depression.
This post was updated April 7 at 3:17 p.m.
Researchers found that distributing wearable health trackers to students did not appear to have an effect on college students' exercise and sleep behavior.
Fitbit wearable devices provide users with objective data on their physical activity and sleep habits. Researchers were primarily interested in whether students would adjust their activity habits based on the health feedback they received from these wearable health devices, according to the March 16 study.
Omar Lizardo, a professor of sociology at UCLA, and his research team analyzed data from participants' Fitbits and surveyed them to gain more information regarding their personalities and usage tendencies.
"We're looking at … essentially the difference between people who are really interested in quantifying themselves … and then seeing whether that interest actually then predicted their Fitbit behavior usage and whether they adjusted their physical activity to match the feedback they were getting," Lizardo said.
To measure users' interaction with their Fitbits, the researchers used the habit loop model – a psychological model of how individuals develop habits – in order to model their engagement and whether they adjusted their activity over time, according to the study.
The basic premise of the habit loop model assumes that one trusts the data and feedback the Fitbit gives the user, Lizardo said. When the individual receives positive feedback from a certain behavior, such as the tracking of a workout, the user will tend to repeat that behavior and establish the loop, he added.
Previous research has shown that Fitbits and other wearable health devices can sometimes lead to overexercise, according to the study. The study found that certain users become addicted to the feedback they receive, which in turn can lead to obsessive tendencies in the users who overwork themselves.
"We actually found that it is true that people's interest in the devices correlates over time, but actually their interest does not correlate with whether they changed their physical activity," Lizardo said.
The researchers also found connections between the personality types of the participants and their respective usage on the Fitbit app. Users who were put in a category of exhibiting extroverted traits, according to their survey results, tended to spend more time using the app and tracking their health, Lizardo said.
Although the researchers were unable to make any determination on extroverted individuals actually changing their activity based on their higher usage on the app, they did find that users who expressed higher levels of traits such as agreeableness and depression were the most likely to actually adjust their activity over time.
Dr. Christopher Cooper, a professor emeritus of medicine and physiology at UCLA, said he has found similarities between Lizardo's research during his own work with numerous patients.
Cooper said he noticed there was a significantly greater percentage of athletes and regular exercisers who wear these health trackers compared to those who do not participate in habitual physical exertion.
However, he added he does not necessarily believe that these health trackers are the primary reason that individuals choose to establish the habit of regular exercise. Cooper said tracking health behavior is beneficial, but the motivation of those who regularly exercise comes from habits formed over a more extended period of time.
Matthew Phillipi, a second-year psychobiology student, has used a Fitbit for several years.
He said his Fitbit is useful in validating his workout progress and knowing that he burned a certain number of calories.
However, Phillipi added that when he intermittently stopped using his Fitbit, he still felt like he participated in the same amount of physical activity as he would when using the Fitbit. Phillipi was a two-sport varsity athlete in high school and still participates in many intramural sport teams here at UCLA.
Phillipi said he enjoys using his Fitbit to track his health data, but it doesn't have an effect on his regular exercise.
Patrick Herbig, a second-year neuroscience student, also uses a Fitbit regularly. He enjoys functions on the Fitbit such as heart rate monitoring and sleep tracking.
Herbig said he used the Fitbit as a vessel to check health data but has not been using it to increase his physical activity.
"Any kind of feedback on your health behavior is generally a good thing. But at the same time, you don't want to overestimate the impact that a wearable device has on people," Lizardo said. "There are certain people that do like to keep track of what they're doing, … but this doesn't necessarily mean people who don't wear Fitbits cannot do the same thing."