Moon's Musings: NCAA must take ownership of WNIT as step toward gender equity in basketball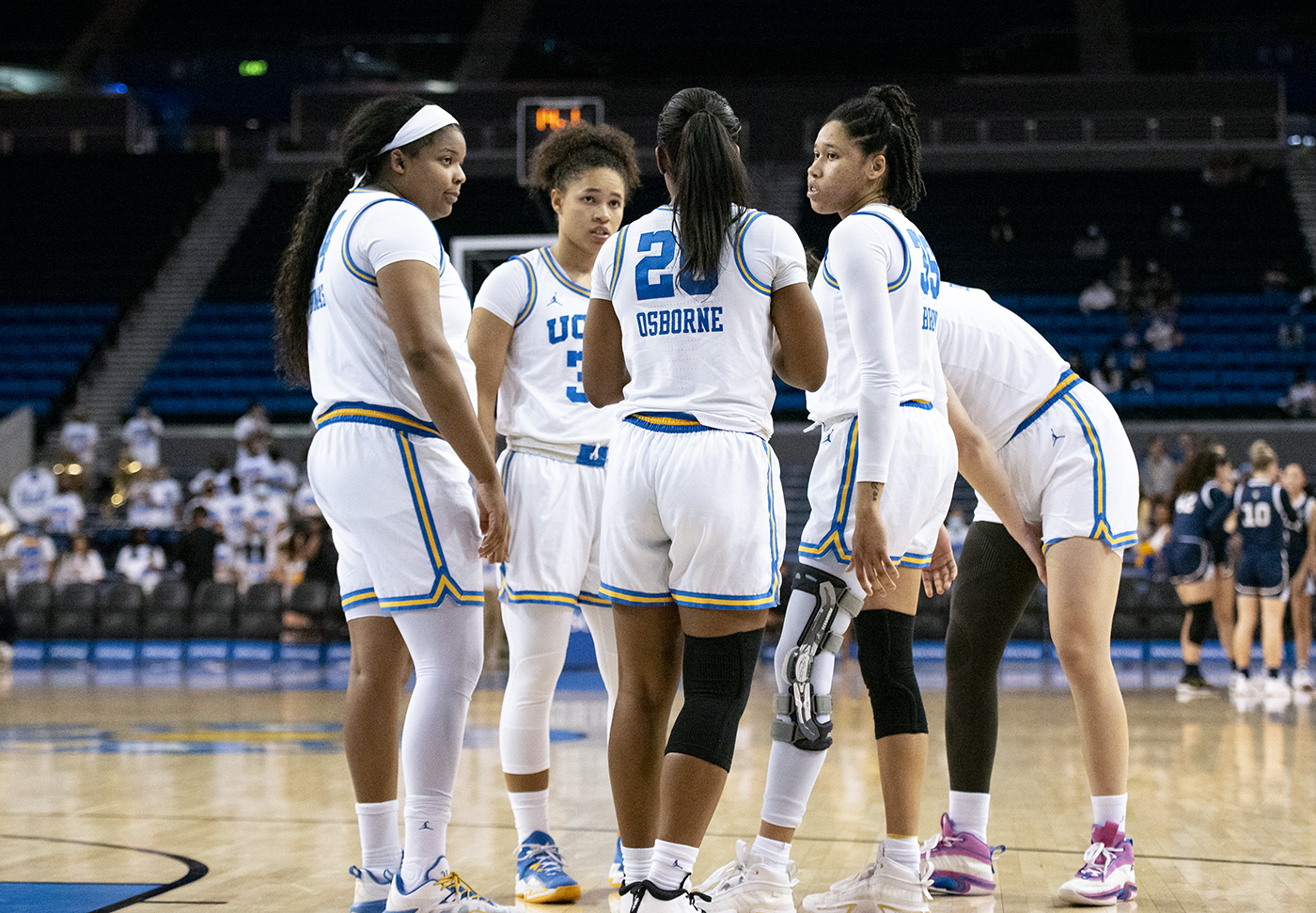 UCLA women's basketball players huddle on the court during a home matchup March 18. The Bruins were eliminated in the semifinals of the Women's National Invitation Tournament by South Dakota State in the blue and gold's third straight road game. (Marc-Anthony Rosas/Daily Bruin)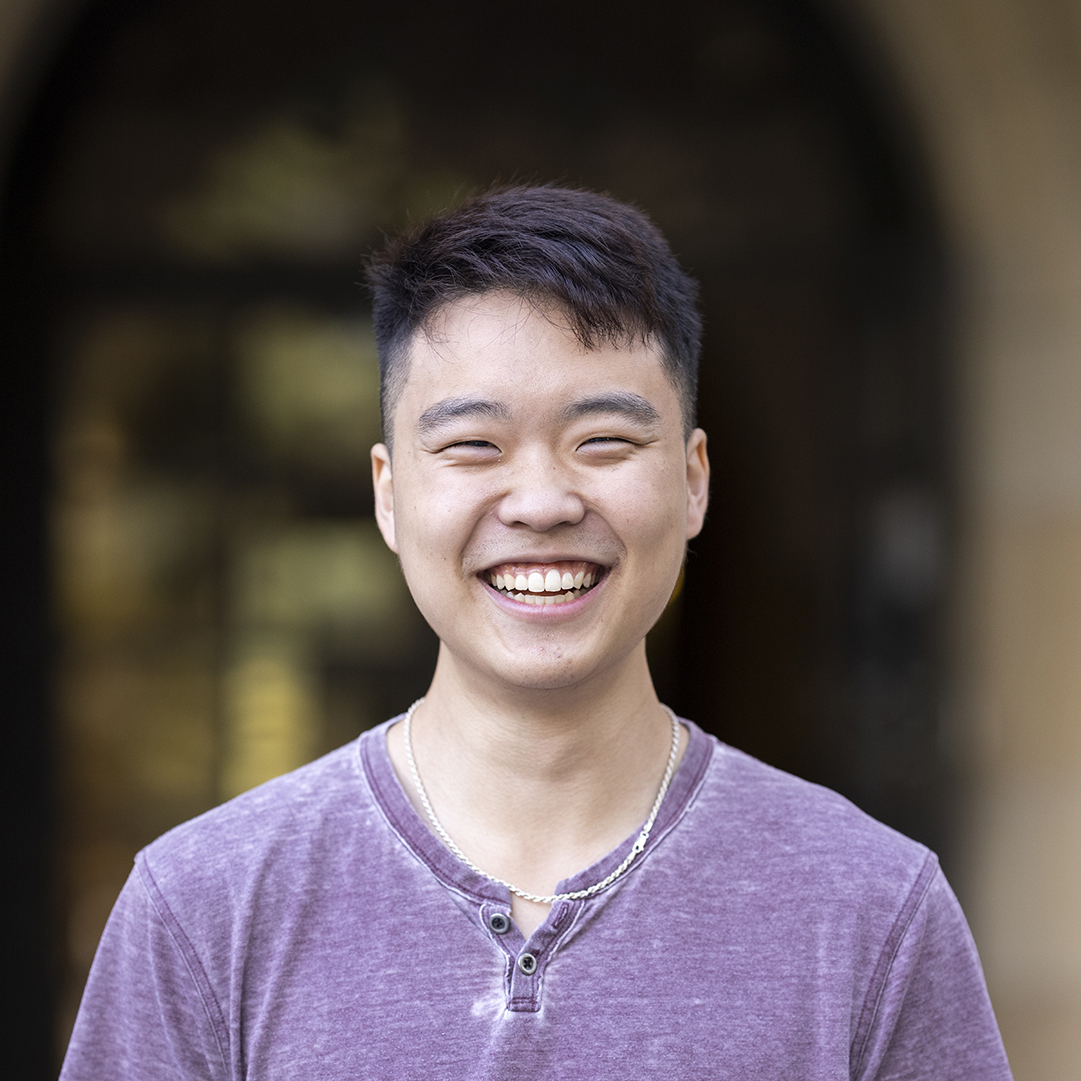 Traveling during spring break is common for many UCLA students.
It's a time for them to vacation, visit family and friends or simply relax before the start of a new quarter.
But in the case of one specific group of Bruins, their travel during break proved just the opposite.
While other students concluded their final exams, members of UCLA women's basketball were preparing to begin their run in the Women's National Invitation Tournament, which would last throughout the break. After two wins at Pauley Pavilion, the Bruins were forced to hit the road for the ensuing rounds despite presumably being a top seed in their group – though the WNIT has no official seedings for the teams.
After grinding out a come-from-behind, triple-overtime victory over Wyoming in the third round in which multiple Bruins logged 48 or more minutes, they didn't get a chance to rest. Instead, they faced a different kind of tiresome journey with a road matchup against Oregon State on the schedule three days later.
Flying on commercial airlines instead of chartered flights during one of the busiest airline travel times of the year, the team was forced to sacrifice rest and comfort in favor of keeping up with the schedule it was given by the WNIT.
UCLA spent 13 hours traveling to Corvallis while taking three different flights, according to junior guard Charisma Osborne. After an eight-point win over its conference foes to reach the tournament's semifinals, the team earned an additional few days of similar travel.
Following a failed bid to host the semifinal game at Pauley Pavilion, the players and coaches split into three groups on their trip to Brookings, South Dakota, completing a total of five flights in another 13-hour voyage. The Bruins arrived at their hotel past 1:30 a.m. two nights before their WNIT semifinal game while spring quarter was starting up in Westwood.
Yes, the Bruins may have missed out on an NCAA Tournament appearance and had an underwhelming season by their own standards. But so were the men's teams that made the National Invitation Tournament and still received chartered flights and the chance to play the semifinals and championship in the historic Madison Square Garden.
This lack of equity between men's and women's divisions is unacceptable and provides yet another example of the lack of effort or care by the NCAA.
Coach Cori Close is one of the most outspoken figures on gender inequity in collegiate basketball as the president of the Women's Basketball Coaches Association, and it's difficult to imagine that days of grueling travel combined with a quick and unclear turnaround between tight games didn't have a direct impact on her team's on-court production. This is especially evident when considering the fact that the Jackrabbits, the eventual champions, did not leave South Dakota all tournament.
The onus of these gender discrepancies does not fall on UCLA but rather on an NCAA system that has time and again shown its true colors.
The NCAA owns and runs the NIT, while the WNIT is owned by the for-profit event management company Triple Crown Sports. Hence, teams had to submit bids to host their games, under an ambiguous and unclear system. Close compared the tournament to having six one-game tournaments as teams have to re-bid to host every round, leaving them scrambling to find flights if they weren't chosen.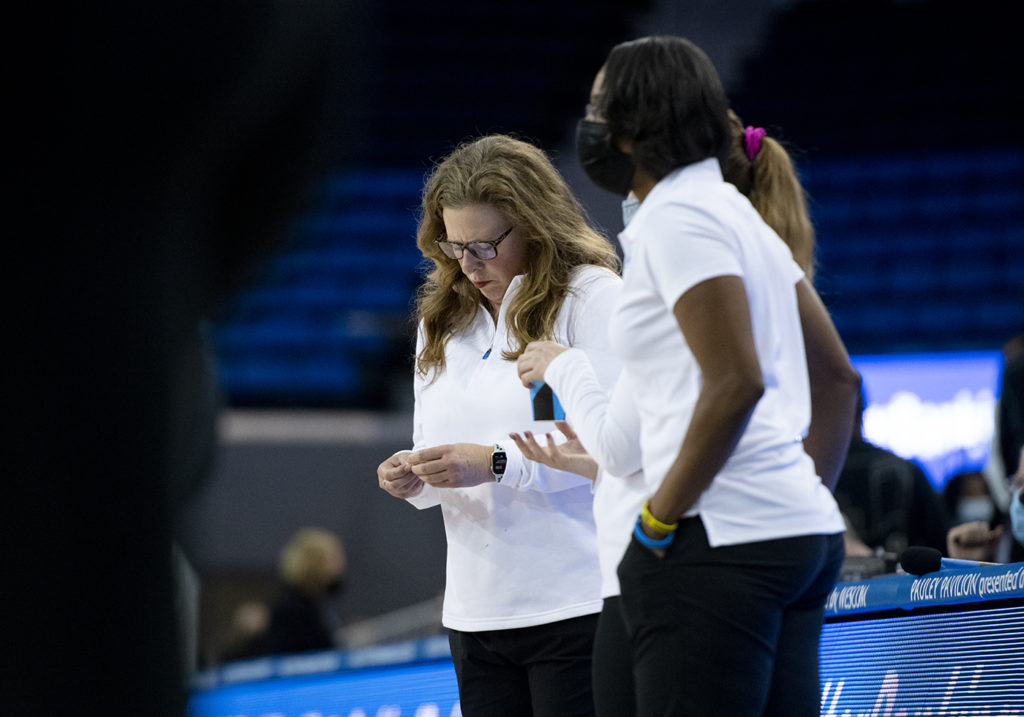 Rather than showing commitment to its student-athletes, the NCAA's Board of Governors has again shown it cares about money and nothing else. The issue at hand isn't a standalone incident but rather part of a pattern and mindset the NCAA has shown resistance to changing.
During the 2021 NCAA Tournament, Oregon forward Sedona Prince went viral for shedding light on these disparities by posting a TikTok that highlighted the difference in weight-training facilities between the men's and women's tournament sites while others pointed out the difference in swag bags and amenities.
The NCAA made an effort to quiet down the crowd of naysayers by finally taking some concrete steps. It adopted the March Madness name and brand to the women's tournament while providing more equitable resources and experiences for the participating athletes.
Don't get me wrong, all of those things are a step in the right direction – albeit long overdue.
But it shows that the NCAA and its president, Mark Emmert, care more about performative changes than addressing the underlying issues that directly impact the growth and opportunities for its student-athletes.
A report in early August revealed the NCAA significantly undervalues collegiate women's basketball. This really only proved what everyone already knew: Female athletes don't receive nearly the same experience as their male counterparts.
As a result, on March 31, Congress introduced a bill to investigate the gender inequity in the NCAA within programs that have a division for both men and women after Congresswoman Jackie Speier noted the NCAA made "pathetic progress" in addressing these issues.
The bill called for the commission to provide a report on the inequities in the NCAA, including making recommendations to promote gender equity. But instead of focusing solely on how to make the tournaments appear equal, the committee needs to call for broader changes that improve the experience of all of its student-athletes.
The growth of women's basketball is also becoming more apparent by the year, with a sold-out Target Center for the NCAA Tournament championship game between Connecticut and South Carolina and an additional 4.85 million people watching on ESPN – the highest total for the women's national title game since 2004. In addition, four of the five highest-valued players in the men's and women's Final Four this year were women, according to Opendorse.
Aside from providing its female athletes with an equitable experience, this is a perfect time for the NCAA to focus on growth and turn women's basketball into a consistent and popularized sport in mainstream media, just as it does for men's basketball.
If the NCAA truly cares about its student-athletes, it will move on from performative measures and provide valuable changes, such as taking ownership of the WNIT.
It's long overdue to invest in women's sports. Now, the ball is in the NCAA's court.
Moon is currently a Sports senior staff writer. He was previously an assistant Sports editor on the women's basketball, men's soccer, track and field and cross country beats and a contributor on the women's basketball and women's tennis beats.
Moon is currently a Sports senior staff writer. He was previously an assistant Sports editor on the women's basketball, men's soccer, track and field and cross country beats and a contributor on the women's basketball and women's tennis beats.