Graduate student derives success with YouTube channel that adds math to music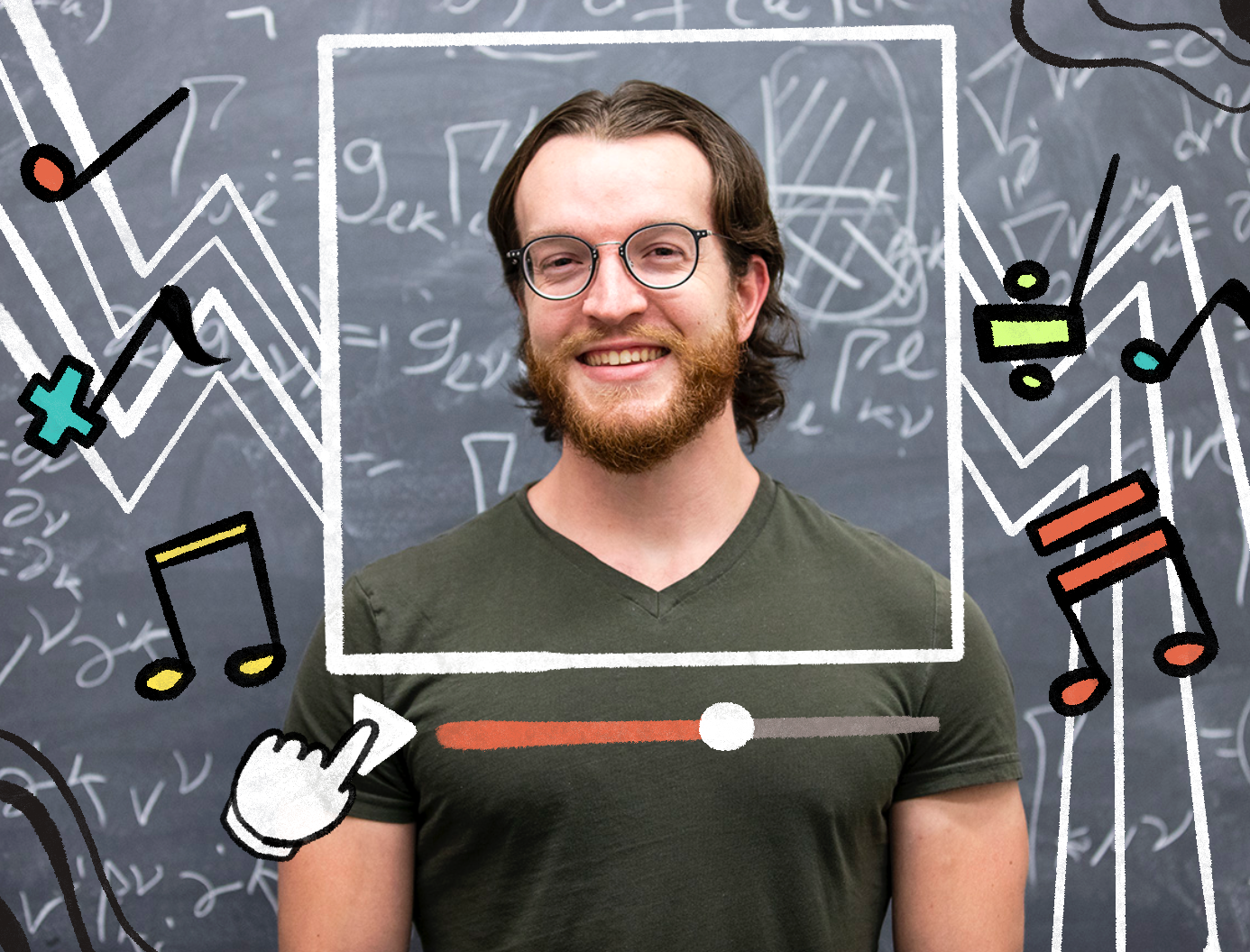 Mathematics graduate student Joe Breen stands in front of a chalkboard. On his YouTube channel, Joe Breen Math, Breen creates videos that blend music and math primarily using GarageBand. (Photo by Anya Yakimenko/Daily Bruin, Photo illustration by Katelyn Dang/Illustrations director)
Joe Breen looks to integrate math and music, one function at a time.
The graduate mathematics student started a YouTube channel in spring 2020 focusing on music videos about calculus and topics in mathematical research. Inspired by a desire to blend his interests in songwriting with his responsibilities as a calculus teaching assistant during online learning, Breen said he decided to use his newly bought iPad to engage with his students by writing songs about the topics covered in class. For Breen, his mathematical music started out as a playful way to make the calculus experience livelier and more interesting.
"I was TA-ing for a calculus class, and I was still playing around with the virtual format and figuring out how best to engage everyone and make content that people would use," Breen said. "It hit me at some point in May that I could write a silly song about math (to) spice things up for students."
Breen's experience with music stems from his time prior to college, as he said he remembered playing guitar in fifth grade and writing his first song in seventh grade, eventually discontinuing the songwriting tradition until he picked it up again in graduate school. He tried to focus on writing songs dealing with serious topics, but after experimenting with different tracks, he found out his pieces turn out best if they used satirical lyrics concerning topics such as mathematics, Breen said.
"Every year we would have a talent show in the math department, and in my first year, I was like, 'Oh, I could write a song about my first year in grad school,'" Breen said. "Every year after that, I would write a math-related song for our department talent show, and so that was the first time I started writing songs about math. But even then, it took me until the pandemic and the start of the YouTube channel to realize maybe that (songwriting) could be my niche."
[Related: Jenny Nuo combines love for computer science, music in her first EP]
In terms of Breen's channel, third-year electrical engineering student Elijah Simas said he enjoyed the new songs, considering he was one of Breen's students prior to the YouTube channel's creation. Simas said Breen is enthusiastic about communicating mathematical concepts in creative and clear ways, such as through song and dance. Breen was also extremely excited about making and publishing his songs on YouTube, Simas said.
"(Breen) still made Zoom learning really, really enjoyable. … He downloaded GarageBand, and he would talk about it before discussion," Simas said. "One time, toward the end of the quarter, he played a live rendition of one of his songs at the end of the discussion, (and) that was just the highlight of the quarter. It was a small group of us (in the discussion), but we all supported Joe in his YouTube career efforts."
For third-year chemistry student Laurie Tan, Breen's music is catchy and still conveys the concepts mentioned in class through lyrics that are both silly and educational. Tan said she particularly enjoyed the music because it helped her memorize and understand difficult mathematical concepts.
On a similar note, Simas said the songs brought him a new perspective on living after the onset of the pandemic and the coinciding shift to online learning. For Simas, one of the songs that made an impression on him was Breen's spherical coordinate dance, a TikTok-like dance that helped him memorize points on the spherical coordinate system. Another, "The Vector Line Integral Song," helped Simas memorize how to conceptualize vector line integrals and demonstrated Breen's lyricism in making math emotionally significant, he said.
"His first big song that he (Breen) came out with was the 'The Vector Line Integral Song,'" Simas said. "(The animated graphics are) so wholesome. … The music isn't bad in itself, but what really brings it all together is that you know what he's talking about because he's mixing academia with music."
[Related: UCLA student shows passion for piano through popular Instagram covers]
At the end of the day, Breen said what motivates him to keep making new music is not only to see his progress in his musical abilities and style, but also the satisfaction of putting all the recording pieces together in one gestalt. This assembly of individual recordings of vocal countermelodies, drum lines and guitar harmonies in GarageBand creates a complete, satisfying sound, Breen said.
In terms of his future, Breen said he looks forward to publishing more songs to showcase his artistry on Spotify and has ambitions to make more music videos. For Breen, his YouTube channel is a way to express his love for mathematics through music he is proud of.
"I'm not trying to do it for views or to go viral – it's just always been a hobby of mine to write songs, and now I have an outlet to share these songs, and if other people enjoy it, great," Breen said. "But to a good extent, I just like making this (channel) for myself, and it's just nice to know that other people are getting a kick out of it and that other people in the math world can relate to these math-specific cultural aspects."