LA Fashion Week 2022: Puey Quiñones explores intricacies of femininity in debut gown collection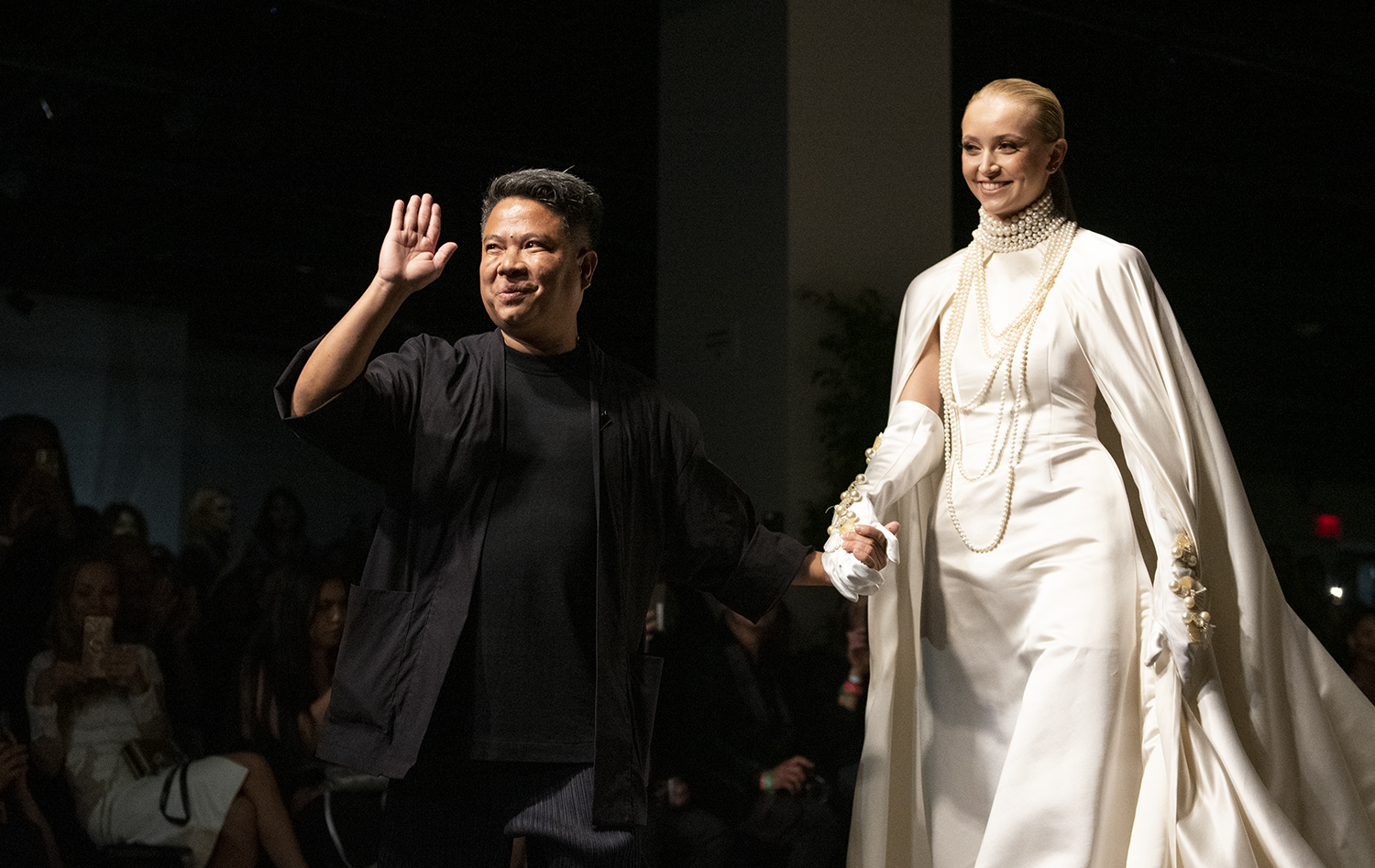 In his debut collection for LA Fashion Week, designer Puey Quiñones' brought flowing capes and structured selves to the runway. He said he was inspired by music and his hometown, and set the show to a backdrop of rain sounds as homage to these muses. (Sakshi Joglekar/Assistant Photo editor)
A somber storm set the stage for Puey Quiñones' fashion week debut.
On Friday, designers and fashionphiles alike gathered in Downtown Los Angeles' Petersen Automotive Museum and were privy to LA Fashion Week's trend forecasts. At the eye of the storm, however, was Quiñones' collection, which encapsulated elements of tranquility and grace and displayed elegant female-forward gowns. Weaving a variety of textures and old-world silhouettes into his individualistic creative identity, Quiñones said he paid homage to his two muses: music and his hometown.
As a love letter to his Manila, Philippines, upbringing, the show's atmosphere exuded elements of authenticity and dimensionality. Growing up in the Philippines, Quiñones said his main source of design inspiration comes from his surroundings and strives to emulate the nostalgia of his home overseas in the runway's moody decor. With videos of woodland windowpanes on a rainy day displayed across the catwalk's main screen, Quiñones gave the audience a taste of his creative process, with rain being a catalyst for his artistry, he said.
"I come from a province that always rains in the Philippines," Quiñones said. "When it rains in my town, it inspires me to create something beautiful."
Overlaid with soft melodic piano riffs, soothing rain sounds and a soulful rendition of Stephen Sondheim's Broadway classic, "Losing My Mind," the show's aesthetic replicated a dreamlike space. The musical elements of Quiñones' show, which played an important role in the collection's design process, inspired him to create his delicate pieces, he said. Though the song spoke to Quiñones, the core inspiration of his current collection is Maria Callas, an opera singer whose hallmarks are opulence, fluidity and immense artistry, he said.
"Every time I create a collection, it always starts with good music," Quiñones said. "This time, I started listening to Maria Callas' songs."
In cultivating an ethereal atmosphere, fashion blogger Mariam Makatsaria said Quiñones' aesthetic choices transported the audience into a utopian, otherworldly dimension, which was further enhanced by the models strutting down the catwalk. Though this concept was not different from what the fashion world's seen before, Makatsaria said Quiñones skillfully reimagined its characteristic elements.
Playing around with a range of feminine silhouettes, Quiñones' collection revamped timeless looks while simultaneously introducing a modern taste for experimentation. Garnering rounds of applause from the show's audience were Quiñones' ornate balloon shapes, elaborate butterfly sleeves and his signature Philippine-derived, accordion-pleated elements – otherwise known as terno sleeves. Photographer Silvia Agaeva said the natural movement of these elements, combined with the models' deliberate maneuvering, helped her capture the collection's nostalgic message.
"(Quiñones' collection) is the best clothing style to (photograph)," Agaeva said. "Because with all its waves, you can really capture the idea of the designer and story."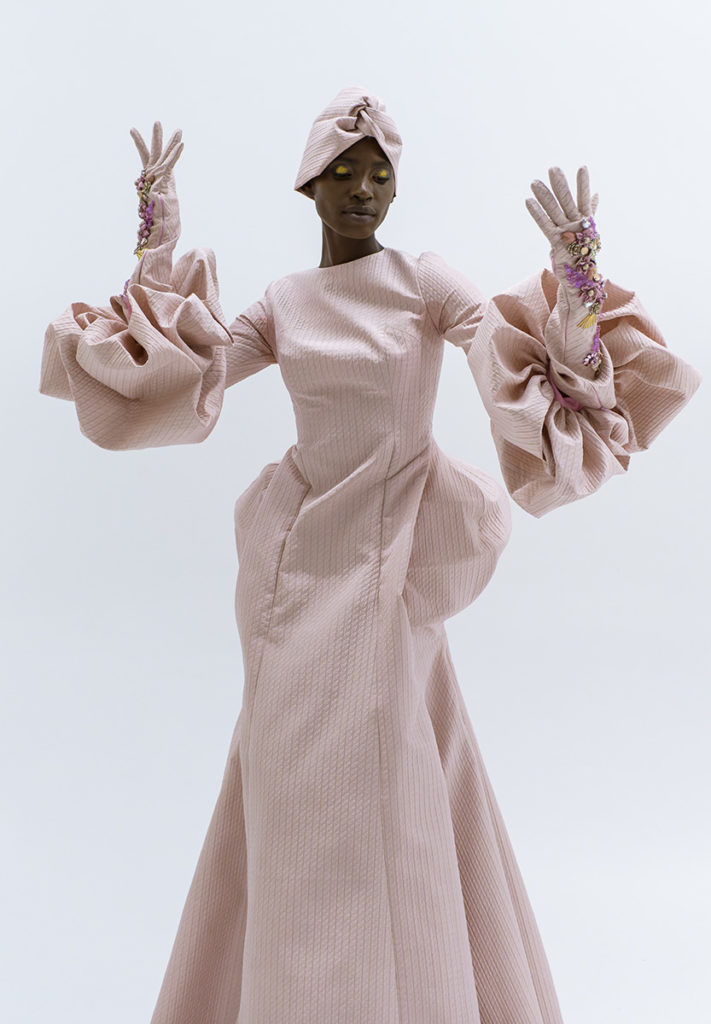 [Related: LA Fashion Week 2022]
However, Quiñones' runway delivered much more than classic sophistication. These delicately designed coverings not only paid homage to Quiñones' Filipino roots, but they displayed strong senses of female confidence and empowerment as well, he said. In addition to bold sleeve designs, Quiñones said he also explored other innovative combinations of textures and fabrics, including feathers, subtle floral prints and flowy chiffon creations. He said he used these elements to highlight the inherent diversity of the female fashion aesthetic, finding the beauty in alternative silhouettes.
When juxtaposed against these bold fashionable elements, the collection's soft color palette adds another layer of intricacy to Quiñones' production. Presenting contradicting elements of boldness and subtlety in both the show's visual and material aesthetics, Quiñones' collection highlights the importance of feminine individuality and looking to one's personal experiences instead of current trends to communicate self-expression through clothing, he said.
This individuality came to a head as the show's music built up to a resounding orchestral climax, allowing Quiñones' collection to explore a new otherworldly realm. Rounding out the runway with a set of crisp all-white ensembles, Quiñones said he demonstrated how there is beauty in simplicity. However expressive an individual's clothing choices may be, he said it is the personality behind the outfit that shines through.
"(The collection is all about) dresses that actually can have a shape," Quiñones said. "Real beauty is not all about wearing clothes – it's about the eyes and the confidence that makes something (beautiful)."