LA Fashion Week 2022: JimmyPaul highlights diversity of fashion with bright looks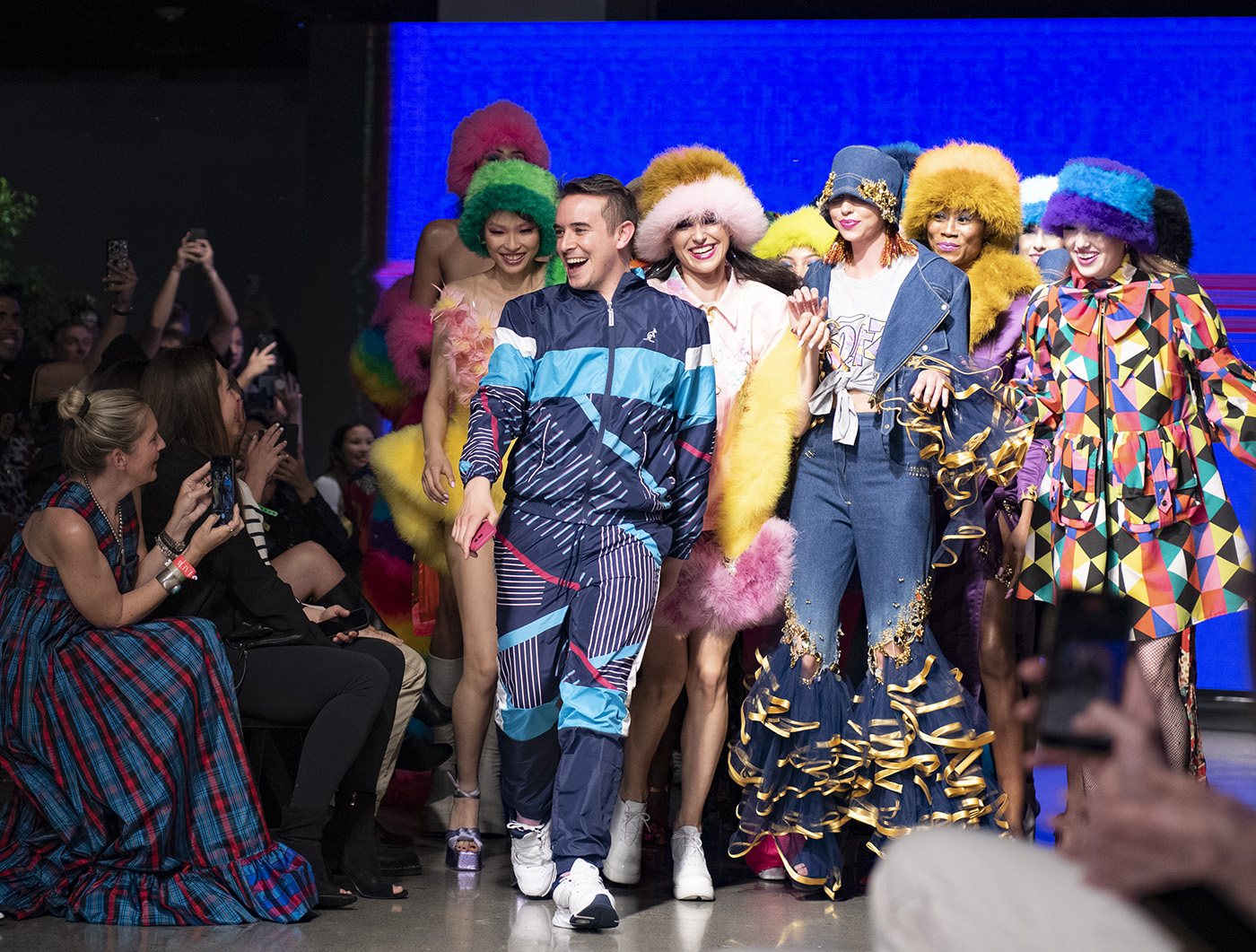 JimmyPaul's Fall Winter 2022 collection was characterized by bold prints and fluffy accessories on the final day of LA Fashion Week. The unconventional zigzag runway allowed for intimacy between the spectators and models. (Sakshi Joglekar/Assistant Photo editor)
There's no need for psychedelics to take a trip into a world of color.
On Saturday, LA Fashion Week's audience was invited to participate in the nostalgic LSD-inspired experience that was JimmyPaul's Fall Winter 2022 collection. A grab bag of Japanese florals, feathers and glitter, the collection pulled inspiration from almost every decade spanning the 1970s to the 2000s, stitching these elements together to create over-the-top and expressive looks. Contrasted with the show's futuristic setup, JimmyPaul's camp collection looked back to the era of free love and depicted a similar glowing optimism toward the diversity of fashion in the future, said model Pari Roehi.
"(The collection) is very Bratz doll-like and Powerpuff Girl-ish," Roehi said. "It (features) a lot of bright colors, and in one word, it's fun."
While the brand is characteristically known for its combinations of mismatched pieces and patterns, model Ryanne White, who has previously walked for JimmyPaul, said each show identifies with a different vibrant aesthetic. Last year's bold Candy Land-inspired collection provided a slightly different take on flamboyance than this year's funkadelic, vintage vibe, White said, which is reminiscent of the '90s Amsterdam rave scene. Playing upon these hallucinogenic hallmarks, White's look for the evening was an amalgamation of floral prints – spotted everywhere from her bucket hat to her bodycon, kaleidoscopic dress and her children's kimono repurposed as a structured jacket.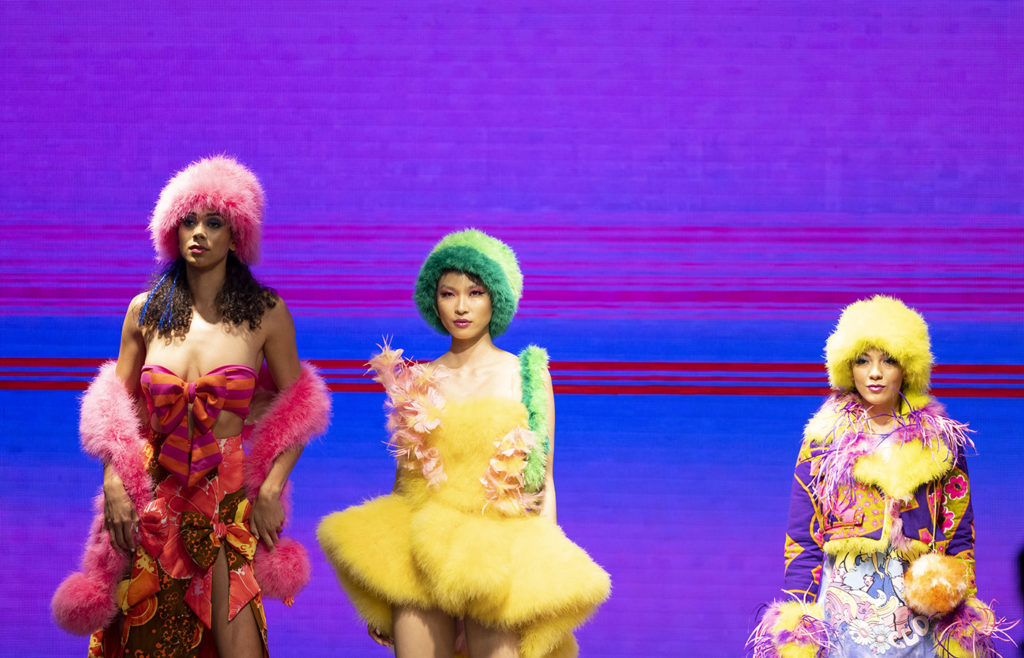 Similar blended motifs manifested themselves in other models' outfits, including a boxy denim peplum-bottom dress, chunky platform heels and a feathered Sesame Street backpack. In presenting looks that adhered to a kawaii-inspired sensory overload, JimmyPaul fostered a frenzied, high-spirited environment palpable by the models and audience alike, White said.
Adding to the show's playfulness was the runway's unconventional setup. Moving the seats to create a zigzag formation between shows, the backstage team helped create a strategically unfamiliar runway. With models allowed to get closer to the audience members as a result – occasionally brushing up against them – photographer Madison Truscan said this choice allowed for a more intimate and vivacious fashion-viewing experience, two characteristics that are cornerstones of JimmyPaul's brand. She said that much like her own photography work, JimmyPaul's collection provides an authentically joyful fashion perspective by seeing things in an overtly positive and playful light – one that was exciting to capture on camera.
"For me, (good photography) is all about capturing authentic moments," Truscan said. "Not everything has to be this perfect posed moment. It can be really raw and candid and vulnerable. … I've had a lot of fun taking photos of the models getting their hair and makeup done, as there's lots of laughter and the energy feels great backstage. It just feels more authentic and more natural."
Standing behind the curtain for this collection and using this backstage philosophy, Truscan said she was able to capture JimmyPaul's whimsicality and spontaneity to a higher degree than through traditional posed runway photos. The euphoric atmosphere made her recall memories of the past and reminded her of a childhood filled with Lisa Frank's flashy sticker aesthetic as she snapped shots, she said.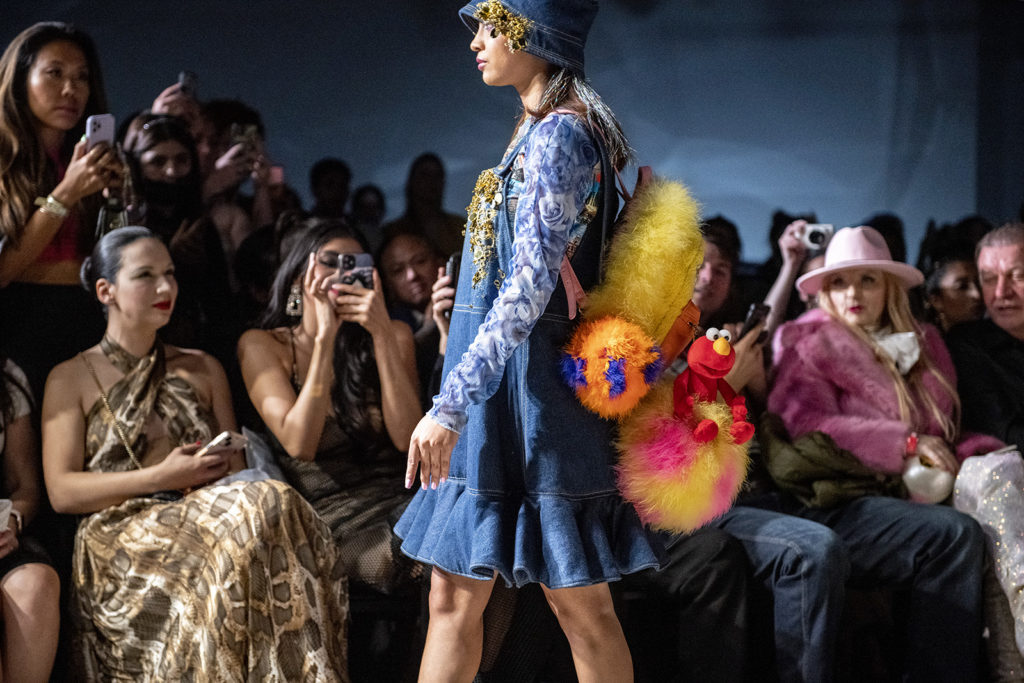 [Related: LA Fashion Week 2022]
Accompanying the melting pot of nostalgic trends was a static television screen and a hyperpop backing track, with remixes of classic songs that acknowledged the past while still looking forward to the future. The taste for experimentation and innovation is not exclusive to JimmyPaul's line, however, as Roehi said such aspects extend to the entire LA Fashion Week.
"In Europe and Paris and Milan, it is very high fashion, and unfortunately, it's very one (dimensional)," Roehi said. "Everybody has to (be) a certain size and weight – there's no diversity."
LA Fashion Week, on the other hand, aims to represent society through employing a diverse array of models, she said, which is a goal she wishes the whole fashion industry would strive to achieve. Closing out the JimmyPaul show wearing an LGBTQ+ flag, Roehi said she felt proud to be a part of the show and a strong group of individuals involved in both LA Fashion Week and JimmyPaul's creations.
"LA Fashion Week is very commercial compared to (London and Milan)," Roehi said. "It's way more diverse and invites more people to join the show and watch the show."