LA Fashion Week 2022: Andrew James blurs lines with vibrant, versatile pieces in eclectic show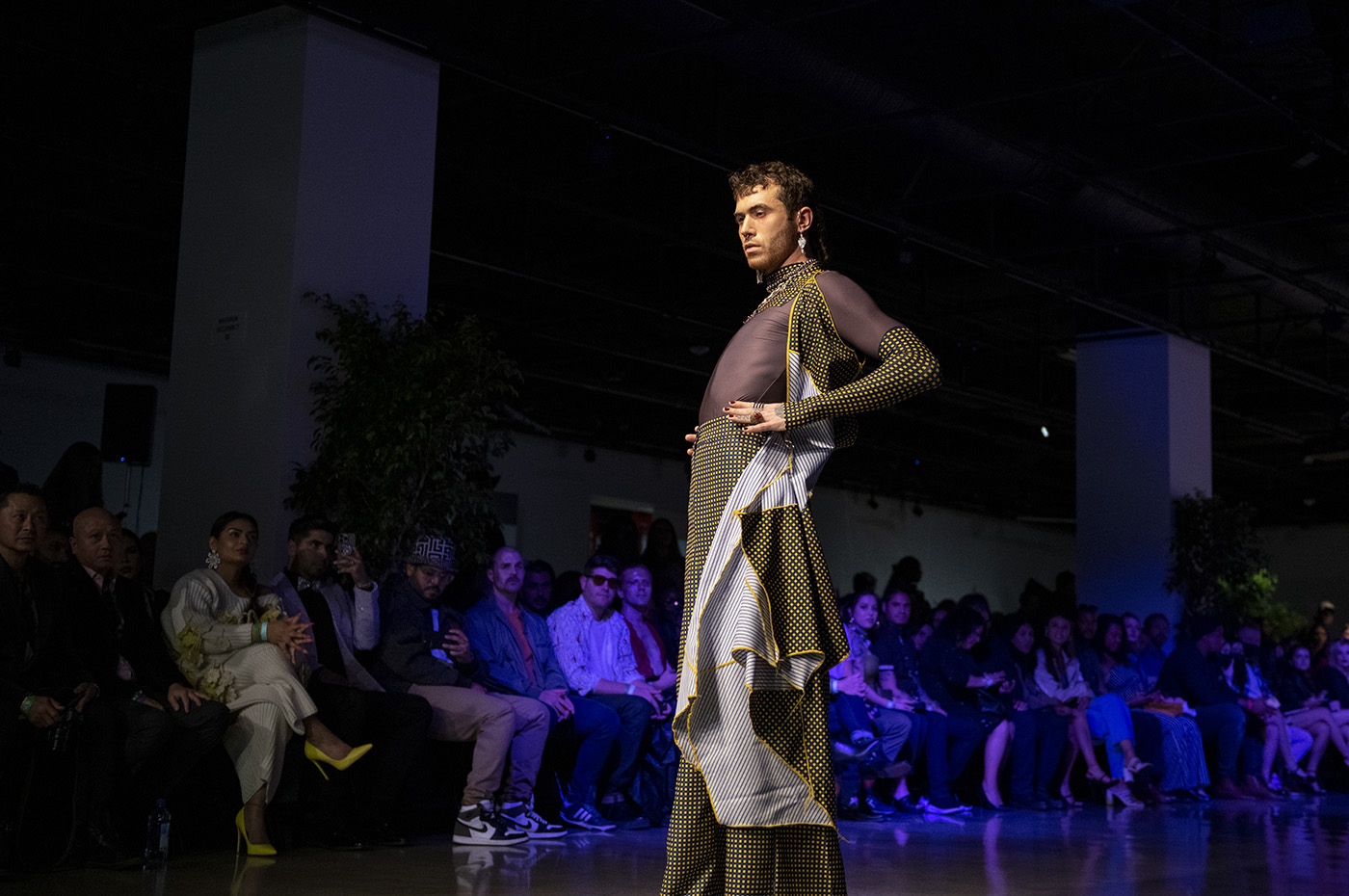 With pops of pattern and pieces of sheer paneling, Andrew James' Fall Winter 2022 collection was created for all occasions. He said he created the garments with the young professional in mind and chose silhouettes that blurred gender boundaries. (Sakshi Joglekar/Assistant Photo editor)
Andrew James creates for the past, the present and, most importantly, the party.
Opening Friday of LA Fashion Week, his debut collection, titled "Variant Mutations," was a futuristic pop-art explosion characterized by bold prints and untraditional catwalks. Drawing inspiration from the underground culture of the LGBTQ+ community, he said his show gave the audience a taste of the future while still honoring mementos of the past. Beyond the show's playful atmosphere, James said a fun collection of wearable garments emerged – perfect for the modern, 21st century individual.
"(The collection) is about clothes mutating with your everyday lifestyle," James said. "(Whether) you're going to the club, going out to dinner or going to work, I design for the young professional."
Understanding that today's generation is always on the go, James said he aimed to emphasize the importance of owning one piece that is able to last throughout the night. However, this does not mean style and versatility are mutually exclusive. Deriving a symbiotic harmony between the two aspects, "Variant Mutations" allowed for an immense expression of personality and individuality as well, he said. Constructing tropical-printed garments with bold yellow, black and purple colorways, James said his runway delivered expressive pieces that played with gender and conventionality.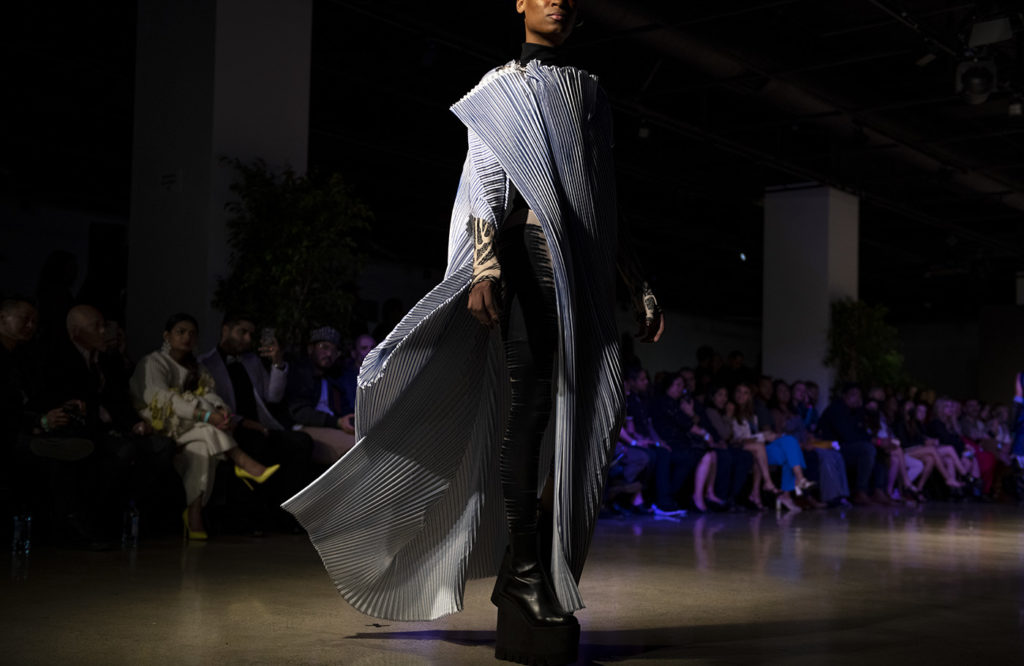 The show's accessories continued to blur these lines. Coordinated bags and feathered accents accompanied each outfit and shifted positions as models made their way down the catwalk. Repurposing a variety of understated retro household items such as watering cans, orchids and a small mechanical dog into wearable accessories, James said these pieces contributed to his futuristic aesthetic while simultaneously paying homage to the past. With models sporting long green and black nails and vibrantly colored hairstyles with asymmetrical wiring, the performers' looks highlighted each individual's personality, he said.
Complementing these otherworldly looks were the unconventional struts given by the models on the catwalk. Showcasing fluid body movements and contortions on the runway, each performer broke up the traditional rigidity and formality that is inherent to major fashion shows. Adding personal touches to the models' walks down the runway contributed to an overall ostentatious element of the show, said model Kolby Keene.
"(James) wanted creature of the night, nightlife and characterization," Keene said. "I've known them for so long, so I just wanted to give them everything because it was such an amazing show."
As a nod toward the LGBTQ+ nightlife community, James' show was reminiscent of the popularized '80s ballroom scene in terms of its extravagant performances and audience participation. Each performer who walked down the runway was greeted with applause from the audience – which James said echoed his idea that his designs are more about how an individual feels in these versatile garments than the material intricacies of the pieces themselves. Model Nadia Chin said she felt empowered in herself and her runway walk thanks to James, who ensured each model's personality took center stage.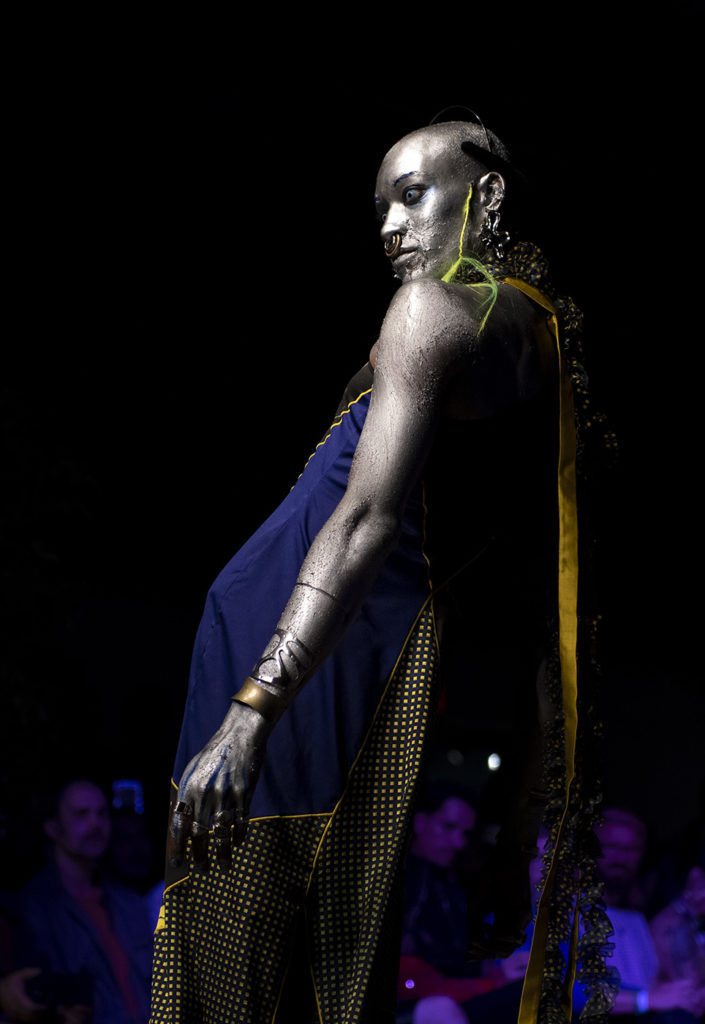 [Related: LA Fashion Week 2022]
For the show's closing walk, guests were privy to Keene's kooky and robotic strut as Keene donned full-body silver paint and intricately draped garments. James said he wanted Keene's walk to bring a sense of humor to the clothes and overall collection and hoped everyone could laugh along with the brand in the show's finale.
Beyond the fabrics and craftsmanship, James said the heart of the collection is a mission to foster community and creativity through clothing. In carving out an inclusive space for people of all colors, sizes and gender representations, he said he has created a diverse, close-knit family in the process – which is what he prides himself in the most.
"A lot of these people (on the runway) are my queer family," James said. "They're performers, dancers, models, so this (show) was really a highlight for them. That's why they're moving differently. I want them to showcase what they do because that's what Andrew James is."