The Quad: Students, professors reflect on women's societal contributions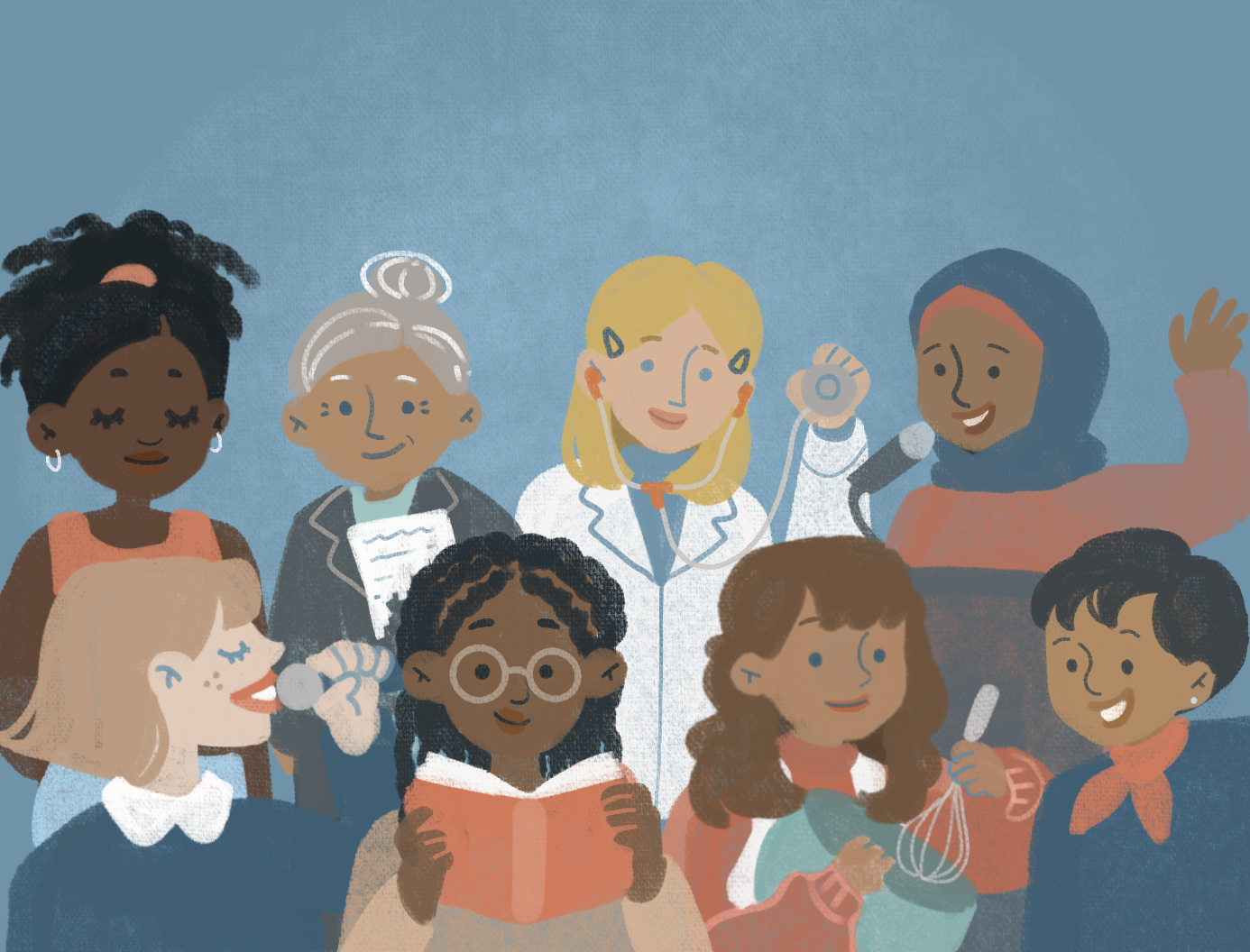 (Katelyn Dang/Illustrations Director)
This post was updated March 30 at 9:54 p.m.
Although Women's History Month comes to a close, the lasting achievements of countless women do not. Join The Quad as we speak to UCLA students and professors about who they recognize during Women's History Month.
According to the BBC, the Socialist Party of America declared the first National Women's Day in 1909, and International Women's Day became officially recognized by the United Nations in 1975.
According to the National Women's History Museum, in 1978, the Education Task Force of the Sonoma County Commission on the Status of Women created a Women's History Week to correspond with International Women's Day. This inspired other communities to recognize women with their own Women's History Week celebrations.
In 1980, President Jimmy Carter announced National Women's History Week as the week of March 8 and Congress officially designated March as Women's History Month in 1987, a month in which women could be recognized for their accomplishments.
Urban planning lecturer Joan Ling said former Secretary of State and presidential candidate Hillary Clinton is an example of an admirable woman.
"Despite the decades of persecution that she endured in the political arena, she never gave up, and I just think that's incredible," Ling said.
Human genetics professor Rita Cantor said Speaker of the House Nancy Pelosi defied female norms by growing in political prestige over the years.
"She came up in the political ranks when women didn't have these positions, and I think she was very savvy in how she used her political skills to rise to her position," Cantor said.
Cantor added that women have made significant strides beyond the realm of politics, such as in science.
"Jennifer Doudna, who developed CRISPR-Cas9, is probably our most recent contributor of great significance," Cantor said. "She didn't let the fact that she was a woman get in anybody's way of promoting her, and she's perhaps, I think, currently the strongest, in my opinion, woman in science right now."
First-year environmental science student Aura Sandoval said she would like to see more women, especially women of color, in STEM and pre-med fields.
Sandoval said she greatly admires Rigoberta Menchú, an Indigenous woman from Guatemala who won a Nobel Prize.
"(Menchú's) parents and her family were killed by the president because of genocide, so from that, from her past and her struggle, she still managed to write books and create more awareness about what happened to inform the people that genocide actually happened," Sandoval said.
Beyond honoring their achievements, Women's History Month can also serve as a reminder of the struggles women have faced.
Ling said women have a history of being overshadowed by men, despite their accomplishments and societal impact.
"If you look at the word 'history,' it's 'his story' and it's written by men, and a lot of what women's contribution to society has just been deleted, canceled, wiped off the face of the Earth," Ling said. "We as girls and as women have to fight for what we deserve and what we want and what we want to pursue and accomplish."
For example, while most are aware of male scientists James Watson and Francis Crick for receiving a Nobel Prize after discovering DNA's helical structure, it was actually female Rosalind Franklin who used X-ray crystallography to produce a picture revealing DNA's shape, according to PBS.
Historically, women have faced challenges in the workplace, and continue to face challenges when it comes to managing careers and domestic life, Ling said.
In 2021, only 8.1% of businesses on the America's largest companies Fortune 500 ranking were run by women, according to a Fortune analysis.
Women are also typically paid less than men. According to Pew Research Center, women 25 and older earned 86% of what men earned in 2021.
"I think that women continue to be discriminated against and taken less seriously in the workplace. (They're) not given credit for the accomplishments and work they've accomplished," Ling said.
However, Cantor said society has certainly made strides toward gender equality.
"I feel that my position, my type of job, is definitely gender neutral. As long as you can do the job you can negotiate for your salary and negotiate for grants and flip the system," Cantor said. "I think things are open, and I think younger people believe that they're open, so I'm very optimistic that we are approaching gender neutral."
Anastasia Loukaitou-Sideris, associate dean of the UCLA Luskin School of Public Affairs and an urban planning professor, said women continue to make strides in the labor and academic spheres.
"One of women's accomplishments is that they have entered the labor force in almost equal numbers as men, and also they have entered academia," Loukaitou-Sideris said. "Colleges now receive more applications from women than men, and I think this is a terrific accomplishment."
There are still a great deal of changes that can be made to broaden opportunities for women and further approach gender equality, Loukaitou-Sideris said.
"Change needs to happen at different levels: at the policy level, at the planning and design level," Loukaitou-Sideris said. "When it comes to corporate America, I would like to see, for example, more women on boards and corporate boards. I think that corporate America is way behind in terms of equality of women."
Women's History Month is one of many steps being taken to recognize women and their contributions throughout history.
"I think it's important to remember women's history because it reminds us of the past struggles and it creates awareness of the struggles that we've been through and the changes that we can still make," Sandoval said.