Oscars 2022: Alumnus's visual effects work brings 'Spider-Man: No Way Home' magic to big screen

Alumnus Kelly Port was nominated for an Academy Award for Best Visual Effects in "Spider-Man: No Way Home." (Left to right: Courtesy of Digital Domain, courtesy of Marvel)
March 13, 2022 11:25 a.m.
Correction: The original version of this article's photo caption incorrectly referred to the film as "Spiderman: No Way Home." In fact, the title is formatted as "Spider-Man: No Way Home."
This post was last updated June 14 at 7:38 p.m.
Web-slinging through the multiverse would be pure scientific fantasy without visual effects.
Bringing the fictional world of Spider-Man to life on the big screen, alumnus and visual effects supervisor Kelly Port was nominated for an Academy Award for Best Visual Effects for his work in "Spider-Man: No Way Home." After Peter Parker (Tom Holland) asks Doctor Strange (Benedict Cumberbatch) to cast a spell that would conceal his superhero alter-ego, he accidentally opens his world to the interdimensional villains of past Spider-Man films. Because of the superhuman feats the characters in the Marvel Cinematic Universe achieve, Port said almost every scene in the movie involved some visual effects, if not being composed entirely of them.
"When you get into a world like the Spider-Man and Doctor Strange chase where you've got a mirror dimension, … you just simply can't shoot cities rotating (nor) hybrid cities and the Grand Canyon mixing together," Port said. "That's just something that we knew right off the bat wouldn't be a physical shoot."
Port said the scope of visual effects work was a generally fluid process that included determining the number of shots, characters and environments to be created digitally as well as effects such as explosions and snow. After that, he said he and the other supervisors began designing the visual effects through pre-visualization – a cartoon version of every scene that consists of physical shooting, rough animation and editing the sequences together.
Several scenes entailed creating visual effects from set extensions, such as the fight between Spider-Man and Dr. Otto Octavius (Alfred Molina), Port said. He added that aside from physically shooting in Atlanta and altering the scene to look like the Brooklyn-Queens Expressway, many characters had to be built in a detailed and visually photorealistic way, including Doc Ock. He said Doc Ock needed to move with digital arms to look like he was supported by his tentacles, with visual effects sometimes replacing his legs and costume to do so.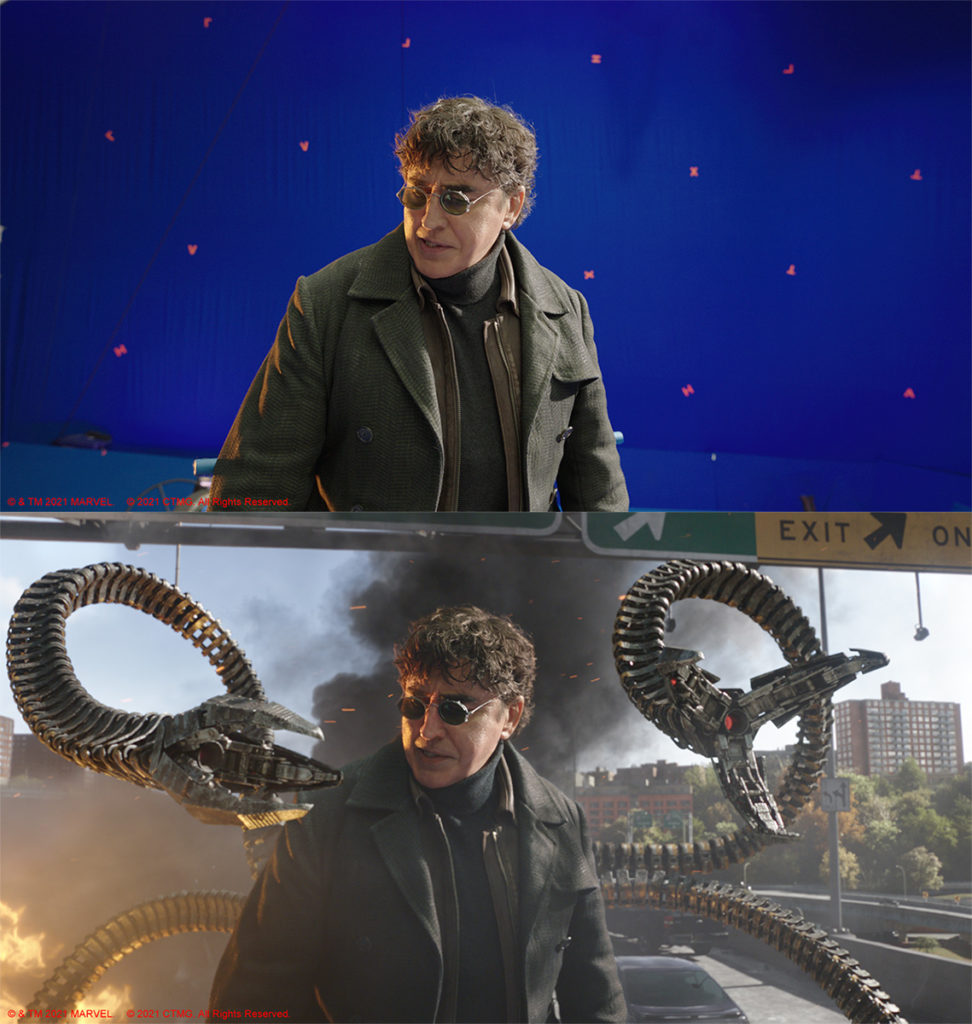 To recreate the same tight action as was in "Spider-Man 2," visual effects supervisor Scott Edelstein said he and Port heavily referenced Sam Raimi's film for Doc Ock, studying how the character interacted with his mechanical arms, the arms' personalities and how they operated in a fight. Naming and color-coding the claws the same way Molina did for the character, Edelstein said he tried to pay homage to the villains in previous films while also bringing them into modern times in terms of technological advancements. Port said he and Edelstein took the opportunity to update the characters' looks for this film where they could.
"We want to respect stylistically the characters from the past," Port said. "They need to stay true stylistically to what they were. We don't want to make them appear to be different characters, but we can also take some small creative license to make them look cooler."
One character Port said he took advantage of upgrading was Electro (Jamie Foxx). After introducing him as blue and translucent like the last time audiences saw him in Marc Webb's "The Amazing Spider-Man 2," Port said he and his team depicted Electro closer to his star-masked comic book version with warmer, more yellow hues of electricity. To depict the surface-driven type of electricity the villain would wield instead of siphoning it subdermally, visual effects supervisor Brendan Seals said much research went into learning how the natural energy force works, how Electro controls it and its inherent chaos.
For Sandman (Thomas Haden Church), Edelstein said the character was still as experimental as he was in his first cinematic appearance in "Spider-Man 3." He said the villain's powerful abilities required a new and difficult method for simulating sandstorms, such as in the third act where he takes on a nebulous, humanoid form. The character was the most technically complex for that reason, as Port said Sandman required character animation tasks – walking and talking – as well as effects simulation tasks – dropping off bits of sand and transforming into different shapes – to bond together and behave as one.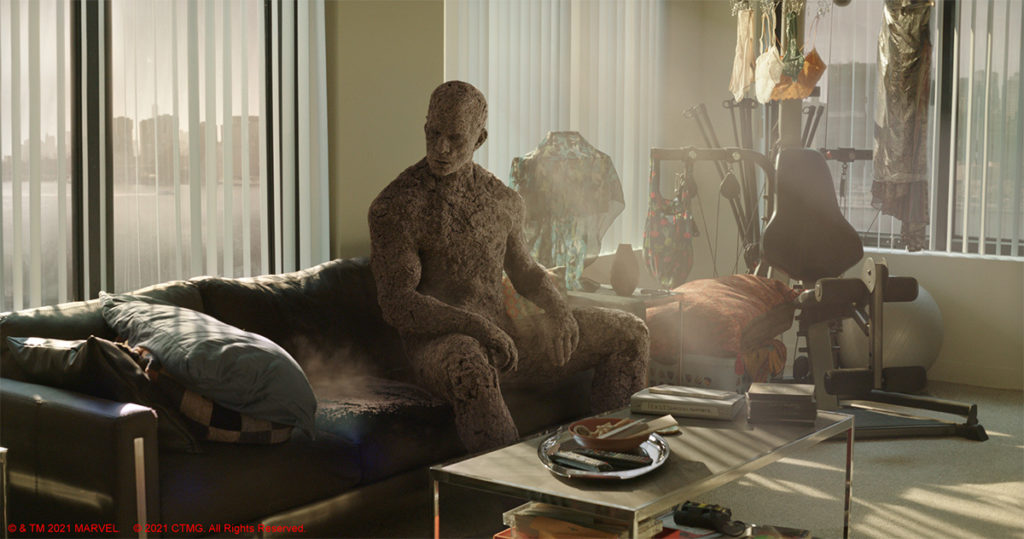 Although Edelstein said the film required magical effects characteristic of any Marvel movie, many were unknown to the audience, such as the effects used on Spider-Man himself. When Doc Ock transfers the nanotechnology back to Peter at Happy Hogan's (Jon Favreau) condo, Spider-Man from the neck down is digital every time he wears the suit, Port said. In addition, he said Doctor Strange's Sanctum Sanctorum scenes and the cars, pedestrians and roads on the Alexander Hamilton Bridge were all virtually created.
Bringing back characters from films the artists grew up with, Seals said the nostalgia of these grandiose sequences at the end of the movie plays a large role in what sets "Spider-Man: No Way Home" apart from others with respect to visual effects. He said there is a notable legacy over the last decade of how to design suits, stage battles and choreograph fight scenes with the help of visual effects. Though the process has changed dramatically throughout time, Port said the visual effects that stand out to him in the film are those that do not stand out to others.
"That's so much of what the visual effects are of these things … where an enormous amount of effort goes into (invisible) effects, but you just don't know," Port said. "To me, these are some of the most rewarding kind of effects, where people just have no idea that they're not even there."