Weekend preview: March 10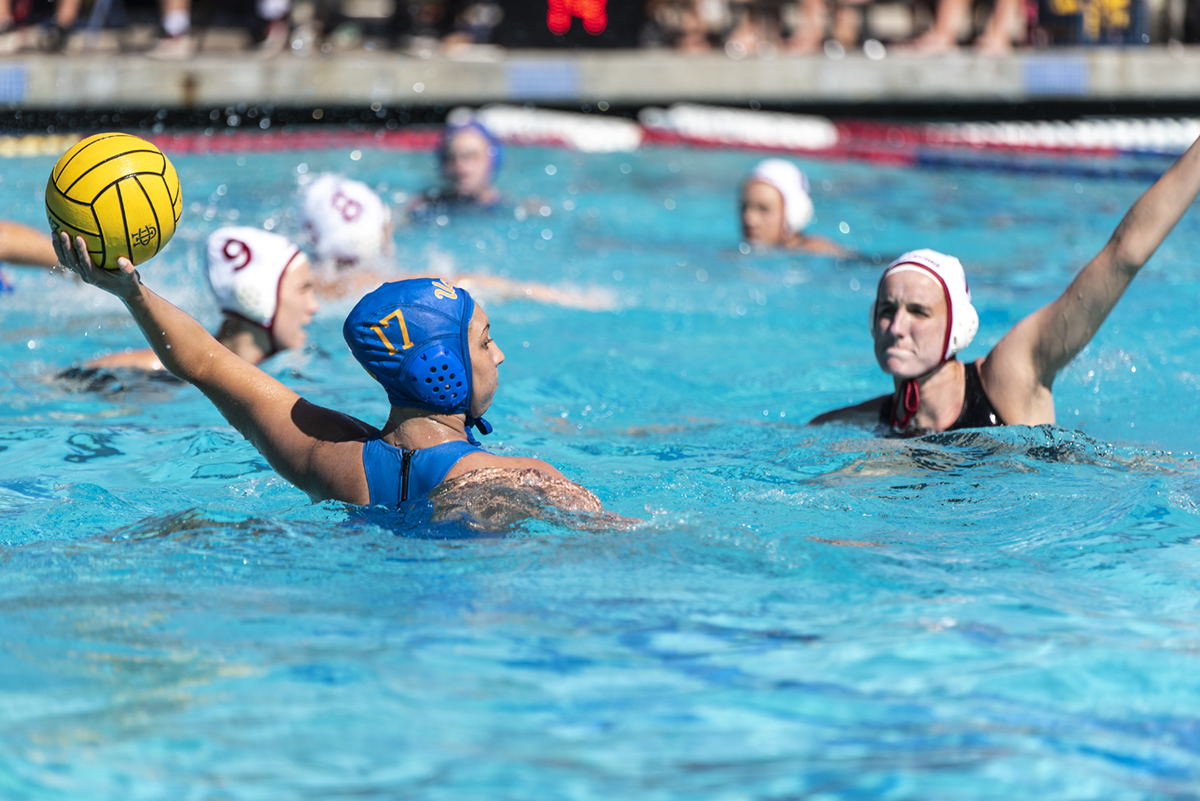 Freshman attacker Emma Lineback earned MPSF/KAP7 Newcomer of the Week honors for her performance a weekend ago. Lineback and No. 2 UCLA women's water polo will take on No. 6 UC Irvine on Friday. (Jeremy Chen/Daily Bruin staff)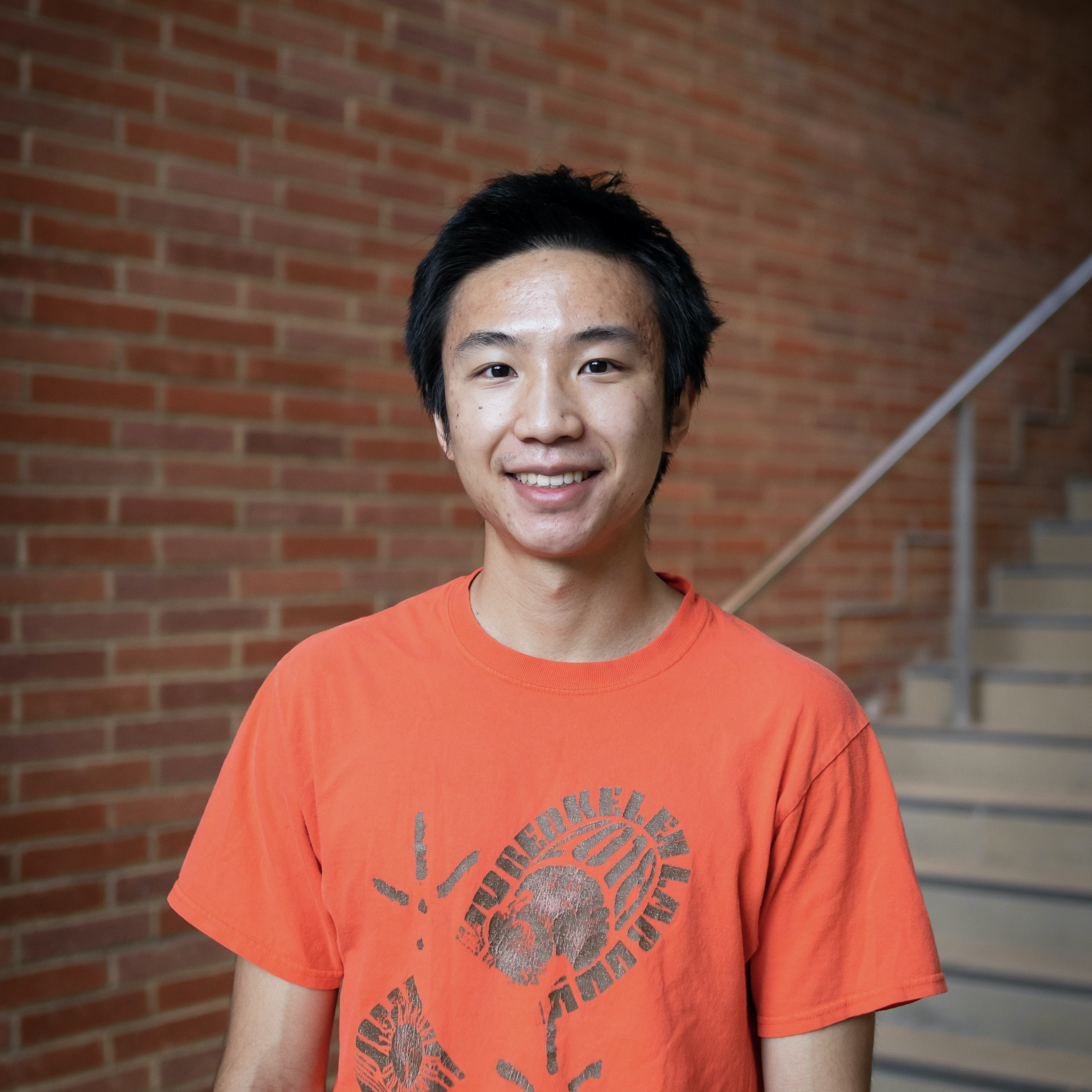 Women's water polo

Cole Lizar, Daily Bruin contributor
After playing 19 total games on the road so far, the Bruins are set to play at home for the third time this season.
No. 2 UCLA women's water polo (20-1, 3-0 MPSF) will face No. 6 UC Irvine (13-4, 2-0 Big West) at Spieker Aquatics Center on Friday. The blue and gold enter the weekend on the heels of a 9-8 win against No. 4 California and a nine-goal victory over No. 17 Pacific last weekend.
The Bruins' performance over the weekend earned redshirt senior attacker Maddie Musselman and freshman attacker Emma Lineback MPSF/KAP7 Player of the Week and MPSF/KAP7 Newcomer of the Week honors, respectively. This award marks Musselman's 13th weekly conference honor in her career, and a conference-leading third award this season.
Lineback said following its weekend in Northern California, the team has been focusing on tightening up its defense.
"We're focusing on our defense, on the little details in our style of play, and focusing a lot on our six-on-five," Lineback said. "We take pride in being able to execute and finish on our six-on-five. … Our defense leads into how we're able to attack on offense. So, if we're executing in that area, we'll be able to succeed more as a team."
UCLA has not played Irvine in over a year, with the last contest ending in a four-point blue and gold victory. The Bruins have never lost to the Anteaters in program history.
Lineback said playing at UCLA has been a dream come true in her freshman season.
"(UCLA) is everything I was hoping it would be and more," Lineback said. "I absolutely love it, and I'm really happy with my decision to come here."
The Bruins and Anteaters are set for first sprint at 1:00 p.m. on Friday.
Track and Field
Garrison Hallum, Daily Bruin contributor
The Bruins will head to Alabama for their final indoor meet of the season.
UCLA track and field will send four athletes from the women's team to compete in the 4×400-meter relay competition in Birmingham, Alabama, for the NCAA Indoor Championships. The competition will take place on Friday and Saturday, with the Bruins competing on day two.
A total of 12 teams will participate in the event, and UCLA will compete against Oregon, Baylor and LSU in its section. The Bruin team, which consists of juniors Catherine Leger and Makenzy Pierre-Webster, sophomore Kate Jendrezak and redshirt senior Shae Anderson, will represent the blue and gold as the only UCLA athletes to compete in the competition.
The relay squad currently holds the second-fastest time among teams in its event section, as well as the 10th-fastest achieved time in the event among all other teams competing this weekend.
The Bruins were able to qualify for the championships by placing in the top 12 relay squads across the nation this season with their performance at the Pac-12 Challenge on Feb. 26.
Last season, the Bruins' women's 4×400-meter squad placed 10th in the 2021 NCAA Indoor Championships. UCLA will be competing in this event for their third consecutive year.
The two-day competition will be held at the Birmingham CrossPlex on March 11 and 12, with the Bruins lining up at 6:20 p.m. on Saturday. Also on Friday and Saturday, the rest of the team will be competing in its first outdoor meet of the season in Fullerton.
Men's volleyball
David Deng, Daily Bruin reporter
The Bruins look to keep up their winning ways.
With an undefeated record in conference play, No. 1 UCLA men's volleyball (12-2, 4-0 MPSF) will continue its Mountain Pacific Sports Federation slate in a doubleheader at Stanford (8-7, 0-2) on Friday and Saturday. The pair of contests marks the start of a five-match road trip.
During the 2021 campaign, the Bruins defeated the Cardinal in all four of their matchups in what was thought to be the last season of the Stanford men's volleyball team. After the season's conclusion, however, the school reversed its decision to axe the program.
"Stanford's really good at home," said redshirt junior opposite Kevin Kobrine. "It's always going to be a challenge from them."
The Bruins have yet to lose since taking down then-No. 1 Long Beach State on Feb. 19, a win that propelled the blue and gold to the top of the rankings. UCLA also has not dropped a set in its last three matches.
In two consecutive sweeps against No. 9 Grand Canyon last week, Kobrine totaled 23 kills and four aces as the Bruins more than doubled the Antelopes' hitting percentage across the series.
On the season, UCLA has outhit its opponents .353 to .234 and has 77 service aces compared to 48 service aces against.
Friday's match begins at 7 p.m.
Women's Tennis
Amy Ionescu, Daily Bruin contributor
Following a road sweep of the mountain schools, the Bruins will have the chance to extend their conference play streak to four with a set of matches at home.
No. 14 UCLA women's tennis (6-3, 2-0 Pac-12) will face off against Arizona (10-4, 1-1) on Friday and Arizona State (8-3, 1-1) on Saturday in back-to-back matches at the Los Angeles Tennis Center.
The blue and gold enter the weekend after beating Colorado 7-0 and Utah 4-0, beginning their Pac-12 run undefeated.
"Anytime we play a Pac-12 team, everyone's good so we're going to get tested," said coach Stella Sampras Webster. "I'm excited to see where we are competitively and physically, so it's always great to compete against teams like (the) Arizonas."
The Bruins hold an all-time record of 40-5 against Arizona, boasting a current win streak of 24 matches and a conference record of 24-3. The last time the Wildcats overcame the Bruins in January 2000, many of the current players hadn't been born yet.
Similarly, the Bruins have not lost a match against the Sun Devils in their last five matchups, with UCLA holding a current record of 20-6 and a conference record of 6-2 over Arizona State.
Sampras Webster said a focus on doubles play was integral to prepare for the match against Arizona State.
"We know Arizona State. Their doubles is really strong," Sampras Webster said. "So (we'll be) just preparing for a strong doubles and making sure, mentally and physically, everyone is ready to go."
In the last regular season matchup between the two teams, the blue and gold emerged victorious by a score of 4-3, making their doubles point win vital to the outcome of the match.
The Bruins had a spotless conference record in regular season for the 2020-2021 year and have the opportunity to repeat that performance once again over the weekend.
Men's Tennis
Paul Diamantopoulos, Daily Bruin contributor
The Bruins will welcome the Horned Frogs to Westwood after three straight road losses against Southern California foes.
UCLA men's tennis (4-6) will put their undefeated home record to the test against the recently crowned ITA Indoor champions, No. 3 TCU (13-2), on Thursday at the Los Angeles Tennis Center.
The Bruins are coming off a 4-3 loss against San Diego where UCLA was a tiebreaker away from securing the doubles point as freshman Giacomo Revelli and senior Patrick Zahraj fell 7-6 (8) on court two.
Although the freshmen trio of Alexander Hoogmartens, Karl Lee and Revelli secured singles wins on courts two, five and four, respectively, UCLA was unable to overcome their early doubles deficit.
"We played as good of a match as we have all year," said coach Billy Martin. "That doubles point really came back to haunt us, but most of the guys handled that disappointment really well and fought hard."
TCU returned to play after their ITA Indoor Championship victory with a home loss to No. 11 Michigan in their first outdoor match of the season last week. The Horned Frogs rebounded with a 4-1 road win over Illinois, which was held indoors because of weather conditions.
Martin said taking on the highly-ranked program will be beneficial for the team, particularly for the underclassmen.
"These matches are getting us better and getting our young players the experience they need," Martin said. "The added pressure of playing for their teammates and school places an extra burden on their shoulders, which is a learning curve they have to go through."
The last time UCLA faced off against TCU was the 2019 ITA National Team Indoor Championship, where the Bruins got blanked 4-0 in a consolation match against the Horned Frogs.
UCLA's match on Thursday will mark the conclusion of its nonconference portion of regular-season play.