UCLA student sculpts business turning internet memes into figurines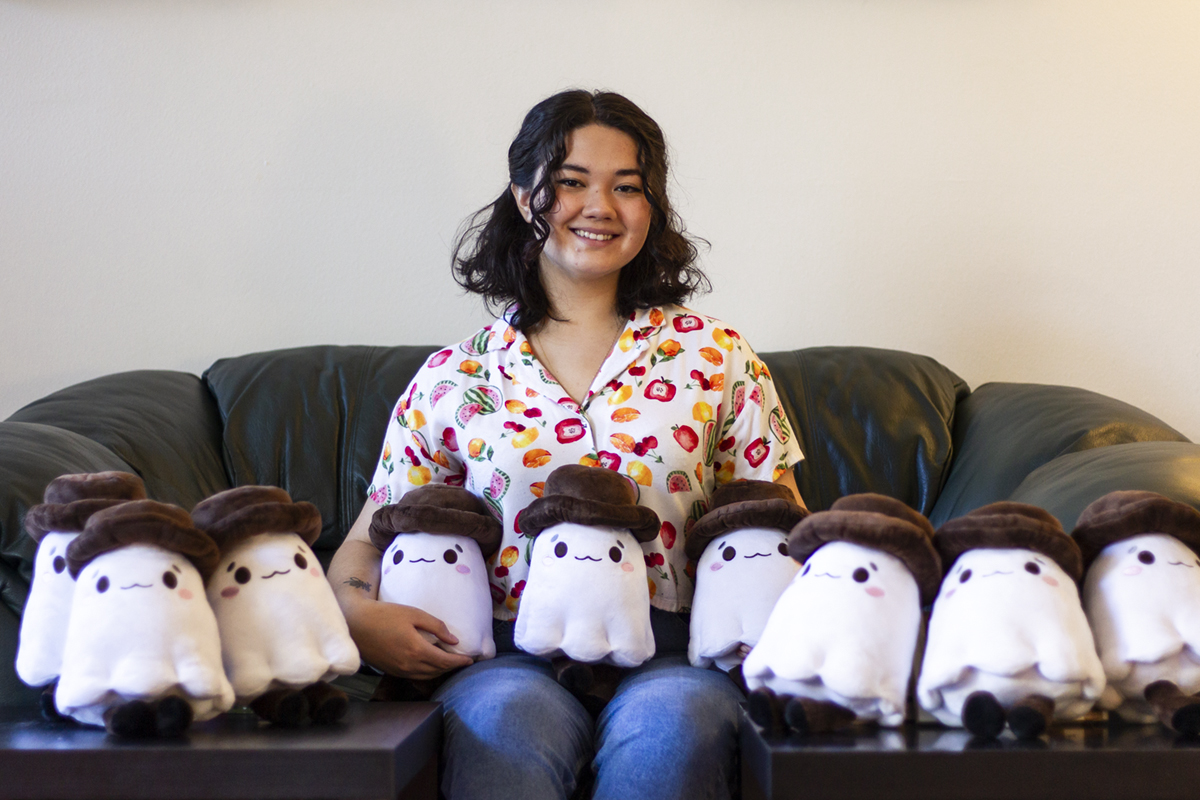 CosmicFuss was inspired by social media. With products based off TikTok sounds and internet memes, owner and third-year English student Courtney Chapman said she hopes her business can spark conversations that share humor and pop culture. (Joseph Jimenez/Daily Bruin)
When it comes to crafting, CosmicFuss memes business.
Inspired by her favorite internet jokes, owner and third-year English student Courtney Chapman said she started her business in 2019 through a TikTok account that has since grown to 438,000 followers. From jewelry to plushies, she said she creates and sells items inspired by pop culture and television characters close to her heart. She hopes to encourage friendly interaction, she said, and inspire sociable conversations with her artwork.
"My thing is making them (memes) into something (customers) can also have with them and show to their friends," Chapman said. "You know when someone has a graphic tee of some show you recognize and there's that exchange of talking about it – that's what I'm trying to market."
Before she started her TikTok account, Chapman said her artistic journey began when she was eight years old and asked her parents for clay to create trinkets such as miniature food. Last summer, she downloaded TikTok and said she posted a video of a clay Juul inspired by the "Mom, did you take my Juul?" meme. Following an influx of followers and orders, she is now focused on maintaining and shifting her platform so it better suits her personality by creating figurines of characters from her favorite TV shows, she said.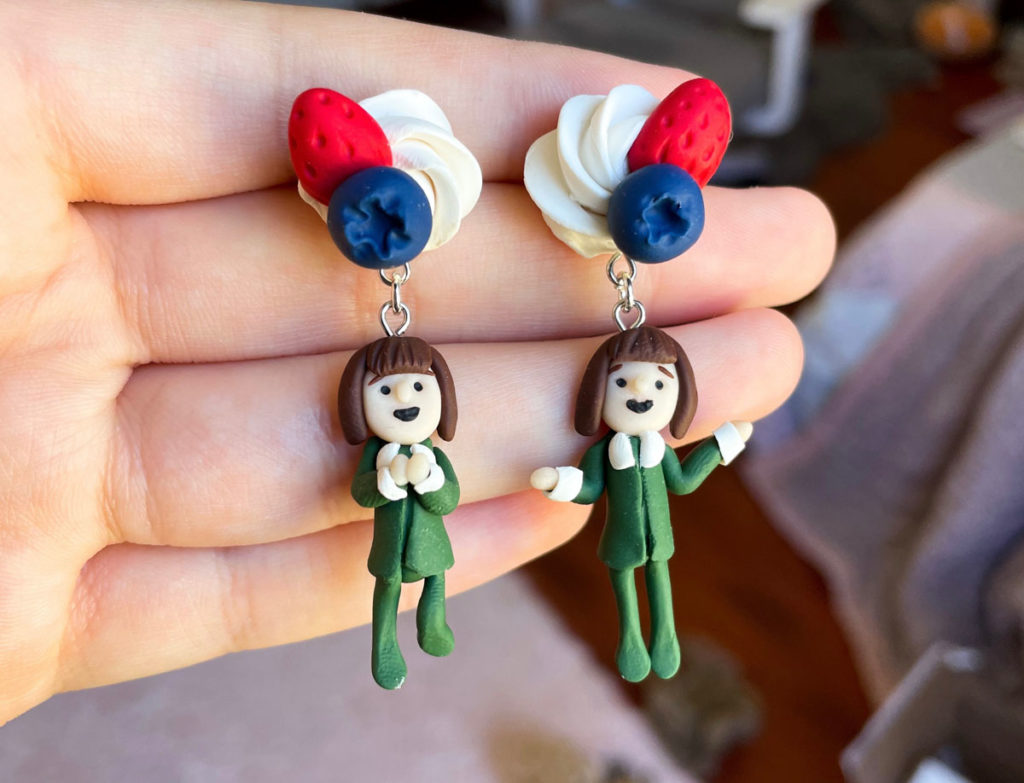 [Related: UCLA student crafts knitting business as way of giving back to community]
Although she is the sole crafter behind CosmicFuss, Chapman's childhood friend Sneha Beri said she has been by Chapman's side through the behind-the-scenes details of the business. With planning price and anticipating demand, Chapman always has a spreadsheet with the products and the quantities of what she plans to make, Beri said. Whether she is sketching ideas on her iPad or preparing for restocks, Beri said Chapman is always working on her business.
"There's never a stagnant moment with CosmicFuss," Beri said. "She is just so passionate about sculpting and being creative that her brain doesn't really shut off in that regard."
To keep her business alive while she is in school, Chapman said she has to budget time in her schedule to create products and film YouTube videos, as if she is studying for an exam or writing an essay. The whole process takes roughly four hours, she said, with one hour to design and three to four hours to sculpt and film. Though this usually takes up Fridays and a portion of her weekends, the work is crucial to keep up engagement from followers, Chapman said.
In terms of inspiration, she said her keychains and jewelry are primarily based on memes and funny audios she hears on TikTok. Creating the visual representation can be as simple as sculpting tiny words onto her earrings or as complex as molding individual elements that she later combines, she said. Recreating the popular "Berries and Cream" TikTok sound, Chapman said she employed the latter process by using polymer clay to mold berries and cream to the stud of an earring, with the little lad hanging from it.
"The little lad himself actually followed me back on TikTok, so we're TikTok friends now," Chapman said. "I just want to capture the energy of these memes and the reason they make you laugh. … That's really what I focus on."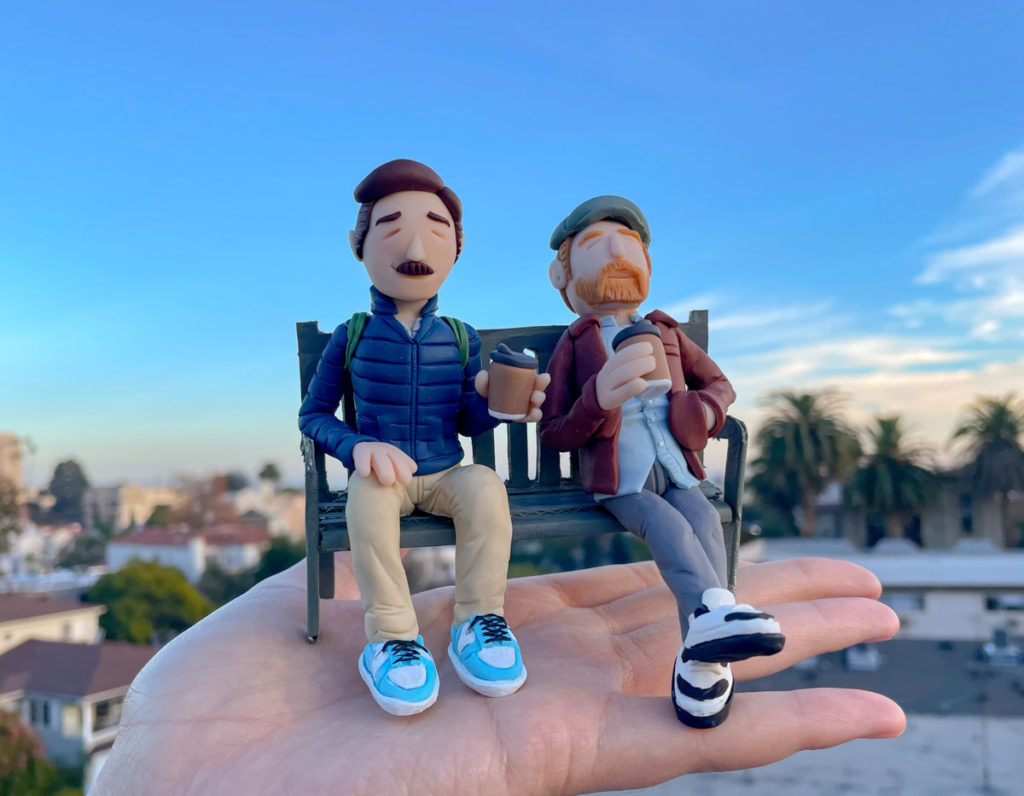 [Related: UCLA student crochets for a cause by donating business profits to charities]
Despite her online presence, there are some creations that still take place off camera, which Chapman said help remind her that her hobby is for her own enjoyment. These creations are usually larger and more intricate than the projects she makes for TikTok, she said, and are inspired by her interests as a source of relaxation and pleasure.
One such piece, which Chapman's roommate and third-year psychology student Madelyn Sullivan said is her favorite, is a figurine of Ted Lasso and Coach Beard. Sullivan said she and her roommates, including Chapman, are dedicated fans of the show "Ted Lasso," and unlike some of Chapman's previous work, the piece was auctioned off for a little more than $400.
"I have seen her direction change to be more focused on what she wants to create and less on creating in bulk to feed the consumers," Sullivan said. "She makes a lot more of single, exclusive items now."
Looking forward, Chapman's next steps with CosmicFuss are to keep creating more content for her Shopify website such as the one-of-a-kind Ted Lasso figurine, she said. Expanding out of jewelry and into incorporating animation into her sculptures, Chapman said she may go on to create stop-motion commercials or Instagram gifts with her sculptures. With CosmicFuss. Chapman has her finger on the pulse of what her followers want, Beri said.
"The growth has been … impressive, but what's more impressive is her not only ability but desire to keep growing and staying true to what she wants," Beri said.