The Quad: UCLA community discusses impact of prolonged studying on students' physical health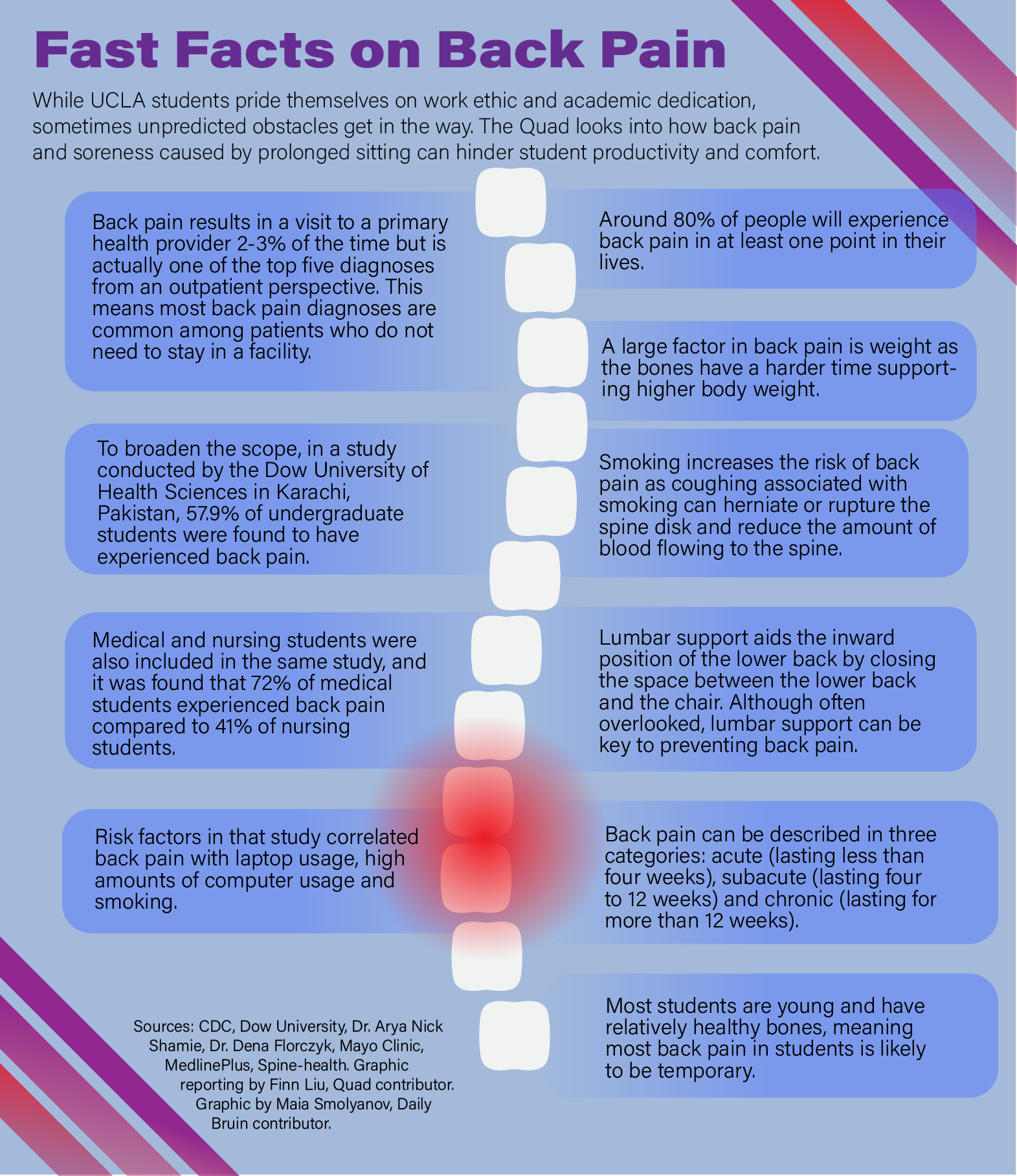 It's deep into the quarter, exams are fast approaching, the assignments keep piling up and the tension accumulates. You begin to feel the burning of your lower back and the itchiness of wanting to move as long hours in front of a desk stack up. This is an experience many Bruins have felt before.
Third-year materials engineering student Austin Chen said his hours of studying increase as the week progresses.
"(Studying takes) four to five hours depending on the assignments that week and how cluttered it is. So it would total up to … about seven days, then about 28 to 35 hours a week," Chen said.
Although he starts strong, Chen said he experiences soreness in his lower back and glutes once his studying drags late into the night – a similar experience to staying seated during a long drive.
"If it hits three or four hours then yeah, I will feel a bit sore just sitting there for too long," Chen said.
The Chief of Orthopaedic Spine Surgery at the David Geffen School of Medicine, Dr. Arya Nick Shamie, said the soreness commonly felt in the lower back is from the build-up of lactic acid in the muscles.
"It's due to either poor posture when you're sitting behind a desk, studying or not warming up for activities. The muscles basically produce lactic acid when they're either overworked or they're injured," Shamie said.
According to a MedlinePlus report, 80% of students face back pain.
Shamie said muscle tissues that are deconditioned from overwork or injury do not metabolize normally. Instead of breaking down muscle tissue which is released as carbon dioxide through the lungs, the accumulated lactic acid will linger in the muscles for days and cause pain.
As more time is spent locked in a stationary position, students may feel compelled to move around.
First-year psychology student Tara Srinivasan said soreness is not a huge issue for her, but she still experiences restlessness from staying still in one spot for too long.
"Just sitting in that chair for a long period of time is just not fun," Srinivasan said.
Srinivasan said she copes with this discomfort by simply getting up from her desk and moving around, regardless of how short or long these periods are.
"My breaks are literally just like walking to the dining halls," Srinivasan said. "On times that I have in-person classes, I feel much better because I'm actually walking to class and back."
Dr. Dena Florczyk, the medical director at UCLA Club Sports, said restlessness is a normal response when an individual is stationary for too long.
"If you're sitting in one position for too long … muscles are going to get tense, you know? Holding your position fixed in that one spot, … so I think it's our body's natural reaction to want to move," Florczyk said.
Florczyk said the human body reacts a certain way to relieve tension once faced with stress. For instance, if an individual receives elevated levels of stress throughout finals week, the body is compelled to move around and release that built-up pressure.
Florczyk said it is important to have an ergonomic desk setup that promotes comfort to minimize discomfort levels, especially in a time of virtual learning and extended hours in front of a screen.
"Ergonomically means having your workspace set up optimally, so it is not causing any issues with your body," Florcyzk said. "We're looking at kind of the height of their computer screen relative to their eyes, (so) they're not looking down on their keyboard. … Your arms are at a 90-degree angle. … Your knees are a 90-degree angle."
Both Shamie and Florczyk said that in addition to an ergonomic workspace, sitting on a chair with lumbar support can greatly benefit one's back.
Shamie said components of a healthy student lifestyle may be challenged by rigorous academics. In conjunction with avoiding alcohol and smoking, which can weaken bone and muscle health, Shamie said students should adopt healthy lifestyle habits related to sleep and consumption.
"(Students) have to be rested and so does your body. Getting at least seven, eight hours of sleep on a comfortable bed and in a good position, not passed out behind your desk, is really important," Shamie said. "Also eating healthy and drinking enough fluids, so you don't get dehydrated, which can affect the muscle function."
Back pain, along with restlessness, may seem inevitable; however, to get back on track for finals week, simple adjustments and healthy habits can minimize these setbacks.
"Looking at your workspace, looking at your exercise habits, other lifestyle habits, keeping your weight in a healthy space, avoiding smoking, things like that. All of that goes into let's keep your back healthy and prevent this from occurring," Florczyk said.