The Quad: Diving into deeper meanings, linguistic origins of nicknames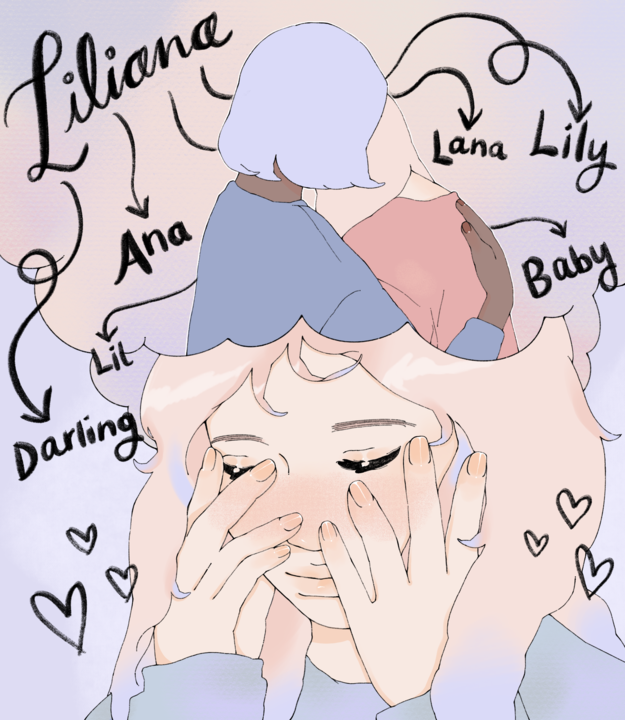 (Ayumi Bergan/Daily Bruin)
While you may hear someone called Bill, Dick, Peggy or Nellie, chances are the names on their birth certificates are William, Richard, Margaret and Helen.
Nicknames may hold just as much as, if not more, significance than one's given birth name, and they can be formed in a multitude of ways.
Linguistics professor Kie Zuraw said one of the most common ways to form a nickname is to take the stressed syllable in the name and sometimes add another syllable after it.
"For instance, if it was Elizabeth, then … you could just take Liz, or maybe you could add E to it: Lizzie," Zuraw said.
Although a snappy and shortened version of one's full name is often a popular nickname choice, nicknames can come in all shapes and sizes. While a nickname can stem from an inside joke, a term of endearment from a family member, or something completely unrelated, they can oftentimes set the stage for meaningful relationships.
Grant Grech, a fourth-year psychology student, said one of his nicknames is GG. Grech added that the nickname, which is derived from his initials, is so special to him and his brother that they both own a ring with the letters GG.
"I wear it on my hands," Grech said. "My brother, he's also GG. He's Gavin. So we feel connected, and he wears a ring too."
Tatiana Duckworth, a fourth-year philosophy and political science student, said she also feels a connection to her family through the nickname they call her.
"My family calls me Tana, and I got that nickname from my little brother because he couldn't say my name, Tatiana," Duckworth said. "Growing up, I didn't really notice the nickname. It wasn't until I got older that I noticed that my family is the only one that calls me that name. And it's very personal in that way that I don't like anybody else to call me it."
Similar to Duckworth's nickname origins, Zuraw said receiving a nickname because of pronunciation variations can feel special.
"I think there's something maybe special about the nicknames that we get as young children in our families because those I think are often influenced by the way children pronounce words," Zuraw said. "It might be the way someone pronounced their own name when they were child. It might be the way a sibling pronounced her name when they were child."
Benjamin Franklin La Mar IX, a fourth-year music student, said he is the ninth in his family to be given the aforementioned name but goes by Ben. La Mar said, consequently, his family established a generational order in which nicknames are alternated.
"Usually the order that it's kind of gone is the first (son) has been Benny or Ben Jr., … and then usually his son, they'll call Ted, even though his name is Benjamin. … And then Ted's son will be Ben. And then my son will be Benny," La Mar said. "That's kind of how we, I guess, differentiate because there's usually three Bens all at once."
Beyond family nicknames, Kristina La, a fourth-year psychobiology student, said she got her nickname during a high school rap video project. La said the nickname Krila was formed from the first three letters of her first name and the two letters of her last name.
"It was kind of a joke in high school, like oh Krila, as the rapper," La said.
In her freshman year of college, La added that her friends rediscovered the nickname and have been using it for the past four years.
"It sounds weird when they call me by my actual name, Kristina. But then it's also funny when their other friends meet me and they introduce me as Krila, forgetting that my actual name is Kristina," La said.
Nicknames also take on different forms across cultures.
For instance, in Spanish, the suffixes "-ito" and "-ita" are often added as a term of affection. On the other hand, in Chinese, the character "xiao," meaning "little," might be added in front of a name.
Although nicknames can be used affectionately, Bruins such as Duckworth said they can be used in more hurtful ways.
"I'm very proud of my last name," Duckworth said. "I wasn't proud before, like in middle school, because you can only imagine what letters they would replace."
Linguistics professor Thomas Hinnebusch said in an emailed statement that nicknames can conjure up a wide range of feelings, including unfavorable ones, for both the person using them and the one bearing them.
"Used pejoratively, of course, (nicknames) can break the social fabric holding people together; they become hurtful and harmful," Hinnebusch said.
Despite their often casual nature, nicknames ultimately can serve as a powerful and impactful aspect of one's identity.
"In Swahili people ask, 'Who is your name,' not 'What is your name,'" Hinnebusch said. "This, in my view, shows how close the identity is between one's name and one's self."