'Aqux' explores representations of home, connects identities of Latinx community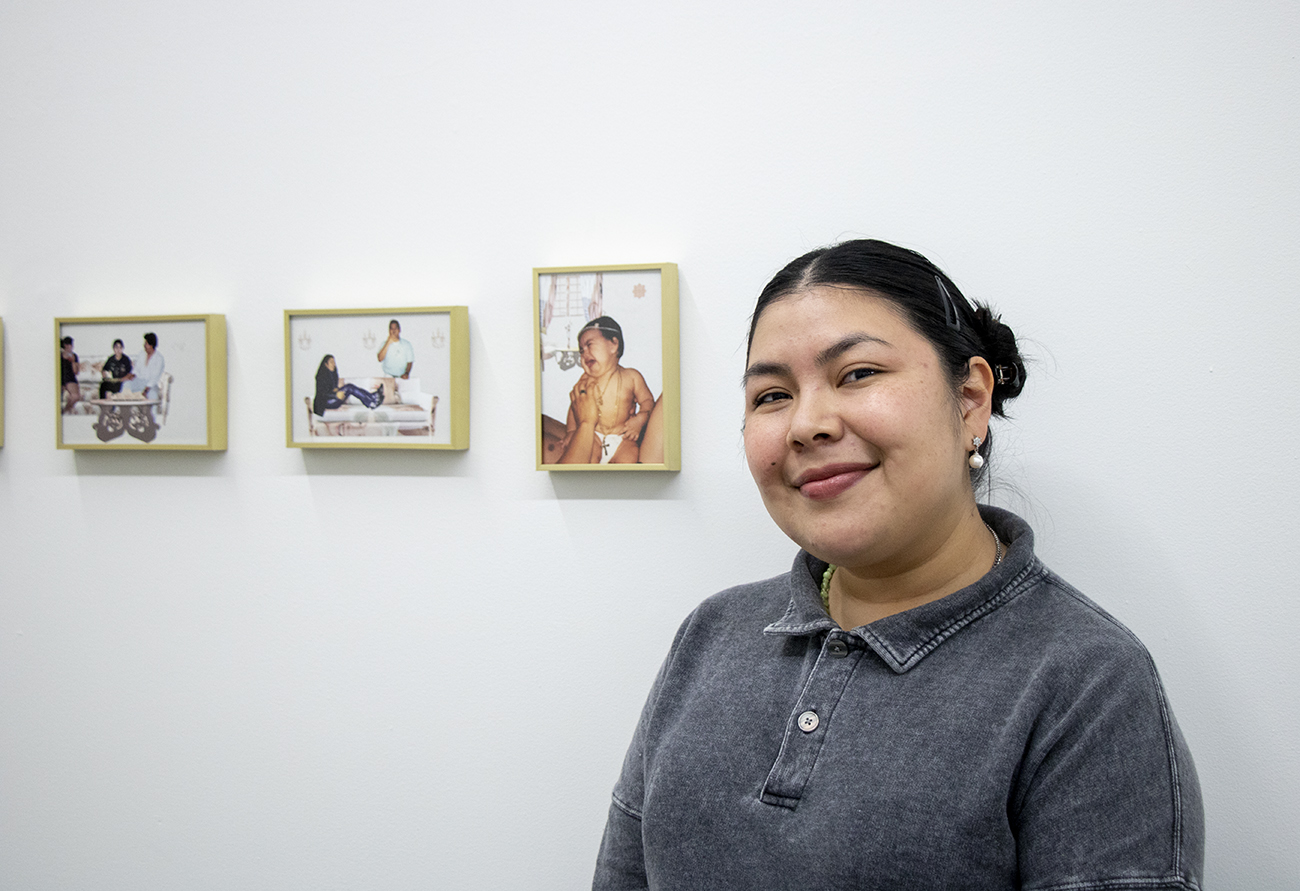 Graduate student Susan Aparicio's digital collages are part of The Mistake Room's "Aqux" exhibition, which features the work of 23 Latinx artists. (Finn Chitwood/Daily Bruin)
"Aqux"
The Mistake Room
1811 E. 20th St.
Los Angeles, CA 90058
Feb. 19 to April 23
Home is what artists make of it.
"Aqux," a group exhibition which opened Feb. 19 at The Mistake Room, features 23 Latinx artists and their interpretations of what home means to them. Through the featured works curated by TMR's executive and artistic director and alumnus César García-Alvarez, the group exhibition explores the connection between the artists' Latin American roots and the places they call home. Pronounced "aquí" like the Spanish word for "here," "Aqux's" spelling represents the debate surrounding the term Latinx, García-Alvarez said.
"Our identity is never static – it is always situational," García-Alvarez said. "Thinking about home in that way became an interesting mechanism to organize the exhibition, and what you see in this show are various contradicting representations of home. You don't get a full, solid, agreed-upon perspective on how home should be defined or experienced."
The exhibition, which will remain open until April 23, is the first in a series of six shows that will highlight the work of Latinx artists, García-Alvarez said. Assembling the show involved three years of researching U.S. artists, and García-Alvarez said he came across graduate student Susan Aparicio's work at a UCLA Open Studios session.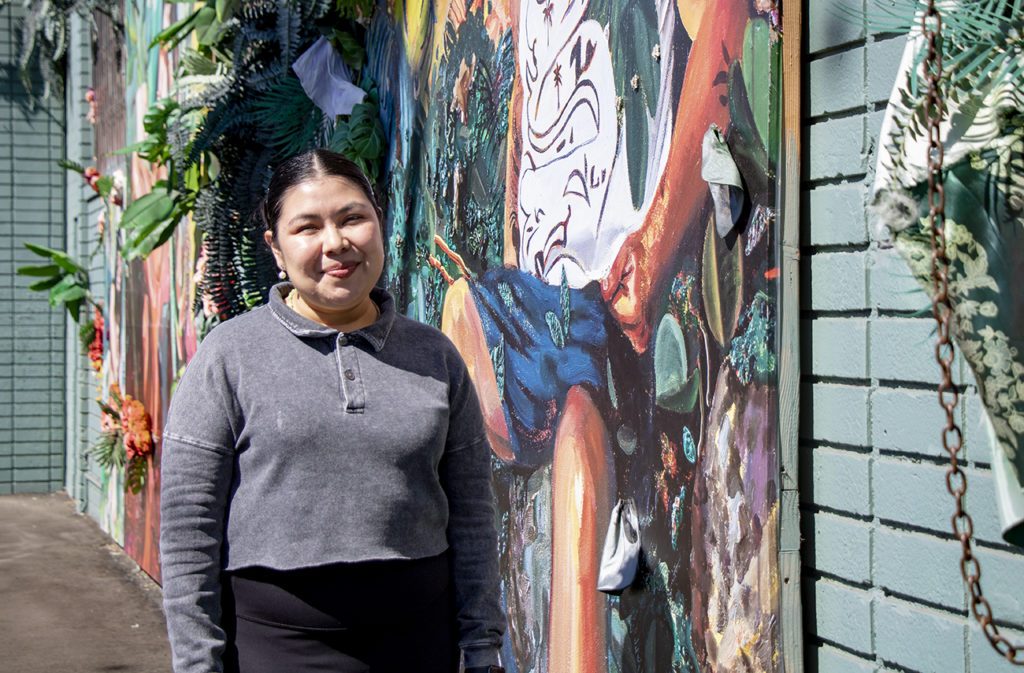 For "Aqux," Aparicio said she is presenting digital collages which she created in 2019 as an undergraduate student at the University of Virginia. The collection of 5-by-7 inch collages titled "Dream Home" was inspired by the culture shock of seeing conventional suburban homes in Virginia that represent the American dream, which were very different from the types of homes in her Southeast Los Angeles hometown.
"(Northern Virginia) felt like (it) was the traditional America that I had always only imagined," Aparicio said. "It felt super jarring to me to be in these traditional American, white homes. Over there, there's a very large white population that I had never lived around. I didn't grow up with that."
[Related: Art focuses on escapism, comfort in Hillel at UCLA's winter exhibition]
Aparicio's collages reflect her impression of these neighborhoods, she said. In some pieces, she said she used stock images of white families with bright blue eyes and wide smiles to digitally render furniture and other elements of the houses. But while the stock images represent how white suburban residents in Virginia would often make her feel like an outsider, Aparicio said she incorporated photographs of family parties from the '90s into the collages to show her family celebrating as if they were living in a traditional American house of their own.
"To me, family's home," Aparicio said. "It doesn't matter where you are, but it's your family and the way that you can be together. That's what home is. That's why in my 'Dream Home' collages, that's their home – because they're all there. Even if they're the outsiders, they're all still together."
For García-Alvarez, Aparicio's work depicting her family in traditionally white homes exemplifies the generational differences in how a dream home is defined. Aparicio's work uses humor and tragedy to illustrate the ways that defining the American dream has changed, he said.
[Related: Student adds life to her game designs with complex characters, fantasy elements]
Also among the 23 artists is ceramic artist Claudia Solórzano. She describes her work as a domestic story, she said, as her art derives meaning from her life as an LA native. For the show, Solórzano contributed a set of ceramic homes for succulent plants from her mother's house, she said. The succulents were planted in coffee cans to give them a place to live, and Solórzano said she sculpted makeshift structures with features like windows to house them.
"(The ceramic homes) all have this domestic quality to them due to the fact that (there) is a recognizable windowpane, ladder or a brick-ish form, and then these plants are living inside of that," Solórzano said. "It's this idea of plants being able to sustain themselves in a home. They're no longer homeless. They have a place to be."
Solórzano's other sculptures are a set of four gates resembling those her neighbors have in their front yards, she said. The ruggedness and fragility of Solórzano's pieces reflect the home conditions many Angelenos grew up in, García-Alvarez said. They also represent spiritual protection of the home, he said, despite their rendering in a delicate material like ceramic.
With these multiple renderings of home conceptualized by Latinx artists, García-Alvarez said the exhibit illustrates that there is no one way to define the Latinx experience. Instead, he said embracing the differences among one another can help create an understanding of what it means to be Latin American.
"Latinx-identifying people have a multiplicity of understandings about their own sense of self," García-Alvarez said. "The idea of home, which we usually tie so many ways into who we are or where we come from, by having it destabilized in that way, … allows us to see how our own positioning and sense of self is also shifting."