Art focuses on escapism, comfort in Hillel at UCLA's winter exhibition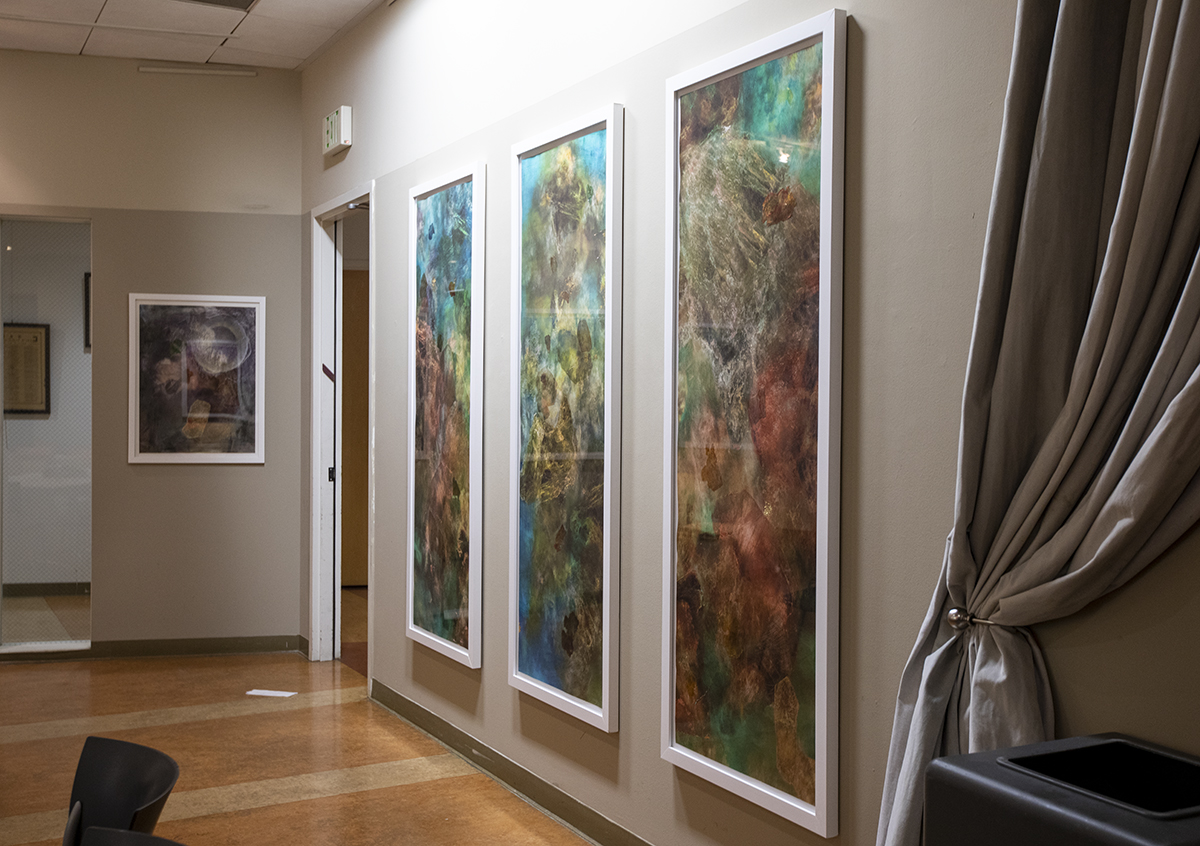 Hillel at UCLA is displaying the work of three artists – including Aline Mare's "Mirabilia" – until March 11. (Anya Yakimenko/Daily Bruin)
UCLA Hillel's 2022 Winter Art Opening
Hillel at UCLA
March 1
7 p.m. to 9 p.m.
Hillel at UCLA is presenting artwork awash in fantasies.
Hillel at UCLA is presenting three artists' works at its Winter Art Opening and Reception on Tuesday. The artistic director of the Dortort Center for Creativity in the Arts, curator of the event and alumnus Perla Karney said although the artists use different art forms, from the concrete to the abstract, all of the pieces focus on themes of consolation and escapism during the COVID-19 pandemic. For Karney, the exhibits were intended to provide a hopeful fantasy during a trying period in many people's lives.
"There is an escapism that runs through these exhibits – there's very little realism," Karney said. "The exhibits show that the artists are involved in getting all of us through this difficult period in our lives. It really helps you when you can escape and when you can imagine other worlds which is what all three artists are doing in their work."
As one of the artists featured in the exhibition, alumnus Isaac Brynjegard-Bialik said he will present a collection of golems, which are Jewish mythical figures that represent safety and defense, in his piece, "Paper Golems: A Pandemic Diary." For Brynjegard-Bialik, constructing golems provided him a sanctuary during times of unrest, such as the pandemic. To create these golems, Brynjegard-Bialik said he cut up superhero comic strips and reassembled them into golems of different shapes and sizes.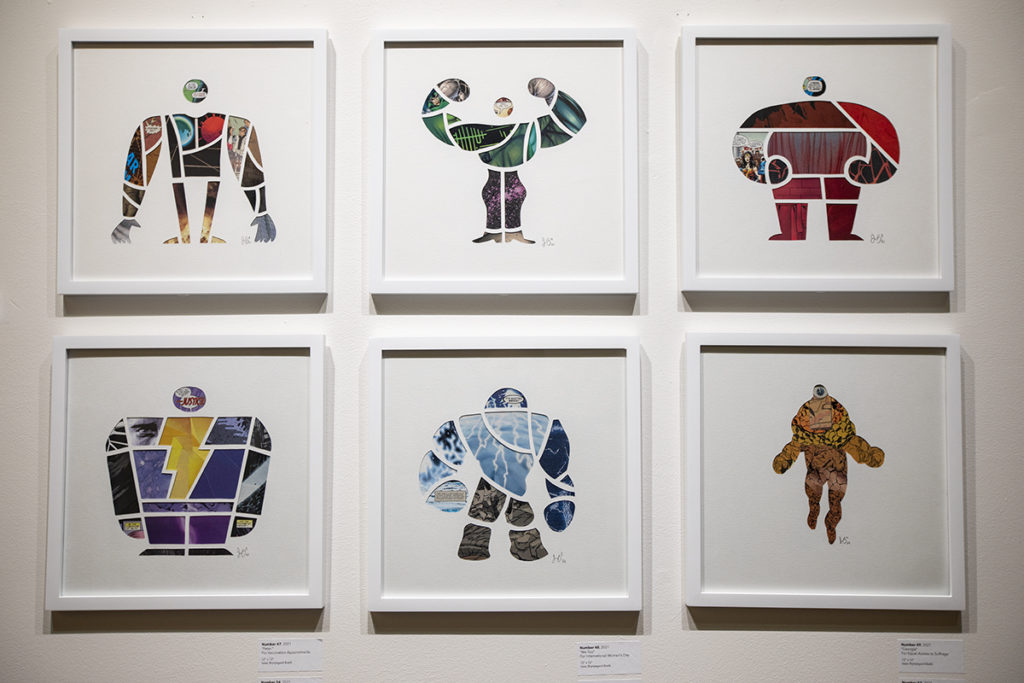 [Related: Students draw on personal experiences, individuality in gallery exhibition]
The golems served as an opportunity to comment on relevant events that occurred during the pandemic such as the Black Lives Matter movement, Brynjegard-Bialik said. In response to the movement, the artist said he created a golem with comic strips of the Black superhero Storm from the Marvel comic series "X-Men," who represents the masses of people speaking out and wanting to be heard. Brynjegard-Bialik said he created the golem form to represent the material that is around him.
"I've been playing with all these different ways of how could you form a being out of whatever material is around you," Brynjegard-Bialik said. "When we were dealing with those wildfires, I made a few golems that were made out of water and seemed to flow around the edges. They have these rounded softwater edges and they're filled with characters like Aquaman or the Sub-Mariner, who are heroes associated with water."
As a more abstract piece, artist Aline Mare's artwork "Mirabilia" features abstract paintings that cater more to the imagination, said Felipe Navarrete, Hillel at UCLA's art administrator and alumnus. Mare's art, which contains a conglomeration of ghostly brush strokes, concerns itself with immersing the viewer in a sublime world within the viewer's mind, Navarrete said. For Navarrete, the piece is a mental exercise of creating visions and meanings that one can personally understand rather than a visual exercise of observing what is present in the piece.
"Most of (Mare's) painting and the details are really washed out, so it forces you to come closer to the painting and see where the fine lines are (and) if they begin or if they just fade into the background," Navarrete said. "Naturally, your eyes start making up images and thoughts just by looking at the shapes that she creates."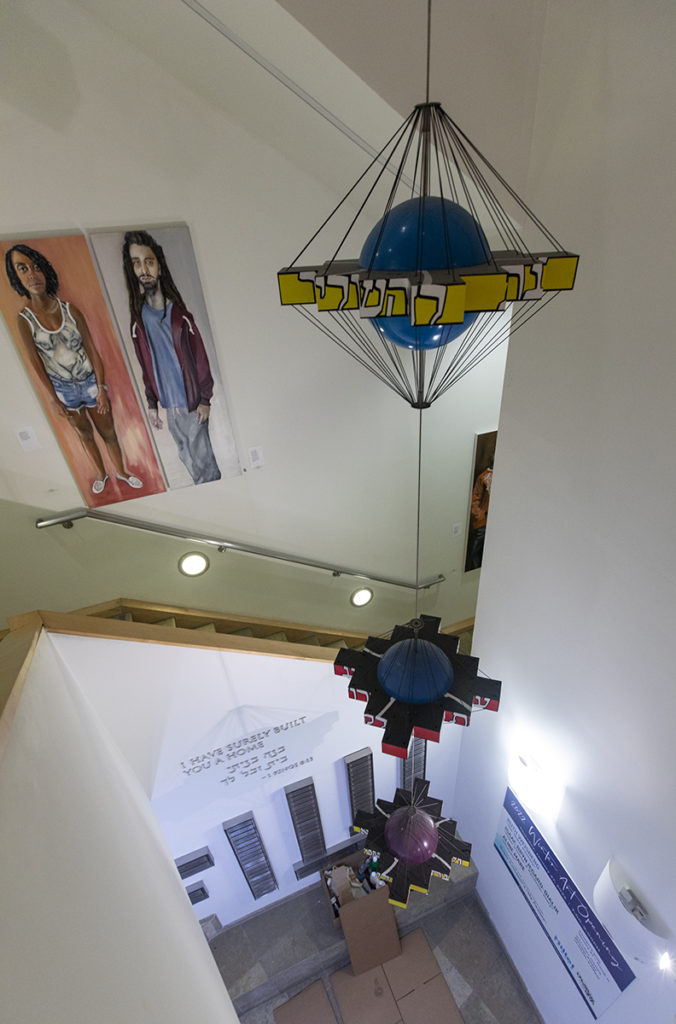 [Related: Graduate student uses undervalued art forms to create meaningful art]
As the final piece of the exhibit, Karney said Ruth Weisberg's "The Water Dancers" brings a global artist's brainchild to Hillel at UCLA. The artwork is a painting that features women dancing in aquatic environments, Karney said. Given the context of the pandemic, Karney said the piece aims to comfort viewers by helping them escape into another world without the current anxieties that may currently flood them.
Across all three of these works, Karney said viewers can take away the emphasis on art's purpose to enrich all demographics of viewers by connecting with them in an emotional, psychological or spiritual way. Although art can take on many forms, whether it be abstract paintings that entice the imagination or concrete collages that provide comfort in the presence of hard times, Karney said the three artworks all provide a message others can resonate with.
"(Art) just enriches you as an undergraduate or a graduate," Karney said. "It enriches your life. Art heals you. It just helps you in ways that you can't even quantify. It's part of what gives life meaning."