Editorial: UCLA repeats mistakes with failure to communicate white supremacist rally threat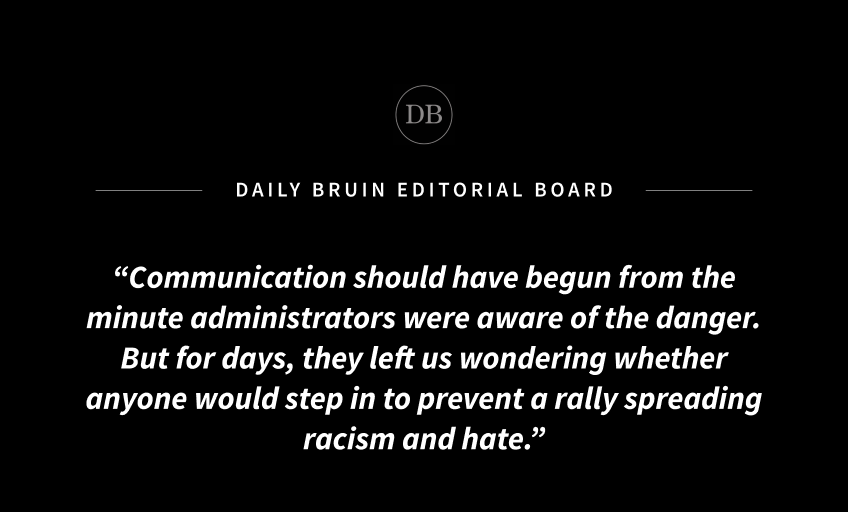 Editor's note: Editorials are intended to serve as the jumping-off point, not the conclusion, to discussion. As part of the Daily Bruin's commitment to its readers, the board hopes to present a responsible and clear analysis of relevant events and news items affecting the lives of those we serve, but our editorials are not representative of the Daily Bruin's views on issues as a whole. We encourage all readers to reach out to our board members and to respond to our editorials.
For the second time in less than two weeks, UCLA's campus was threatened.
And for a second time in less than two weeks, the nation's No. 1 public university failed to rise to the challenge.
On Feb. 9, the Asian American Studies Center received a flyer stating that a white supremacist rally would happen at UCLA on Feb. 14, five days later.
The department did not delay. They alerted authorities to the threat and made sure the students and faculty they are responsible for were aware of the situation, all on the very same day.
Unfortunately, the same can't be said of our university.
For four days, Chancellor Gene Block did not alert the UCLA community to the very real possibility that our campus might have soon been the site of racially motivated terrorism.
Then, on Feb. 13, only one day before white supremacists might have potentially rallied on campus, Block finally notified UCLA community members. He stated that the threat had been investigated and campus activity would continue as normal, save for an increased police and security presence for the day.
The hesitancy of communication is indicative of a larger problem – an administration that not only is disconnected from the student community and its needs but also willfully deprioritizes them in favor of protecting its reputation.
Make no mistake, the threat of a white supremacist rally is a threat of violence. Primarily targeting marginalized communities like those referenced in the flyer, white supremacists have been identified as "the most lethal" domestic terrorist threat in the nation by federal intelligence agencies. This situation was serious and needed to be addressed immediately and publicly.
A valid concern by the university could be that sharing information publicly with the student body could lead to panic. Another possible concern is that continual warnings of inauthentic threats could lead to response fatigue.
This is why quickly and thoroughly investigating the source and legitimacy of a threat is important. However, this isn't an excuse for a lack of sharing information. Communication from the university immediately after it becomes aware of a threat – while sharing the caveat that the university is still investigating – is better than leaving students to find out on social media.
Instead, our administrators skirted around their responsibility and kept quiet.
That is, they waited to acknowledge the white supremacist threat publicly for the first time until they were confident that an announcement could simultaneously dismiss it. Communication should have begun from the minute administrators were aware of the danger. But for days, they left us wondering whether anyone would step in to prevent a rally spreading racism and hate.
A comparison to the mass shooting threat on Jan. 31 is hard not to make. As with the more recent AASC threat, most students had to learn about it over social media and were left in suspense as to whether their university would take steps to protect them.
UCLA's response to that threat was inexcusable. And now, when they had a second chance to show us they could be relied upon, administrators managed to fail yet again.
This is made more egregious because our administration has forced students back to campus and dug its heels into the ground as best as it could despite months of activism for hybrid learning. It took 16 days of students sitting outside of Block's office, asking for reasonable changes to instruction, for the administration to offer support to stop forcing students to choose between their health and academics.
Had they given in sooner, perhaps after meeting with the Disabled Student Union in early October, these threats to campus safety wouldn't have been as stressful for students, who could have chosen to stay at home. If that had been the case, our administration's continued failures would be just as embarrassing but potentially less harmful.
Clearly, they aren't prioritizing our welfare and haven't for a long time.
In light of the recent threat, administrators' statements following the incident on Jan. 31 are empty. Their promises of protecting community members against threats were a tool to hide from criticism, not a genuine effort to learn from their mistakes.
In fairness, it should be acknowledged that the main action attempting to redress their shortcomings following the Jan. 31 threat, the establishment of the safety task force, was only announced Feb. 7, two days before the threat of a white supremacist rally was made. As such, the committee hadn't been able to conduct its review of how UCLA handles situations like these.
However, this recurring problem won't be fixed by a task force with no actual authority. Our campus community will feel safe when those in power value our well-being as much as they should – meaning our well-being should be taken more seriously than public scrutiny.
Our administration's primary responsibility is to serve the student body in times of peace and crisis.
Its actions have shown us it thinks otherwise.