UCLA graduate student mixes it up with traditional DJ techniques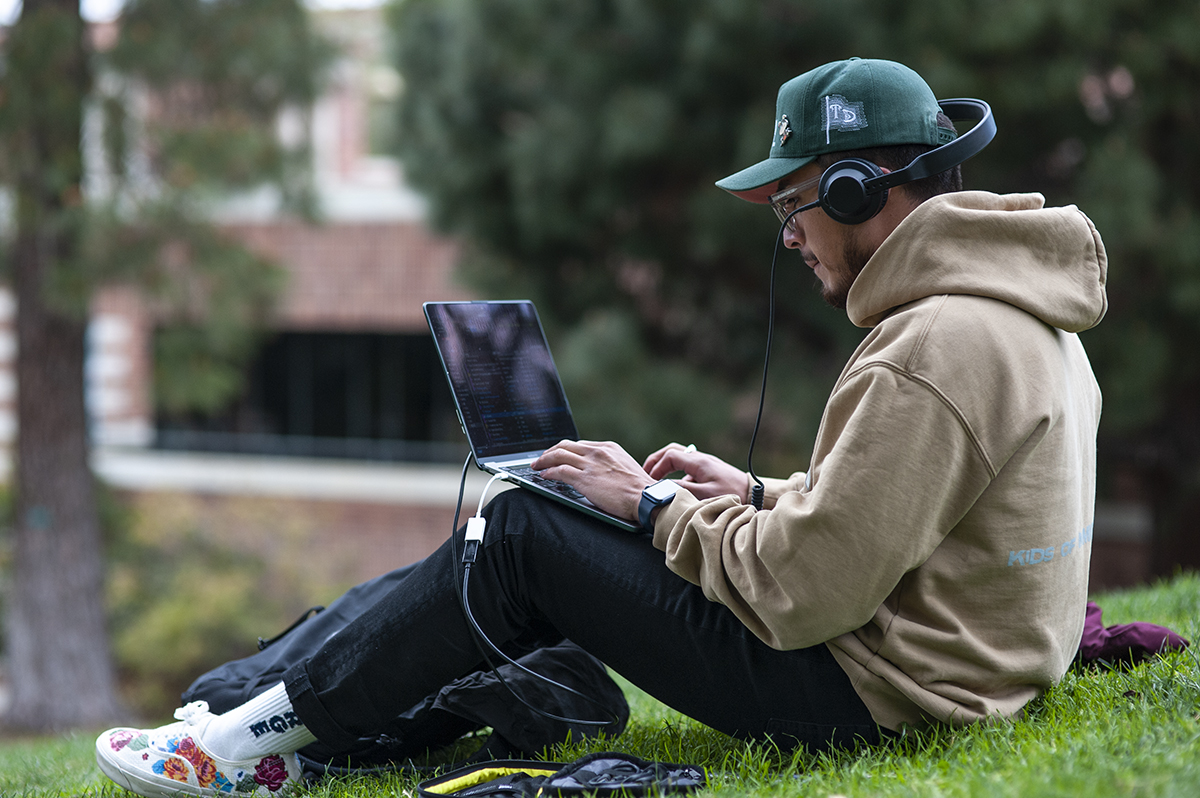 Graduate student and DJ Daniel Olea will bring his San Fernando Valley background and physical turntables to Las Vegas this weekend for the event "Soulection Las Vegas: Andre Power and Olea." (Chelsea Rose Westman/Daily Bruin staff)
This post was updated Feb. 27 at 9:20 p.m.
DJ olea is mixing up music with his traditional technique.
Graduate student and DJ Daniel Olea, who goes by the stage name olea, is performing alongside Andre Power in Las Vegas on Saturday at "Soulection Las Vegas: Andre Power and Olea." The event will be held at AREA15 and showcase digital art alongside music, making it an immersive 4D experience. After DJing at Bruin Bash, olea said he is looking forward to DJing at an event in which he is able to collaborate with multimedia artists at the venue.
"Going through high school, I had friends who were DJs," olea said. "I thought they were cool, but more than anything, I liked the way they (were) capable of coordinating energies. … That power to influence people's emotions and make them feel happy was something that really called me."
The artist said he started playing sets after his high school student government asked him to play music for an event. After some encouragement from a teacher, olea said he began DJing for various events in his community, such as school events and college parties. For olea, the recognition he received in high school motivated him to continue refining his technique throughout his academic career.
[Related: Bruin Bash 2021 shines with stellar performances from Rico Nasty, opening artists]
While in university, olea said he needed to figure out ways to balance schoolwork, DJing and a part-time job. Time management was a skill he developed out of necessity, but he said he has evolved to become more accustomed to balancing school and DJing as he has progressed through his academic career.
"I would be in class taking notes with another tab open booking flights and signing contracts," olea said. "My schedules were insane."
While at a party in college, olea said he was introduced to different artists while listening to the DJ's set. Upon returning home and researching some of the artists, olea said he stumbled across Joe Kay, the founder of the radio show and artist group Soulection. He said he was drawn to the instrumental beats present in Kay's music and spent time on streaming services such as SoundCloud to help refine his sound as a DJ.
Another supporter of olea, Soulection director of worldwide bookings and production Andres Uribe, said the group was drawn to olea's consistent support as a fan. After noticing his enthusiasm at events hosted by the group, Uribe said Soulection co-founder Andre Power reached out to olea via Instagram to arrange for olea to open for him at an event. Following the event, Uribe said Soulection decided to work more closely with olea, who now works as Kay's executive assistant.
In terms of olea's DJing style, Uribe said he is more traditional than other DJs because he still uses physical turntables as opposed to digital tools, which makes his sets more technically challenging. Uribe said Soulection noticed him because of his ability to read the room he is performing for, which is seen in how he performs for events with different age groups and can cater to audiences at a variety of events.
"He's always finding ways to reinvent himself under that same turntable," Uribe said. "He's like a sponge, and he'll study you while you're DJing."
Playing on turntables, olea said, is his way of paying tribute to past DJs. Since DJing began with physical turntables, he said he feels that using them not only keeps the tradition alive but also provides him with a challenge. He said he has tried different methods of DJing but will get bored if the methods are too simple. Digital DJ mediums rely more on software and matching colors on a board, olea said, but physical turntables force him to be more tuned in to the music he has chosen and the groups he performs for.
[Related: George McHenry experiments with diverse range of music in eclectic portfolio]
Francis Bustamante, marketing director at Cultivate Las Vegas – a cannabis dispensary and one of the companies sponsoring "Soulection Las Vegas: Andre Power and Olea" – said olea was chosen to perform at AREA15 because his values align with the community-based approach at the company. Bustamante said part of Cultivate's brand is its focus on developing relationships with the groups it serves in the Las Vegas cannabis community, and the group decided on olea for its event because of his DJing ability and attention toward the people he performs for.
"I wanted somebody to take advantage of this event, … and I really see the passion in (olea) and his love for music, his love for people," Bustamante said.
Preparing for an event like his set at AREA15 while also juggling the work for his master's program in education has been difficult, olea said. To visually enrich his AREA15 performance, he said he is coordinating with 2D and 3D artists to help make the event run smoothly. For the event, olea said he is eager to work alongside Andre Power, and he looks forward to creating an immersive experience for guests through his music.
"(The event will have) graphics of empowering messages, … and I'm also going to sprinkle (in) some of the San Fernando Valley because that's my hometown," olea said. "I'm excited to be out there. I'm going to bring my energy, I'm going to bring my style and … bring (the) technical abilities that I have."