'Pericles' explores themes of separation with experimental scenic design, lighting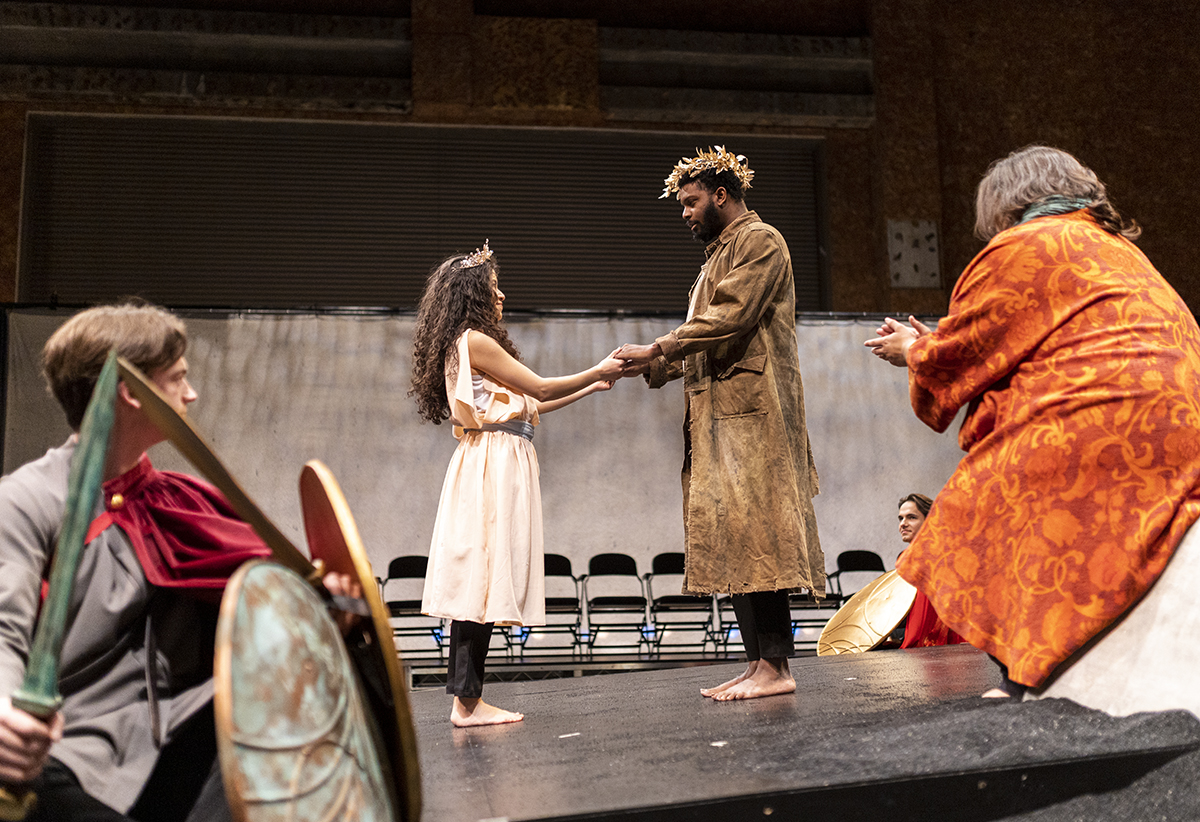 Presented by the Department of Theater and directed by Michael Hackett, "Pericles" follows Prince Pericles as he journeys on a treacherous quest to reunite with his family. (Shengfeng Chen/Daily Bruin)
"Pericles"
Freud Playhouse
Feb. 25 - March 5
$25
This post was updated Feb. 27 at 9:25 p.m.
Smooth sailing lies ahead for the Department of Theater's collaborative efforts on "Pericles."
The Shakespearean play will run from Friday to March 5 at Freud Playhouse, featuring an ensemble cast of graduate acting students and undergraduate theater students in various roles across the stage. Narrated by an English poet named Gower, the play follows Prince Pericles' treacherous journey across islands and port cities as he searches for his family amid a sea of unexpected twists. Director and theater history and directing professor Michael Hackett said the raked stage, sloping in elevation, coupled with its central location surrounded by audiences on all sides, will offer an immersive experience for the play's storytelling to unfold.
"One reason I was drawn to ('Pericles') is that it doesn't have a performance tradition the way 'Macbeth' or 'Hamlet' would have," Hackett said. "We can approach it with a fresh eye, and the structure of the piece itself, which is experimental – meaning it was experimental for Shakespeare's time – requires you to really think in ways that are outside of traditional performance."
Hackett said the peripatetic nature of the play's setting, which evolves from one island to another, is supported by the raked stage setup, as the stage's sloping elevation is experimental in nature. Audiences can enter from four sides of the stage and feel immersed in the play, as the platform gradually rises to a height of 18 inches, he said. Through the use of white gauze screens, intricate set design and lighting choices, the play aims to create scenes of storm sequences and tranquil beaches through an interpretive lens, Hackett said.
The production's experimentation lies not only within its set design but also in its casting choices, as third-year graduate acting student Oyemen Ehikhamhen said she will be one of the two people playing the titular role of Pericles, a male character. Within her acting preparation for the role and physical demands that the production required of her, Ehikhamhen said she worked with Hackett to understand the character's background and motivations to incorporate those feelings into an authentic performance.
"I'm not playing a gender, but I'm playing my interpretation, or (Hackett's) interpretation, of Pericles," Ehikhamhen said. "This character is shining through me regardless of the audience seeing it as a male."
[Related: Graduate student explores grief, illness with levity in play 'Still Harvey Still']
Ehikhamhen said her embodiment of Pericles began with a thorough understanding of the play's narrative structure and the character's motivations to reunite with his family, which then informed her study of the script. Although the complex dialogue and highly stylized format of Shakespeare's writing seemed initially overwhelming, Ehikhamhen said Hackett's expansive knowledge of Shakespeare's works and the directing process provided a grounded foundation for connecting with fellow actors.
While Ehikhamhen's role as the titular character of Pericles demands central focus to the individual role, other cast members have work divided among multiple roles throughout the play. First-year theater student Cole Sitilides will be playing Lord Escanes, the head of state in Pericles' home city, and Leonine, an assassin hired to kill Pericles' daughter, among other roles. Given the breadth of characters in Shakespeare's works, assigning multiple roles to one actor is a more practical approach than casting one person for each of the many roles, Sitilides said.
"Creating the characters has been so much more challenging but also so much more fun," Sitilides said. "In a show like this, where we're not really doing elaborate sets or various detailed costumes, it's all a little bit more abstract."
[Related: Student-directed play drives home consequences of suppressed emotions]
While it is important for the actor to understand the many characters' distinct backgrounds, it is also critical to visually reflect the characters' differences on stage, Sitilides said. In order to accomplish this task, he said small but notable features are assigned to each character, whether that be a colorful hat or texturally pronounced scarf. The combination of the visual cues on stage and actors' distinct characterizations aims to elicit authentic reactions from the audience, Sitilides said.
The individual visual cues and character stories collectively enforce the play's thematic elements surrounding the separation of people, Hackett said. Shakespeare's recurring themes throughout "Pericles" and other notable pieces are also relevant to the current state of world affairs, Ehikhamhen said. While some may seek to investigate the validity of certain works credited to Shakespeare, Hackett said it is important to understand the greater relevance of the playwright's themes to issues such as social justice and migration.
"(The) separation of people and (the) yearning to come back together again are all themes empirical and very topical at the moment," Hackett said. "That's why ('Pericles') has had a resurgence of popularity, and it's being done in a lot of places and in schools and in theaters."