Students draw on personal experiences, individuality in gallery exhibition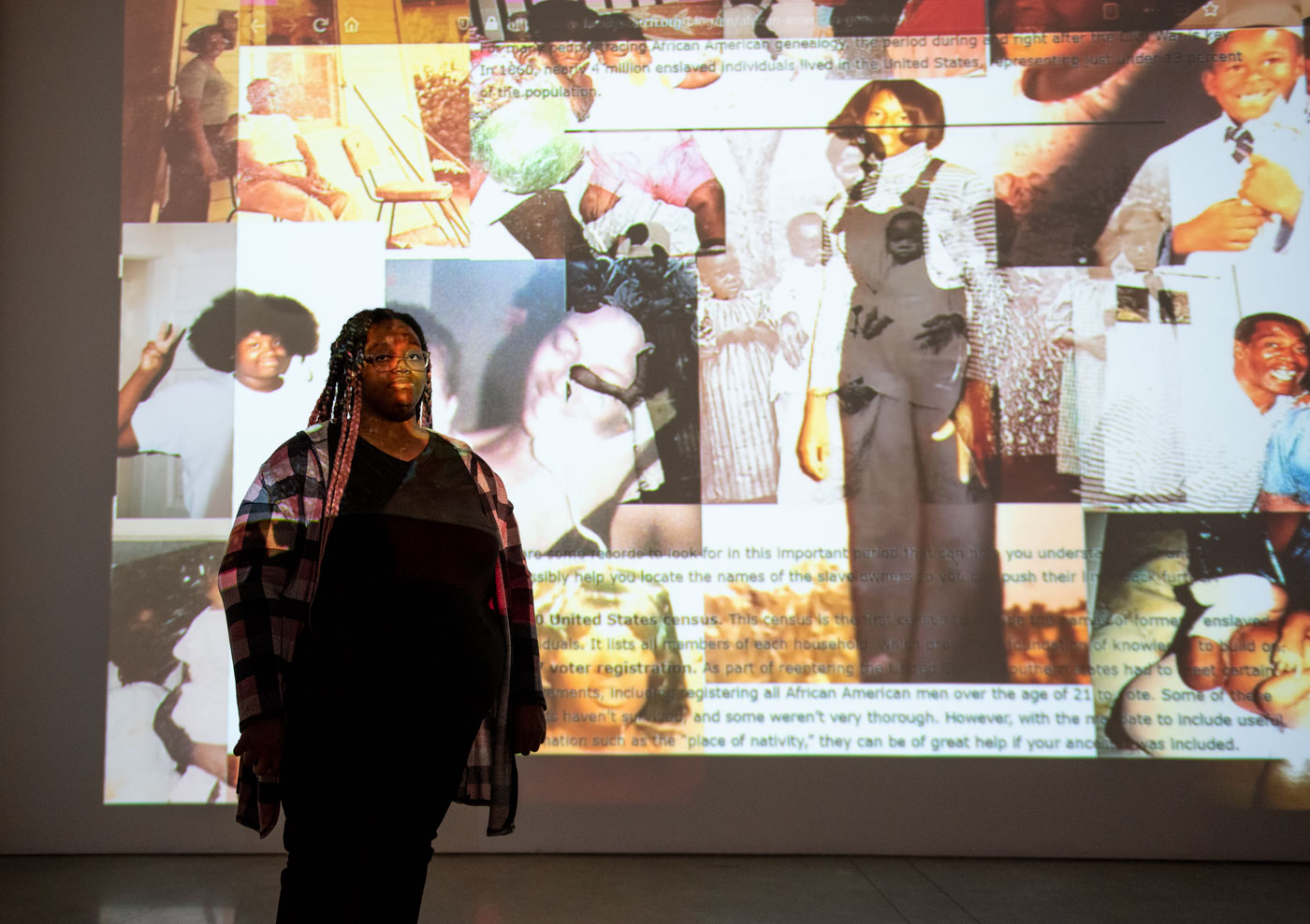 Fourth-year art and art history student Shimine Douglas stands in front of her video piece, "Family History," on display in the Department of Art's Undergraduate Juried Exhibition. (Jefferson Alade/Daily Bruin)
Department of Art Undergraduate Juried Exhibition
New Wight Gallery
Feb. 10 to Feb. 24
The Undergraduate Juried Exhibition is shining a spotlight on bold, expressive individuality.
Selected by independent curator Suzy Halajian, the gallery kicked off Feb. 10 and will have pieces on display until Thursday following Halajian's juror discussion Wednesday. Set in the UCLA Department of Art's New Wight Gallery, the exhibition features mediums such as photography, paintings and short films. Halajian said she was captivated by the idea of viewing oneself through the interrogation of race, gender and identity while putting the gallery together. Fourth-year art student Gwyneth Bulawsky said her featured painting "Ascension" was driven by the theme of rebirth, motivated by personal experiences from a few years prior.
"There were these wildfires up north, and my family lost our home to all these wildfires," Bulawsky said. "All my old paintings, all my old drawings, everything that existed of me before all just burned. In a way, my painting is furthering those themes of being reborn and to start over again."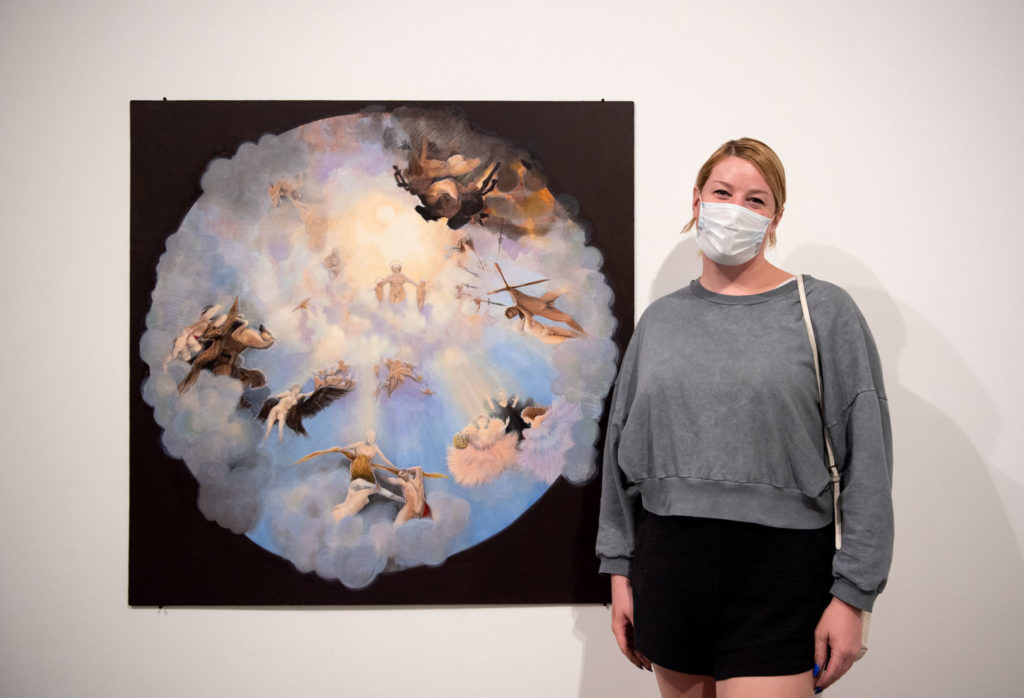 While painting, Bulawsky said she was inspired by artists from the Greco-Roman era who placed particular emphasis on depicting the human figure, often in evocative spiritual contexts. To capture a similar aesthetic in her painting, Bulawsky said color selection was especially important, specifically while creating the heavenly skies that engulf much of the scene. Bulawsky said she also used a technique known as grisaille, a style of color layering she had originally learned while in community college.
"My professor would always make me paint my skies red first … a wash of red, brown, and then the blue sky on top of it," Bulawsky said. "It gets this rich quality that you don't really get by just putting blue on the canvas."
Despite the use of popular techniques such as grisaille and the visual callbacks to other landmark artworks, Bulawsky said she aimed to establish her own niche with "Ascension" by depicting transgender bodies throughout her work, marking a stark contrast to the straight, cisgender subjects of painters such as Michelangelo and Caravaggio. Such artists often painted religious scenes of grandeur, but as a member of the trans community, she said she wanted to imbue a piece of her own identity into her painting while capturing that same sense of immersive otherworldliness, striking a middle ground between historic and contemporary forms of expression.
Meanwhile, behind the theater curtains of the gallery is fourth-year art and art history student Shimine Douglas blending conventional and modern filmographic techniques. In her roughly five-minute short film "Family History," Douglas overlays a screen capture of herself Googling her ancestry onto a collage of her family photos, creating an interplay between contemporary videography methods and traditional photography.
Though she had previously resisted the idea of taking on her Black heritage in her work, Douglas said, with "Family History" she confronts it head on. Douglas said she aims to convey a message that, while driven by her experiences with her own identity, would resonate with viewers who wanted to explore their own identities as well, and she hopes to compel her audience to explore their past in the same way that she did during the film's creation.
"What I like about the video is that, at its core, it's about my family, but it's not – there's more to it," Douglas said. "And that, to me, is important. I'm not just making some video diary about my life. I want it to be more universal."
In the realm of photography, fourth-year art student Kimberly Gutierrez said she pushed novel creative boundaries to create her recent photo series. Gutierrez said her photograph from the series, "Double Frames," marks a departure from her mostly black-and-white prior work. She employed a new technique called double exposure, one she hadn't used before, which she said made the process an artistically formative experience.
"With this series, when I got my results back, I surprisingly fell in love with every picture that I took," Gutierrez said. "There have been times … where I wouldn't like every picture and only like two or three pictures. But for this roll of film, there was something so special to me. … It taught me to just take more chances and embrace mistakes, make mistakes and learn from them."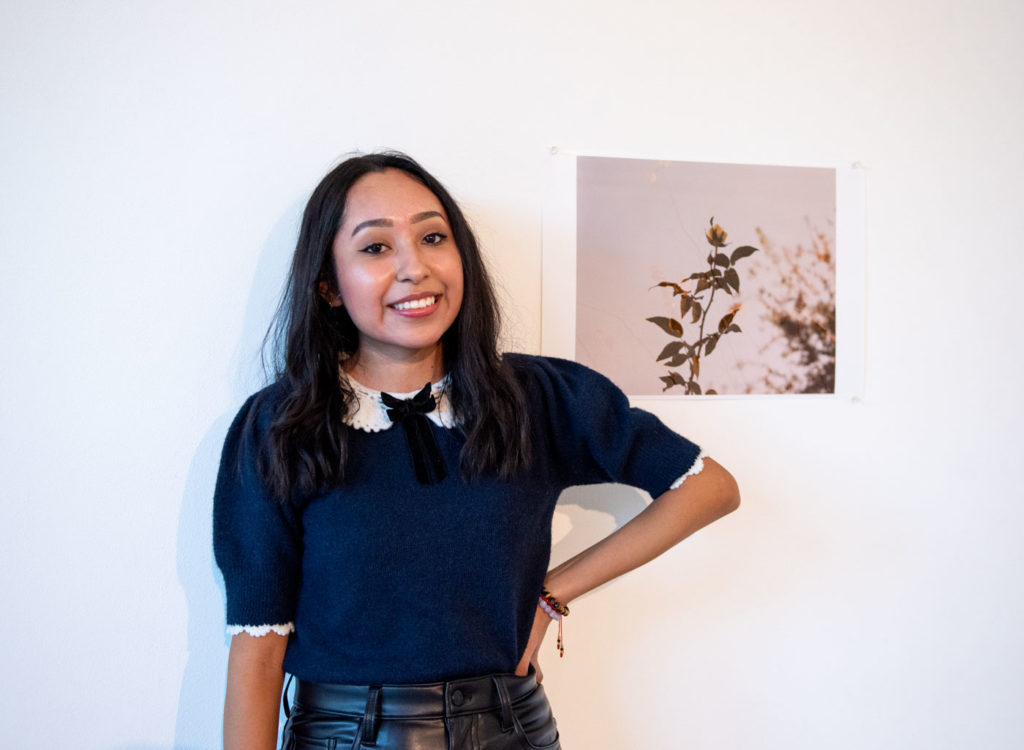 Although the gallery spans a wide set of genres, Halajian said she believes a broader theme of self-transformation unifies the pieces. This idea is mirrored in the construction of the space, Halajian said, with artwork that becomes more mutated and supernatural as one travels through the gallery. For visitors leaving the exhibit, she said she hopes the selection will call them to ponder deeper questions about their place in the world.
"Artists have been at the forefront in the last couple of years in terms of not only the way we've been asked to make or produce works … but also the sort of times we're confronted with asks individuals to reflect," Halajian said. "'What is at stake? Who are we within this sort of moment?' And really question one's own place, in a very charged, complicated moment in time."