Graduate student uses undervalued art forms to create meaningful art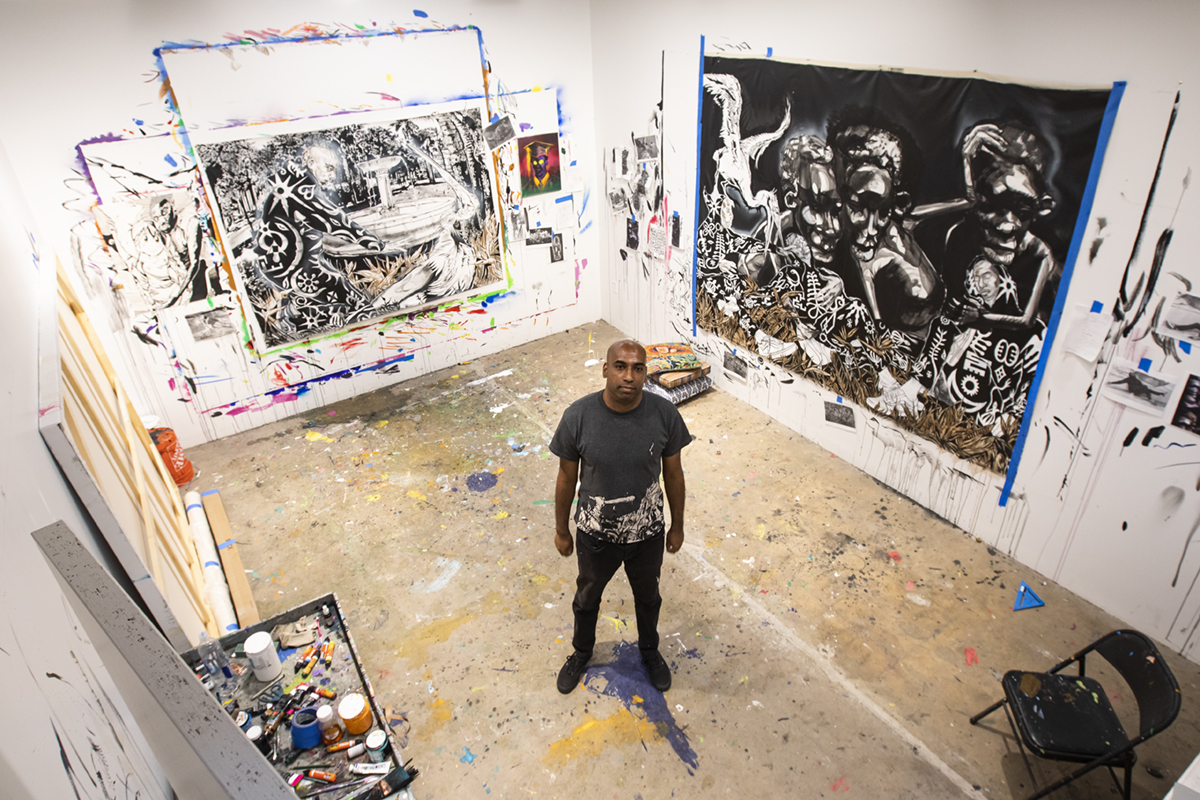 Graduate fine arts student Nehemiah Cisneros creates pieces of art influenced by his Los Angeles childhood and exposure to the Lowbrow Art movement. (Anya Yakimenko/Daily Bruin)
This post was updated Feb. 23 at 10:42 p.m.
Nehemiah Cisneros' art is popping with engaging aesthetics.
As a graduate student in fine arts, he said he is influenced by undervalued art forms such as tattoo art, graffiti and pop surrealism. Though he draws inspiration from numerous things, Cisneros said he is primarily inspired by the artists of the '90s superhero comics he grew up with such as Todd McFarlane, the artist for "The Amazing Spider-Man" comics. Cisneros said he recalls photos of him drawing spiders at a young age and believes his early style remains present and thriving in his current work.
"I've been drawing since I was a 1-year-old," Cisneros said. "This creature-esque aesthetic has always been present ever since I discovered comics. That was the first art form that I discovered on my own, along with skateboard graphics."
Cisneros said he grew up during the Lowbrow Art movement in Los Angeles. Cisneros said the movement is commonly recognized for its surrealism and underground visual art, and he pays homage to this style by pulling from underrepresented facets of art, ultimately creating a narrative arc of his own to be openly interpreted and enjoyed by viewers.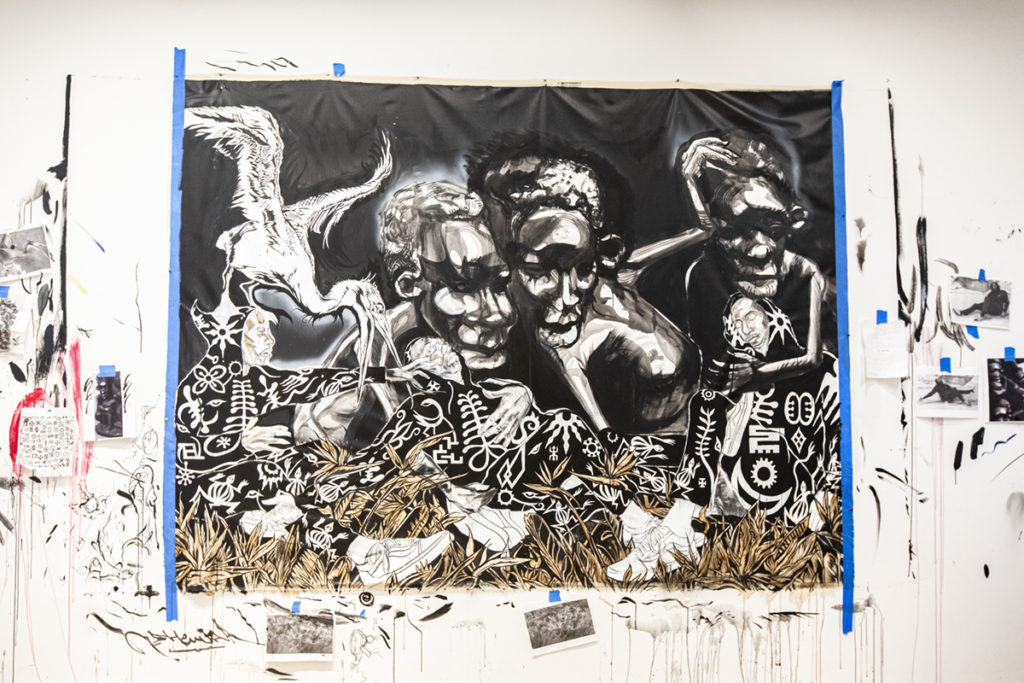 [Related: Graduate student's art exhibit speaks on diasporic communities through soil]
As an artist, Cisneros said he pushes for his pieces to hit formally and visually upon immediate impression through his distinct, saturated and hyperbolic visuals. His largest piece to date, "Another Day In Paradise," is named after a common and witty phrase that was exchanged between him and his peers in school hallways, Cisneros said.
Ensuring his piece is culturally relevant is a fundamental step as well. Specifically, "Another Day In Paradise" challenges and expresses many sociopolitical and cultural phenomena relevant to LA today, Cisneros said. The painting includes references to gentrification, the competing fight for visibility and the marginalization of certain demographics. Returning to LA after having attended college in Kansas City, Missouri, Cisneros said he wanted to create a painting dedicated to the city.
"What I wanted to do was make paintings about familiar areas in LA, this cross street (in 'Another Day In Paradise') being Western (Avenue) and Santa Monica (Boulevard) in East Hollywood, and tried to challenge myself with turning the architecture into something as fantastic as the characters that I was painting," Cisneros said.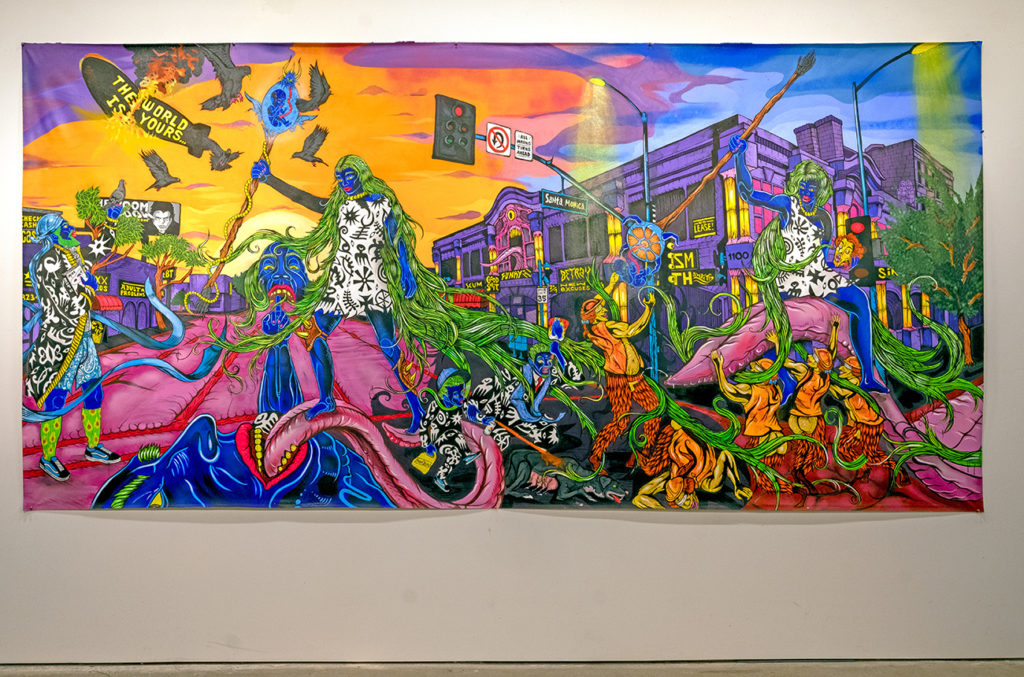 Measuring 108 inches by 64 inches, "Another Day In Paradise" is a piece with various themes to unpack, Cisneros said. It captures the nuanced griminess of the Western Avenue and Santa Monica Boulevard area with streets formed of tongues, Cisneros said. Elements of nihilistic sarcasm are also present, as he said the exploding "THE WORLD IS YOURS …" blimp is a pop culture reference to a scene in the movie "Scarface." The billboard in the top left corner of the painting is from Tommy Wiseau's movie "The Room," Cisneros said, acting as an allusion to the cutthroat game of gaining exposure in LA.
"(Wiseau) funded ('The Room') himself and he paid in the early 2000s to have (a) billboard of his face and movie put up (in) LA," Cisneros said. "So (the billboard is) people clout chasing themselves."
Fellow fine arts graduate student Salim Green said Cisneros' pieces such as "Another Day In Paradise" distinguish him from his peers because of his ability to saturate his work with life. Green said his own style falls under the umbrella of abstract expressionist work, but he relishes the fun, imaginative nature of Cisneros' art, as it deviates from his own.
"His imagination is going like 100 miles per hour, … and that's the thing that sticks out to me most about (Cisneros') work. … There's a level of imagination that I haven't really seen before," Green said.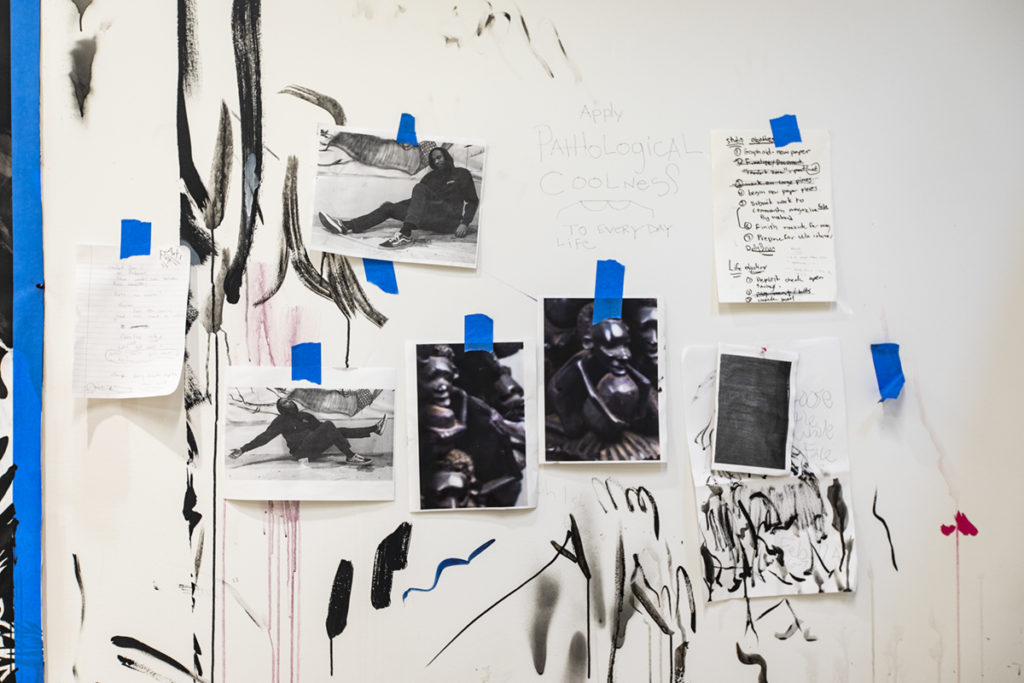 [Related: 'For the Love of L.A.' exhibit showcases local artists, reflects on social issues]
Furthermore, Green said there is a multitude of Easter eggs in Cisneros' paintings and references to his personal life growing up in LA. Digesting a Cisneros piece such as "Another Day In Paradise" feels like a treasure hunt amid an assortment of components and characters, Green said.
Another peer of Cisneros, fine arts graduate student Tyler Christopher Brown, said Cisneros is a philosopher of the comic book vernacular as his work contains both fragments from reality and his imagination. His style is an anomaly of deciphering the root of certain pieces – questioning what is real and what is not, Brown said.
"He makes these paradoxical formations of hybrid characters that are pulling from African traditions of painting but then integrating a comic book language," Brown said. "He's exceptional at making these surreal environments that you can't escape, like a tongue going down Venice Boulevard that's going to consume you or himself."
Ultimately, Cisneros said he enjoys being near fellow artists and like-minded individuals, learning something new every day and igniting conversations that can otherwise distract him from the worries of school, such as finalizing a piece. He said he hopes that through his art, viewers can pick up on his aesthetic and nods to popular culture. Cisneros also said he aspires to challenge methods in which illustrative art forms can fall under the same cultural relevance as fine art. Currently, Cisneros said he is in the process of leveling up each painting to accommodate his evolving intentions and interpretations as a student.
"That's how I work – I'll see something, whether it be images from art history or something that's in the news or related to popular culture, and then I'll amalgamate and collage these things together," Cisneros said. "That shifts the meaning and context of them into what would be perceived (as) my own personal aesthetic."