The Quad: Students reflect on return to Hill during winter quarter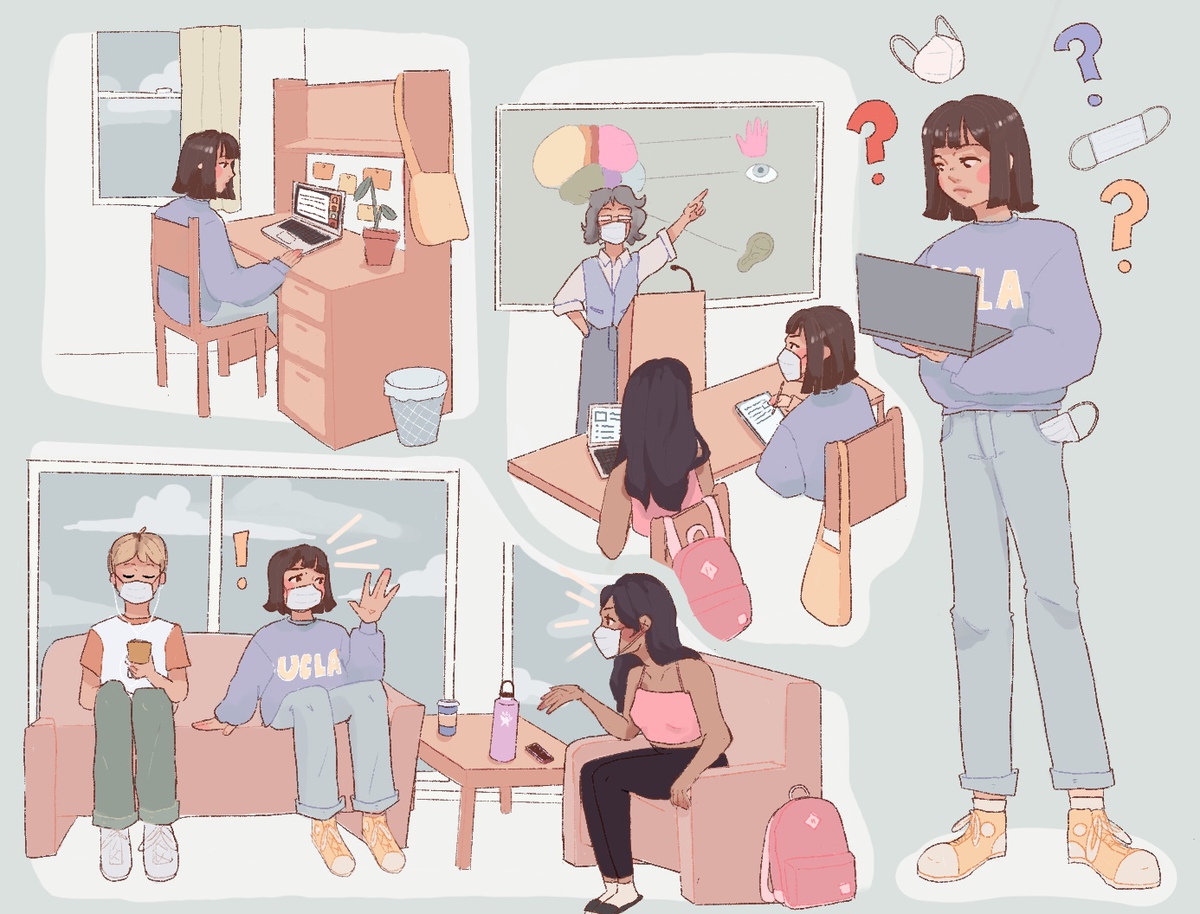 (Jade Ichimura/Daily Bruin)
With the continuation of the COVID-19 pandemic into the 2022 school year, students living on the Hill are experiencing a unique year of dorm life. Despite classes switching between in-person to online and changes in housing contracts, the Hill remains intact through it all.
Matthew Sasaki, a second-year data theory student, said that he decided to live on the Hill to make up for the first-year experience he spent at home.
"It felt like a good way to get involved on campus," Sasaki said. "I live close enough that I probably could have commuted, but I mean, my parents and I agreed that it's probably worth living on the Hill at least once,"
In order to accommodate for the winter quarter return, UCLA prorated students' housing payments until classes resumed, providing the option for students to live away from campus until January 30, 2022.
Sasaki said that while he had few complaints about fall quarter, he decided to stay at home until winter quarter classes resumed in-person in order to save money.
Sasaki added that his return to the Hill this quarter was met with an increased amount of indoor and online time.
"It's definitely different because, at least for me, most of my classes are online right now," Sasaki said. "I'm gonna try to get off the Hill more often moving forward, but the past week or so have just been like taking classes from my room or from a lounge."
Sasaki said he advises students living on the Hill during the ever-changing circumstances of the pandemic to get out as much as possible.
"Just try to get out of your room," Sasaki said. "It's pretty easy to wake up late, take your classes from your bed in the comfort of your room, just leave for food. It's pretty easy to fall into that habit. But … it's kind of like kind of a waste at that point, living on the Hill."
Aiden Moseley, a first-year undeclared student, said he moved to the Hill for the first time this fall and found his dorm to be less social than others, which led to a different social scene than what he expected.
"I was looking forward to a sense of community with my floor," Moseley said.
Upon transitioning into winter quarter, Moseley said he rationalized his decision to stay home until life on campus resumed once again.
"I knew that everything was online so I thought that … it wouldn't really be beneficial to stay in the dorm room while all my high school friends were home still," Moseley said. "And then when it got pushed back to week four instead of week two, I decided that it would probably be better for me to take some online classes and hang out with my family for a few days longer."
While Moseley said that joining a fraternity has made the quarter more enjoyable, he said he still finds it difficult to meet his expectations of college dorm life.
"With COVID, it's pretty hard to even live up to those expectations, but I'm doing as well as I can obviously, and I think honestly … it's good enough for me," Moseley said.
Brianna Chen, a third-year ecology, behavior and evolution student, said that she decided to live on the Hill to make up for the years interrupted by the pandemic.
"I just wanted to be on the Hill because I really didn't have a second year at all," Chen said. "We started the pandemic when I was in my freshman year during winter quarter, so I really didn't have an experience on the Hill. And I thought it was really nice to be able to meet a lot of people there. It was nice to try the food on campus as well."
Having experienced dorm life at UCLA prior to the pandemic, Chen said that she was able to compare her two living experiences from two entirely different times on the Hill.
"To be honest, it hasn't felt that different. I think it's been really similar," Chen said. "The only difference is there's more precautions of wearing your mask, you can't really gather with other people and the floor doesn't host any activities as much as I remember freshman year."
Chen said she decided to stay home until classes transitioned in-person, but returned with the goal to fulfill a complete college experience living on the Hill.
Ultimately, while we can't predict the future of dorm life, Chen said that Bruins looking to live on the Hill should be mindful about their time and make new memories while on campus.
"Find a balance between your school and your social life because most of the time you're going to feel lonely, especially because a lot of people don't want to come out of their rooms anymore," Chen said. "But just go out and try to make new friends and eventually you'll be able to feel normal again."