Opinion: Dual-mode instruction should become default for access to accessible education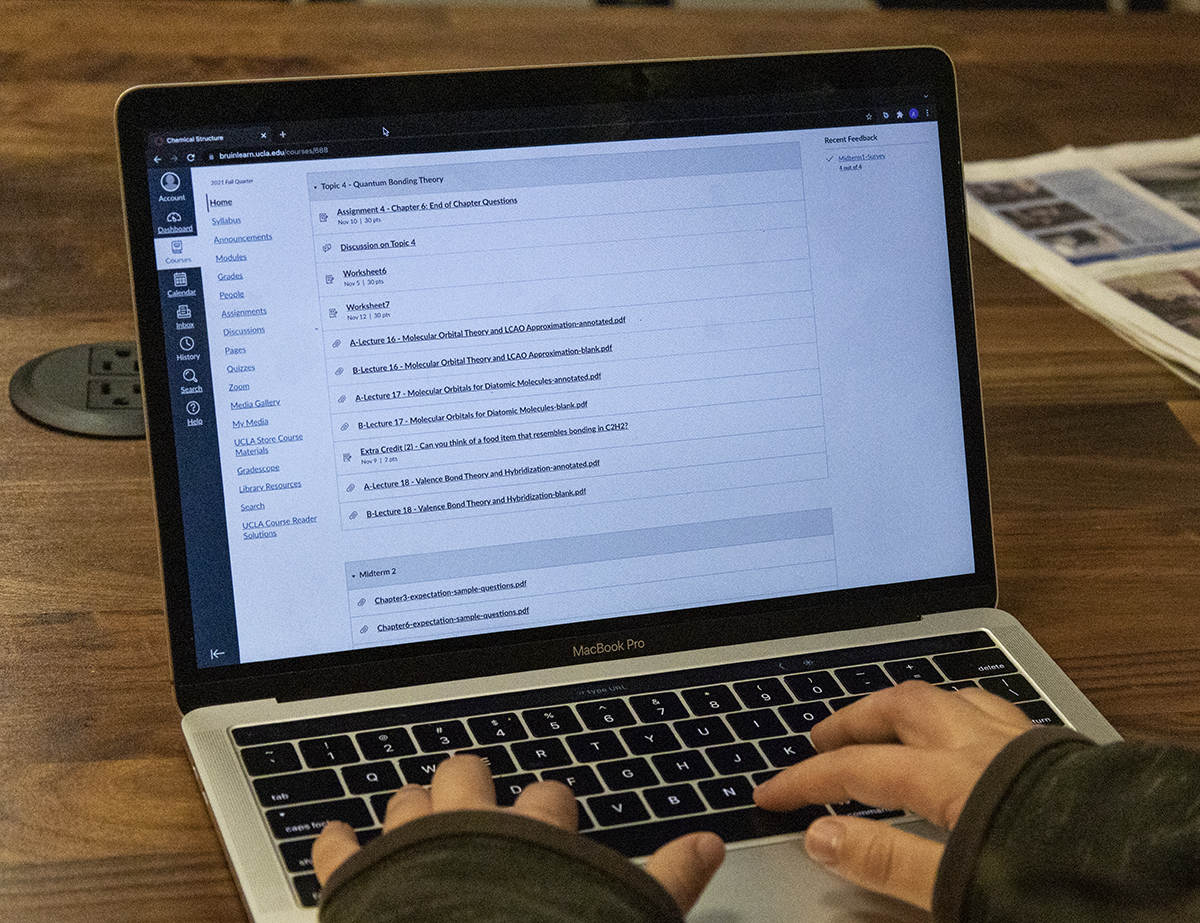 A student works on their computer. UCLA must mandate that all classes and exams be administered in a dual-mode format. Because the pandemic is not over, it is unfair to ask students to put their health at risk and attend in person. (Lauren Kim/Daily Bruin)
After several weeks of online courses and uncertainty, Bruins were told to return to in-person instruction Jan. 31 – just in time for midterms.
Despite concerns about the highly contagious omicron variant, some students were stripped of their choice to continue learning through an online platform. Instead, they had to prepare for exams that would be administered in fully occupied, confined lecture halls.
The stress of taking exams can be overwhelming under normal circumstances, but for many students, it is now intensified by fears of contracting and spreading COVID-19, especially for those with underlying health concerns and those living with immunocompromised people.
The pandemic is not over. A mandatory on-campus education compromises both the physical and mental health of students. Within a lecture hall, there is no way to ensure a transmission-free environment. Being expected to perform to the best of your ability on an exam while your peers are practically pressed up against you is unfair and unreasonable.
In order to make education truly accessible, UCLA must mandate dual-mode teaching and testing for all classes. While hybrid classes combine both online and in-person elements, dual-mode classes are live-streamed, allowing students to attend class synchronously either online or in person.
The challenges this may bring can be mitigated by having more instructors, such as teaching assistants, for each course. By having one instructor simply monitor the chat while livestreaming, students in virtual lectures can ask questions and contribute to in-person discussions. They can also have the opportunity to ask clarifying questions during exams administered in person and online.
Switching the modality of courses midway through the quarter raises concerns about accessibility that the university has not properly addressed.
"The fact that (UCLA) is making this transition (to in-person instruction) now and it's so steadfast and there's no flexibility guaranteed on the university level – it's really not going to be beneficial for students who are testing," said Christopher Ikonomou, a third-year communication student and Disabled Student Union member.
Because there is no guarantee of hybrid learning in future quarters, students and allies associated with the DSU, Mother Organizations coalition and Undergraduate Students Association Council have sacrificed the comfort of sleeping in their own beds to highlight how important it is to make learning accessible and equitable for all. Students activists have been striking for increased access to hybrid education since Jan. 31 despite meeting with administrators. Some of their other demands include rehousing Afrikan Student Union projects to the Black Bruin Resource Center, removing Community Programs Office leadership and resolving an ongoing labor lawsuit filed against the CPO's director and assistant director.
An online education can be just as rigorous as one completed on a physical campus. Exams are meant to assess student learning, which is a goal that can easily be achieved using internet-based resources.
Concerns that online test-taking makes cheating easier and more common are overstated; cheating will occur regardless of the instruction modality. However, there are steps professors can take to reduce the risk, whether administering the exam virtually or in person.
"I think professors are equally as capable of making difficult assessments and assessing cheating," Ikonomou said. "As long as professors are provided adequate resources from the university and they're not left to fend for themselves, then there's no reason to think that tests wouldn't be just as adequate online if not better depending on what the course is."
Modern technology makes it possible for professors to monitor students taking tests behind a screen and eliminates the need for instructors to constantly circulate lecture halls while proctoring exams. If lectures can be broadcasted online for those unable or unwilling to attend a physical class, exams should be afforded the same treatment. The 2020-2021 school year demonstrated that UCLA is fully capable of conducting virtual courses.
Now, it's up to administrators to keep course modalities consistent and to provide instructors with tools that uphold academic integrity.
"Sitting in a lecture hall with 300-plus people is a very anxious environment, and (it is) overwhelming to take an exam," said Samone Anderson, a fourth-year African American studies and political science student. "UCLA prides itself on being diverse and being number one in so many categories. … (It) should try to move towards being the number one accessible university in the country."
Dissenters may argue that an in-person college experience is most beneficial to students.
"UCLA is committed to providing the full educational experience that draws our students here and believes there is significant benefit to having students return to in-person learning and co-curricular activities. … Dual-mode instruction, in which instructors livestream in-person courses, may not be appropriate for every class," said UCLA spokesperson Bill Kisliuk in an emailed statement.
Kisliuk added that Academic Senate guidelines authorize instructors to decide what teaching modality is best suited for their courses.
Yet, when the choice of instruction modality is left up to the professor, it results in inconsistent accessibility across campus. Regardless of major or discipline, all students deserve to learn in the format they are most comfortable with. Allowing professors to choose the modality of their classes instead of providing a variety of instruction options strips students of their autonomy, and may force them to learn in a setting they don't feel safe in.
Bruins have reacted to this directive with justified frustration, participating in the "Strike for our Safety" for several days. But even speaking up for their own safety has been made difficult. UCPD officers have allegedly intimidated striking students into leaving Murphy Hall, according to a post from the USAC Office of the President Instagram account. The same statement said students have witnessed police officers surveilling Murphy Hall throughout the entire sit-in. On Thursday morning, UCPD officers went so far as to wake up protesting students in Murphy Hall, the statement added.
Student activists should never have to feel intimidated or unsafe while advocating for what they believe is right.
While the sit-in advocates for adoption of a hybrid model, a dual-mode structure gives students the choice to pick what modality works for them.
Moving forward, UCLA must listen to its students' demands and require professors to administer all tests, including finals, with an online alternative.
The last two years have proven UCLA is capable of adapting. In order for the university to keep the Bruin community safe, dual-mode instruction needs to become the default.