UCLA student reflects, heals through debut EP 'Looking Glass'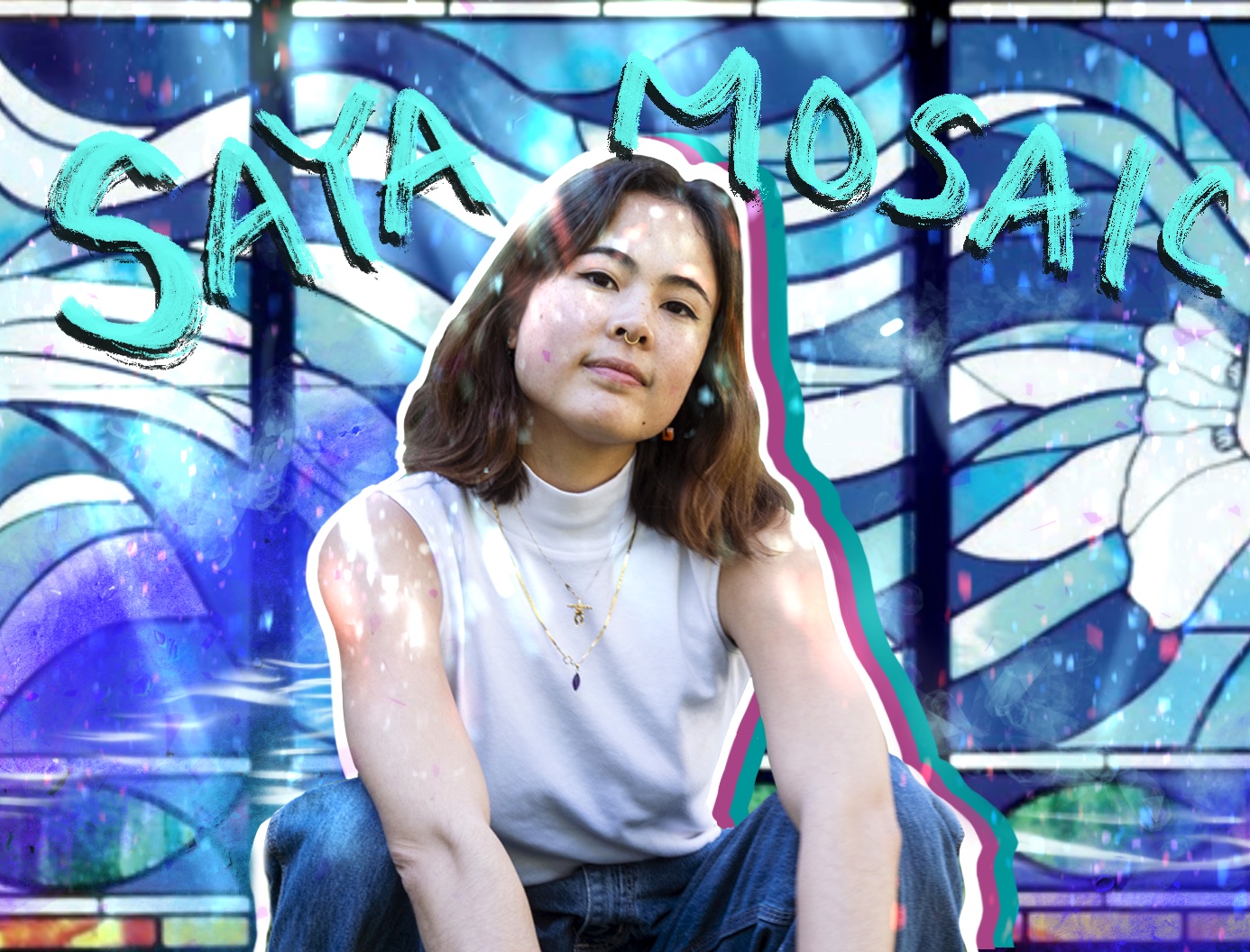 (Photo by Kyle Kotanchek/Daily Bruin. Photo illustration by Christina Wu/Daily Bruin)
Correction: The original version of this article's headline incorrectly stated that Saya Mosaic released her debut album. In fact, Mosaic released her debut EP.
This post was updated Feb. 10 at 12:28 p.m.
Healing requires self-reflection, and Saya Mosaic is polishing the looking glass.
Second-year psychology student Angela Takagi, also known by her stage name Saya Mosaic, released her debut EP "Looking Glass" on Dec. 23. Intending to encapsulate the complex emotions of her 19-year-old self, Mosaic said she wrote the four featured tracks over the course of a year in varying states of mind. Integrating English and Japanese lyrics with neo-soul and R&B beats, the bilingual EP explores Mosaic's past relationships as well as her mixed-race identity, she said.
"I feel these places-slash-entities have hurt me," Mosaic said. "I feel they fuel me to walk toward that direction of me being who I am."
In the EP's title track, Mosaic said she finds her metaphorical looking glass, a person in whom she sees a reflection of herself. Simultaneously confronted with the best and worst parts of her own character, Mosaic said the eerie sense of familiarity made the relationship especially conflicting to navigate and let go of. She said the lyrics for "Looking Glass" came to her in the form of a letter, since her songwriting process often involves visualizing a moment with a specific person and imagining what she would have said to them.
"When you spend time with them, you don't really know if they're bringing out the best in you or the worst in you, but it feels really right because it feels like a part of you," Mosaic said.
Born and raised in Tokyo for the first 10 years of her life, Mosaic said being one of the only two biracial students at her school often left her feeling unaccepted and alienated. She said the constant pressure to conform to only the Japanese side of her identity, as well as being singled out as "half" by her peers, served as inspiration for the EP's cathartic and rebellious final track, "Hysteria."
Referencing Japanese art forms in the EP's ukiyo-e-style cover art, Mosaic said the woman in the illustration wears a kimono with an obi sash that is transparent instead of colored, a deliberate detail that puts a spin on the traditional dress. Mosaic said the cover art's peculiar, modern twist is symbolic of her own journey toward becoming a new Japanese girl: one who learns to fuse both her cultural roots with her individual identity and the classic with the contemporary.
[Related: Bruin strums up focus on Indigenous punk music through band, online archive]
Guiding Mosaic in the EP's postproduction process, sound engineer Aidan Duncan said Mosaic's music is part of the new wave genre that draws influence from indie pop and R&B. In order to create the EP's cohesive sound and draw out the rich texture of her vocals, Duncan said he intentionally used analog devices as opposed to digital when recording during studio sessions.
"(The EP is) almost indescribable because of how fresh and new it is, even (in) how she sings. Maybe it might be in half-English and half-Japanese," Duncan said. "I feel it definitely opens up the possibilities to be classified as a ton of different things."
Attributing much of her inspiration to musicians like Erykah Badu and Corinne Bailey Rae, Mosaic said she appreciates the rawness of neo-soul music but does not feel the need to categorize her sound. When deciding her stage name, Mosaic said she referenced her Japanese middle name, Sayaka, as well as her fascination with intricate mosaics because of how they represent her aspirations for artistic fluidity and experimentalism.
"(A mosaic) is colors, individual colors, that when you step out and look at the big picture, that's when you can see the picture," Mosaic said. "But if you look closely, it's just a bunch of different colors. I thought that would be nice for me to not feel I'm limited to one mood or vibe with my songs."
[Related: Indie band Small Crush reflects on national tour with HUNNY and Carpool Tunnel]
After coincidentally stumbling upon the Mosaic Tile House in Venice, California, Mosaic said she knew it would be the ideal location to film a music video for the track "Looking Glass." The ethereal, dream-like quality of Mosaic's music reminded director Bryant Hyun of the alternate universe trope, which he said inspired him to add an opening scene in which Mosaic is sucked into an arcade video game and wakes up in the vibrant mosaic landscape. Hyun said he also incorporated stylistic elements from comic books and anime, such as split screens, flashy cut-ins and typography in Japanese.
While "Looking Glass" was born from Mosaic's reconciliation with past traumas and events, she said her next phase of work will be representative of her more mature self. Looking forward to releasing new singles in the near future, Mosaic said she hopes her music will offer feelings of validation to people like herself who feel they don't belong to any single category in terms of race, gender or religion.
"Women who pioneered these genres (such as neo-soul and R&B) always speak their mind really independently, fearlessly," Mosaic said. "That's what I want to pursue with my approach, and I want whoever listening to feel free and whole as they are."