Student adds life to her game designs with complex characters, fantasy elements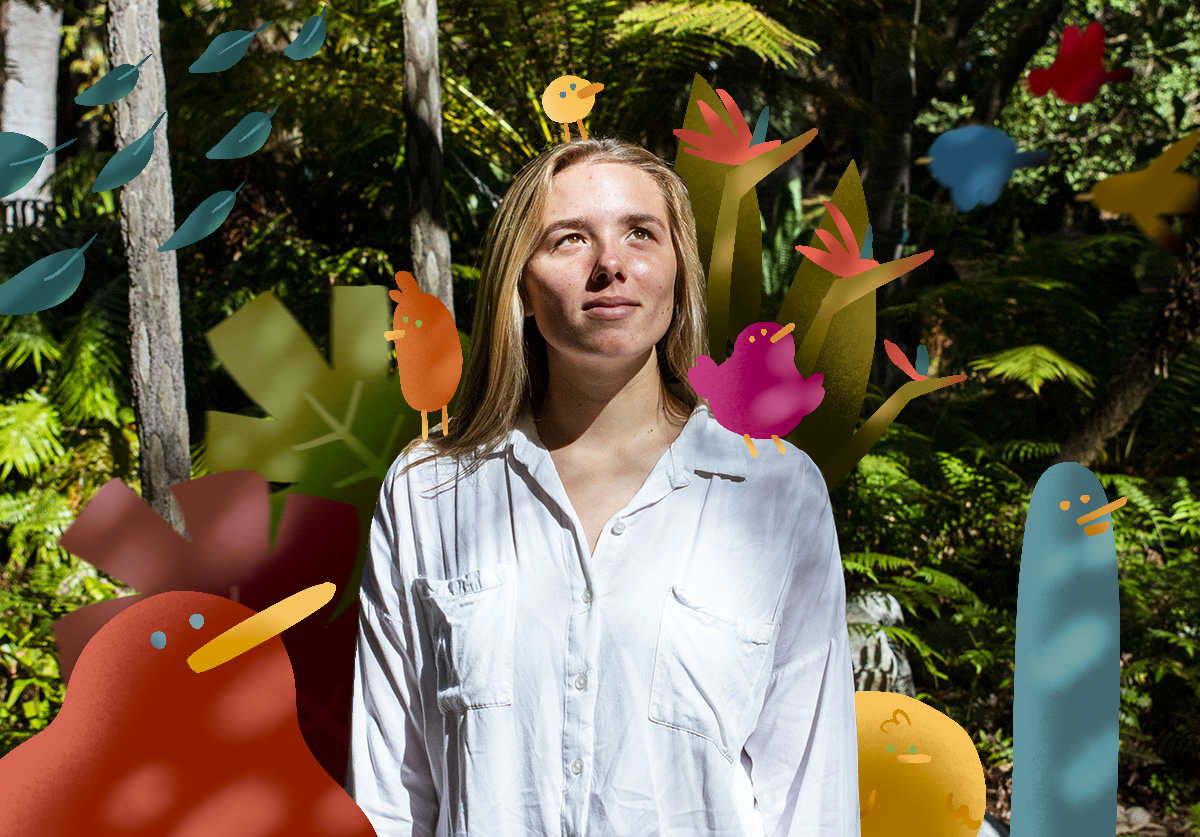 Fifth-year design media arts student Delaney Kough follows her imagination to create in-depth characters and storylines through digital art and game design. (Photo by Megan Cai/Daily Bruin, Photo Illustration by Dani Nalangan/Daily Bruin)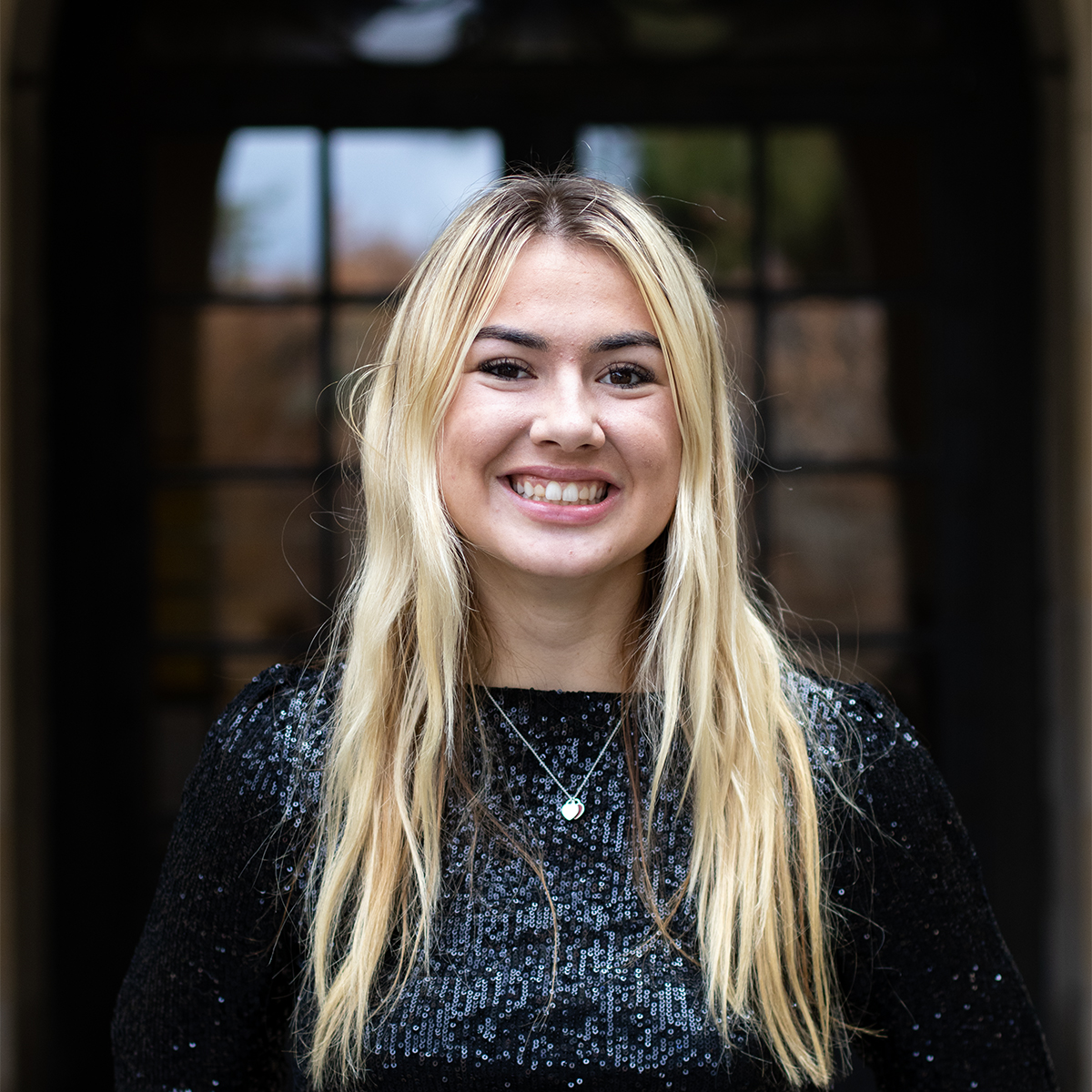 This post was updated Feb. 13 at 9:07 p.m.
Delaney Kough is bringing her imagination to life.
The fifth-year design media arts student said she has found joy in the ability to tell stories and create complex characters through animation and game design. Kough has created works ranging from seconds-long animated pieces shared via Instagram to a story-based playable video game, and she said she is currently in the process of developing an interactive virtual reality game. Her involvement in video game design stemmed from a desire to share her creative visions with others, she said.
"I just had this fixation with bringing all the things in my mind to life," Kough said. "When I learned I could make games, that meant I could bring the environments in my head to life (so) that other people could be in them just like I was in my own head."
For Kough, her imaginative personality led her to art at a young age when she said she created and acted out stories about cheetahs and horses with friends in the park. Kough said she saw engaging with multidimensional art as an opportunity to inject life into her characters, finding beauty in developing dynamic art. In addition to utilizing motion, Kough said she also enlists narrative in order to construct authentic and enlivened characters, with writing playing a key role in her creative process.
"(Creating a game) always starts with a feeling – I usually latch onto some sort of feeling, … and then from there, I start free writing, just spewing out whatever comes to mind," Kough said. "Once I have the story, that's actually where the art comes in."
[Related: Student meshes real-world, imaginary elements in multidisciplinary design projects]
For her story-based game "Leaving the Nest," Kough said she focused on nostalgia and sadness as the core emotions of the piece. The animated narrative focuses on a pigeon and his relationships with other birds as he leaves his home in the city, she said. In its depiction of themes such as love and loss, she said the game required a great amount of vulnerability – a level of intimacy in storytelling that Kough hopes to continue in her future works.
Last quarter, students had the opportunity to play "Leaving the Nest" as part of Interplay Extravaganza, a student showcase hosted by the UCLA Game Lab. Anubha Gupta, a third-year design media arts student and friend of Kough, said the well-developed relationships between the game's central characters show the amount of thought and detail put into the character design of "Leaving the Nest."
Outside of "Leaving the Nest," Kough has also focused on birds in several of her other works, including digital drawings and animations published to her Instagram. Although she did not realize their frequent presence in her work until recently, Kough said she feels that the liberated nature of birds closely aligns with the sense of freedom she feels when creating art.
The capabilities of VR have drawn Kough to incorporate more fantastical elements in her work, she said. As part of Design Media Arts 172: "Virtual Reality and Worldbuilding," a course taught by design media arts assistant professor Jenna Caravello, Kough said she is developing an interactive VR game which features dragons as her central characters. While Kough works to develop these expansive worlds, Caravello said she also continues her dedication to detailed character structures.
"(Kough) has this way of really having a strong vision of what the characters look like, what they do, what they care about (and) what their role is in the world, where other people may feel out themes and build a world around themes and feelings," Caravello said.
[Related: Virtual Design Media Arts exhibit explores realities, changes during pandemic]
Kough said players in the game will fly by sitting atop a dragon who guides the player through various landscapes. To give the users the experience she envisions, she said she has relied on trials with friends and classmates to gather player feedback. In addition to the challenge of managing players' physical feelings such as VR motion sickness, Kough said designing in VR has required more complexity in terms of her storytelling.
Despite its fantastical nature, Kough said the game aims to tell a story focused on hope and responsibility, and she intends for players to find these themes to be relevant in their own lives. Regardless of the specific emotions she chooses to tackle in each story, Kough said her goal as an artist remains to create characters and media that help others, whether that means providing comfort and joy or knowledge and new perspectives.
"Sometimes people say, 'Yeah, this story is beautiful and its message is so good, but it's not real,'" Kough said. "That's a sad viewpoint to have because maybe your favorite character isn't real and your favorite character didn't exactly save the world, but there was a person or a group of people who made this whose hearts this story came from. That's as much evidence … that there (are) people putting good into the world."
Paxton is the 2022-2023 music | fine arts editor. She was previously an Arts contributor from 2021-2022. She is also a third-year psychobiology student from Morgan Hill, California.
Paxton is the 2022-2023 music | fine arts editor. She was previously an Arts contributor from 2021-2022. She is also a third-year psychobiology student from Morgan Hill, California.