Bruin Creators helps aspiring content creators begin their YouTube careers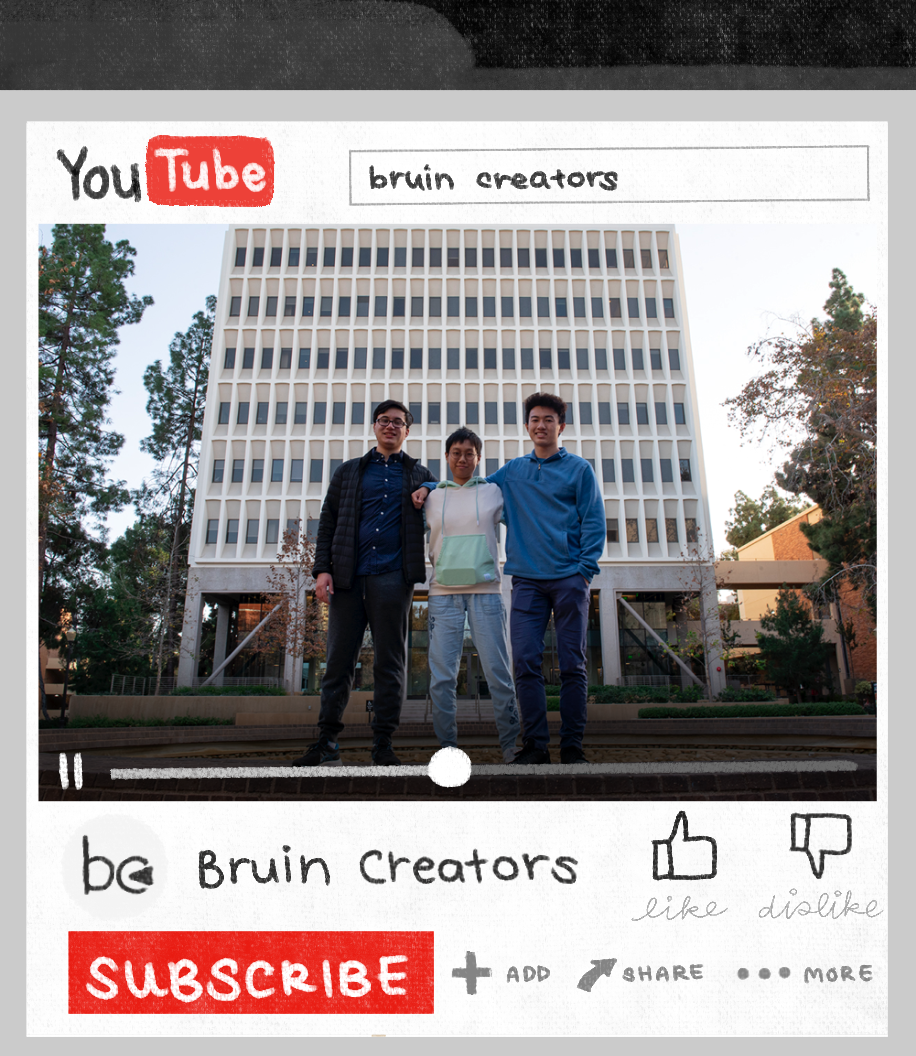 Bruin Creators helps support students YouTube goals and provides community, president and third-year student Jason Wu said. The club hosts editing workshops, which fifth-year Anna Sohn said have been her favorite, and provides members with video tips, which second-year Michael Sherbrooke said have helped his public speaking. (Photo by Jefferson Alade, Photo illustration by Katelyn Dang/Illustrations director)
Bruin Creators transforms students from viewers to creators.
Founded in 2020, the student club aims to build a small community for aspiring Bruin YouTubers to teach them how to create video projects such as vlogs, TikToks and promotional advertisements, president and third-year neuroscience student Jason Wu said. Wu said his expertise comes from running his YouTube channel Waddle, and the club consists of members with varying degrees of experience. Because of the diverse levels of experience, Wu said the club hosts events that provide guidance on building and growing an audience.
"YouTube can be more of a community instead of (members) having to focus on (their) personal projects and (getting) lost on where to go from there," Wu said.
In particular, Bruin Creators holds a variety of workshops to help students begin their YouTube careers. For instance, director of development and second-year mathematics student Michael Sherbrooke said he enjoys watching workshops about editing, in which the club's board members demonstrate how to use Adobe Premiere Pro and offer tips on how to enhance one's videos, such as capturing the viewer's attention with quick cuts and transitions.
"If you can manage to hook (a viewer's) attention just like you would in a paper at the very beginning, then it's going to capture their interests. … Over time they might come back to that video and watch it again," Sherbrooke said.
[Related: Student-developed social media platform Cobble supports creative collaboration]
In addition to workshops, Wu said Bruin Creators invites guest speakers who have successful YouTube channels to share their experiences and give advice to students on how to improve their own channels. Wu said the club has also invited speakers associated with UCLA – such as Jasmine Shao who runs the channel studyquill – as they are able to relate to fellow college YouTubers.
For members with more specific questions, he said Bruin Creators also has its own YouTube mentorship mastermind program. This is an opportunity for students to get specific advice on topics ranging from brainstorming to engagement through meetings similar to office hours, Wu said. Usually lasting around half an hour every other week, he said these meetings are hosted by board members and act as a supplement to the quarterly guest speakers.
While Bruin Creators aims to help students gain success in the YouTube sphere, Sherbrooke said the workshops have also bolstered his professional skills. Sherbrooke said his YouTube gaming channel OmicronGaming now has over 250,000 subscribers, but despite his internet following, he said his role at Bruin Creators has encouraged him to explore a career in teaching because of his improved communication skills.
"YouTube helped me a lot with public speaking," Sherbrooke said. "Doing some form of public speaking or presenting to a board or group where you can understand your audience and hone in on what interests them (is) a mindset that's very helpful across many different aspects."
[Related: Transfer student shares experiences, advice through YouTube channel]
The club has also helped students with behind-the-camera skills as well, fourth-year communication transfer student Anna Sohn said, though the portion of members who focus solely on that is slightly smaller. She said she first became interested in editing by helping her sister with dance videos and was later hired by her college to produce weekly vlogs on student life. Sohn was also previously in charge of the Bruin Creator's YouTube channel and said she was able to hone her skills through creating a series of video workshops for them.
Because of these experiences, Sohn said she is primarily interested in video editing and production rather than increasing engagement numbers, contrary to the stereotype of YouTubers. Specifically, she said she hopes to help others with their channels and video endeavors by assisting them with the technical aspects.
"I don't do YouTube because I want to become famous," Sohn said. "I'm using it as a tool to practice editing … and train my skills and do something that's creatively fulfilling to me."
Aside from growth and numbers, Wu said he hopes to put on some community-based projects that will provide opportunities for the UCLA YouTube community to make an impact. He said this goal is similar to #TeamTrees, an initiative to plant 20 million trees headed by YouTubers Mr. Beast and Mark Rober. The #TeamTrees project was an example of a way for digital creators to spark change on a larger scale. In addition to these projects, Wu said he also hopes to continue inviting informative guest speakers since YouTube can be a rewarding hobby, as well as a career that encourages people to share their craft with others.
"No one wants to be policemen or firefighters anymore," Wu said. "A lot of kids today want to be YouTubers, and that's, in a sense, changing the way people talk about dream professions."