UCLA students continue sit-in after unsatisfactory meeting with university leaders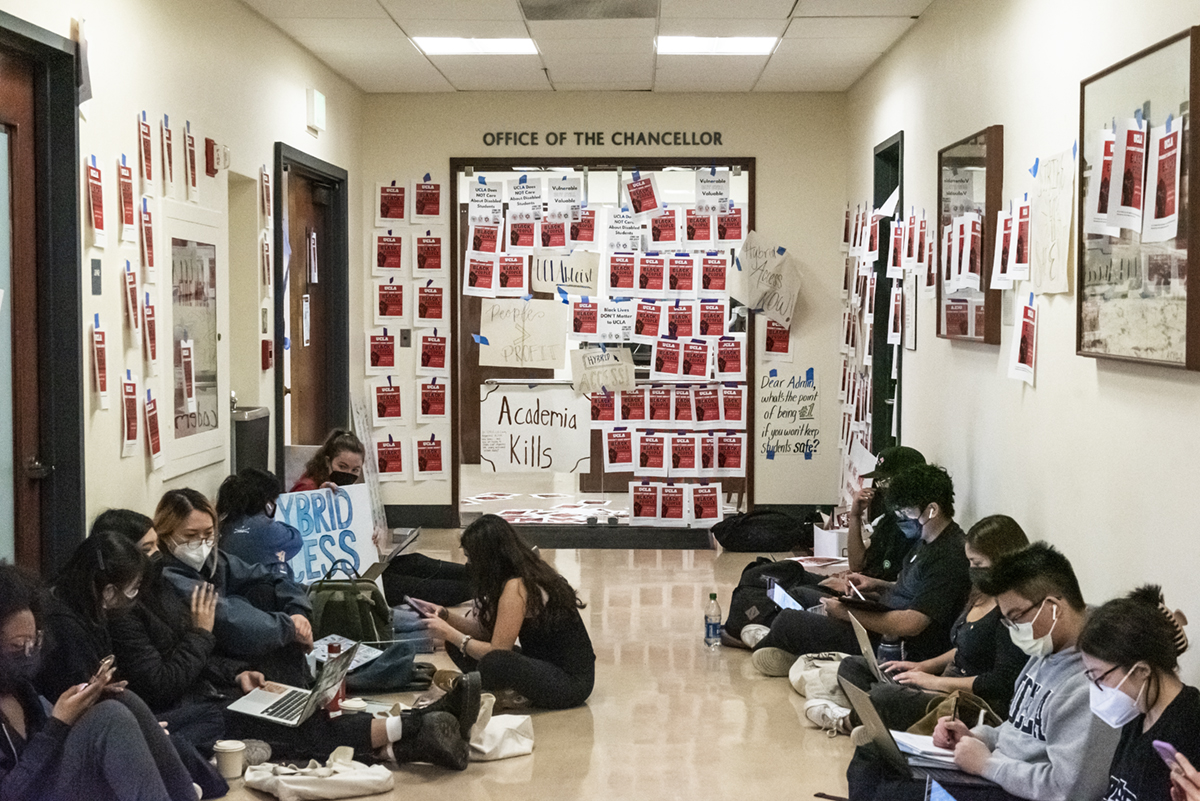 Representatives from the Mother Organizations coalition, Disabled Student Union and Undergraduate Students Association Council will continue to sit in Murphy Hall until their demands are met. (Justin Jung/Daily Bruin senior staff)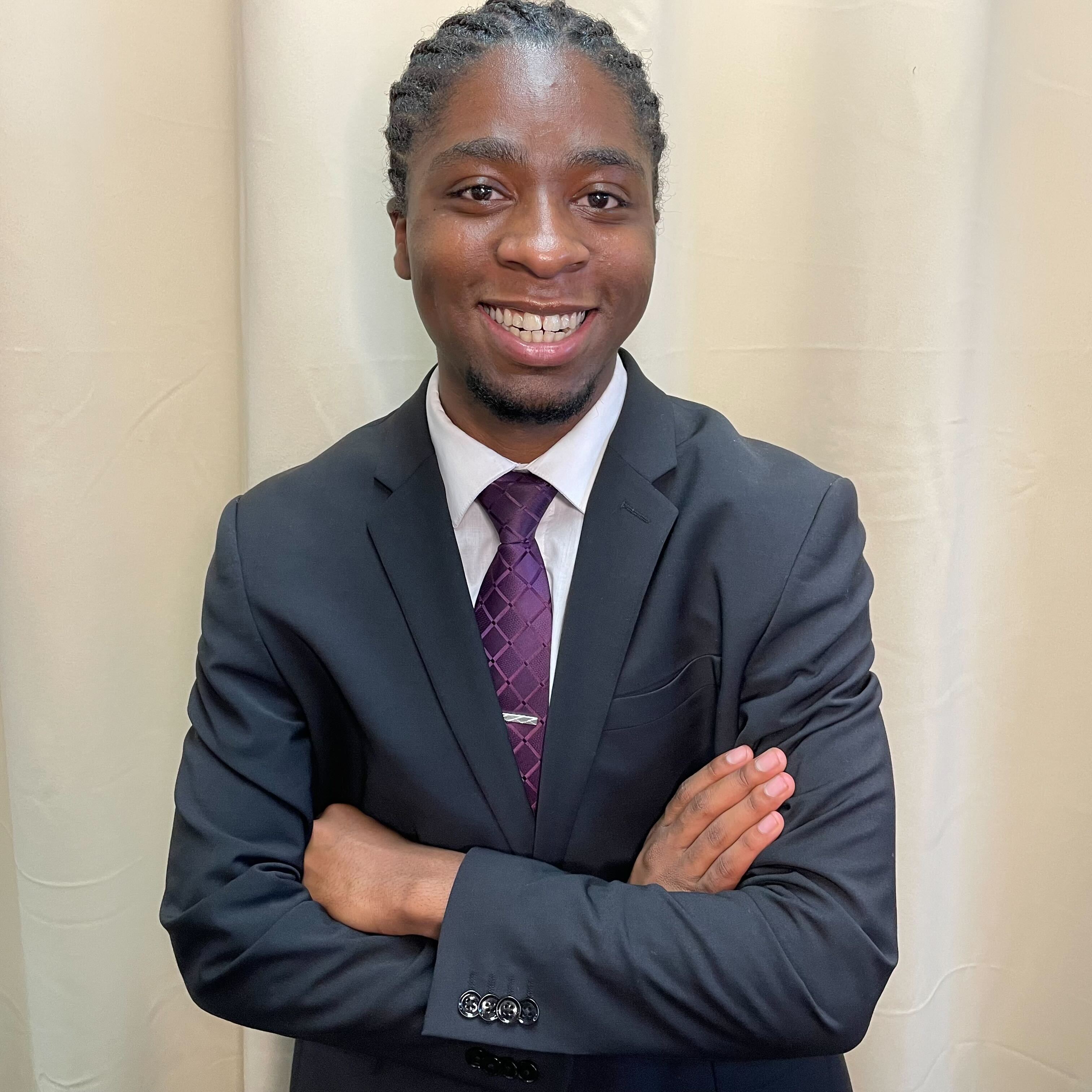 This post was updated Feb. 3 at 12:46 a.m.
Student leaders will continue their sit-in to advocate for improved accessibility after an unsatisfactory meeting with administrators Monday night.
Student representatives from the Mother Organizations coalition, Disabled Student Union and Undergraduate Students Association Council met with Administrative Vice Chancellor Michael Beck and Chair of Academic Senate Jody Kreiman for two hours Monday night to discuss three sets of demands, according to USAC President Breeze Velazquez.
In addition to calling for a hybrid instruction model amid heightened COVID-19 cases due to the omicron variant, student leaders also introduced demands from the Mother Organizations coalition and the Afrikan Student Union. The Mother Organizations coalition is a coalition of student organizations that advocates for historically marginalized communities within the UCLA student population.
ASU demands that UCLA rehouse an ASU project to the Black Bruin Resource Center and address an ongoing labor lawsuit filed against the Community Programs Office's director and associate director. ASU also supports the demands of the Mother Organizations coalition, which calls for the removal of CPO leadership.
[Related: Mother Organizations coalition members call for firing of CPO leadership]
Students began the "Strike for Our Safety" on Jan. 31 at 8:45 a.m. in Royce Quad before moving to Bruin Plaza at 10 a.m., according to Christopher Ikonomou, a third-year communication student who participated in the sit-in. Students eventually moved in front of Chancellor Gene Block's office on the second floor of Murphy Hall at 12:15 p.m., according to posts on the official Instagram of the USAC president.
Samone Anderson, chairperson of ASU and a fourth-year African American studies and political science student, said she was not surprised with how the meeting with UCLA administrators went.
"It was a lot of repetitive conversation. Unfortunately, students still left there feeling like they weren't fully being heard," Anderson said. "But we made it very clear to them that we are not leaving until these demands are met. And we would sit here however many days."
Velazquez said not much was addressed in the meeting, and when the administration was going to consider their demands, UCLA administrators diverted to arguments about academic freedom for professors.
"It's frustrating, but I think it's also something that nobody who's sitting in this hallway and supporting virtually hasn't been confronted with," said third-year political science student JeiRonemo Thomas when speaking about UCLA's responses to their demands.
Anderson said she thinks it is unfair that university professors are given autonomy of how they choose to run their class despite it challenging the right students have to learn safely.
Anderson said the university's leadership was ultimately unable to answer what immediate actions UCLA would take in terms of accessibility, but they were receptive to long-term solutions.
Anderson said university leadership will be providing an update on their demands before a meeting with Vice Chancellor of Student Affairs Monroe Gorden Jr. on Thursday at 2 p.m. She added that they are waiting for a meeting with Block, who she says has yet to confirm a date and time for a meeting.
Thomas added that he was both optimistic and frustrated with the course of events Monday night.
"What a week today has been," he said. "It's a testament to our commitment that we're sitting through this in the midst of active threats against our well-being."
Ikonomou added that he felt secure while protesting and sitting-in despite reports of a nearby shooting and threats against UCLA students and faculty. Throughout the night, Student Affairs staff members and Community Service officers checked on student protesters and patrolled the building.
[Related: UCPD investigates threats against students, faculty from former UCLA philosophy researcher]
Ikonomou expressed frustration with the university's response to the Disabled Student Union's request for hybrid instruction and other compromises.
"For the past five, six months," Ikonomou said. "Even after our protests in October … we asked them to come with concrete compromises, and all they could give us was, 'No, no, no, we can't do that for you.'"
Velazquez said if the demands are not met in Thursday's meeting, student organizers and protesters will extend the sit-in beyond Thursday and consider more drastic measures.
Student leaders emphasized the importance of working together across organizations for common interest.
"We always stand in solidarity and support each other," Anderson said. "All of us are linked together because of our need for access to education, even though access means different things for different populations."
Seymore is a campus politics contributor. He is also a first year student at UCLA double-majoring in political science and business economics.
Seymore is a campus politics contributor. He is also a first year student at UCLA double-majoring in political science and business economics.