Sam Settles It: Double standards within gymnastics program fail to address racism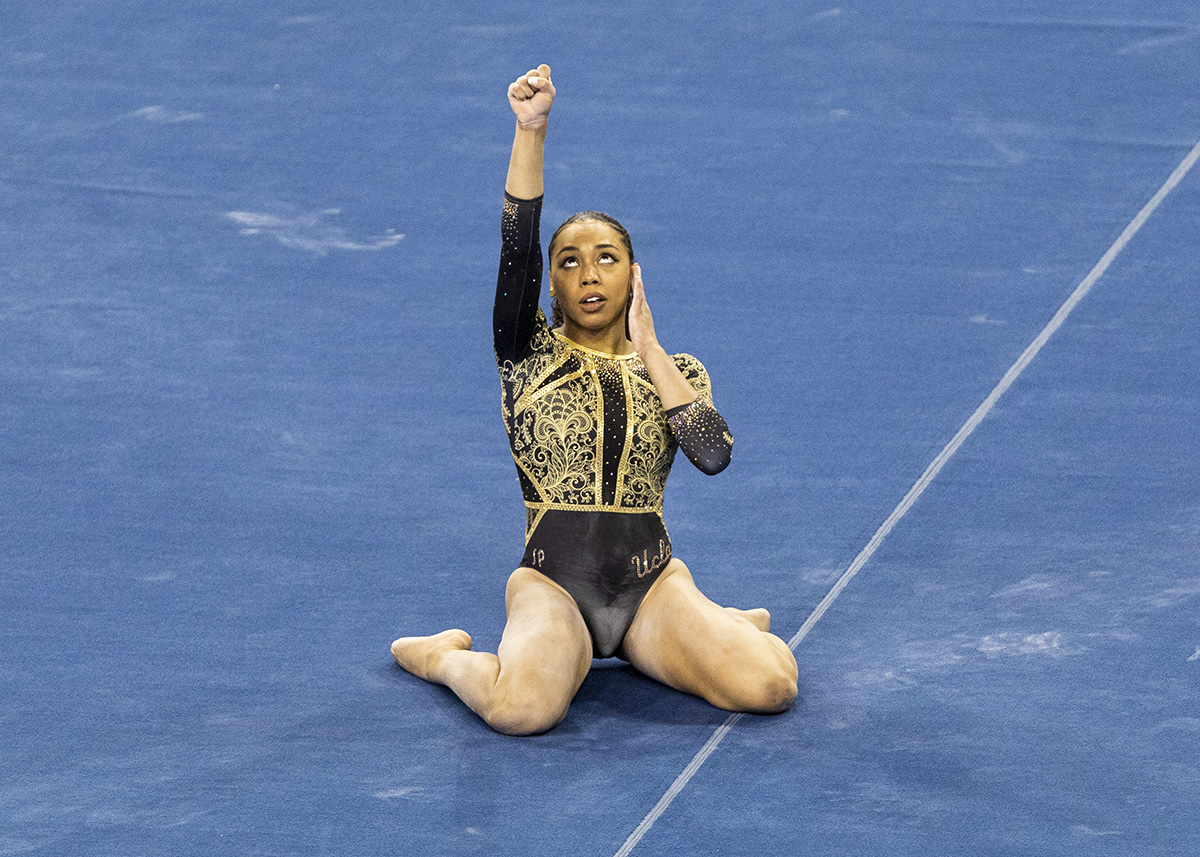 Senior Margzetta Frazier performs at UCLA gymnastics' Black Excellence Meet against Oregon State on Feb. 27. (Ashley Kenney/Photo editor)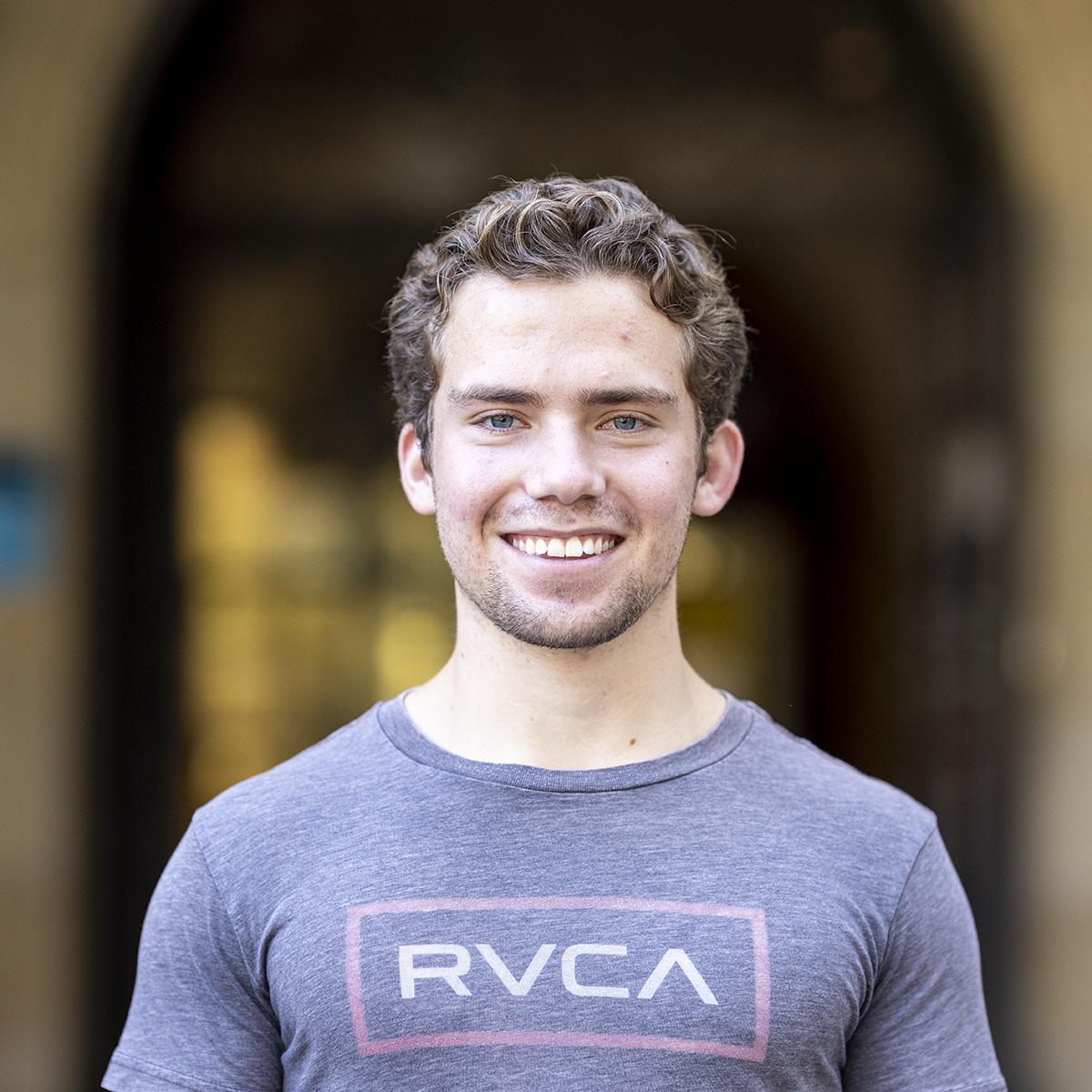 In one situation, a rule or norm means one thing.
In another, it can mean something entirely different.
Double standards are a simple concept in theory. In practice, they can be even more glaring.
UCLA gymnastics is a program largely built by its Black student-athletes. When people think about the Bruins, they think of Nia Dennis, the gymnast who took the internet by storm twice with her floor routines celebrating Black culture. They think of Margzetta Frazier, whose Janet Jackson-inspired floor routine reeled in millions of views.
When the program failed to reach nationals this past season for the first time since 2006, it was three Black student-athletes who traveled to Fort Worth, Texas, for the NCAA championships to represent UCLA on the biggest stage in the sport. In front of a national television audience, Dennis, Frazier and Chae Campbell showcased their skills in a leotard designed to recognize Black excellence.
It was the same leotard UCLA had created for its first-ever Black Excellence Meet in 2021.
However, in the midst of recently exposed allegations of racism within the program and an utterly lackluster response by the team's coaches and administrators, Frazier isn't looking back on her time as a Bruin as a trailblazer but rather as a Trojan horse for an empty cause.
"They use the Black women on the team as branding horses who gallop around," Frazier said Wednesday on the "Small Doses with Amanda Seales" podcast. "They say, 'Look at UCLA, we're still here. Jackie Robinson came here. Kareem (Abdul-Jabbar) came here. Look at us. Look at all the Black people making us money.'"
The standards the coaches were praising when the cameras turned on and the journalists came around stood starkly in contrast to what they were practicing in the gym.
So when the team had planned to wear those same leotards in Minneapolis on Martin Luther King Jr. Day in its season-opening meet, some gymnasts refused. Senior Sekai Wright didn't even travel.
"I didn't want to put on a leotard that represents something so important to us that we weren't showing in real life behind closed doors," Wright said on the podcast.
A year ago, I had the opportunity to talk to Frazier for the first time. I listened to her speak so pointedly about how she planned to use her voice to make diversity and inclusion the No. 1 priority in sports – how she wanted to reverse the culture of obedience bred by gymnastics and transform her platform into one used to inspire change.
I listened to her talk about the continued scourge of racial inequality and police brutality in America just minutes after walking off the floor at the NCAA championships.
I listened to many interviews of Frazier praising the program. The same interviews she said she now regrets because a program that seemingly stood for so much has done so little to back it up.
The same team that tirelessly promoted its Black gymnasts in the media opted not to release a statement in the wake of racist remarks by former freshman Alexis Jeffrey despite monthslong pleas from its student-athletes. In fact, an assistant athletic director said a statement wasn't necessary when the team requested one.
Instead, the administration orchestrated internal meetings about diversity, equity and inclusion. Despite Frazier requesting an education module be put in place to address the gymnasts' specific concerns within the program, the team hired an external expert with no prior understanding of the situation to hold what she described as a generic meeting that accomplished nothing.
For UCLA athletic director Martin Jarmond, that was sufficient. The administration had once again succeeded in creating a facade of harmony that didn't exist in reality.
But the double standards and inadequate responses weren't just limited to broad failures. Some have been personal attacks.
When Jeffrey threatened to harm herself after being confronted by her teammates about her racist comments, coaches and administrators sprung into action to defend her and request that the team treat her with grace and compassion, according to Frazier and Wright.
But Wright never got that same treatment. A couple weeks ago, when Wright picked out an unreleased hat from the locker room and posted a photo with it on social media, she was berated by the coaches. Wright – who had documented her own struggles with mental health to her teammates and coaches – was ridiculed in front of the entire team and forced to apologize.
"This isn't what we do here," Frazier said on the podcast when recalling the coaches exclaiming at Wright.
Borrowing a hat isn't acceptable but racism is?
Frazier specifically acknowledged the lack of rules against racism, noting that there are no explicit punishments against such behaviors in the team handbook or in the student code of conduct for student-athletes.
"There's rules when you steal, there's rules when you fail a drug test, there's got to be rules when you're racist," Frazier said on the podcast.
In this country, however, recent legislation has gone the opposite way. A bill in Florida passed by the state's Senate Education Committee last week aims to prohibit businesses and schools from making people feel uncomfortable because of the historic actions of their race, sex or national origin. In a climate like that, the task of putting such rules into place might appear daunting.
But UCLA's student-athletes exhausting every possible avenue to have their voices heard to no avail has shown that tangible rules are the only solution.
"Let's make some real legislative progress here and make some legitimate rules," Frazier said on the podcast.
If UCLA gymnastics – the program everyone once thought was untouchable – is plagued by the same problems it was so outspoken about standing against, this is not an isolated issue.
So yes, Margzetta, let's make some rules.
For three months, no one listened to these student-athletes. Hopefully now they will.
Settleman is currently the Sports editor on the football, men's basketball and gymnastics beats. He was previously an assistant editor on the gymnastics, women's soccer, women's golf, men's water polo and women's water polo beats and a contributor on the gymnastics and women's water polo beats.
Settleman is currently the Sports editor on the football, men's basketball and gymnastics beats. He was previously an assistant editor on the gymnastics, women's soccer, women's golf, men's water polo and women's water polo beats and a contributor on the gymnastics and women's water polo beats.