Editorial: UCLA's decision to move fully in person fails to accommodate student needs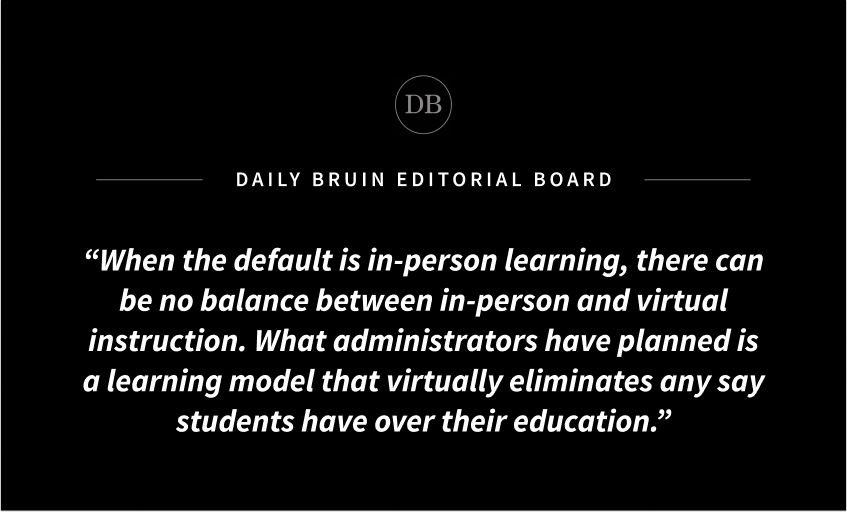 Editor's note: Editorials are intended to serve as the jumping-off point, not the conclusion, to discussion. As part of the Daily Bruin's commitment to its readers, the board hopes to present a responsible and clear analysis of relevant events and news items affecting the lives of those we serve, but our editorials are not representative of the Daily Bruin's views on issues as a whole. We encourage all readers to reach out to our board members and to respond to our editorials.
Two weeks ago, the editorial board urged UCLA to adopt a hybrid learning model for the remainder of the quarter.
Unfortunately, administrators did not hear that plea.
The university announced Friday that in-person instruction will resume Jan. 31 as planned. In-person classes that were moved to Zoom at the beginning of the quarter can remain online for two nonconsecutive weeks without approval. These classes can continue online for the remainder of the quarter if their instructors' departments submit a request to the UCLA Registrar's Office by Wednesday. If departments elect not to do so, students must attend classes in person week seven and beyond – unless their instructors say otherwise or the student requests accommodations through the Center for Accessible Education.
This is, for all intents and purposes, not a hybrid model of learning. When the default is in-person learning, there can be no balance between in-person and virtual instruction. What administrators have planned is a learning model that virtually eliminates any say students have over their education.
There are no words to express the disappointment we feel. As an editorial board, we have repeatedly called on the University of California and UCLA to recognize the benefits of hybrid learning options. Now, nearly two years into a pandemic, the nation's premier public university has forced students to make an impossible choice between an education they're paying thousands for and their health.
Administrators will tell you the university is accommodating students, but their plans only make it more difficult for students and instructors alike.
The university's new guidelines give instructors just five days to decide whether they want to keep their classes online, livestream classes or switch to fully in-person learning. Subtract the weekend, and instructors are left with just three days. Classes that meet once a week on a Thursday or Friday will not be able to discuss what learning mode best suits students before the Wednesday petition is due. This is unfair to instructors, who must scramble to adjust their instruction plans, and students, who must make their concerns known over email.
We believe it is the administrators' responsibility to ensure an equitable learning environment. At this point in the pandemic, students should not have to ask for safe learning options. They should have access to those options without needing to advocate for themselves.
By forcing students to request accommodations from the CAE, the university has made it clear that it does not prioritize the well-being of its students or staff. An accommodation requires documentation and a diagnosable condition. Students who have neither and who do not feel comfortable attending classes in person must now rely on instructors to let them safely access their education. And even if students are willing to request accommodations, they must submit an application before scheduling an intake meeting with a disability specialist. To expect CAE staff to field an influx of new requests on top of its existing caseloads mid-quarter is unreasonable.
Administrators should understand that not all students who feel uncomfortable attending classes in person have a disability. Students may live with immunocompromised peers or family members, many of whom are especially vulnerable to the coronavirus. Or students may not want to increase their chances of contracting a virus that has already killed more than 28,000 Angelenos.
The editorial board urges administrators to reconsider their decision to transition to what is essentially in-person learning. We ask UCLA to do the following:
First, it must keep large lectures of more than 100 students online. Smaller courses and discussion sections can meet in person in accordance with public health guidelines. The university did this in the fall and can do it again.
Second, UCLA must mandate the livestreaming or recording of all classes and provide the means for it. Instructors who teach in classrooms with BruinCast capabilities should record their lectures. Classrooms that lack this infrastructure should be equipped with streaming systems or mobile camcorders. Teams of IT specialists must also be on standby during the school week so instructors can receive immediate assistance should they need it. Encouraging faculty and staff to accommodate students isn't enough.
Third, the university needs to eliminate in-person attendance requirements. We understand instructors have the freedom to choose how they want to conduct their classes, but these aren't normal times – and we cannot pretend they are.
Students should only return to campus when they are personally certain that UCLA has done and will do everything it can to keep them safe.
Until then, all Bruins must be given the opportunity to attend classes virtually.