Editorial: Omicron variant necessitates hybrid learning become UCLA's new normal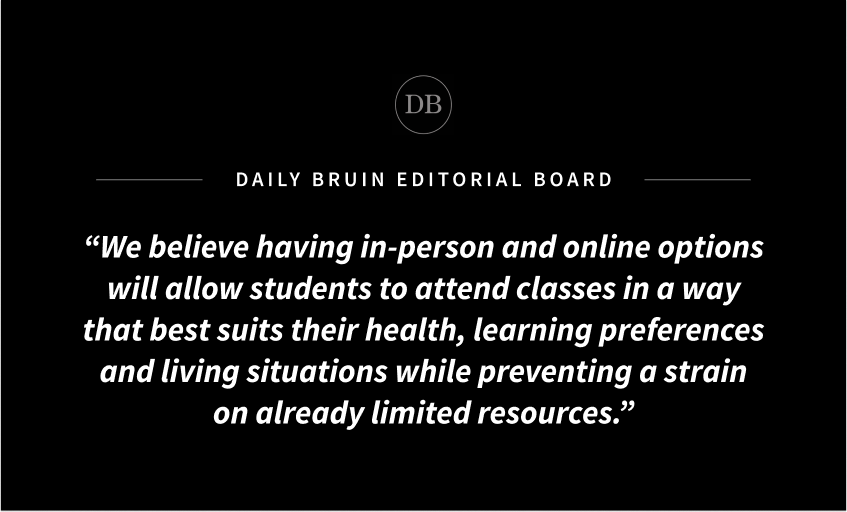 Editor's note: Editorials are intended to serve as the jumping-off point, not the conclusion, to discussion. As part of the Daily Bruin's commitment to its readers, the board hopes to present a responsible and clear analysis of relevant events and news items affecting the lives of those we serve, but our editorials are not representative of the Daily Bruin's views on issues as a whole. We encourage all readers to reach out to our board members and to respond to our editorials.
For those who were attending UCLA in the spring of 2020, the beginning of 2022 has brought a sense of deja vu.
Just like at the beginning of the COVID-19 pandemic, our university has suddenly announced a brief hiatus from in-person classes with little certainty of what the near future might hold. Since the original announcement of going online was issued over winter break, remote instruction has been extended from Jan. 18 to Jan. 28.
In the meantime, UCLA has mandated weekly COVID-19 testing, allowed staggered move-in times for Hill residents, and required that eligible community members get a COVID-19 vaccine booster shot.
We've been here before and, for all we know, we'll be here again. UCLA cannot cling on to a learning model that predates pandemic times. Our "new normal" is no longer new.
It is, quite simply, our normal.
And the sooner UCLA understands this, the better – for both students and faculty, who bear the brunt of transitioning classes, learning styles and instruction plans from one platform to another.
The COVID-19 pandemic is unpredictable. There are no easy answers, but flexibility and accommodation are necessities. This is why the board urges UCLA to adopt a hybrid learning model for the remainder of winter quarter. We believe having in-person and online options will allow students to attend classes in a way that best suits their health, learning preferences and living situations while preventing a strain on already limited resources.
There isn't one model of hybrid learning that works for everyone, but it must, at the bare minimum, consist of five features.
One, large lectures of more than 100 students should remain online, while small classes and discussion sections can meet in person if public health guidelines allow for it. Two, instructors must livestream in-person lectures and eliminate in-person attendance requirements. Three, the university should provide students with high-quality N95 respirators or surgical masks and require students to wear these masks while on campus. Four, students must get tested once a week using campus testing programs that are accessible at all hours of the day. Five, students who test positive for COVID-19 or are exposed to someone who tested positive must isolate themselves for at least five days and leave only if they test negative and symptoms are improving.
Hybrid learning is by no means perfect. The board understands the toll it can take on instructors who must tend to students in both a classroom and a Zoom room. But in-person learning was never perfect to begin with.
The Disabled Student Union spent the entirety of fall quarter petitioning for remote and hybrid learning options that would allow disabled students to attend in‐person classes without fear of contracting a life-threatening virus. The union's petition garnered more than 20,000 signatures and was accompanied by a protest attended by nearly 200 people both in person and online.
A hybrid instruction model exists in a middle ground between in-person and remote learning. Students who yearn for an in-person college experience can have the experience they want as long as they do so safely. On the other hand, students who feel more comfortable attending classes online or who need to do so out of necessity can still receive the education they're paying for.
Shifting to in-person learning in the middle of the quarter will pose difficulties for many, particularly international and out-of-state students who are still at home and will need to make travel arrangements in the throes of midterm season. Announcing one instruction model and sticking with it for the next 10 weeks will cause considerably less trouble.
It's unfortunate that the pandemic has once again upended life as we know it. But navigating this next chapter of a public health crisis we've weathered for nearly two years now is about adapting to challenges as they come and minimizing the stress these changes can bring.
Hybrid learning will allow UCLA to do just that – as long as the school makes a decision sooner rather than later.