Sundance 2022: Jesse Eisenberg debuts as director, explores family dynamics in new film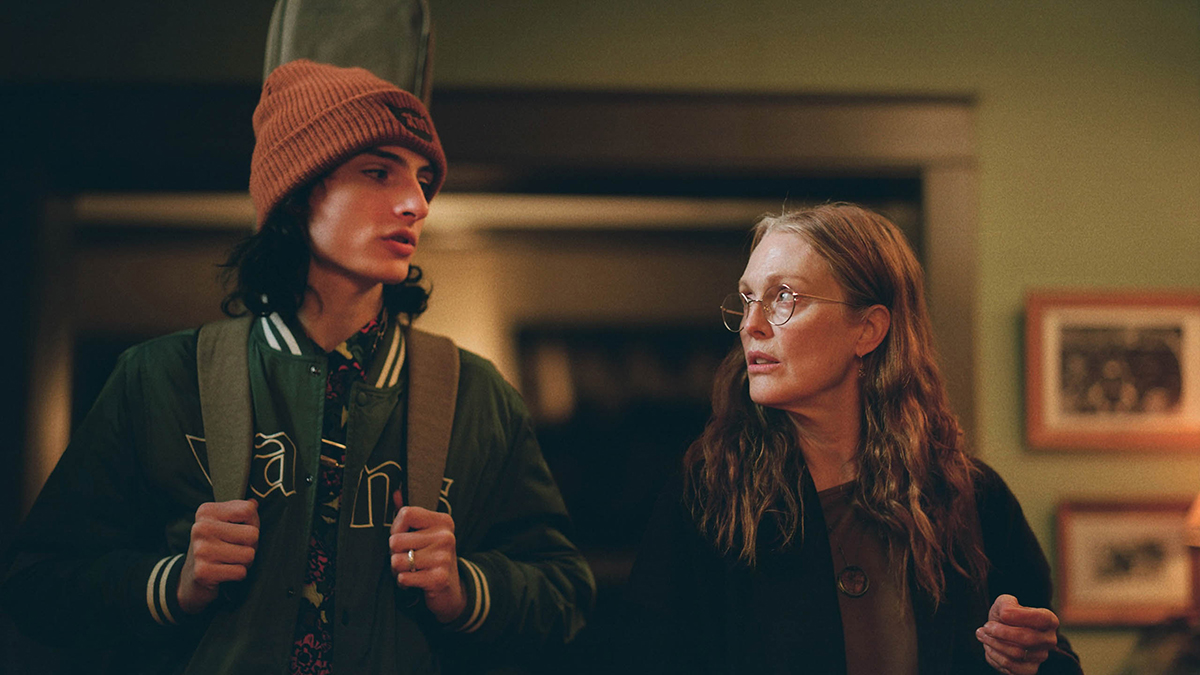 Jesse Eisenberg's directorial debut, "When You Finish Saving the World" stars Finn Wolfhard (left) and Julianne Moore (right) as a dysfunctional mother-son duo who struggle to see eye to eye. With divergent opinions on what constitutes a value, Eisenberg said the pair eventually learn to appreciate the merit in each other's individual pursuits. (Courtesy of Sundance Institute)
"When You Finish Saving the World"
Directed by Jesse Eisenberg
A24
Jan. 20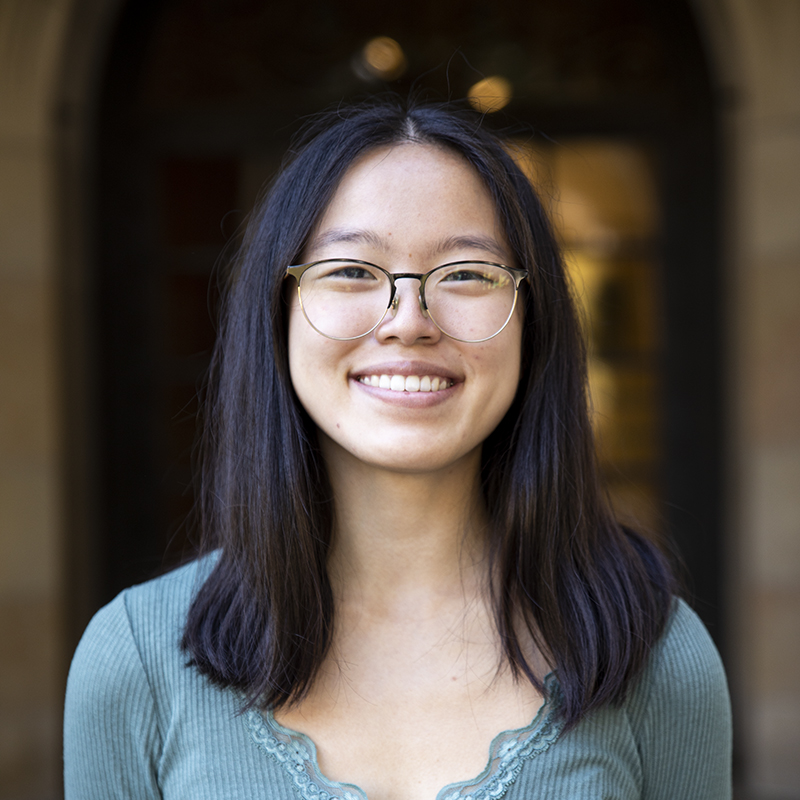 This post was updated Jan. 30 at 9:54 p.m.
Jesse Eisenberg is taking a seat behind the camera.
Known for his angsty on-screen roles, the actor has shifted to the director's chair. His first feature-length film, "When You Finish Saving the World," debuted in the Premieres category of the Sundance Film Festival. Starring Julianne Moore and Finn Wolfhard as a mother-son duo with differing interests in helping those affected by domestic violence and making music for the masses, respectively, the film examines divergent viewpoints between people who are inextricably tied together, Eisenberg said.
"What I was trying to explore in the movie is what happens when two people in the same family have a completely different set of ideals, a completely different set of values and have a completely different set of what they consider virtues," Eisenberg said. "Yet they're stuck with each other, and they're forced to love each other and to try to care for each other."
The premise of the film initially began as an audiobook that Eisenberg said he specifically wrote with Wolfhard in mind. Though he had more experience as a playwright than a screenwriter, Eisenberg said he chose to adapt the book to film, as the set limitations of the stage would have inhibited the robustness of the resulting production.
Yet long before the creation of either the audiobook or the film, Eisenberg said his experience volunteering at his mother-in-law's women's shelter planted the seed in his mind for a film that delved into both the stresses and warmth of that world. The largely localized impact of the shelter stood in stark contrast to Eisenberg's background as an actor, he said, as films can have a widespread but shallow impact.
"The movie was, in some ways, born of my inner conflict – of the work that I do in mainstream entertainment and then being so exposed to the work that's done in these more immediate needs in social service," Eisenberg said. "The movie was born out of that conflict between art and social activism."
In the film, Ziggy (Wolfhard) and his mother Evelyn (Moore) blunder through their attempts to see eye to eye on what is important to the other person. While Ziggy obsesses over racking up streams on his somewhat shallowly written songs, Evelyn must keep her shelter afloat and support the women living in it. Once she meets Kyle (Billy Bryk), the attentive and empathetic son of one of the affected women, she cannot help but wish that Ziggy were more like him, co-producer Emma Stone said.
"I had never seen a relationship like the one that Evelyn has with Ziggy and the relationship that Evelyn also has with Kyle, in a son crush," Stone said. "I never even considered the idea that you could idealize a child that is not your own and wish that your child was more like another one."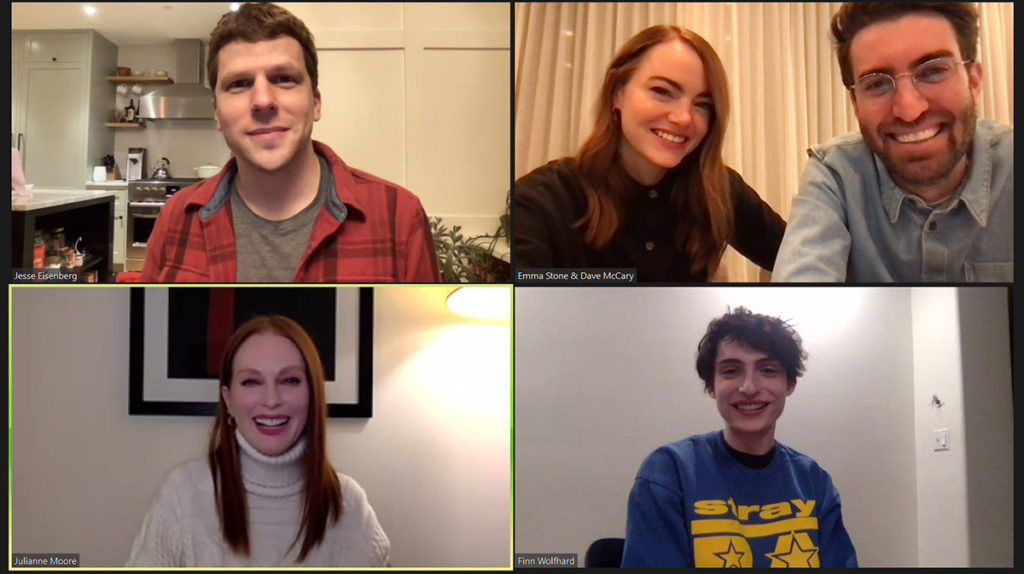 As Evelyn projects her desires as a mother onto Kyle, from pulling strings to try and gain him admission into Oberlin's social work program to gifting him Ziggy's old Indiana Pacers hat, she still struggles to communicate with her own son, Moore said. She underestimates Ziggy's reach as a musician and eschews his songwriting as a frivolous activity, illustrating Evelyn's struggle to understand her son and his obsession with internet fame.
On the flip side, Ziggy's point of view also reflects a one-way street, Wolfhard said, as he is stubbornly and single-mindedly focused on gaining more viewers on his music videos. It is only when he develops a crush on a politically active classmate that he chooses to delve into the social justice sphere that his mother is so engrossed in. Both characters' imperfections are a realistic depiction of the miscommunications that happen in real life, Moore said.
"The way that (Evelyn) would like to speak to her kid is not always how it comes out," Moore said. "You don't often have that in a film. Sometimes our actions in films are less complicated than they are in life, so I was really relishing this opportunity to play somebody who was a human being who didn't get it right, who actually had a difficult time communicating."
For the vast majority of the film, the two rigidly remain on opposite ends of the fence, illustrating each character's fierce independence and strong will, Eisenberg said. Though the parallel structure produces rather insular storylines, Wolfhard said this allows the production to flesh out the characters' nuances and the one person against the world mentality that the duo eventually overcome.
"(Ziggy's) constantly talking about himself and he could sound conceited or arrogant, but it's because when there's no one in your life rooting for you, who's going to root for you but yourself?" Wolfhard said.
In the falling action of the film, both Evelyn and Ziggy are at last able to appreciate the merit of each other's pursuits – Evelyn scrolls through clips of her son's music videos and Ziggy admires the plaques hanging on the wall of his mother's domestic violence shelter. With the pair finally on the same page, Eisenberg said their reconciliation yields well-deserved mutual admiration and respect.
"At the end, I'm trying to say that when you finish saving the world, when you finish doing that thing that you excel so well in, maybe look at your family member and watch their internet videos and maybe go visit their shelter," Eisenberg said. "When you're finished doing this amazing thing, pay attention to that other person and see value in their own specific pursuits."
Xu is a senior staff writer for Arts & Entertainment. She previously served as the Arts editor from 2021-2022, the Music | Fine Arts editor from 2020-2021 and an Arts reporter from 2019-2020. She is a fourth-year neuroscience and anthropology student from Philadelphia, Pennsylvania.
Xu is a senior staff writer for Arts & Entertainment. She previously served as the Arts editor from 2021-2022, the Music | Fine Arts editor from 2020-2021 and an Arts reporter from 2019-2020. She is a fourth-year neuroscience and anthropology student from Philadelphia, Pennsylvania.