The Quad: Social media burnout can lead to negative mental health consequences for students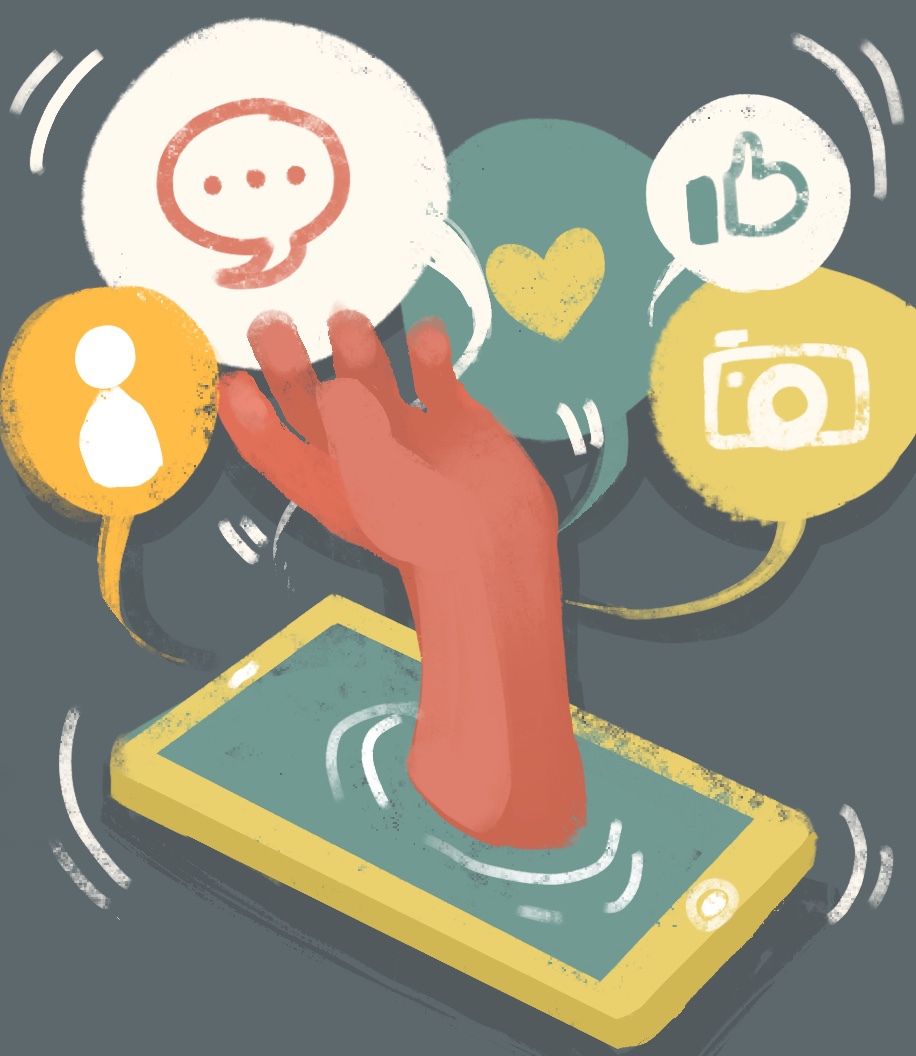 (Katelyn Dang/Illustrations Director)
With an influx of top models, influencers and peers portraying their "best selves" on social media, these online platforms can become more negative than positive. Social media burnout is a phenomenon that affects the most casual social media users, which begs the question: Is social media as casual as it seems?
Combating stress can be challenging for students, whether it manifests online or offline. According to the World Health Organization, regular burnout can create feelings of energy depletion, exhaustion, increased mental distance and reduced efficacy.
According to a Frontiers in Public Health article, social media burnout has similar effects and causes everyday users to partake in negative comparisons and to feel unhappier. But despite these feelings, it can feel almost impossible to take a break from the screen when so much of life — professional and personal — takes place online.
Third-year labor studies student Neome Astudillo said that using social media can cause her to burn out, leading to feelings of negativity and cynicism.
"I think I have experienced (social media burnout) before but not to the point where I decided to delete all my social media and just not use it for a few months," Astudillo said. "I think there was a point where I was just like 'I kind of want to go off the grid. … What's the point of posting all this stuff?"
Astudillo added that social media burnout also caused her to constantly compare herself to others, whether it be the number of likes on a post or appearance. She said that social media can feel like a scrapbook to her, and when her feed is full of influencers, it can start feeling less personal.
Doctor Emanuel Maidenberg, clinical professor of psychiatry and biobehavioral sciences and director of the UCLA Cognitive Behavioral Therapy Clinic, said that while social media can be a helpful resource, it can also come with drawbacks in terms of mental health.
"What does it mean to engage with (social media) wisely? And I think what that means is to limit the amount of time that one spends on it," Dr. Maidenberg said. "One of the main challenges and the negative impacts on mental health is that people become engaged with social media as a distraction from other things that they do not want to do or that or that they feel anxious about doing."
Fourth-year sociology and accounting student Wahed Saidy deleted all social media in response to experiencing burnout.
"It was actually back in my junior year of high school where I think that I felt social media burnout. And what that looked like for me is that I actually deleted my social media apps for the summer. And it was probably the most wholesome three months of my life," Saidy said. "I really enjoyed every minute of it, because I noticed that I was more so just living in the moment rather than focusing so much on what other people were doing."
However, Saidy said that he was able to forge healthier relationships with social media apps by using them in a professional way.
"I found myself using (social media) more when I started using it more for networking purposes. I think that when I first started using social media, I found it to be really a little excessive, doing the same thing every day. But now I'm using it for a business perspective," Said said. "I think that there's more to explore and there's more people to meet."
For both Astudillo and Saidy, social media burnout happens more frequently when using social media in a casual manner, as the stress centered around posting can cause them to overanalyze themselves.
Astudillo said that she does not see a future in which people can completely live without social media because of how documentation has become a central part of life.
"In our generation, a lot of it's like … 'Oh, it didn't happen until you took a picture of it,'" Astudillo said. "But I also see the pros of it. Because, you know, whenever you see this photo or see this video, you're kind of reliving that really good memory."
Similarly, Saidy said that social media allows people to connect to one another, which ultimately outweighs its potential problems.
"(Social media has) gone from just a platform allowing you to interact with other people to a news outlet for others. … Anyone could try to exclude themselves from social media as much as they want, but at the end of the day, I think that they're going to be tied back to it in some way," Saidy said.
Maidenberg said that it can be difficult to break from social media because of its ability to keep users engaged, regardless of its consequences.
"It's very tempting to continue engaging with it. Social media has many different mechanisms built in that make people want to do more of it," Maidenberg said. "This whole idea of likes and the immediate reaction that one can gain by posting something. It's very habit-forming. It's very easy to become engaged with that process to the extent that starts harming your other interests or needs."
Maidenberg added that in order to prevent burnout, it is important to practice self-discipline and balance.
"If you can learn to control the consumption appetites that you have, then you can make a good use of it, right? But that means to limit the amount of time that you spend on it, and making your devices not accessible," Maidenberg said. "So if one can be aware of that threat, and just have a control of that source of potential distress, I think that could be very helpful."