The Quad: UCLA students discuss challenges, benefits to long-distance relationships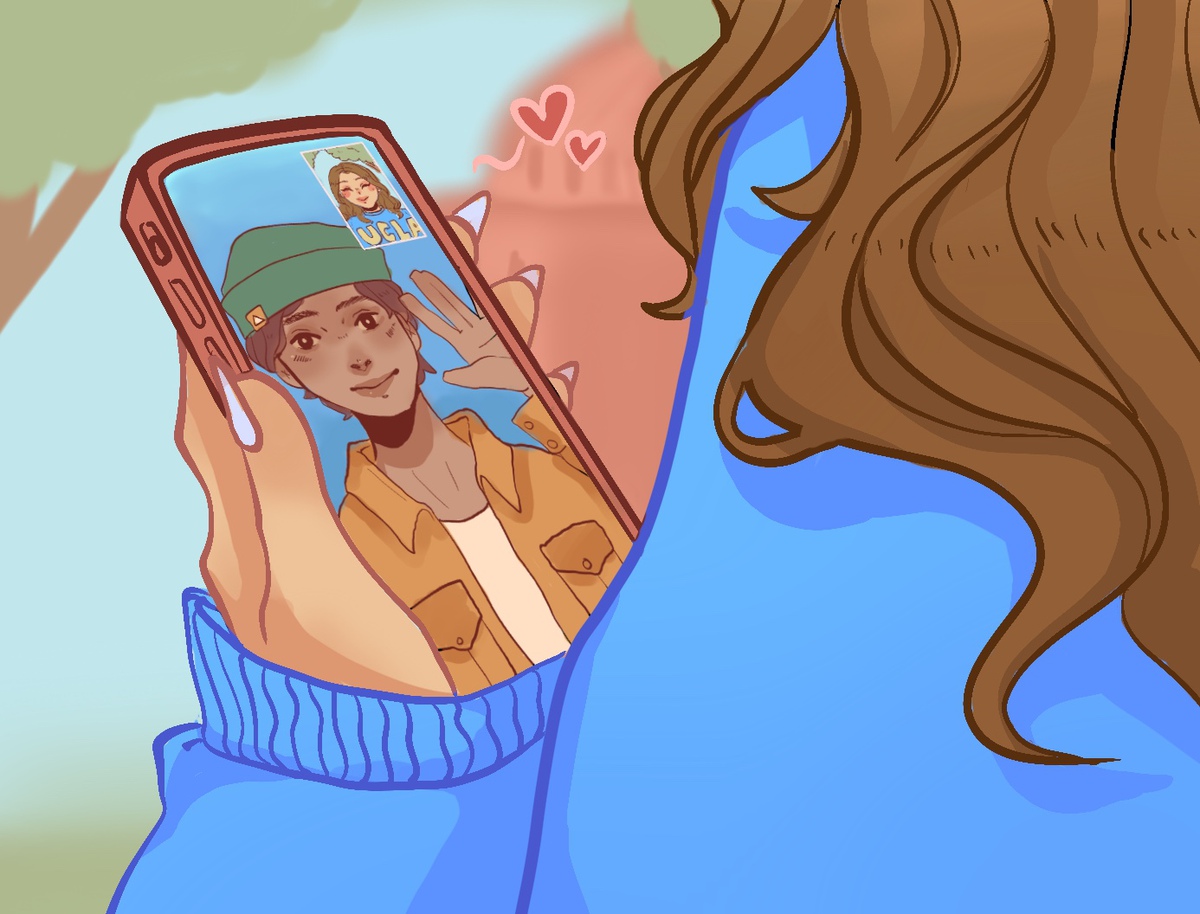 (Daily Bruin/Jade Ichimura)
As the Bruin community navigates a new strain of the virus and enters a new academic quarter, many students must face another challenge: long-distance relationships.
Whether it be across cities, states or countries, the commitment that comes with most long-distance relationships can be challenging for many college students, especially when many are on a journey of self-discovery during their young adult years.
A study done in 2005 by the American Psychological Association found that up to 75% of college students were in a long-distance relationship at some point.
Doctor Benjamin Karney, social psychology professor and co-director of the UCLA Marriage and Close Relationships Lab, said that the advancements in technology have allowed long-distance couples to thrive better than in previous generations.
"Now, the price of a long-distance call is the same as the price of a short-distance call," Karney said. "And I don't pay by the call. You know, I pay one fee for myself and service. And I can call anybody for as many hours as I want. But that wasn't true 30 years ago."
Second-year physiological sciences student Joshua Richter said that his three-year relationship became long-distance because his girlfriend attends a separate school.
"We'll see each other once a month because we both go back home and we live locally," Richter said. "The biggest challenge would just be finding time, you know, finding time in your long-distance to talk and do things that you guys like to do together."
However, Richter added that being able to visit his girlfriend on campus demonstrated how rewarding a long-distance relationship can be, despite its initial hurdles.
"It's rough in the beginning but it gets a little bit easier, I think, just because you figure out each others' schedules," Richter said. "It strengthens us a little bit because you know what's out there, yet you still want to stay so that kind of makes it more certain that that's the person you want to be with."
Richter said that being in a long-distance relationship is most ideal for those who are looking to seriously commit to a relationship.
"I think that if this was like a new relationship, like if I've been dating her for like six months, maybe it wouldn't have lasted. But I think having that big history, really (getting) to know who the person is after that many years, you know what they're worth," Richter said.
Karney said that long-distance relationships rely on a great deal of commitment.
"Only couples who want to be in a long-distance relationship, or I should say who are willing to endure the challenges of a long-distance relationship, are going to be the most committed couples," Karney said. "The fact that a long-distance relationship between two people exists speaks to the strong commitment between those two people."
Similarly, fourth-year history and religion student Joshua Young said that his long-distance relationship was maintained through constant communication. Young added that he and his girlfriend entered the relationship with the end goal of marriage.
"If I find someone that I grow to love and I want to be in a relationship with and we're dating, where our goal is to be married one day, then we're gonna make sacrifices to make that happen," said Young said.
Young said that his long-distance relationship was strengthened by religion, whether that be by reading Bibles together over Zoom or sharing weekly updates.
Both Richter and Young said that being in a long-distance relationship has improved the emotional connection that they have with their partner while also allowing them to appreciate the small details of the relationship on a deeper level.
"It's been helpful to us to grow as individuals in a certain way while we're long distance and I think it also puts the emphasis in the right place with our relationship because we are restricted from a lot of the menial aspects of a relationship," Young said. "We're really, I guess, forced to focus on the emotional and spiritual sides of it."
Karney said it may help to view long-distance relationships as an investment.
"One likely key to success is communicating well," Karney said. "Another is to think about the long distance as investment in the relationship. Like this is something we have to endure because we're getting something out of it."
While every individual's priorities are different, Richter said it is helpful to recognize that many other college students in long-distance relationships are in the same boat. Richter added these relationships often require a great deal of effort, which translates into greater long-term fulfillment.
"In college, a lot of people put pressure on themselves … to have fun or party … but I know for myself and other people I've talked to there are other things more important like love and finding love," Richter said. "Your fulfillment later on and just your fulfillment overall, you kind of have that peace knowing that you're doing something for love rather than a fleeting desire."