Grammys 2022: Ye receives Grammy nomination for innovative hip-hop album 'Donda'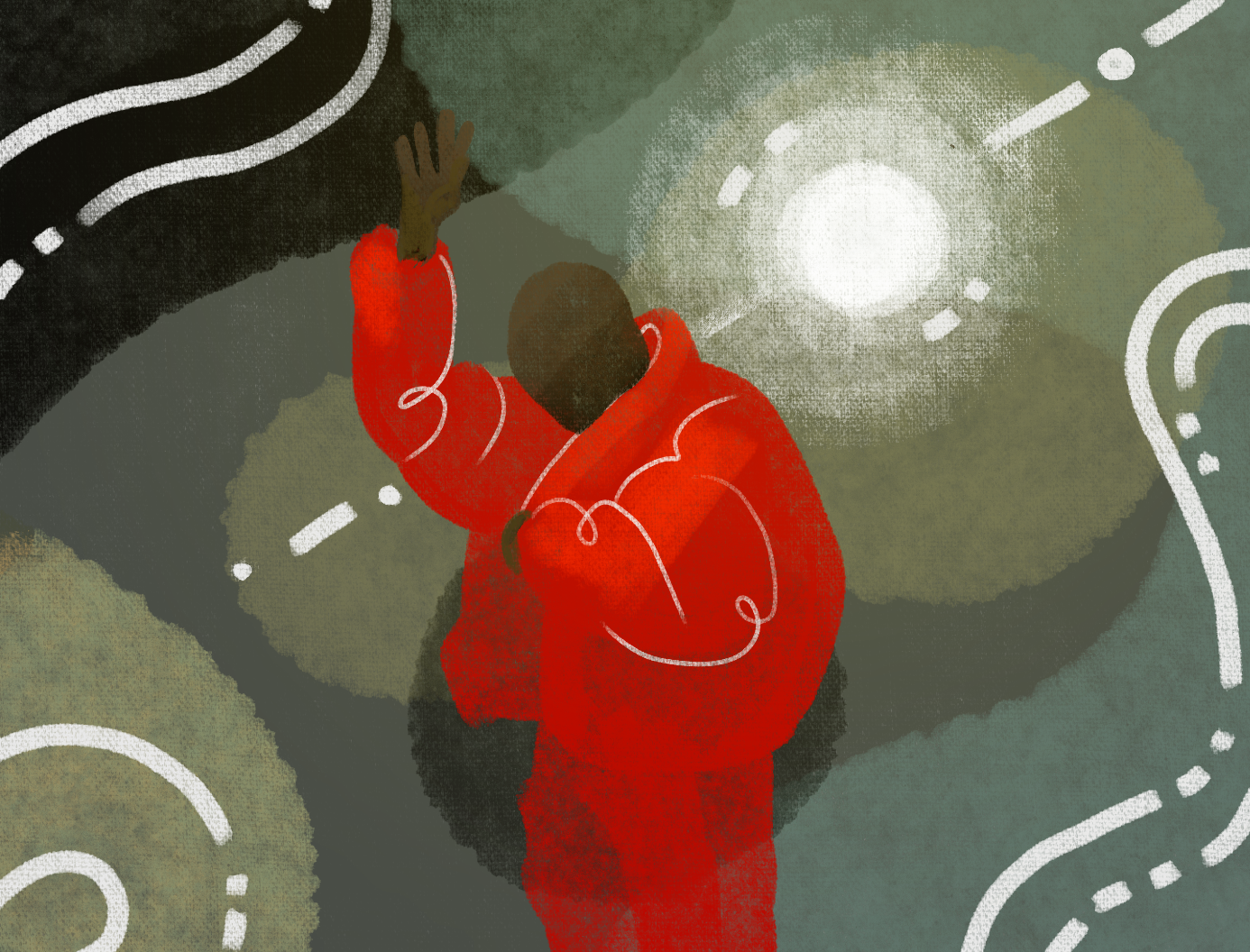 (Katelyn Dang/Illustrations director)
This post was updated March 30 at 11:30 p.m.
With a swirl of musical synergy and spirituality, "Donda" is a perfect storm.
The release of Ye's 10th No. 1 album in August sent hip-hop into hysteria. Though "Donda" is nominated for Album Of The Year in the 2022 Grammy Awards, it is far from sounding like classic synthesizer-heavy, '80s-inspired Ye, who changed his name in October from Kanye West. One of the biggest contributors to this distinction is the album's choice of samples, said Daniel Seeff, the West Coast director of UCLA's Herbie Hancock Institute of Jazz, who is nominated for his co-creation of a sample used in the track "Hurricane."
"There are two conflicting emotions (of sadness and hopefulness) together because that's the essence of life," Seeff said. "It's not just one feeling or another feeling, it's a blend of feelings."
As the essential foundation of hip-hop music, sampling is a technique used throughout the track list of "Donda" to garner this pathos, said music producer DJ Khalil, who worked on "Donda." Sampling is a technique Khalil started using early on in his career, creating his own samples through jam sessions, Seeff said – one of which included Seeff's bass playing and became the origins of "Hurricane." These jam sessions with other artists, guitar players and writers are spontaneous processes, he said.
"We record ourselves coming up with ideas and pieces of music," Seeff said. "But they're not completed pieces of music, just sections of music."
[Related: Album review: Kanye West's 'Donda' pays touching, though chaotic tribute to his late mother]
From creating these samples, Seeff said Khalil and other hip-hop producers started building songs around these musical snippets. "Hurricane" began when Khalil sent a folder of samples – including Seeff's – to Nascent, a music producer. Ye and Nascent were both in Chicago, Khalil said, when Ye heard the sample and wanted to use it in his "Yandhi" album, set to release in 2018. Though this album was eventually scrapped, the original beat and instrumentals that sampled Khalil's work were leaked on YouTube, which sent Ye's fans into a frenzy, Khalil said.
Years after Khalil and Seeff's sample recording was created, fans were enthused to see that the sample was picked up again by Ye and his team. Being finalized as the album's fifth track, entitled "Hurricane," the song debuted at the No. 1 spot of Billboard's Hot R&B/Hip-Hop Songs chart. The track connects people emotionally, since Ye's interpolation of these emotions in his use of the sample adds a new layer of relatability. Khalil said Ye searches for who he is as a person and an artist. Ye has the ability to take any new development in his life, such as an intensified spirituality, and turn it into something a mass audience can relate to, he said.
"(The emotional weight) is why ('Hurricane') lasted so long," Khalil said. "Because normally, if a record is leaked, it is not going on the album – it's out there already."
The raw emotionality and melody of the sample in "Hurricane" are driving factors of the record's success and longevity, he said. Because the song's soothing instrumentals resonate with Ye's audience and invite fans to join in Ye's discovery of a higher purpose, Khalil said, its legacy is cemented.
Whatever artists layer on top of a record sets the tone for the future of the music industry, said Nikki Grier, one of the album's songwriters and a creative director behind Ye's Sunday Service. Finalizing the album's songs after working with samples, however, is no small task, Grier said. The long list of collaborative credits for "Donda" is a testament to that, but Ye's collaborative style is not conventional.
"Kanye's really great at putting people together that you wouldn't think would collaborate," Grier said. "He'll put me with a pop producer or songwriter because in his head, he's putting those two worlds together. … It's really about him being the visionary and knowing how to mix these different things together."
[Related: Life and Hip-Hop: Young artists discuss impacts of social media on music journeys]
With Grier's Sunday Service experience, she cultivated a soulful, emotional palette for "Donda" with the inclusion of biblical references and choral singing, she said. The choir was brought into the studio to craft different sections for Ye's songs, Grier said, adding a gospel undertone to the hip-hop records and catalyzing the album's unification. When Grier's heartfelt lyrics are repeated by a multiplicity of voices, she said it sends a subconscious message to an audience that everyone feels this way.
"If you hear 120 voices on (a song), it's going to mean so much more to the listener," Grier said. "Having this resounding choir on top of these lyrics just makes it that much bigger."
"Donda" is an unapologetic album that didn't set out for commercial success – but it worked, Khalil said. At each step in the collaborative process, the album gained a new layer of significance, Seeff said, creating a complex emotional profile that allowed songs to depict the duality of life. While he said the album was a powerful tribute to Ye's late mother, Grier said "Donda" is a manifestation of growth and musical maturation on behalf of Ye.
"To me, this album means that Ye is evolving," Grier said. "He's still strong in his faith, … but he's still fresh, cutting edge and fashionable. He's still an amazing producer (and) a visionary – he's still all of these things, and he's added God in the mix."