UCLA gymnastics looks forward to normalcy, excitement with return of spectators at first season meet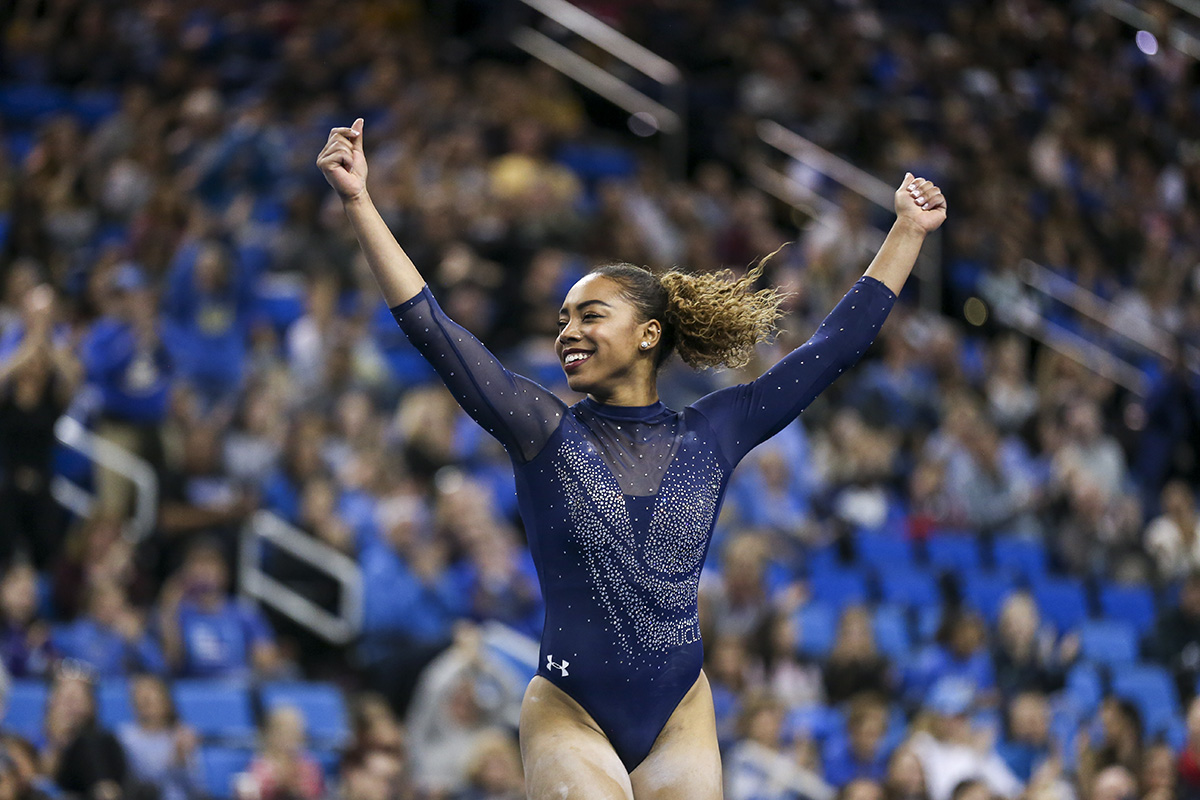 Senior Margzetta Frazier and UCLA gymnastics will welcome back fans in Pauley Pavilion for the first time in nearly two years Friday. (Daily Bruin file photo)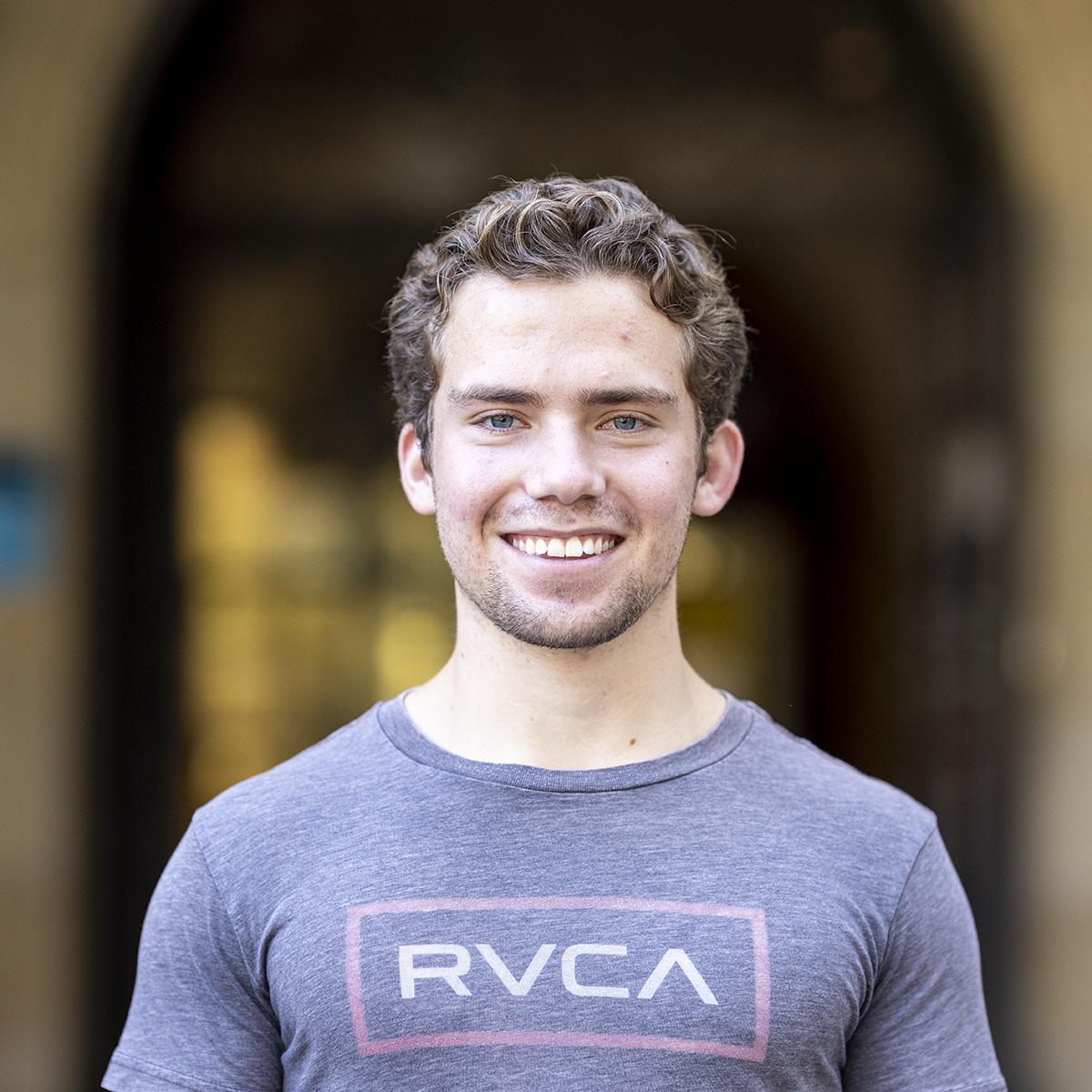 Chris Waller peered beyond the windows of Yates Gym and saw an unfamiliar sight.
It was a person, standing in the John Wooden Center outside the entrance to Yates Gym, attempting to get a glimpse of UCLA gymnastics' practice. Instead of returning his focus to practice, the third-year head coach invited the spectator into the gym to watch.
"Anybody who comes to the door, I invite them in," Waller said. "I want everybody to come in at all times because we want people in our Bruin family – and why not?"
Inviting strangers into his team's practices would have never happened a season ago. In fact, for nearly a year, Waller and the Bruin gymnasts were the only people who stepped foot in Yates Gym.
"There was no one on campus, no one in a single building – everything (was) closed," Waller said. "We're the only people in that building for seven months."
But that's no longer the case. Students have returned to campus, fans have returned to the stands, and for the first time since March 2020, UCLA gymnastics is set to compete in Pauley Pavilion in front of an audience.
Senior Kendal Poston said being around other people is a feeling that still hasn't quite settled in.
"To see people here, it's just so crazy to me, because last year was so dead," Poston said.
With seven freshmen and four sophomores, half of UCLA's roster has never experienced competing in Pauley Pavilion with fans. Waller said he recognized that some of the student-athletes felt uncomfortable with an audience in practice, so he continued to invite fellow student-athletes and local fans to watch his team compete.
At one of their recent intrasquad competitions, the Bruins had over 40 people packed into Yates Gym.
"(The underclassmen are) getting used to it, and I think they're going to love an audience," Waller said. "I still think they're going to be shocked when they see how our upperclassmen interact with the audience, but I think they're going to be happy to have an audience."
For those upperclassmen, competing in front of fans has been an irreplaceable experience, according to senior Margzetta Frazier. UCLA's last meet with fans in the stands in Pauley Pavilion was over 21 months ago, when former Bruin Kyla Ross scored a perfect 10 on vault in front of over 7,000 fans to lead the blue and gold to a win before the 2020 season was canceled.
Nearly two years later, Frazier said she is hoping to see 14,000 Bruin fans packed in Pauley Pavilion for UCLA's Meet the Bruins intrasquad competition Friday.
"The fans are my favorite part of performing because I love making them laugh and cry and smile and just feel vivid and present in the moment," Frazier said. "A score is a score, but as long as I do my job, it's going to be a very decent score. So I really put a lot of emphasis into my entertainment value in everything I do."
With fans back at sporting events across campus, Poston – who opted to utilize her extra year of eligibility due to the pandemic and return for a fifth season – said there's an increased sense of excitement around UCLA athletic events that's made the wait for the season feel even longer.
Poston added that with students back on campus and a renewed sense of normalcy, the close-knit bond in Westwood has grown even more.
"It's not just the team that feels like a bigger family, it's like our whole family that feels like that," Poston said. "It just feels like our campus family is back as well, and it's super cool. I'm so happy that I stayed because last year was super lonely without the family."
Not only did the pandemic prevent fans from entering Pauley Pavilion, it also prevented the Bruins from celebrating with each other during competition. High-fives and hugs have become staples on the UCLA sidelines, but were kept to a minimum a season ago.
Frazier said being able to celebrate with her teammates is one of the things she is most looking forward to in the 2022 season – which will start Friday with the Bruins' annual Blue vs. Gold competition.
"Just being on the floor with the girls – being able to actually high-five each other and hug each other – it makes such a huge difference," Frazier said. "Now we can have dance battles face-to-face like we used to do without getting in trouble."
Settleman is currently an assistant Sports editor on the gymnastics, women's soccer, women's golf, women's water polo and men's water polo beats. He was previously a contributor on the gymnastics and women's water polo beats.
Settleman is currently an assistant Sports editor on the gymnastics, women's soccer, women's golf, women's water polo and men's water polo beats. He was previously a contributor on the gymnastics and women's water polo beats.