UCLA gymnast Kendal Poston to return for 5th season as a Bruin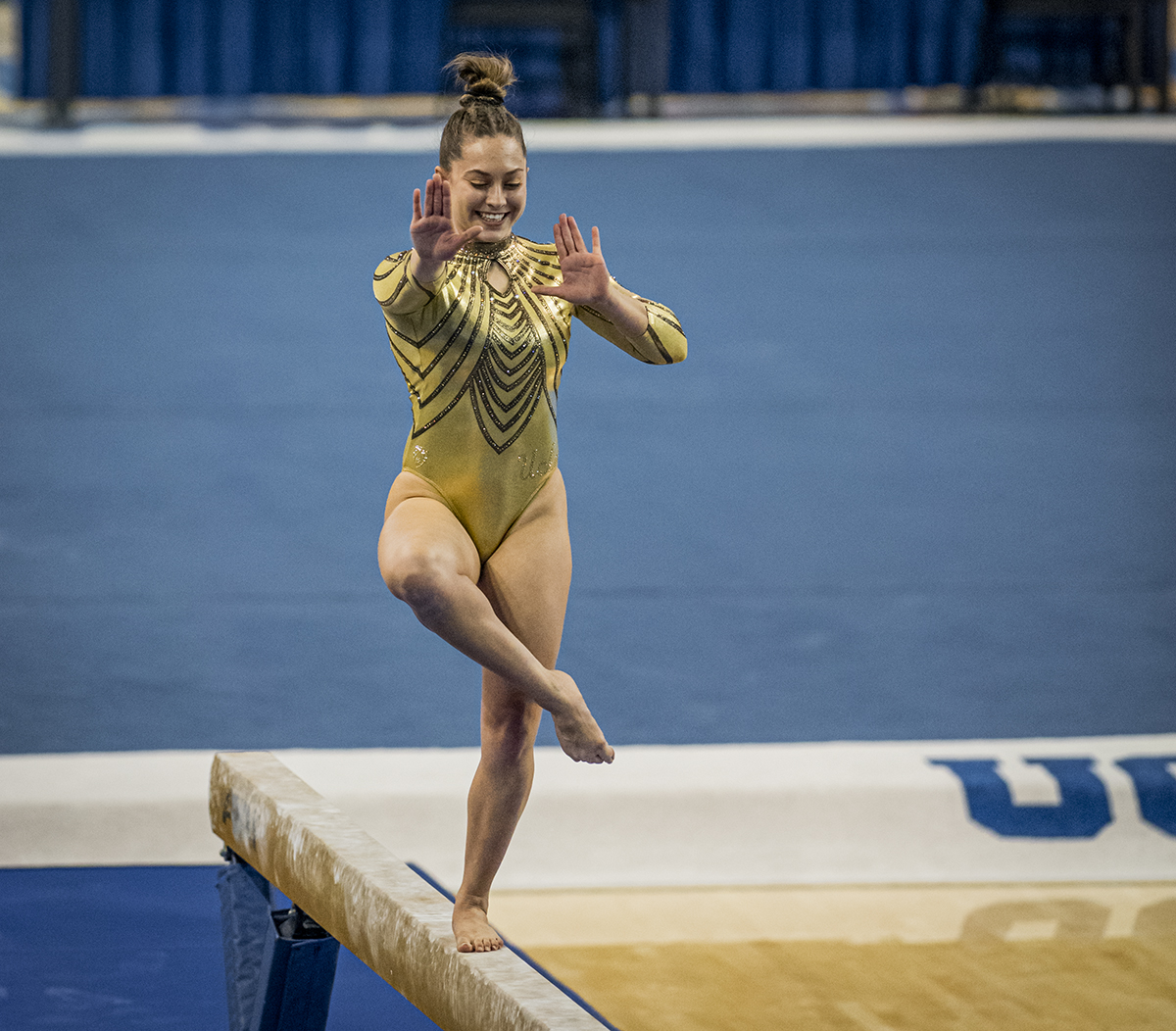 Senior Kendal Poston will compete for a fifth season with UCLA gymnastics in 2022. Poston has been a vault and beam specialist for the Bruins, competing in all 11 of the team's meets in 2021. (Kanishka Mehra/Photo editor)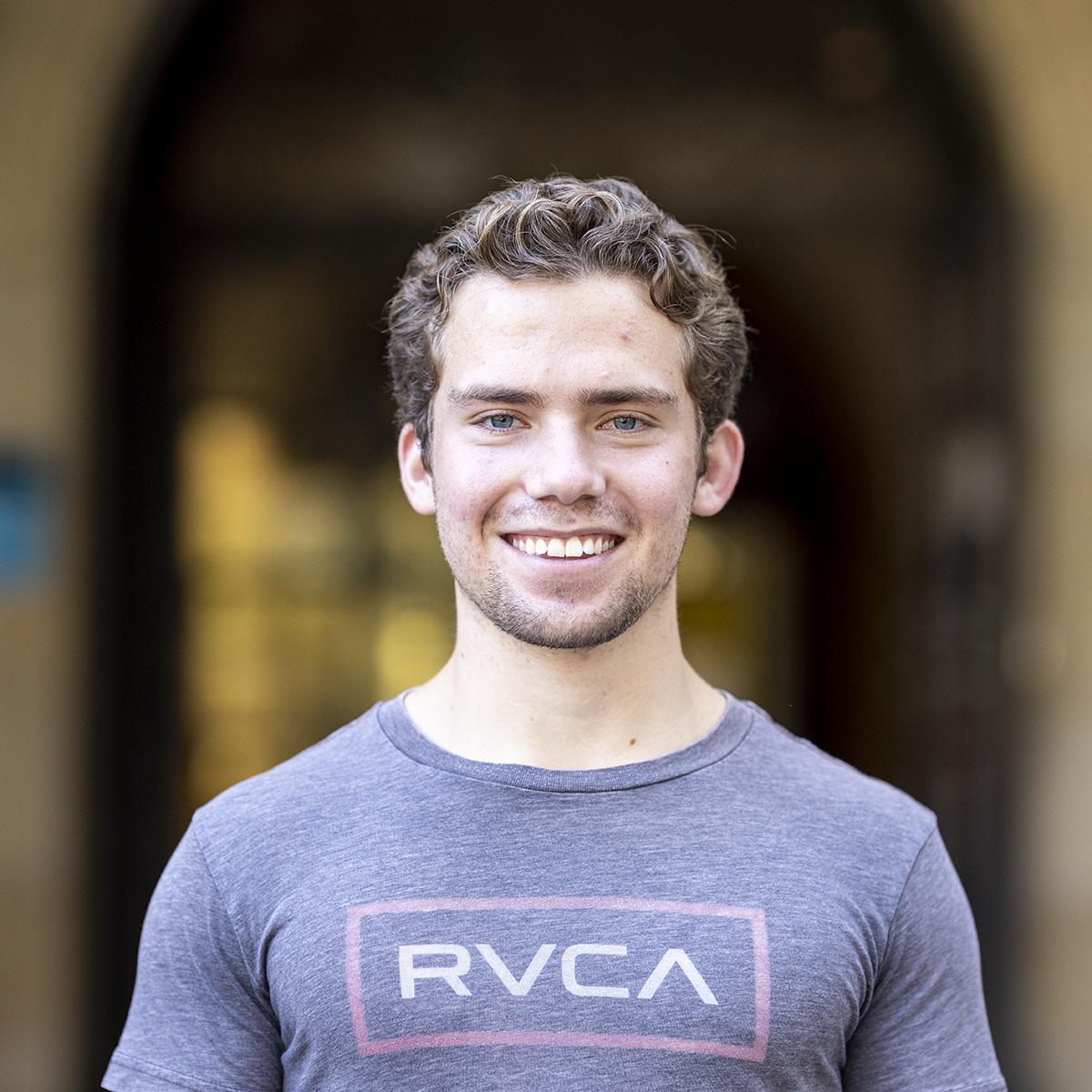 In what was supposed to be her final routine ever in Pauley Pavilion, Kendal Poston almost burst into tears on the balance beam.
But on a day dedicated to celebrating her and her fellow seniors, Poston knew something didn't feel quite right.
"The senior meet didn't feel like my senior meet," Poston said. "Certain things that you're supposed to feel closure on were just not happening. I just felt like I had more to give. I knew in my heart I wanted to be here."
The UCLA gymnastics senior announced Tuesday that she will return for a fifth season with the Bruins, opting to utilize the extra year of eligibility granted to all student-athletes who competed during the 2020-2021 season.
Poston's first season at UCLA in 2018 culminated in the program's first national championship in eight years. But as a freshman, Poston wasn't even in contention to make lineups. She was merely striving to make the travel squad.
Three years later, Poston has become a staple in the Bruins' lineup. In her fourth year with the program, she competed on both vault and beam in all 11 of UCLA's meets this season, posting 17 scores of 9.800 or better.
"I was peaking when COVID first hit my junior season," Poston said. "I just feel like there's more in me to give to this team and I'm not going to let that go to waste."
While it may have been a secret to many, Poston's roommate, rising senior Norah Flatley, had a sneaking suspicion that Poston wasn't quite done being a Bruin.
"I have good intuition about things," Flatley said. "I've had the feeling since the season was over that she was for sure going to take the opportunity that was provided to her. To hear that she confirmed my intuition, I was just so excited. I'm just so pumped to have her back for another year."
It was an unusually early end to the season for UCLA after failing to qualify for nationals for the first time since 2006.
In the NCAA regional final, with one rotation left to engineer a comeback and advance to nationals, Poston fell on beam in the leadoff spot that she had anchored all season long. It was just her third fall in the last two years.
Flatley said ending last season without an NCAA finals berth motivated Poston to return for another shot at a national championship.
"I know her love for gymnastics is still lit very bright," Flatley said. "The way we ended the season wasn't the way I think any of us wanted to end it, especially in her senior season. I think that just kind of confirmed that she was hungry for another season."
Despite having not officially made the decision to return yet, Poston began weight training with her team immediately upon the conclusion of the season to confirm her desire to come back for a fifth year.
After a full season with no fans in Pauley Pavilion, coach Chris Waller said Poston is excited for a return to normalcy.
"This year was quite an emotional roller coaster," Waller said. "Not having fans for the entire season and then not qualifying to NCAAs, I think that had an impact too. She's very excited to be back with a normal season. I mean, Keni's fired up."
On a team that had lost eight seniors from 2020, Waller said Poston stepped up to the challenge, adding that she became a vocal leader for the Bruins.
"She's great in the huddles," Waller said. "She's really good with redirecting the energy in a positive way in our huddles, and she always has choice words to say at good times. That's really important."
But Poston's positive influence is not limited to the gym. The senior has accrued Director's Honor Roll status in every quarter she has been at UCLA, racking up two Scholastic All-American awards in the process.
Flatley said she looks up to Poston not only for her study habits but also for the way she has conquered obstacles in the gym.
"Kendal has grown beautifully as a person and as a gymnast," Flatley said. "Being her teammate for the past three years, it has been an honor to watch her grow and overcome her lack of confidence in some areas in the gym and just fully embrace where she's at gymnasticswise. And schoolwise, she's extremely intelligent."
When she finally does decide to hang up the wrist wraps and put away the chalk, Poston hopes to travel the world before preparing for a future in law school.
But for now, she simply wants to keep living out a dream she's had since she was 6 years old.
"It's still kind of crazy to me – I feel like I'm just plain old Kendal doing what I love to do," Poston said. "When I was 6 and coming to the gymnastics meets here, I remember looking up to the gymnasts. I just can't believe that now that's me."
Settleman is currently an assistant Sports editor on the gymnastics, women's soccer, women's golf, women's water polo and men's water polo beats. He was previously a contributor on the gymnastics and women's water polo beats.
Settleman is currently an assistant Sports editor on the gymnastics, women's soccer, women's golf, women's water polo and men's water polo beats. He was previously a contributor on the gymnastics and women's water polo beats.