Women's volleyball sweeps Fairfield to advance to 2nd round in NCAA tournament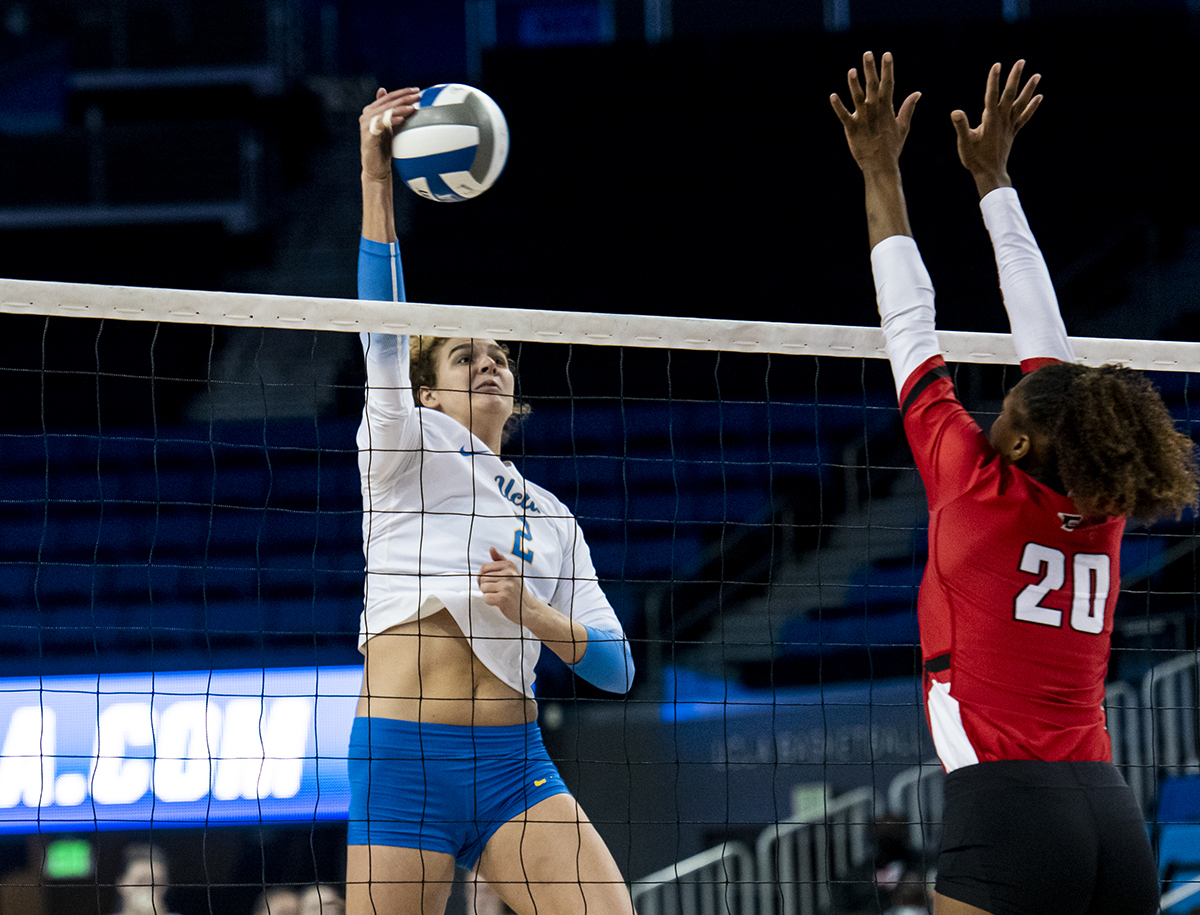 Redshirt sophomore middle blocker Anna Dodson spikes the ball versus Fairfield on Dec. 3. Dodson swung for six kills to go with one block in No. 13 seed UCLA women's volleyball's opening-round victory Friday. (Ariana Fadel/Daily Bruin staff)
Women's Volleyball
---
| | |
| --- | --- |
| Fairfield | 0 |
| No. 13 seed UCLA | 3 |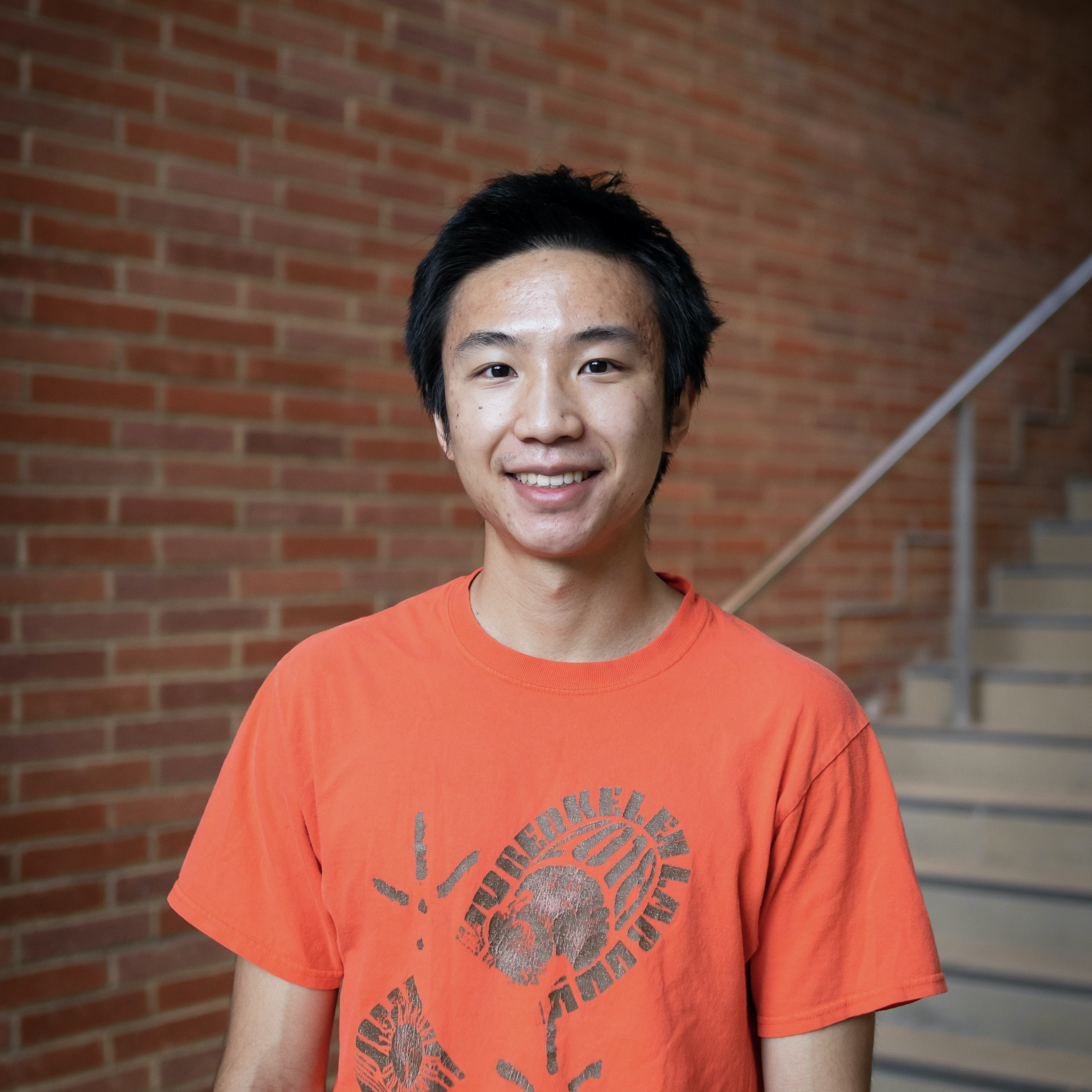 This post was updated Dec. 3 at 10:13 p.m.
The Stags were one point away from winning their second-ever NCAA tournament set on five separate occasions.
Each time, the Bruins shut the door.
No. 13 seed UCLA women's volleyball (24-5, 16-4 Pac-12) swept Fairfield (24-9, 16-2 Metro Atlantic Athletic Conference) in the first-round of the NCAA tournament on Friday evening in Pauley Pavilion. The Stags held set point five different times during the match, but the Bruins prevailed on every instance.
"We've done that a lot this year, where we've been in situations where we've been down 22-24 and we make some plays at the end," coach Michael Sealy said. "Some people made some great plays that were really tough in those last moments, but we all know that in this tournament you just can't wait for those last couple of points."
UCLA committed six errors in the first nine points of the match, falling behind 7-2 after accruing five attack errors and one reception error. Trailing 19-16, a trio of kills from graduate student outside hitter/opposite Mac May tied the match for the first time since 0-0, and an ensuing slide from redshirt sophomore middle blocker Anna Dodson gave the Bruins their first lead.
May said the errors were caused by the team's tendency to swing hard instead of strategically.
"We came in really wanting to blast (the ball)," May said. "I think it turned into a lot of (mindlessly swinging) balls into their well-formed block and getting a little too eager to score when we should have been making smarter plays."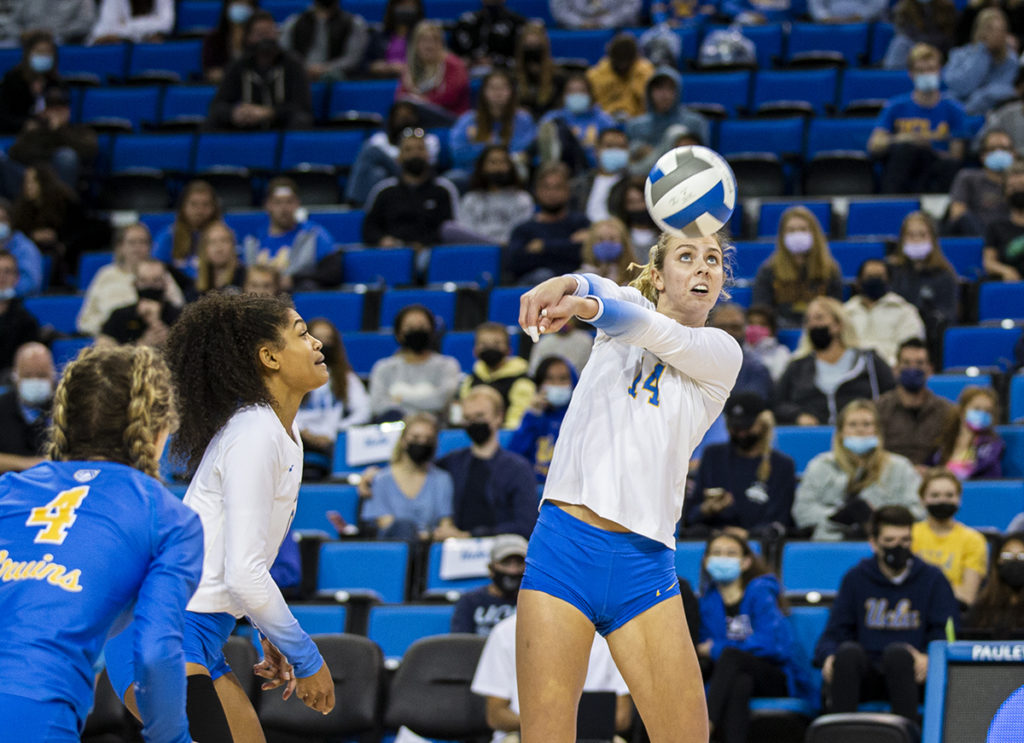 A 3-0 run from the visitors brought the teams even again, and in extra points, UCLA overcame three opposing set points from the Stags, including a May kill after a diving save from senior defensive specialist/libero Zoe Fleck while trailing 25-24.
The blue and gold would eventually win the frame 29-27 off two straight attack errors from Fairfield outside hitter Laura Seeger.
Fairfield, which entered Friday's match ranked first in the MAAC with 2.61 blocks per set, rejected UCLA six times in the opening period, while the Bruins made up the difference with seven more kills than the visitors.
"I think they put up a really great block," Dodson said. "It was navigating around that and adjusting, which I think we eventually did do."
In the second set, UCLA jumped out to a 9-6 advantage before committing four consecutive errors to surrender the lead. Knotted at 19 apiece, the Bruins took the lead for good following kills from sophomore outside hitter/opposite Allison Jacobs and sophomore outside hitter/opposite Iman Ndiaye en route to a 25-23 victory.
After not recording a block in the first set, UCLA had four in the second frame, with freshman middle blocker Francesca Alupei having a hand in all of them. Alupei picked up two straight rejections to start the frame and finished with six for the match.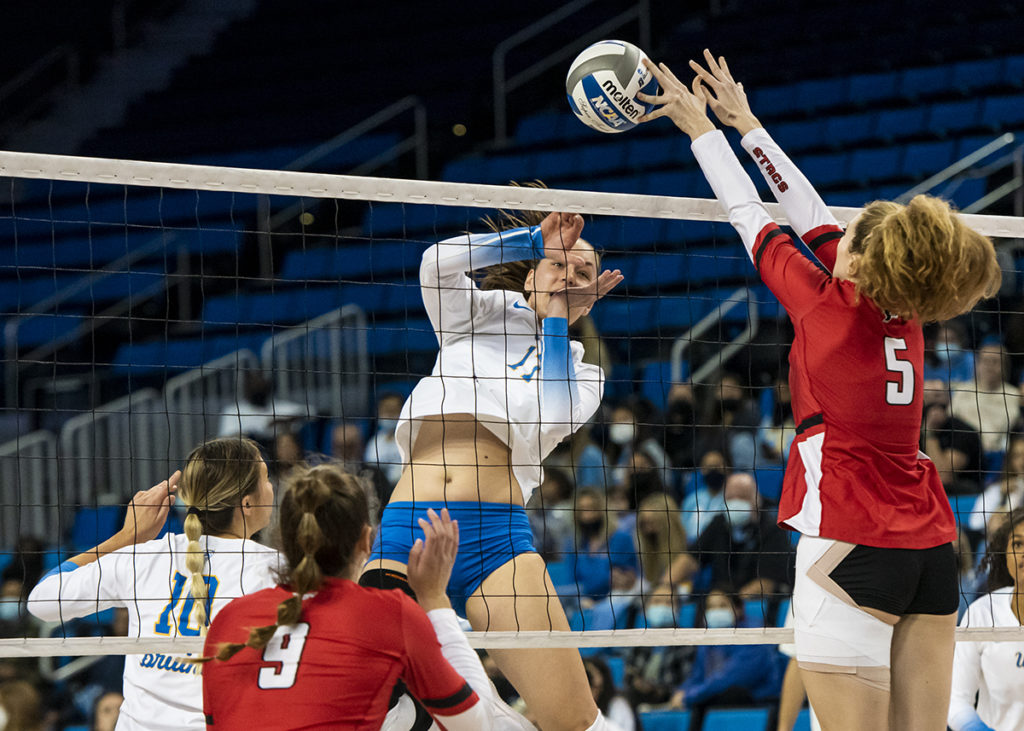 Neither team led by more than two points in the third set, with eight ties for both teams by the 14-14 mark alone. By the stanza's conclusion, the team's played to 13 tied scores and seven lead changes – both of which were the most of any set for the match.
Fairfield led 24-22, but UCLA staved off both set points with two May kills. A block from Alupei and an attack error finished the match in favor of the Bruins.
May led the team in kills with 21, while senior outside hitter/opposite élan McCall chipped in eight. The middle blockers, Dodson and Alupei, combined for 11 kills on 22 swings.
As a team, UCLA had 23 attack errors, the most the team has had in a three-set match this season. The Bruins out killed the Stags 51-36 and outhit them .255 to .196, with graduate student setter Shelby Martin assisting on 39 kills.
"We had a lot of nerves coming out in the first round," May said. "The NCAA (tournament) is intimidating. For us to work through the uneasiness of it – I'm proud of our team for sticking through that and happy we were able to finish strong."
With the victory, UCLA will face UCF in the second round of the NCAA tournament on Saturday at 7 p.m.
Deng is currently a Sports staffer on the men's volleyball beat. He was previously a reporter on the gymnastics and women's volleyball beat and a contributor on the cross country and track & field beats.
Deng is currently a Sports staffer on the men's volleyball beat. He was previously a reporter on the gymnastics and women's volleyball beat and a contributor on the cross country and track & field beats.