'Ritual of Return' exhibit brings back nature with immersive experience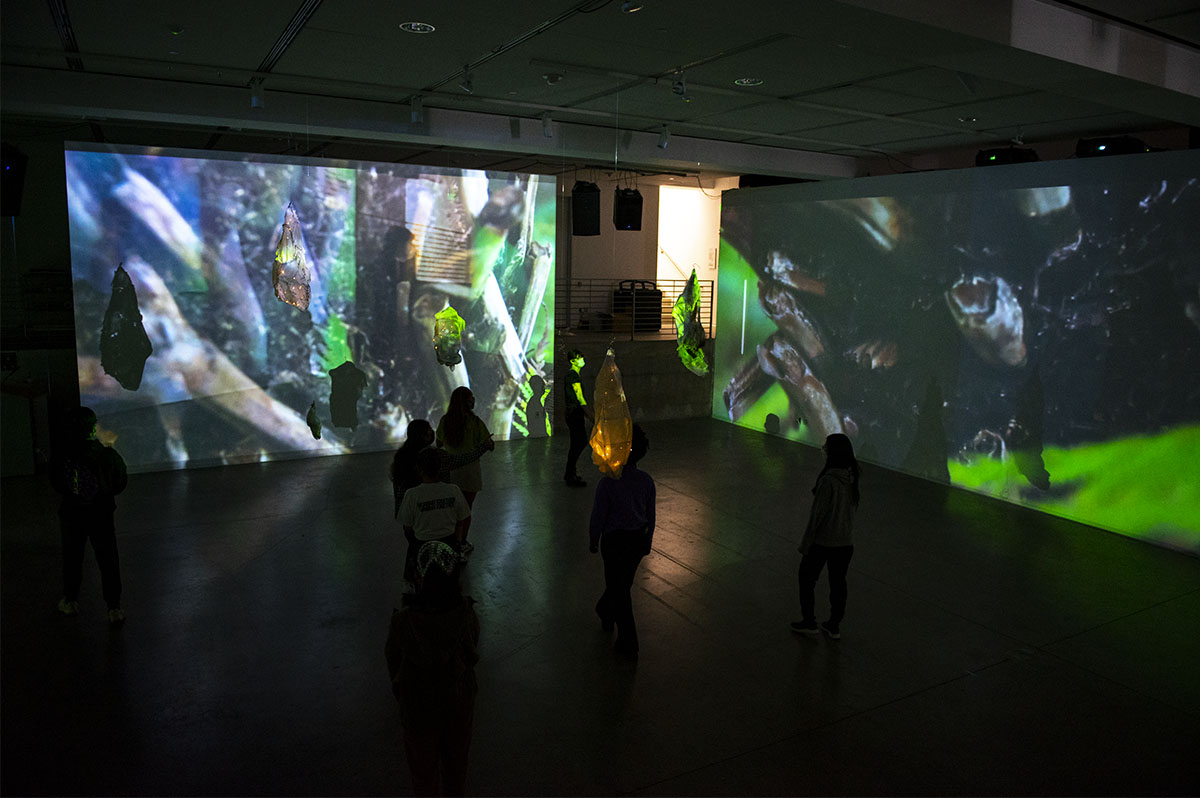 Design Media Arts 160: Introduction to Ecological Art and Justice's exhibit "Ritual of Return" comments on the inextricable ties between humanity and nature. Using videos, sculptures and books, the exhibit intends to debunk the common narrative that humans can transcend nature. (Lauren Man/Daily Bruin senior staff)
"Ritual of Return"
Experimental Digital Arts Space
Broad Arts Center 1250
Dec. 9
Nature is making a comeback in a new exhibition from Design Media Arts 160: Introduction to Ecological Art and Justice.
The class's project "Ritual of Return" is scheduled to be released on Dec. 9 in the Experimental Digital Arts space on campus. Organized by Design Media Arts 160, the exhibit intends on creating a new personal and intimate relationship with nature through an immersive experience. For lecturer Erin Cooney, the exhibition aims to transform the viewer's understanding and perception of their earthly ecosystems through a reality check.
"There's a predominant belief system or ideology that we've been experiencing in our dominant culture for a couple centuries, which is that humans are somehow separate from nature, that we can control nature, that we transcend it and are not embedded within it," Cooney said. "Actually we are incredibly embedded, and it is during our lifetimes that we're realizing the truth."
The project itself is a multimedia installation consisting of three separate artworks: an immersive video installation, a glowing sculpture and a separate book documenting the process, Cooney said. In a large gallery space, she said, a recorded video of natural habitats will be shown on three walls accompanied by an edited soundscape that intends to penetrate the soul of the viewer. The middle of the room will present a large sculpture of glowing chrysalises hung from the ceiling, she said. In addition to the displayed projects, Cooney said there will be a performer walking around recording the viewers as they are interacting within the space.
"You have (a nature video) surrounding the viewer, but at the same time, we're going to have a performer in the gallery space walking around with the GoPro attached to their body," Cooney said. "That GoPro is going to be capturing live feed video of the viewers, … underlying that concept that we are embedded within these natural environments."
[Related: Graduate students immerse viewers in 'Perspective Slip' exhibit with surreal art]
In regard to the sculptural aspect of the exhibition, third-year design media arts student Paige Brunson said the class chose butterflies to represent the metaphor for change and specifically selected the transitioning chrysalis stage as a symbol of transformation. Lit up from the inside, the cocoons are idealized to cast shadows that allow the viewer to become part of the exhibit, Brunson said.
In addition, Cooney said the chrysalis sculptures were designed for the viewer to realize the potential for an individual transformation as they go through this exhibit. The exhibit pushes for a transformation in the viewer's fundamental outlook on collective systems and the need for them to be unified within a bigger system – like nature – that depends on their care and survival, she said.
In terms of takeaways, third-year design media arts student Jennifer Hotes said the goal for the exhibit is for viewers to interact with nonliving, abstract concepts like nature. For Hotes, the current education system in public schools and society at large promotes an individualist perspective, and the exhibit attempts to challenge the conventional model of thinking.
"Having a collaborative learning model is also instilling an ability to work in groups, to work in community and to work from an integrated perspective, which is more reminiscent of how life works itself, as opposed to this linear model that we've been inducted into our whole lives," Hotes said.
[Related: Hammer Museum's exhibits mesh contemporary art with politics, history]
One of the challenges of this exhibit, Cooney said, is communicating with an entity like nature that does not speak literal words. Therefore, one of the solutions to that dilemma is treating nature as a construction of the human mind, she said. In essence, exhibiting a mental construct like nature always has to consider the positionality of the observer in order to communicate a clear message, she said. Through this communication, Cooney said the observer becomes part of the ongoing situation being observed.
In the end, the project allowed third-year environmental science student Ogechi Hubert to collaborate with many different students of assorted majors on a joint project that represents all of them as one. Despite the range of majors, from biology to media studies, Hubert said all of the students had trust in one another and developed a sense of camaraderie with each other as well as with nature.
"(In working on this project), you're able to know what people are interested in and hear the passion that's in their voice," Hubert said.