The Quad: Nostalgic items from home provide comfort during stressful times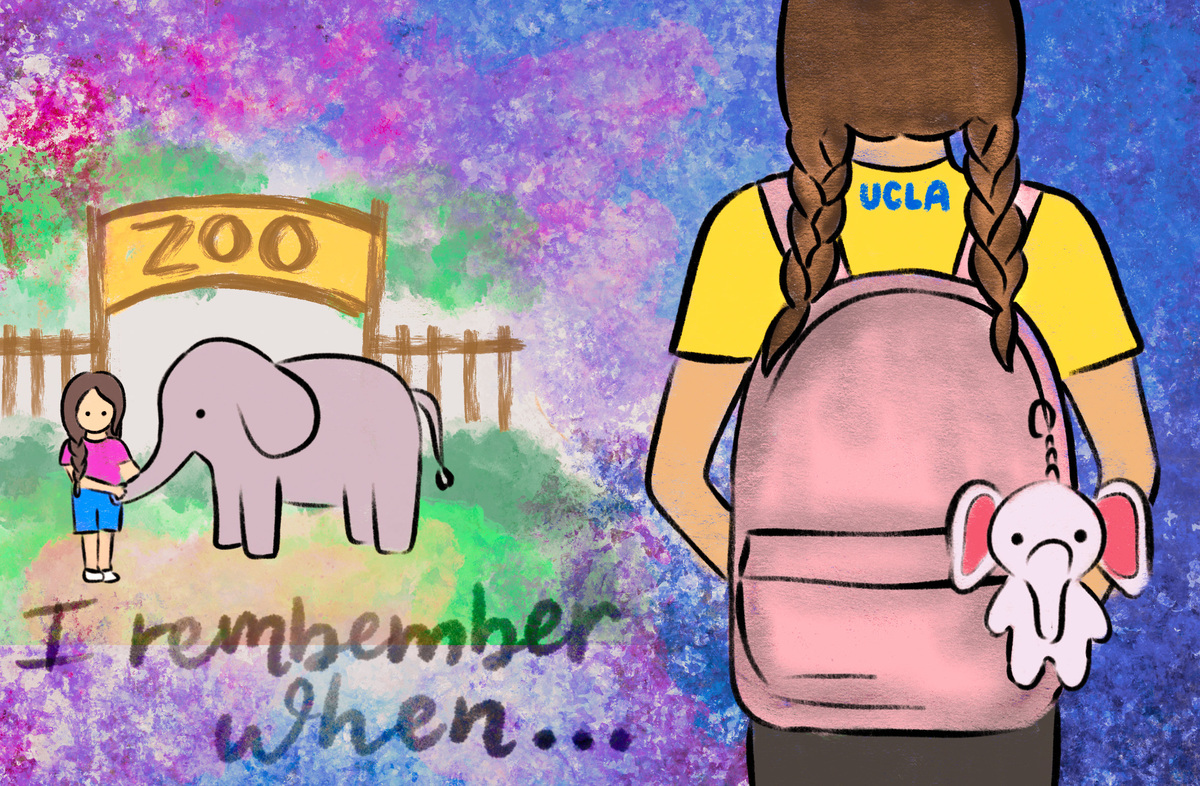 Memories can materialize when we least expect them to — a stage may remind us of an elementary school speech competition or a certain dish could stir up memories of family dinners.
I often unwind by hugging a stuffed toy I brought to college from home and fall asleep to the memory of the Disney trip with my best friends where I got the toy. I stroke my forehead whenever I am frustrated or clouded by insomnia, recalling the times my mom relaxed me with the same gesture when I was a child.
Initially, I didn't think too much of these self-reassuring behaviors but realized that for many Bruins like myself, items reminding them of hometown memories can elicit a sense of nostalgia and alleviate the stresses that come with college life.
According to the Merriam-Webster dictionary, nostalgia is typically a positively-associated yearning for a return to something of the past, and it can manifest in the form of keeping items —like family photos or stuffed animals — or practicing repeated gestures.
In fact, Avishek Adhikari, assistant professor of psychology at UCLA, said a common way of escaping the unpleasant present, for example in times of stress, is resorting to gleeful memories.
Psychology professor Scott Johnson said people reinforce positive memories by remembering them more frequently than negative ones.
"People, as they get older … tend to relive positive memories, … they feed on one another and support one another, whereas the memories that don't get reinforced tend to get lost," Johnson said. "This explains why … most times when we reminisce, we are brought back to a more carefree and liberating state of mind."
For some Bruins, nostalgia can also help individuals cope with uncomfortable or new situations. First-year business economics student Ethan Schnack said that when he was younger, his comfort item relieved overwhelming feelings during social events.
"I had a stuffed animal panda named Pandy," Schnack said. "I remember there was one time there was a party at my house and I brought Pandy down so that I could just be with him and feel more comfortable at the party."
Alternatively, many Bruins felt that nostalgia can strengthen our connections to those we care about. First-year English student Samantha Co said that touching necklaces given by her family serves as a source of relaxation when feeling stressed or homesick.
"As an out-of-state student, I'm roughly 3000 miles away from home, so that's pretty hard, so I have a necklace that I got from my mom that I wear all the time, and I never take it off," Co said. "And I just sometimes catch myself playing with it, or just like thumbing it in general."
In my personal experience, stroking my nose bridge the way my mother did to me incites memories that ease anxiety. These random habits serve as a reminder that I am supported by loved ones.
Adhikari said memory and remembrance of past events are important from a biological and survival standpoint.
"Flexibility in the memory … allows you to not have these memories set in stone, but rather, to adapt to ongoing changes in recent information," Adhikari said.
First-year biology student Aleen Hernandez said that pictures serve as an essential reminder of her family while she's in college.
"I've always loved taking pictures because as a kid, my mom always videotaped my sister and I, and she always kept a lot of albums of our childhood," Hernandez said. "And so, I always like to refer back to pictures or the albums that she has to bring me back to my roots and remind me of who I am and where I come from."
Hernandez added that she put pictures of her family members on her desk to inspire her every day.
"Every time I look up it reminds me … that I have a support system and I have people here. Even though they might not be with me currently, I know I can always call them," Hernandez said.
Professor Johnson said that the use of nostalgic objects reshapes the way we understand our memories, especially in curbing a mostly negative mindset.
"I think it might sort of change the way you might think about the past by keeping positive things in mind," Johnson said. "So I think having relics or pictures … has a very positive function."