Bruin volleyball player Mac May reflects on roots before final NCAA tournament run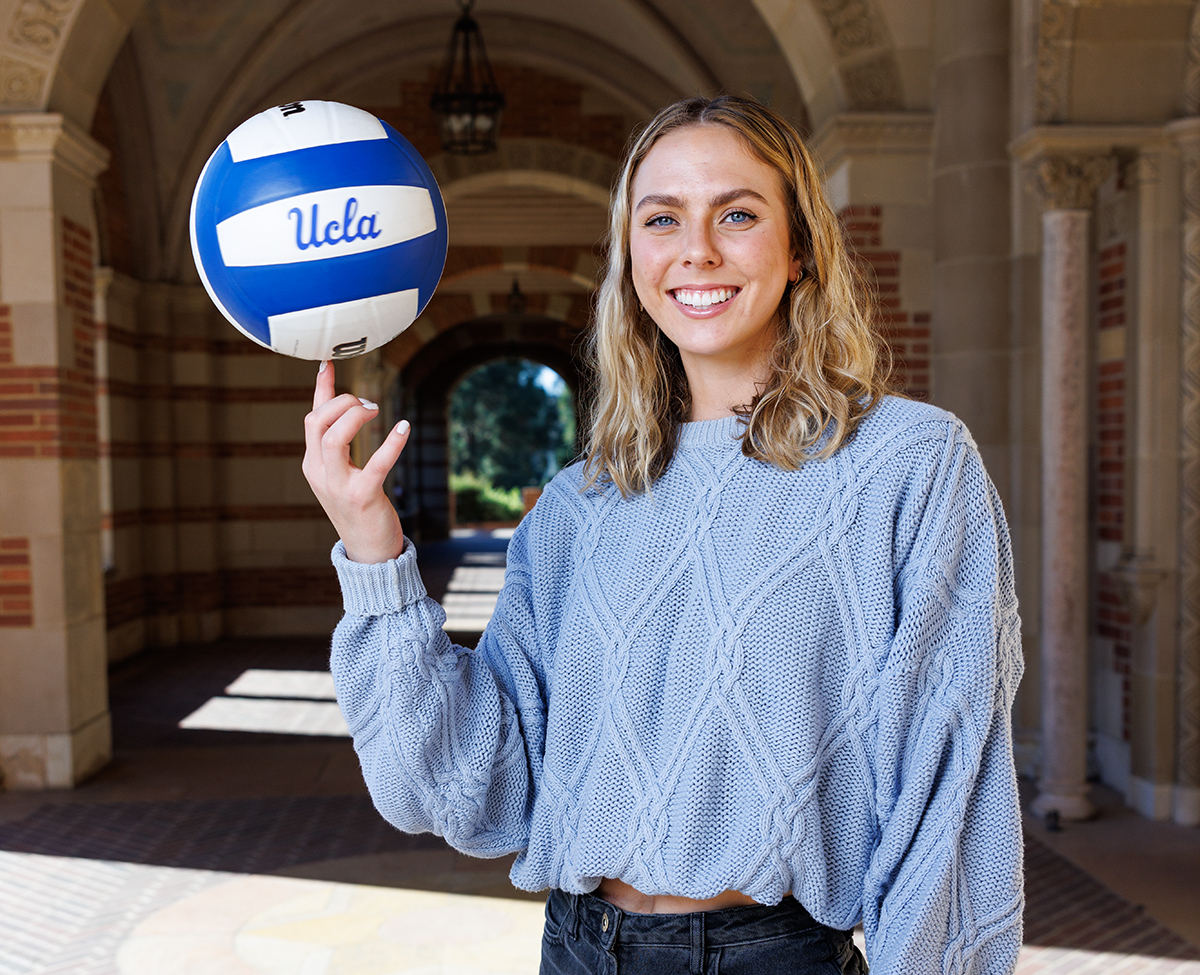 Graduate student Mac May spins a volleyball on her finger. Before the outside hitter/opposite became the all-time leader in sets played and a two-time Pac-12 Player of the Year for UCLA women's volleyball, May grew up 1,600 miles away in Dubuque, Iowa. (David Rimer/Assistant Photo editor)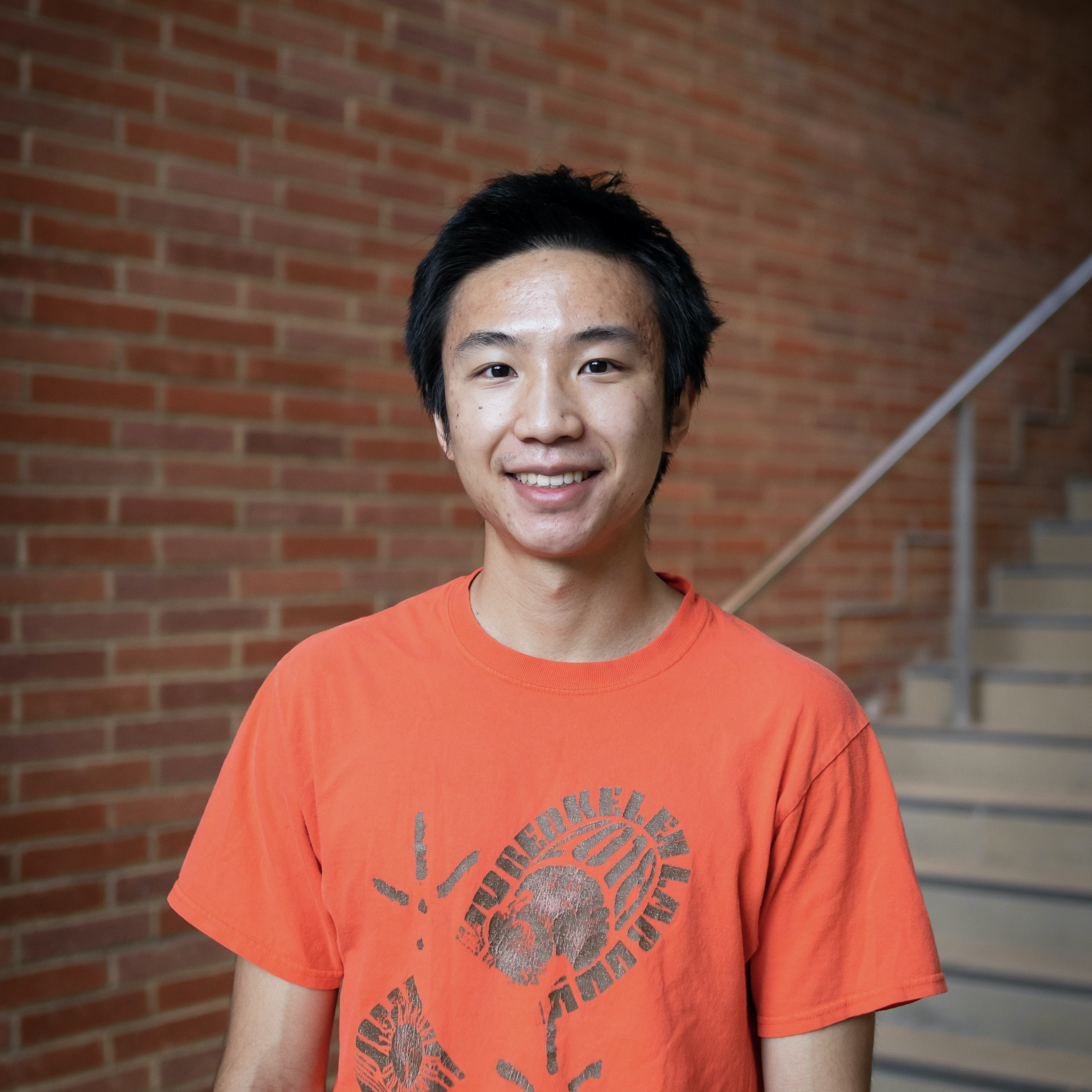 Dubuque, Iowa, lies just west of the Mississippi River, right on the border of Wisconsin and Illinois.
It's characterized by harsh winters, minimal traffic and an abundance of cornfields, according to UCLA's resident Iowan Mac May.
1,600 miles away from Los Angeles, the city of fewer than 60,000 people is where May's volleyball journey began when she was about 7 years old and watching her sister's matches.
"I remember going to volleyball tournaments with (my sister) and my mom and running off to an empty court and playing with a volleyball that I'd brought – we had like thousands of them," said May, a current UCLA women's volleyball graduate student outside hitter/opposite. "I remember playing with my sister's teammates' younger sisters, peppering in a big convention center."
Fast forward 15 years, and the 22-year-old May is a two-time Pac-12 Player of the Year and the all-time sets played leader in UCLA's history.
But the journey started in Dubuque, where May found herself on the volleyball courts whenever she could. After playing on a 13s team as an 8-year-old, May officially became a starter on the renowned Wahlert Catholic High School's varsity volleyball team as a freshman.
May said her coach at Wahlert, Lindsey Beaves, was a significant figure in her early growth as a player.
"(Beaves) was one of the most influential people in my development," May said. "She was one of the first people to believe in me and what I could do. She always had my back, was always rooting for me and prepared for a level beyond just high school."
Beaves, a multiple-time Iowa state champion player, held players accountable for improving daily, something May said instilled a mindset of never being satisfied with her current level.
And through her first three years of high school, May had one thing in particular separating her from satisfaction: a state championship.
"My mom won a state championship (at Wahlert), my sister won a state championship – it was the monkey on my back that I've got to win a state championship before I leave," May said.
May said she remembers envying her sister winning the state championship, a celebration flush with roses and a large trophy.
In her senior year, however, May shed the monkey off her back, leading Wahlert to a perfect state tournament while sweeping every match en route to the Golden Eagles' first volleyball title in 11 years. Averaging 26 kills a match, she was named MVP of the tournament, with her final high school match giving her the state championship.
"It was a buzzer-beater," May said. "And then I went off to college."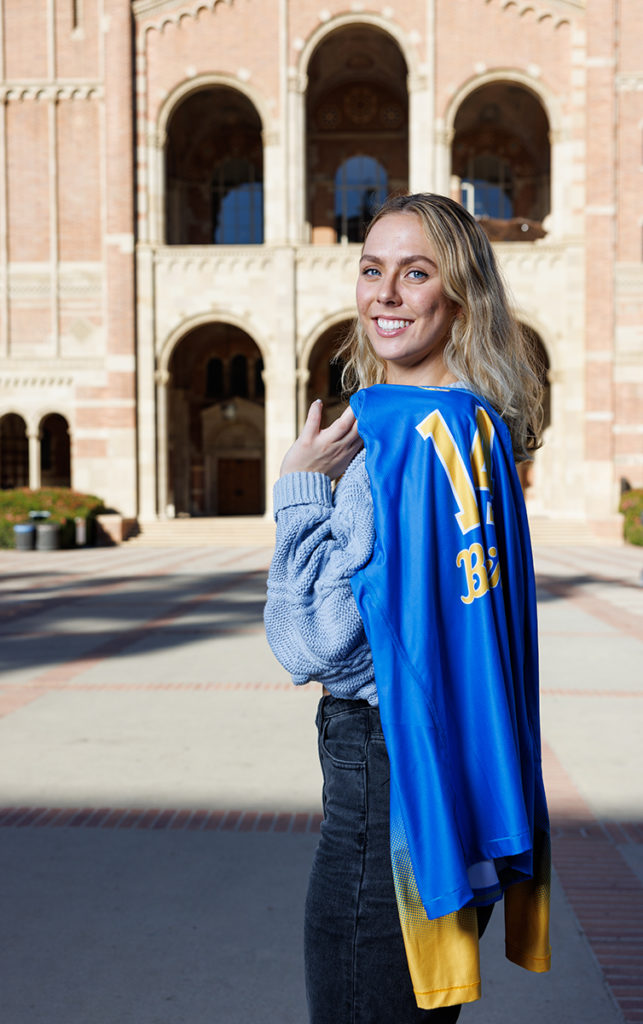 Transitioning from a high school graduating class of 170 people to a school of more than 45,000 students isn't an easy task, and like many freshmen and sophomores, May found herself missing her family during her first two years in Westwood.
Despite the homesickness, the outside hitter/opposite provided a spark to UCLA's offense from the get-go, starting as a freshman and ranking fourth on the team in kills.
Beginning as a sophomore, May would lead the team in kills every year. This season, she became the fourth Bruin in history to reach 2,000 kills in her career.
In addition to her hitting prowess, May has the fourth most service aces in UCLA history, and despite passing once being a self-described weakness of her game, May improved to become top three on the team in digs for three years running.
"She's systematically improved her game one skill at a time," said coach Michael Sealy. "She was never okay and comfortable with where her game was – always looking for that next level to improve."
Off the court, May said her time in Westwood has expanded her horizons on a variety of social issues, heightening her sense of social justice.
Through education in and out of the classroom, May's commitment toward social justice grew stronger. She describes herself as an avid ally of the Black Lives Matter movement and mental health advocacy.
"It just slowly started clicking," May said. "I'm from a very predominantly white area of the United States in Iowa – a small town –so there's a lot of things that started popping up that made me think, 'That's weird, I never learned about that.'"
May credits education on these topics with helping her develop better emotional communication and intelligence – things that help her as a leader on and off the court.
"It took a while to break down my initial biases," May said. "But I feel much more aware of my surroundings, aware of the people around me and their experiences."
As May readies herself for her final NCAA tournament run, she'll be cheered on first and foremost by her friends and teammates from UCLA.
Some of her biggest supporters will be from Dubuque. Her family and local friends – including her brother, sister, mom, dad, grandma and more – are set to cheer on their hometown hero from afar.
Beaves said the gangly 14-year-old kid on varsity has grown into a Westwood standout who remains interwoven in the fabric of Dubuque.
"She's such an amazing athlete, and to see everything she's accomplished is incredible," Beaves said. "We're just so proud of her – not only everything she's accomplished on the court, but also who she's become as a person. I couldn't be more proud."
Deng is currently a Sports staffer on the men's volleyball beat. He was previously a reporter on the gymnastics and women's volleyball beat and a contributor on the cross country and track & field beats.
Deng is currently a Sports staffer on the men's volleyball beat. He was previously a reporter on the gymnastics and women's volleyball beat and a contributor on the cross country and track & field beats.