UCLA student uses creativity, graphic design skills to create zines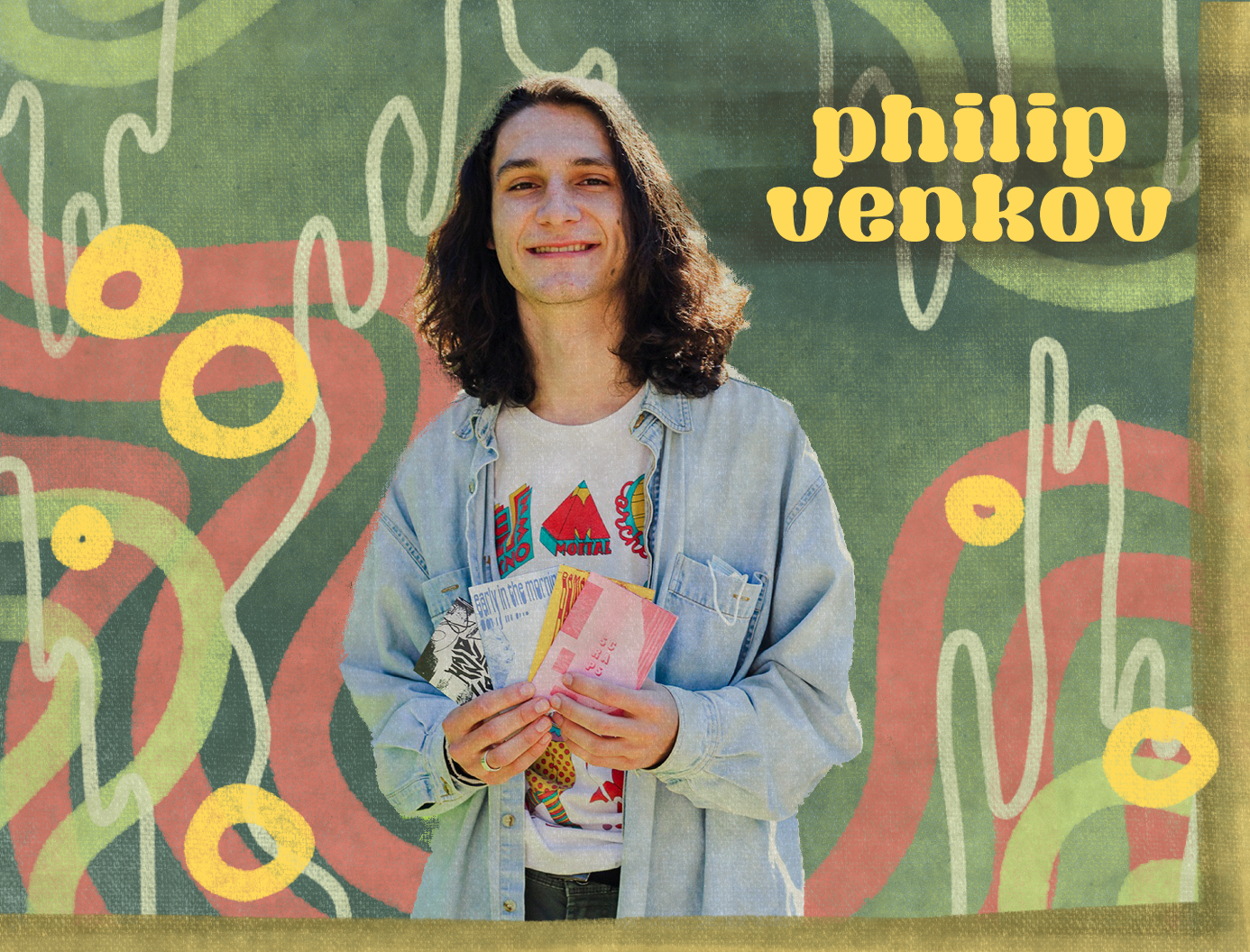 First-year design media arts student Philip Venkov designs music posters and zines and recently launched a website to sell his prints. (Katelyn Dang/Illustrations director)
This post was updated Dec. 1 at 9:22 p.m.
Philip Venkov is designing his dreams into a reality.
After years of practice, the first-year design media arts student is showcasing and selling his art on his Instagram account and website. Launched Nov. 13, his website, "Philip Venkov," features zines and prints, kick-starting his business journey with art, Philip Venkov said. The difficulty with creating a business, however, is facing the conflict of pricing artwork while still finding a way to make it affordable, he said.
"It's definitely difficult to find balance in terms of charging people for rates and then also pricing hard work," Venkov said. "But other than that, it's been very satisfying to get a positive response, even if it's mostly friends and family members that have been most interested in purchasing my work."
Venkov began exploring graphic art in his high school art class, where he said he grew as a multimedia artist in illustration and graphic design. Inspired by various artists such as Jason Galea, Venkov said he has found his niche with art inspired by his musical interests, in which his music taste manifests in the aesthetic of his artwork. The result of this manifestation is a combination of retro and psychedelic abstract art, he said.
"I take inspiration from psychedelic imagery, and there is a lot of psychedelic influence," Venkov said. "In general, a lot of my work gravitates towards distorting reality. I started thinking things that aren't quite realistic."
Venkov's creative process begins with an image that he either draws or captures on camera, a step that carries more freedom as he goes with his instincts on what he feels like drawing, he said. After scanning the piece to digitize the drawing, he said he vectorizes the image to easily scale or modify the work without hurting the quality. He then incorporates Photoshop, adding colors and textures and layering the artwork on itself to add more depth and variation to the design.
[Related: UCLA alumnus expands art business to marketplaces, finds new inspiration]
For Venkov, every decision is intentional in his artwork, with themes and motifs placed throughout. He said time is a motif present in a large amount of his work, seen in images such as a frozen eye or a candle melting to show minuscule moments that often go unnoticed in human life. He said the color palettes he chooses are deliberate as well, such as blue used for melancholic reflection or green and gold used to evoke a feeling of luxury.
To his high school art teacher, Catherine Villagrán, choosing a variety of different colors reflected Venkov's growth from his starting pieces. Throughout her years of teaching her beginning art class, Villagrán said she has kept only one piece of art made by a student: Venkov's linocut. When looking at his artwork now, she said she sees a multilayered piece in which one can notice new things with each viewing. In addition, his past art was often monochromatic, but now Villagrán said she finds his graphic designs more abstract and detailed with hidden messages.
"Good graphic design work always does more than one thing at a time," Villagrán said. "His mind is very experimental, and he has a sense of scale and depth of emphasis."
[Related: Student meshes real-world, imaginary elements in multidisciplinary design projects]
Because of the increase in details and intricacy in his more recent pieces, Venkov's sister, Ava Venkov, said she believes her brother's graphic design work has become more complex since he started. As a fellow art consumer, she said she is often his go-to person for feedback once his work on Photoshop is done. For instance, Ava Venkov said she helps him with specific details such as the shade of a color or the placement of an object.
Moving from a narrow artistic scope to incorporating a variety of different artistic media – the most recent being zines – Philip Venkov said he has found his artistic voice. He said he finds creating zines to be a satisfying challenge, despite the process being more technical because of the physical element of construction. Printing his work on 3 1/2-inch paper, he said the steps to make a zine are printing it in a cohesive order and binding the book together.
"Making a zine feels like what I imagine making a music album feels like, where each page needs to stand on its own, just like a song needs to stand on its own," he said. "But it also needs to work within the context of the whole work. It needs to flow together with the page preceding it and the page after it."
Philip Venkov is currently working on his ninth zine, "Devet," and plans to release it sometime in December. His vision for it is a two-page spread of extreme colors and textural landscapes that blend plant imagery and industrial rusts. Currently, Philip Venkov said he has collected approximately 183 images to play around with the harshness and overlay of the pictures. This zine in particular is a bookmarking moment for him, as he said his next zines may be different in terms of formatting or printing methods.
"Gaining that experience of being able to synthesize some scenes together and build an abstract narrative using artwork is something that has given me the ability to put more depth into these pieces," Philip Venkov said.