Alumnus harnesses newfound instrumental talents for 'A Christmas Carol' production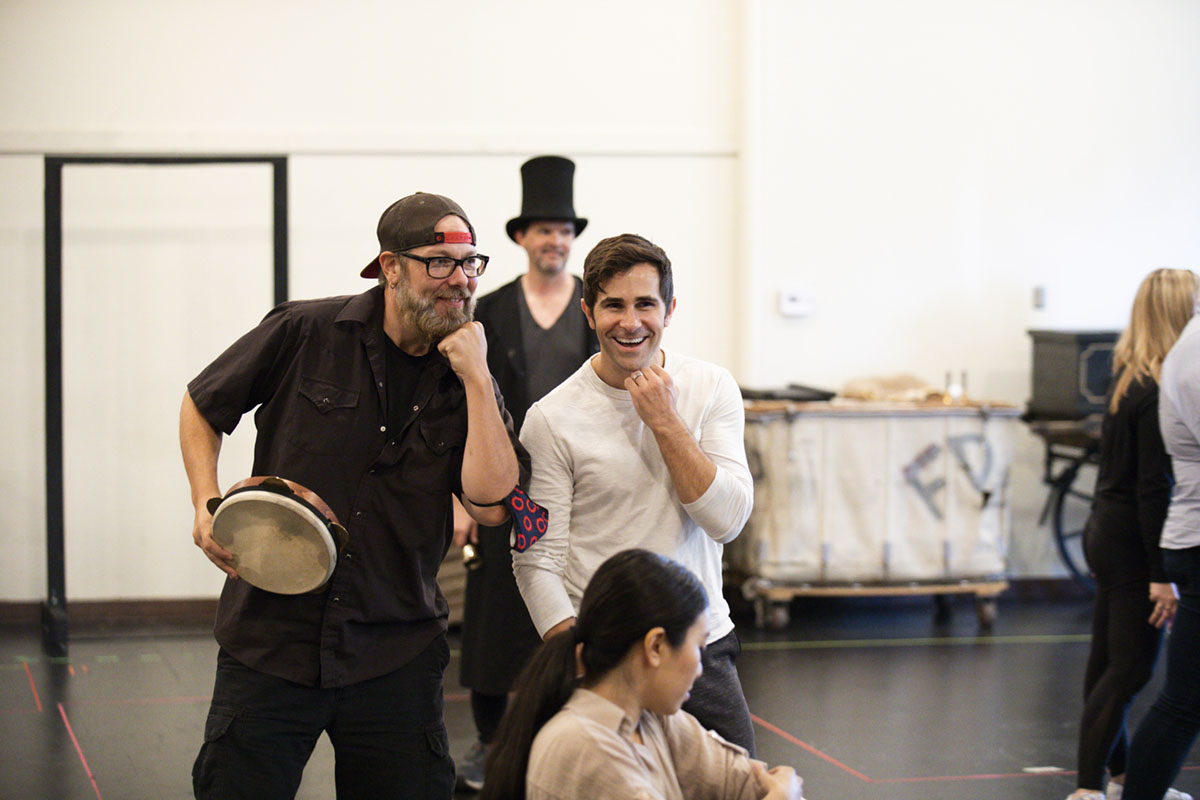 UCLA alumnus Brett Ryback (right) rehearses with the cast and crew of "A Christmas Carol." Ryback will star as George while also serving as a narrator and musical performer. (Courtesy of Ryan Miller/Capture Imaging)
"A Christmas Carol"
Nov. 30 – Jan. 1
Ahmanson Theatre
$40-$150
This post was updated Dec. 1 at 9:37 p.m.
Brett Ryback is bringing joy to the world this holiday season.
Premiering Tuesday, the UCLA alumnus and University of Southern California musical theater professor will star in the Los Angeles production of "A Christmas Carol," a reimagining of the 1843 Charles Dickens tale of the same name. Ryback will play the role of George during the section of the show set during present-day Christmas and will also appear as a narrator and musical performer. Though he is excited to take part in the production, Ryback said he initially hesitated to audition.
"At first, … I overlooked the audition notice," Ryback said. "They were looking for accordion and whistle players. I had some experience playing accordion in a previous actor-musician show, but I'd never really played whistle."
Ultimately, Ryback said his husband encouraged him to reconsider the opportunity and reach out to cast member Alex Nee for more information on the musical requirements. Though he had to learn a new instrument, Ryback said the support he received from Nee as well as from director Thomas Caruso prompted him to venture out of his comfort zone and try out for the role.
"I talk to my students about how important it is to activate your network, and this is certainly an example of that happening for me," Ryback said. "I don't know if I would have pursued this job if I hadn't had the ability to reach out to these people."
[Related: 'She Kills Monsters' brings fantasy, drama to life in theater production]
Over the last few months, Ryback said he prepared for the role through daily workshops on musical instruments in addition to regular rehearsals with the cast and crew. Though he had some experience with the accordion and the handbells, Ryback said the pennywhistle was unfamiliar to him. As a result, he spent hours solely rehearsing the pennywhistle and slowly gained confidence with the instrument.
In terms of Ryback's transition into the role, Caruso said he thinks of Ryback as a renaissance man who is versatile as both a musician and actor. In different sections of the production, Caruso said Ryback occupies alternately sinister and joyous roles, thereby demonstrating his range. With Ryback joining a veteran cast of theater and television actors, Caruso said it was important to collaborate with the cast and give each performer the space to form personal interpretations of their characters' narrative arcs. The result, Caruso said, is a new, magical spin on the age-old Christmas tale.
"'A Christmas Carol' is so much about the opportunity to start over," Caruso said. "It's never too late to change … (and) be grateful for what you have and to be kind to each other."
Upon observing rehearsals, Douglas Baker, the producing director of the Center Theatre Group, said he sees "A Christmas Carol" as a hopeful new beginning. The message at the heart of the play, Baker said, is one of redemption through human connection and community building. Baker said he feels confident Ryback and the rest of the cast will successfully communicate this theme to their audience.
"'A Christmas Carol,' at the end of the day, is a very powerful allegory," Baker said. "The message is to open your heart, … (and) it's also about redistributing prosperity and helping others."
[Related: Geffen Playhouse to premiere Dominique Morisseau's 'Paradise Blue']
As opening night draws closer, Ryback said he appreciates the new direction Caruso and the other showrunners decided to take with the play. Musical storytelling is central to this adaptation, Ryback said, and the play incorporates many English Christmas carols that parallel the varying storylines. Given his academic background in musical composition and his professional experience in live theater, Ryback said "A Christmas Carol" sits at the intersection of his artistic interests.
Furthermore, Ryback said there is a darker tone to the production that makes for an emotionally rich and resonant story. Unlike some previous adaptations, Ryback said this version does not reward the redemption of its principal character, Ebenezer Scrooge, so easily. Instead, he said the play takes a deeper look at how people can make positive changes for their community.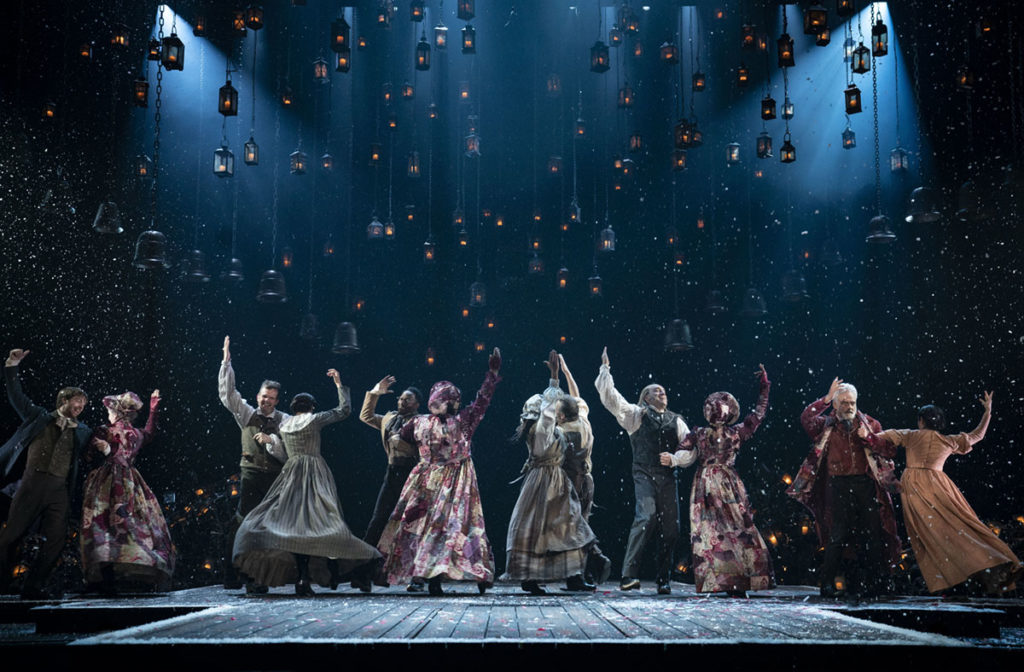 This theme is particularly meaningful in the context of the COVID-19 pandemic, Ryback said. Because of the closure of live entertainment during the pandemic, "A Christmas Carol" may be one of the first plays many theatergoers see in almost two years, he said. Ryback added he feels an overwhelming sense of gratitude to be able to connect with communities again following such a long hiatus.
"'A Christmas Carol' really points at the fact that we are connected," Ryback said. "It challenges us to find that collective identity within ourselves and understand that we are accountable to our fellow man."