Q&A: Director Paul Thomas Anderson reflects on real-life inspiration for 'Licorice Pizza'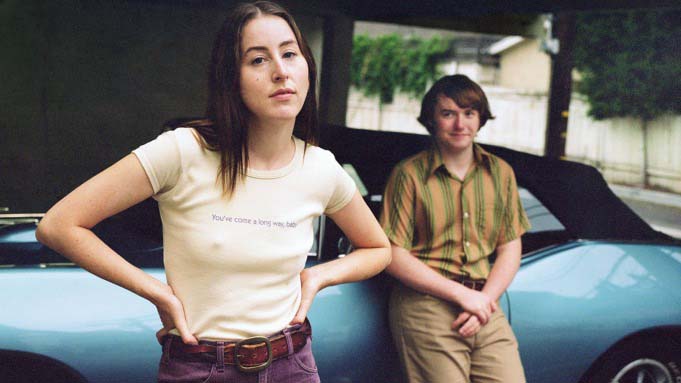 Alana Haim (left) and Cooper Hoffman (right) play Alana Kane and Gary Valentine in "Licorice Pizza." (Courtesy of Metro-Goldwyn-Mayer)
"Licorice Pizza"
Directed by Paul Thomas Anderson
Universal Pictures
Friday
This post was updated Nov. 28 at 10:36 p.m.
Through a rose-tinted lens, "Licorice Pizza" is serving up childhood and first love nostalgia.
Starring first-time actors Alana Haim and Cooper Hoffman and silver screen veterans Bradley Cooper and Sean Penn, Paul Thomas Anderson's newest film will premiere in select theaters Friday. The movie tracks the whirlwind friendship between Alana Kane (Alana Haim), a directionless yet fierce 20-something-year-old, and Gary Valentine (Cooper Hoffman), an overly confident former child actor who falls for her. Set during the 1970s in the San Fernando Valley, the story follows Alana and Gary as they romp around the Valley selling water beds together and confronting the connection between them.
In a virtual roundtable hosted by Allied Global Marketing, Anderson spoke with the Daily Bruin's Breanna Diaz and other college journalists, reflecting on his two leads' performances and how he brought his hometown to life.
This interview has been edited for length and clarity.
[Related: Q&A: Halle Berry discusses artistic choices, acting in directorial debut 'Bruised']

Daily Bruin: Was Alana Kane's character inspired by the real-life Alana (Haim) or any other real-life person?
Paul Thomas Anderson: She was inspired by the real-life Alana, which might horrify Alana (Haim) because she isn't as unstable. Alana Kane is very sporadic. She gives the appearance of being grown up, but underneath it, she's very emotionally immature. That's why it's an interesting relationship because Gary first appears like an annoying teenage hustler, but he turns out to be quite emotionally mature. But then again, he's also 16 so he's kind of an idiot. Alana's character is a shadow of the real Alana. She has a very ferocious protectiveness of the people she loves – that is a very similar quality.
Pasadena City College Courier: What did you do in order to be sensitive towards (the age gap) but also portray it in such an artful way?
PTA: It's a terrific dilemma. It reminds me of what you would see in the old screwball comedies – this insurmountable thing between two characters that keeps them apart. Once you know that's the playing field, you can have fun with it because they're never going to be together. It's a line you do not cross. It's inappropriate. It's wrong. That's not happening.
What's fun is now seeing Gary continue to try. You get to witness, in all of his teenage perversion, thinking he might have a chance and her just shutting it down. This creates endless comedic and dramatic opportunities. It's a premise for a film where the two people who feel completely bound to each other cannot be bound to each other in a romantic way.
The Panther Newspaper: Did you approach directing the first-time actors (differently) than those veterans?
PTA: The first two or three days, (Haim) and (Hoffman) were so nervous they couldn't stop shaking. My job was to settle them down and make sure that I was explaining what was happening with them. The first thing that we shot was the scene with Bradley Cooper, so it makes sense that they're nervous. They're getting screamed at and berated and intimidated by him. Once they got that scene under their belt, they had formed a bond. They had survived Bradley Cooper as Jon Peters, so they felt more confident going into the next sequence that they had to do.
[Related: Q&A: Actors from Netflix's 'Night Teeth' reflect on character backstories, LA influence]
The Valley Star: How do personal relationships with locations help frame your stories?
PTA: There's an emotional connection to these places, so that's very important. You're making a film. You're asking the audience to care about it. I care about it. I care about where I come from. I care about these people. I care about these locations. I care about this place that I live in, where I'm raising my kids. I want my love for it to be evident on screen and hopefully for an audience to feel that.
It was a combination of great joy and great melancholy as we were looking for locations because many of them aren't there. Many things in the Valley have changed and that makes you melancholy, but you're always thrilled when you find pockets that haven't changed.
Pepperdine University Graphic: After the romantic ending, what is your hope for Gary and Alana's future?
PTA: If I imagine a future for them, there's no way that they're not stuck together in some way as friends. I can imagine watching Alana dropping her possessiveness of him and helping him navigate a genuine romantic relationship with someone more appropriate for him. I can imagine him continuing to be jealous about whatever entanglements she finds herself in. I could imagine the relationship not changing too much but slowly becoming more mature.