Q&A: Halle Berry discusses artistic choices, acting in directorial debut 'Bruised'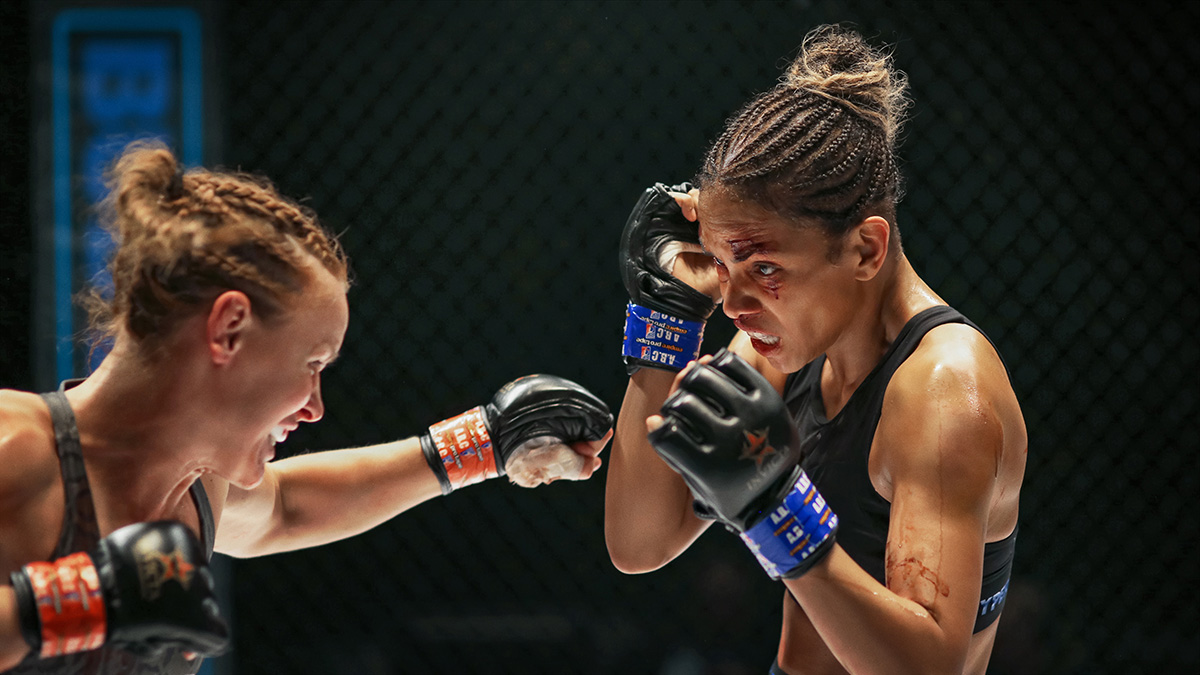 Halle Berry plays Jackie Justice in "Bruised." (Courtesy of John Baer/Netflix)
"Bruised"
Directed by Halle Berry
Netflix
Nov. 17
Jackie Justice heals her bruises by packing a mean punch.
Released Wednesday, sports drama film "Bruised" follows mixed martial artist Jackie Justice's (Halle Berry) journey from leaving the sport in disgrace to seeking redemption. Her road back to the Octagon becomes personal when the son she placed for adoption as an infant reenters her life. As Berry's directorial debut, "Bruised" marks the triumphant story of a fighter reclaiming her power.
In a virtual roundtable organized by Netflix, Berry spoke with the Daily Bruin's Sandra Ocampo and other college journalists about her creative choices as a director and leading the film as a woman of color.
This interview has been edited for length and clarity.
[Related: Q&A: Actors from Netflix's 'Night Teeth' reflect on character backstories, LA influence]
Daily Bruin: The film focuses on the wrestling industry and the trials and tribulations that wrestlers undergo. As an actress, the entertainment industry can have some of the same sorts of highs and lows. How has Jackie's character inspired you?
Halle Berry: Anything worth achieving is hard, whether (it) be in the fight game in the world of MMA or if you're in Hollywood trying to be a woman of color. It's all about your mental fortitude, how strong you are, how tenacious you can be, how committed you are, how much you love what you're doing. All of those things relate from the fight world into the world of Hollywood, and I would venture to say to any career choice.
The Vanderbilt Hustler: This being your directorial debut, how did it feel when you coupled the fact that you're also starring in this movie? How was that relationship with yourself?
HB: I never directed before but because I'd been on film sets for 30 years, there were some things I just intrinsically knew. But I still had to figure this out for myself. I had to think about it and reimagine the script because it wasn't written for me. It was written for a 21-year-old Irish Catholic white woman. I had to figure out what the world would be, make shot lists (for) production, figure out what the look and feel and tone of the film would be.
The Panther: Jackie Justice is very complex and goes through a lot of different conflicts throughout the movie. Are there any parts of her that you see in yourself?
HB: Many of us are struggling with our fractured brokenness from our family of origin. I don't know a single soul that had a childhood that didn't force them to have to deal with some elements of their childhood when they became an adult. So I feel like the fundamentals of who Jackie is and all of these characters I really relate to, it's sort of the brokenness of what being human really is all about.
[Related: Q&A: Timothée Chalamet, Zendaya discuss bringing 'Dune' to younger audiences]
DB: "Bruised" focuses on the intergenerational trauma suffered by Jackie, her son and her mother. Why was it important to highlight these issues?
HB: These are issues many families suffer with and sometimes they're issues we don't like to talk about. They become taboo, the things that happen to us and especially as women, there's a lot of abuse – emotional, physical and sexual abuse – that happens to women that never gets talked about. It gets pushed under the rug. What that abuse does is it stops us, women, from realizing who we really are in life and having a life as full and as big as it should be. So for me, it was about adding some light into these dark areas.
The Wesleyan Argus: In having to bring this story to life, both from behind the camera and in front of it, what particular messages or moments did you have to emphasize or hope the viewer takes away from their experience?
HB: For people who don't understand this world, for people whose world is nothing like this world, I hope they will find compassion and find ways to understand others, and if it's hard to watch, (they) imagine having to live it. For people who see themselves reflected in it as I do, I hope they will feel validated by its existence and feel that forgiveness and redemption are in store for them, that they deserve another chance, a second chance or last chance, and that they will be inspired by it.